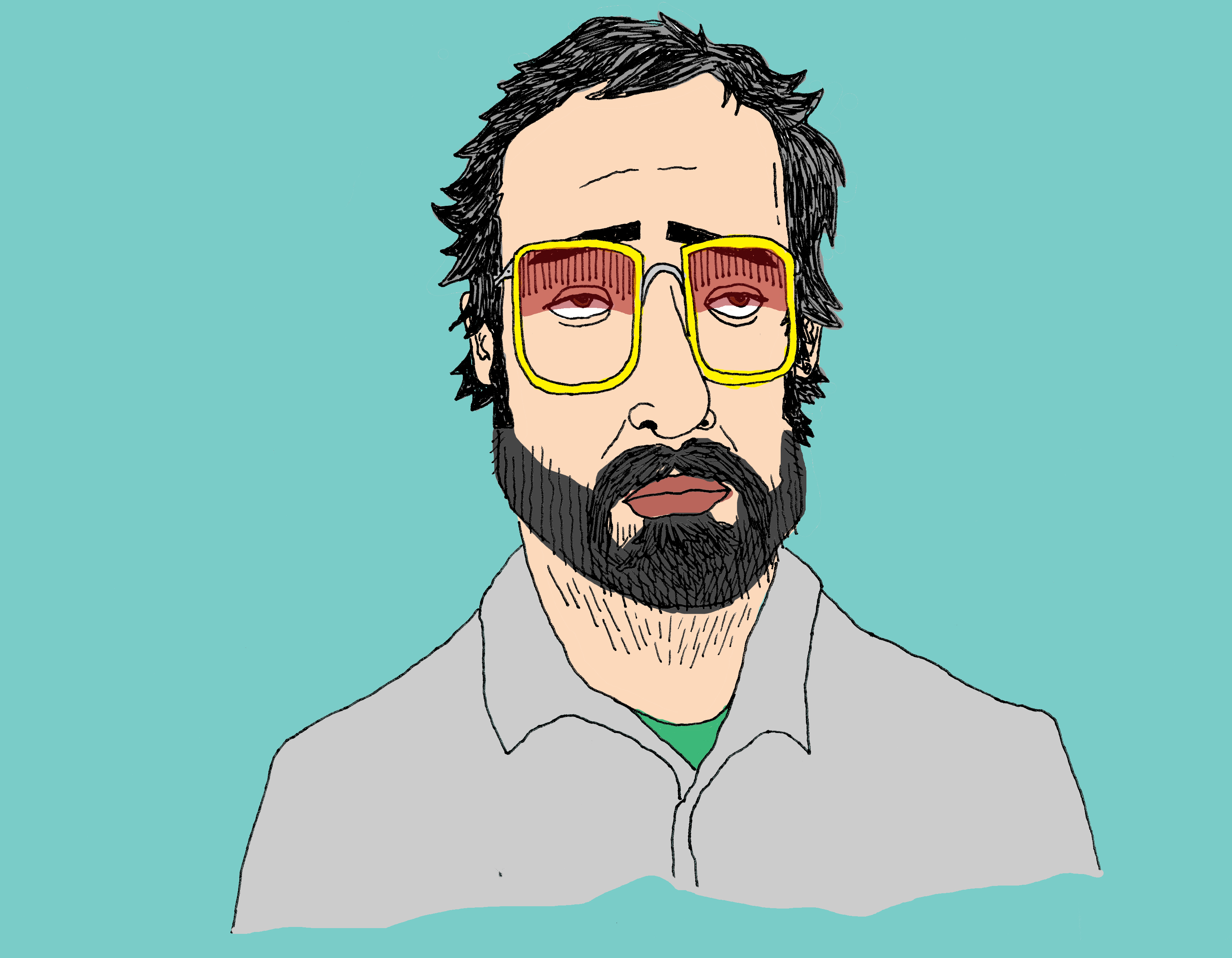 Do you remember the way the girls
would call out "love you!"
conveniently leaving out the "I"
as if they didn't want to commit
to their own declarations
I agree that the "I" is a pretty heavy concept.
—David Berman, "Self Portrait at 28," actual air
Driving from Nashville to New York on the last day of our honeymoon, my husband and I passed the turn-off for the Natural Bridge on the I-81. Our trip across America that summer had been something of a musical pilgrimage. We had seen the motel in Joshua Tree where Gram Parsons died; left dried roses on one of the three possible graves of Robert Johnson in Mississippi; and shuffled silently through the carpeted hallways of Graceland with a stream of other tourists who arrived on shuttle buses, clutching iPads and headsets, to visit the home of the King. But the Natural Bridge, a geological monument in Rockbridge County, Virginia, would only register as a musical landmark to those familiar with the 1996 album of the same name by American underground rock band, Silver Jews.
David Berman, the band's singer and songwriter, was born in Williamsburg, on the other side of Virginia, and now lives in Tennessee. A friend of mine has a tall tale about visiting Nashville and meeting Berman and his wife Cassie after looking up their address in the phone book and walking for miles across the hilly suburban streets to their home—the indie rock equivalent of knocking on the door of J.D. Salinger's hideout in the woods and being invited in. To me, it seems like just another one of the myths that have stuck to Berman like burrs since he dissolved Silver Jews in 2009 and disappeared from public view.
In Nashville, I sang "Superstar" by the Carpenters in a smoky karaoke bar that only sold cigarettes and PBR; I two-stepped to a honky-tonk band with an old cowboy gentleman who turned me briefly into someone resembling a good dancer; and I watched the sky turn silver and the streetlights flicker on in the middle of the day during the total eclipse of the sun, but I did not meet David Berman and I did not stop at the Natural Bridge. I saw the sign for the turn-off out the window of the passenger side and by the time I'd pointed to it, we'd missed the exit, it was already gone. All I have is a blurry photo of the moment after—a four-lane rush of highway, safety rail, trees and sky.
But it's this sense of missed connection—the "what is not but could be if" that Berman sings about on their final record—that I have always liked best about Silver Jews songs. Intimacy is gestured towards but ultimately side-stepped, personal confessions obscured until they become something more far-reaching and enigmatic. Something more like poetry, or a punchline—which, to David Berman, might be the same thing.
---
David Berman has been the only constant member of Silver Jews since their formation in 1989, with each of their six studio albums featuring a rotating line-up of musicians including, at times, Stephen Malkmus, Bob Nastanovich and Steve West from the indie rock group, Pavement. The intersection of the two bands has been widely recounted—Berman and Malkmus studied at the University of Virginia at the same time and both were disc jockeys at the college radio station; later, they would work together in New York as guards at the Whitney. It was Berman who supposedly gave Malkmus the title for Pavement's first record, Slanted and Enchanted, which he drew from Emily Dickinson's poem, "Tell all the truth but slant."
Though the two groups formed at a similar time, Silver Jews have often been mistaken as a side-project, critically framed as something like the weird kid brother of older, cooler sibling Pavement—the one with all the bravado, the good haircut, and the rakish schoolboy swagger. This connection would make Berman suspicious of any public interest in his music and skeptical about the value of fame. "The overlap between Pavement's fan base and people who liked Silver Jews was total. In my mind, even a local band with twenty fans had more unqualified support," Berman is quoted as explaining in an article published by Stereogum last year, though these statements ostensibly come from an earlier time. Since Silver Jews disbanded in 2009, Berman has released no music and published no poetry, and without the necessity of promoting his art, he has rarely—if ever—agreed to be interviewed.
The story of a band, beloved by fans but bypassed by commercial success is not a new one. It is, among famous examples, also my father's story as the lead singer of Australian punk band, X. But in the case of Silver Jews, this was at least partially deliberate. Berman refused to let Drag City promote his records. For ten years, the band didn't tour and rarely performed live. As Pavement grew in visibility, Silver Jews remained in obscurity, resulting in the kind of fan base that exists more in internet forums than it ever has in the public space.
---
If it is difficult to trace a linear, logical trajectory out of the story of Silver Jews from their origins to their dissolution, it might be because it is difficult to craft a coherent narrative out of Berman's life, when the most productive years of his artistic output were also his most personally chaotic. He was twenty-seven in 1994, the year the band released their first studio album Starlite Walker: "In twenty seven years I've drunk fifty thousand beers and they just wash against me like the sea into a pier," he sings on the album's opening track and it is the first gesture towards the kind of fictionalized autobiography he will go on to create across his body of work as a poet and a musician, emerging as an unlikely hero: self-deprecating and existentially weary, but capable of finding resonance in unexpected places.
Between 1994 and 2004, Silver Jews released an album roughly every two years, and Berman also published a book of critically acclaimed poetry, actual air, in 1999. During this same period, he divorced his first wife, remarried, moved to Nashville and continued to struggle with an addiction to meth and cocaine that triggered two overdoses and a suicide attempt, in 2003, that culminated in a breakdown in the lobby of the Lowes Vanderbilt hotel. It was the same hotel where Al Gore had retreated from the press in the days following the U.S. electoral recount two years earlier. As reported by Nick Weidenfeld in The Fader, Berman, high on a lethal combination of crack cocaine and Xanax, laughed to the bellboy: "I want to die where the Presidency died!"
But instead of dying on the eleventh floor of Hotel Vanderbilt in the almost-Presidential suite, Berman lived, like a figure in a parable. He embarked on a course of rehab and recovery that involved getting sober, two more Silver Jews records, the band's first international tour, and his conversion, at the age of thirty-six, to Judaism. "You can live again," he sings in "How To Rent a Room" , "But you have to die twice in the end."
---
Acts of disappearance, doubling and living twice are themes that recur throughout Berman's lyrics and poems. "No, I don't really want to die," begins the first track on The Natural Bridge, "I only want to die in your eyes." These lyrics set the tone for the record that follows—one of sly confessions that veer between abstract thought and diary-entry disclosure. They capture the dream of being cut loose from the expectations of others and walking into the night unshackled, free from the weight of having to mean anything to anyone, even oneself.
The Natural Bridge falls in-between Silver Jews' debut, Starlite Walker, and their confident third record American Water—both of which have Malkmus' fingerprints and rasping backing vocals all over them. Listening to The Natural Bridge sounds like overhearing a last minute, late-night rehearsal in somebody's lounge room, the usual jaunty rhythms and surfer-slacker riffs replaced by a light, shambolic country-shuffle. The result is less jam-orientated and feels less collaborative.
As a band, Silver Jews were too shabby for rock radio, and not quite heart-on-the-sleeve enough to fit in with Drag City's other mid-90s alternative-country troubadours, Bill Callahan and Bonnie "Prince" Billy. As an artist, it seems more fitting to position Berman in a literary tradition, as part of a lineage of writers like Denis Johnson who demonstrated with his cast of junkies, drifters and down-and-outers that life on the margins could deliver moments of clarity, beauty and revelation. It's on The Natural Bridge that Berman first emerges as a storyteller with a singular vision of American life.
Berman grew up between his mother's house in Wooster, Ohio and his father's in Dallas, Texas and this album is set in cities traditionally left out of the tower of song. These inbetween places are rendered with a different kind of romance—the romance of rented rooms in motels on the outskirts and numbered highways, where stars appear as "the headlights of angels driving from heaven to save us, to save us." Dallas and its buildings "made of mirrors /shine with an evil light"; the people of Cleveland have "suffered for so many years," and, like the strangest weather report you've ever heard, "it's raining triple sec in Tchula and the radio plays Crazy Train." It's a record full of fleeting encounters, strange characters, and odd parables, as in the binary choice posed by the second track, "Black and Brown Blues": "A lonely man can't make a move if he can't even bring himself to choose between a pair of black and a pair of brown shoes." Without being at all a concept album, it has the feeling of a short story collection that takes place in a particular American landscape, with as much grit and grace as Johnson's Jesus' Son.
If Pavement were slanted and enchanted, Berman's power lies in being charming and disarming. In response to actual air, a reviewer in The New Yorker wrote: "David Berman is a young Virginian poet with a sly, intense regard for the past… He comes on like a prankster, but his words have an easy, eloquent gait."
The statement could just as easily apply to his songwriting. While it might be a familiar move to undercut a sentimental line with a joke, Berman's lyrics often work in reverse: taking a wisecrack and then splitting it open to reveal a deeper feeling. His words are full of surprising juxtapositions, pulling you closer with one hand while pushing you away with the other.
He would have made a good radio host—witty and sardonic, with a low speaking voice. There's a conversational quality to his lyrics, and in quoting them, I find myself wanting to write them out like dialogue instead of in stanzas, in the style of liner notes and lyrics.com. There's a way that listening to Berman sing feels like the best late-night conversation with a long-distance lover you've ever had—they're calling from a payphone on the side of the road in some backwater town, and though there are wires and waves between you, they talk close, right into your ear, while you lie in bed, feet up against the wall leaving black scuff-marks in the shape of half-moons on the white paint, and wrapping the curly plastic phone cord around your finger because they are calling to you from 1996: "I know a lot of what I say has been lifted off of men's room wall," he intones.
Another Berman myth: he first began writing songs by leaving musical messages on friend's answering machines. This seems just like the kind of appliance Berman would find romanticism in—for the way it holds both intimacy and distance, with its lonely implication of missed connections and redundancy in modern times. One thinks of the unanswered question posed by The Replacements, who once captured the longing and estrangement of a particular generation of lovers: "How do you say goodnight to an answering machine?" I think again of Denis Johnson, and his own unanswered question: "What could be lonelier than trying to communicate?"
As much as I want to imagine that listening to Silver Jews is a way of being in conversation with Berman, an album is not a dialogue. There is a strange way that music implies distance and collapses it, creating a sense of both intimacy and estrangement. "Your guitar, it sounds so sweet and clear, but you're not really here, it's just the radio," Karen Carpenter sings in "Superstar" (written by Leon Russell and originally titled "Groupie"). In performing the loneliness of a fan, her voice trembles with all the loneliness of being a performer. Because a song, like an answering machine message, or a late-night radio announcement, is direct and personal, but ultimately one-sided. You can speak and be heard, but nobody can talk back. There's no way of telling anybody out there is really listening, of if there's anybody out there at all.
---
If the inauguration of Obama felt like a turning point in American politics, in the early days of 2009 Berman also found himself at a crossroads. Having released the sixth Silver Jews record, Lookout Mountain, Lookout Sea the previous year, he announced his retirement from music with an explanation in the form of an origin story: "Now that the Joos are over, I can tell you my gravest secret. Worse than suicide, worse than crack addiction: My father," he wrote on the Drag City message board ahead of The Silver Jews' final show. "In a way I am the son of a demon come to make good the damage."
Disbanding Silver Jews was directly related to his feelings of guilt and inadequacy surrounding his father's legacy as a pro-oil, anti-union lobbyist (Rick Berman was once nicknamed "Dr. Evil" by CNN and has argued against everything from animal rights to drunk-driving legislation). While I would hesitate to call Berman a confessional songwriter, there is a sense of atonement in many of his lyrics, and a reckoning with the past. His politics have always been personal, and his ethics often have an element of contrariness, a stance of opposition. In an interview with a local paper in Asheville, North Carolina, he wrote: "People often ask, "Why do you talk so openly about drugs and mental illness?" Part of the reason is because it's a very un-Drag City thing to do. Drag City is nothing if not cryptic and prankish. Identities are fluid and opaque."
Episodes from Berman's life have an allegorical quality, creating the same kind of misdirection as someone who talks only in riddles. If this was partly an attempt to resist celebrity and deflect attention, it has perhaps had the opposite effect. Obscurity, especially when it comes to music, can fuel obsession—the kind that might inspire you to look up your idol in the White Pages and walk across an unfamiliar city to turn up on their doorstep.
There is a danger, as the writer Mike Powell pointed out, in looking for guidance from an artist who has walked a dark path. "A suicidal crackhead with personal poetics is still a suicidal crackhead," he wrote in the Village Voice in 2008. As their influence begins to fade from view, Silver Jews are often discussed with a tone of disappointment, positioned as a failure despite their six-record strong discography.
To fade from view—one has to wonder if perhaps Berman would want it this way. "I want to wander through the night," he sings in "How to Rent a Room," "A figure in the distance even to my own eye."
Still, there have been gestures. Berman released a book of drawings, The Portable February, in 2009. In 2015, Bob Nastanovich posted a photo with the band to his Facebook page captioned, "After Jews practice tonight!!!!" In April this year, Drag City added Silver Jews' entire discography to Spotify. For a band so deliberately underground that they made a joke of their "subtearranean" status by playing their final show in a cavern, this move was so surprising and unprecedented that it seemed at first like a Fool's day prank.
Though Berman may have dismissed Nastanovich's talk of a Silver Jews reunion as a hoax, these are still ways of reaching out into the void, nodding to the fan base that is still out there, still listening: "I remember you. I remember me." After all, the music remains—now online, newly streamable, and more accessible than ever.
Silver Jews' legacy is one of strange victory and strange defeat, though in the Berman tradition it is hard to tell which is which, and perhaps they're not always as distinguishable as we'd like them to be. "I'm not bicameral, I'm an integrated self," he stated once in an interview with Pitchfork when asked if he identified more as a musician or a poet. "No one should have two lives, now you know my middle names are wrong and right," he sings in "Random Rules".
Victory and defeat, irony and earnestness, intimacy and distance, hope and despair—to Berman these aren't dichotomies, but two sides of the same coin, inseparable from the experience of being human and trying to be whole. It is this quality that make his lines, through their observations and non-sequiturs', hilarious and devastating at once. As David Foster Wallace wrote, in regards to Kafka's funniness: "the horrific struggle to establish a human self results in a self whose humanity is inseparable from that horrific struggle." Because Berman knows that sometimes the Other we fear most is actually the self we have to live with.
Driving across that final stretch of America, toward the city I've been trying to make my home and listening to The Natural Bridge, I thought of my favorite moment in Denis Johnson's story "Emergency." Two stoned hospital orderlies stumble into a field during a sudden snowstorm and trip over what they believe are the anonymous grave-markers of a military cemetery. From above, the enormous faces of angels come through the clouds bearing down on them—until they realize the faces of angels are only actors in a movie projected on to an outdoor cinema screen in front of a row plastic chairs, abandoned by the audience in the storm. The best Berman songs work this way. We stumble through the dark, through history and loss, finding a little light in the darkness—even if that means mistaking actors for angels, or musicians for prophets.