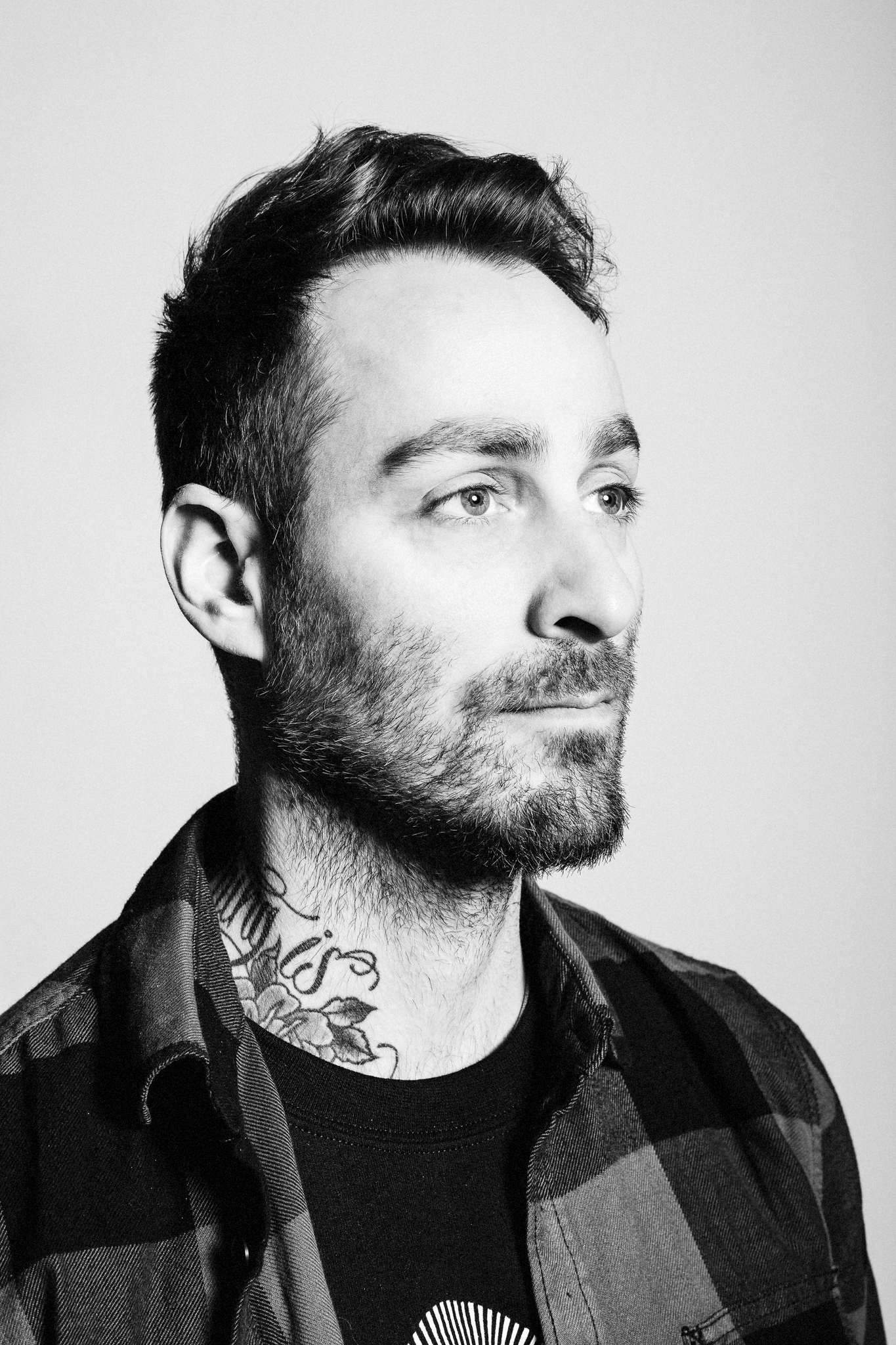 Mike Kinsella never intended to get that drunk. Dressed in the appropriate hipster-dad apparel of flannel shirt, dark, tight jeans and clean black-and-white checkered Vans, he walked on stage at the Middle East nightclub in Cambridge, Massachusetts, his guitar in its case over his shoulder. He sat on the lone chair and placed his guitar on his lap, strings dangling off the end of the neck in a twisted mess. He reached for the microphone, and adjusted it the best he could. The smell of vomit permeates from it. He really wasn't interested in performing that night. The show was sold out, with roughly fifty people fitting into the small black box theater. They wanted to hear Kinsella sing songs he wrote ten, fifteen, or twenty years ago. But because of the microphone or the drinks he had before the show or the tiredness from three long nights on a short sojourn from his family, he wasn't in the mood. He forgot words to songs, at one point stopping mid-song to ask the crowd for the lyrics and then argued about it with someone. Eventually, someone looked them up on the Internet and checked him.
It was the final stop on one of Kinsella's short tours, long weekends performing, which he looks forward to each month or so. He's a stay-at-home dad, the phrase tattooed on his left thigh. As much as he loves it, time away from his family allows him to escape and do the one thing he's really good at: perform and write heartfelt and meaningful songs. But at the tail-end of the three shows, sitting in the Cambridge nightclub, he was ready for home. Bass bumped through the floor and walls from the basement, where a hip-hop show was going on in the larger room below.
Kinsella struggled through the set, ambling and taking his time to tune his guitar. It was supposed to be a night with Owen, the name of his solo prodigious project he's been recording under since graduating from college in 1999. It was supposed to be filled with Kinsella's slow acoustic songs that straddle the line between art and coffeehouse, balancing on intricate guitar playing and clever word play all disguised behind Kinsella's ability to turn a quiet, talking-singing voice into something both soft and biting. Instead, it was night with Mike Kinsella the personality.
One woman shouted out, "What's your favorite color?"
He responded, "That's cool, I have kids too."
This was the Kinsella of urban legend. This was the man who I had heard supposedly played an entire set of Van Halen songs on drums. This was the musical madman with a passion to write songs but no desire to seek fame or recognition. At times, his humor and honesty can get misinterpreted as something else. It's what makes his music different. There is no push to sell himself—the artwork for the tour poster is a black-and-white picture of him covering his face with one hand in an alleyway. In Cambridge, he hadn't even brought merch to sell.
"I don't tour proper really ever, so even just playing a third night in a row seems like it's not normal. In my mind, I'm just like, well, at least people are going to see how I really feel, which I think is more important maybe then hitting all the right notes," Kinsella tells me over the phone a few weeks later. "I think an audience could argue that I'm wrong. I used to go to shows a lot and I sort of appreciate it when it was sort of an honest representation of what the person was feeling instead of, 'thanks so much Boston, this is the best Boston show we have ever played. I have merch in the back,' doing the whole like band thing."
"I don't want to play bad ever," he continues. "But there's circumstances that are sort of out of my control or in my control sometimes."
It's easy to hear the throughways of Kinsella's music in anything from emo bands like Pup to Bon Iver. He's a natural follow up to Elliott Smith in his guitar-picking and ability to turn what should sound like generic coffeehouse music into something stronger and more beautiful. His songs have a certain edge that take their notes from growing up listening to everything from 80s hair metal to Dischord Records to The Cure and The Sundays. With the success of his other band, American Football, Kinsella is now a real frontman, singing in front of big crowds at festivals across the globe. Even if he doesn't want to admit it, his legacy is being acknowledged. It's not something he's sought, but it's come and, yet, he's not giving in. He still has his nights where he's just like any person doing their job on a bad day, wishing he were anywhere else.
---
Kinsella grew up in Buffalo Grove, Illinois, forty-five minutes north of Chicago. His mother was a grade school teacher and his dad sold candy packaging machines for Wrigley Gum. He was a typical kid, playing sports and annoying his older brother Tim from an early age. Every Christmas his mother would sit at the piano and play Christmas songs from memory. By the time he was eleven, he became enamored with his brother's band, Toe Jam. They practiced in their parents' basement. Kinsella would sit on the stairs and listen to Victor Villarreal play guitar, trying to imitate his finger-picking and chord progressions on an imaginary guitar. He convinced the band that if he played rhythm guitar, then the older and more experienced Villarreal could riff, making the band sound cooler.
When the drummer made varsity football he quit the band, leaving behind the skateboarders and punks to join the jocks. Kinsella's mom bought him a drum set so he could play. No lessons needed. His back hurts now, though, because his form and technique aren't correct. The band changed its name to Cap'n Jazz and grew into one of foundational bands of a scene that would become midwestern emo.
Before high school Kinsella travelled to Milwaukee and Minnesota to play shows, his parents trusting his older brother to take care of him. They'd play in basements and at Moose Lodges or VFWs with the likes of Braid. Kinsella remembers seeing pre-"Dookie" Green Day and maybe opening for them once in a basement. Eventually, the band was rounded out by guitarist Davey Von Bohlen and signed to Man on the Gun records, releasing a single full-length album in 1995. The band broke up the same year. Van Bohlen went on to form The Promise Ring, one of the pillar bands of emo. Minus Van Bohlen, Cap'n Jazz became Joan of Arc, an art rock collective that Tim has shepherded with a rotating cast of musicians and multiple records since.
Eventually, the music dream had to wait and school took precedence. Kinsella had a life to live, and meager album sales weren't going to pay the bills. He enrolled at the University of Illinois at Urbana–Champaign. He formed American Football there with his two friends, Steve Lamos on drums and Steve Holmes on guitar. Kinsella didn't have a guitar, but played his roommate's, and sang for the band. The trio wrote a series of songs and played a few small shows. It wasn't anything spectacular, three college kids killing time and writing music. But Polyvinyl Records, a new and small label in Chicago, decided to put out an LP for the band. It happened quick and after some sessions in the studio, American Football's legacy was built.
After selecting some artwork for the cover, a photo of a house in Urbana, Illinois, the band promptly broke up and went their separate ways. The self-titled album came out in September of 1999, and they thought it was destined to disappear into the bins of forgotten records, but it struck a chord. It's become a cult hit among emo-aficionados because of its ability to intertwine multiple music genres into something both heartbreaking and uplifting without ever feeling like it plays on cheap tricks or lyrics. There are none of the trappings of what would become the formula for future emo albums. It's the opposite of what the band Cursive, another midwest band, sang about in the midst of the emo-boom in the mid-aughts in the song "Art is Hard":
"Cut it out—your self-inflicted pain/Is getting too routine/The crowds are catching on/To the self-inflicted song./Well, here we go again/The art of acting weak/Fall in love to fail/To boost your CD sales."
When Polyvinyl re-released the American Football LP in 2014, demand for it crashed its website. The album made it to number 68 on the US Billboard 200, cementing its place as the seminal emo album. At the time of its release, though, it was just a blip and barely registered. The trio moved on with their lives after college. Kinsella, though, couldn't quit music.
After graduating with a history degree, Kinsella moved home into his mother's house—his parents divorced during his freshman year of college. Eventually he joined Rainer Maria on tour as the band's merch guy and roadie. In his downtime, of which there is plenty when touring, Kinsella wrote songs on a guitar and eventually Rainer Maria let him open. Owen became a full-time job.
Kinsella did all of this without ever taking music lessons. It's something he wishes he'd done, but always thought it was too late to start. He's done it all by ear and watching. He has an ability to listen and imitate but also an ability to problem solve and learn what he wants.
When he returned home after college, he moved in with his mother and started learning how to use ProTools and record. He'd spend the weekdays writing and recording and his weekends in the city. He dated a girl who lived in Chicago and his brother tended bar. He'd spend a few nights there and then return home to work at a daycare for three to five-year-olds. He worked at a record store and finished his first solo album in 2001 on Polyvinyl and embarked on his first tour as Owen.
At the same time, he was playing drums in his brother's bands Joan of Arc and Owls. When he moved out of his mother's house, he'd tour for a bit with one of his projects and be able to pay his rent for a few months at a time. The shows weren't big or grandiose, it was a time when emo music was growing in popularity with the rise of bands like New Found Glory, Taking Back Sunday, Brand New, and it all led to the creation of bands like Good Charlotte and Simple Plan, MTV darlings who jumped the gap to mainstream success. What was once post-hardcore, music built on the ideas of Hardcore music—fast, aggressive, stripped of pretense and reliant on power chords and plenty of yelling—with a mix of melody and harmonizing, went to something more pop-related, with bands being created out of the either to fill the teen and tween void looking for something "original," earnesty and angst. The scene fizzled out, for the most part with those bands created and touted by major labels running out of steam and authenticity to sustain them with the kind of diehard fans that seem to follow indie bands and keep them moving through the years.
Kinsella went the other way. He decided to take his acoustic guitar and build a world with Owen filled with echoes, literary references and ethereal sounds. He added more instruments and depth with each passing record. The songs got longer, deeper and evolved with Kinsella as he got older and eventually settled down, married and had two kids. Each record maturing, leaving behind his mother's house for a recording studio and an understanding of his own voice and what kinds of songs make him happiest to write.
Kinsella met his wife at a sold-out show in Chicago. He was asked to open and the crowd wasn't responding. The headliner was a pop-punk band and the teenagers didn't want to hear his slow songs with intricate guitar playing and whispering vocals. He told the crowd to shut up because he was going to be their history teacher one day, a lie, but one he thought was funny. He walked off stage after roughly four songs. When he went backstage there was a beautiful young woman there and she asked him if he was a teacher. He told her no and walked away. But, he was drawn to her, and later in the night asked her to hangout. She laughed and said no, walking away. Six months later, there was she at one of the shows he was playing.
"I was like, What the fuck? Where did you go? Like, you laughed and walked away. And I guess I asked her on a date in front of her boyfriend; they were both standing there. But I like asked her out she walked away," Kinsella tells me. They started dating and eventually started a family. She's the teacher and he's the wandering musician, writing songs whenever he has some free time.
Kinsella's the dad who'd drops his kids off in his minivan in his sweatpants but who disappears a few times a year. He uses Instagram and Twitter to tell jokes, like the time he shared his conversation with a campaigner staffer who sent out one of those robotic texts about voting for a candidate and he responded with, "Are you coming on to me?" and "Can I talk to your boss." And while he jokes a lot and takes almost nothing seriously, besides maybe fantasy football, Kinsella loves writing music. Kinsella walks around his house with his guitar, recording interesting riffs on his iPhone so he can remember them and work on them later. When he has material, he takes some headphones and goes to a bar to watch sports while listening to what he's recorded, trying to figure out what to do with it. He loses sleep over the details when writing songs because it all about the details with his music. While plenty of people won't hear the subtle touches he puts in to create his songs, it pains him.
---
Kinsella doesn't understand why I want to talk to him. He tells me this sitting across from each other at a restaurant in Cambridge, Massachusetts. He walks in with his guitar over his shoulder and places it on the floor behind me. We have a few drinks and a rambling conversation that is mostly me trying to figure out a way to get him to open up. He looks like a musician. His hair is gently swept in the way that is perfect but looks like he doesn't care. His beard is neat but not too neat and he has tattoos on his neck and down his arms onto his hands. The world of an aging musician who is now a dad lives under his eyes, where the bags reside.
Kinsella orders a negroni and I order a beer. This will not be his only drink of the night. We sit and talk for over an hour before Kinsella has to play an hour long set at an intimate show across the street and he doesn't want to make his career choice sound any cooler than it is. To him, playing music is like any other job. It's the same thing every day, especially when on the road, except it usually involves constant contact in tight quarters with your co-workers for weeks on end — or, in his case, now long weekends at a time. He knows the perks: the free beer, the ability to do something you love, and a freedom to move and dress as you want. It's not glamorous in the way people think it is. Being in a band is like being in a relationship with two to three, or more people at a time and navigating the many pitfalls that come with a relationship—the communication, the passive aggressive emails and personal snipes, but also the reconciliation and realization that you're working together and not against one another. It's about killing downtime and missing friends and family. It's just another job.
"I have nothing interesting. That's what my point is. Is it more interesting than what anybody else has to say? You know, me and my wife are trying to be happily married while raising kids. Like, I'm in bands and my bands have passive aggressive emails."
Kinsella used to write love songs, and songs about growing up and getting married. Now, there are countless references to being a dad:
"Sensitivity deprived / I can't feel a thing inside / I blamed my father in my youth / Now, as a father, I blame the booze / I have become uncomfortably numb," Kinsella sings in the opening lines of American Football's new single, "Uncomfortably Numb."
Kinsella's honesty rings out in his music. He doesn't pander or push a sentiment. It comes out naturally through word-play. I still remember the day I saw an ex-girlfriend's away message on Instant Messenger in college and it said, "American Football—Never Meant." She had just broken up with me a few days earlier and nothing hurt as bad as knowing that was the song she chose to put. There was no need to share the lyrics—there are only three verses and they're simple and biting. The fourth and final verse, there is no chorus, said enough: "So let's just pretend / Everything and/Anything between you and me / Was never meant."
But Kinsella doesn't think this. He's just writing songs.
"I think people think I'm successful. I'm not. People think I make money. And I'm like, 'No, I'm just getting by," Kinsella says. "It's like, a part time job, and it's great."
Kinsella loves his life. He's enjoying it. He misses his family while on the road. His daughter is learning to play the violin and recently she started learning triplets. It's something Kinsella knows about but never formally learned. He's stoked about it.
"Nobody can care about my music tomorrow and be like, Okay, I still have to take his kids to school and I'm getting on with my life," Kinsella says. "It doesn't change that. But I enjoyed being able to do it."