Installation artists must be engineers, carpenters, salesmen, and actors, all at once. Space and labor are the only requirements all installations demand. As such, budgets vary mightily. Installation budgets may be complex, detailed grant proposals, or, like some of the accounting records from the project described below, handwritten tallies on a four-by-six-inch yellow notepad.
Ann Hamilton created this project, called privations and excesses, to transform an indoor space in San Francisco. Her installation, which included a wave-like sculpture made of pennies, was funded through an artist-in-residence program called the Capp Street Project. Hamilton received three months in which to build, display, and remove her work. She also recieved $8,000 and a living stipend, making this a less expensive installation.
The figures listed below are 1989 dollars. The 1989 dollar is worth roughly $1.71 today. Observant readers may note that Hamilton spent more than her $8,000 allotment; this is because she transformed most of her grant into more than half a million pennies. She effectively spent the pennies twice: once as building materials and once as currency. The leftover pennies, constituting several thousand dollars, were donated to charity.
This is an installment of Creative Accounting, an ongoing series that explains where the money goes for projects in the creative industries. Future issues will cover television, fine art, theater, and music. Eventually the series will be collected into a single, indispensable volume, published by Believer Books.
—Christopher Benz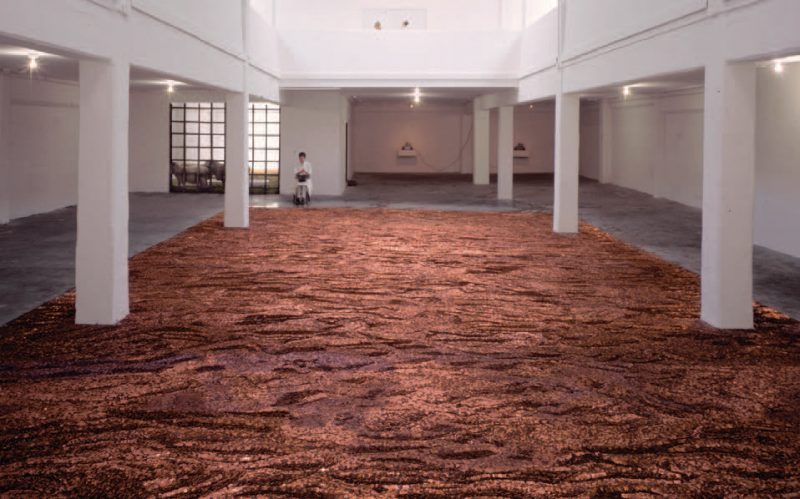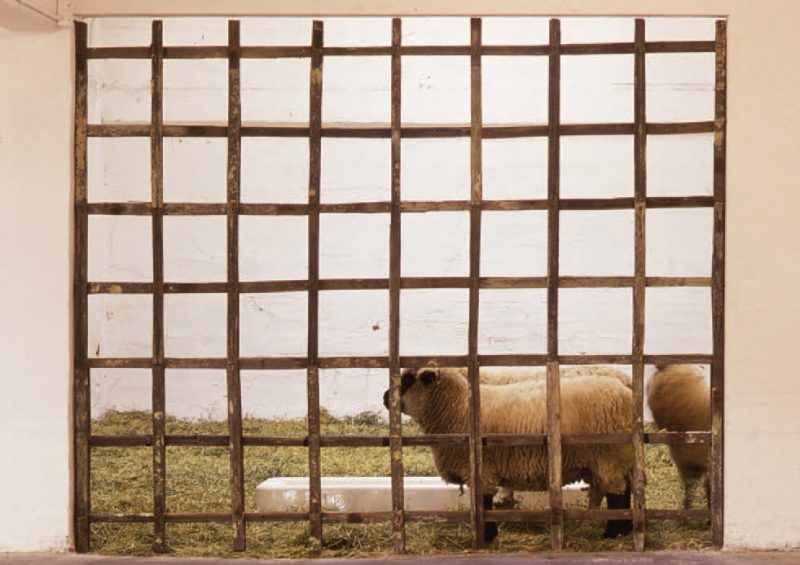 PRODUCTION $9,837.97
CONSTRUCTION $7,080.56
Labor $0
Installations are often far too large for one person to build single-handedly. Hamilton persuaded volunteers to donate time or materials to the installation. At least two college art classes helped, and other volunteers worked long nights or shared their expertise.
Food $100
Volunteer morale is cheaply bought.
Hardware $6.49
Tools $0
Hamilton brought her tools from home.
Physical Materials $6,974.07
Copper Pennies (650,000) $6,500

Volunteers sculpted the pennies into shapes in a 32 x 47-foot carpet along the floor. Their acquisition from the bank required persistent negotiation. Brinks security delivered them in two trips of an armored car.

Honey (10 gallons) $235

Hamilton laid the pennies into a skin of honey that leached out at the edges.

Wire Mesh $13.74

Sheets $8.00

Wall-mounted, electric mortar and pestle $212.33

As a state employee, Hamilton was able to buy industrial items from the California State Surplus lot at a discount.

Motor $125.83

Bearings/gatebelts $12.57

Repairs 3.93

Jar of teeth (human/other) $5

These teeth were found at a gun store. One mortar and pestle ground the teeth. The other ground pennies.
OPERATION $287.36
Suffolk/Hampshire hybrid sheep (x3) $0
These sheep were on loan.
Sheep Needs $157.79
Bales of alfalfa hay (12) $57.79

The color of grass hay didn't match the pennies correctly, so Hamilton bought alfalfa hay. "To sheep, this was like sleeping on a bed of steak," Hamilton reported. They composted and replaced the hay regularly.

Porcelain morgue sink $100

The sink was used as a water trough for the sheep. It came cheaply from California State Surplus.

Wooden gate $0

An assistant built the gate from old wood he found in an orchard belonging to Ann Hatch, the Capp Street Project's founder. The gate kept the sheep in.
Tableau Attendant $0
Installations often hire actors or models to occupy a tableaux. When an actor's fee is too expensive, the artist may recruit volunteers or take the space herself, as was the case during privations and excesses.
Woman's Felt Hat $120
An attendant sat next to the sculpted pennies, wringing her hands in a hat full of honey.
Honey Refills for Hat (x2) $34.65
Metal Chair $10
Dress Shirts, second-hand (x2) $8
A specific uniform for the actors can signify that they are a human part of the installation.
Photo Documentation $40
Photos can be permanent evidence of a temporary show. Capp Street Project and the artist split this cost.
Printing Artist's Statement $36.92
CLEANUP $2,470.05
After transforming a space, an artist must generally restore it to its original state. This labor-intensive process can involve demolition, painting, and hauling trash.
Cleaning Supplies $14.05
Vinegar $5.33

draino $3.94

Garbage bags $4.78
Cleanup Crew $2,000
The cleanup crew, ranging between two and eight workers at a time, was paid from the pennies. They received coffee, burritos, and about ten dollars an hour.
Painting Supplies $107
kilz paint primer $23

paint (4 gallons) $70

cut brush $8

roller and tray $6
Cement Mixer Rental $104
Hamilton washed all 650,000 pennies in a rented cement mixer, then counted them in a coin counter.
Coin Counter Rental $200

Flat-Blade Shovels (x3) $0

These were loaned.

Garbage Removal (15 bags) $45
ARTIST EXPENSES $3,954
Monthly Stipends $3,750
The Capp Street Project offered artists rent-free lodging in the same house as the installation. This left a stipend to pay for food, or extra project expenses—like home-cooked dinners for volunteers.
February Stipend $1,250

March Stipend $1,250

April Stipend $1,250
Travel $204
Airfare, L. A. to San Francisco $204
TOTAL
Production $9837.97

Artist Expenses $3,954
Grand Total $13,791.37