In the print my parents have always had hanging on their bedroom wall, a man and a woman are engaged in conversation. The woman leans forward onto some kind of mound or stump, her posterior exposed and turned to the viewer, a garment hiked up on her hips, while the man stands in profile to the right, his left arm tucked close to his side and the other hanging nonchalantly in the air as if conceding a point. The lines making up these figures are baggy and wrinkled, while the faces, thick with doodles, less detail their features than obscure them. Both bodies are rendered in a greenish blue, an aquamarine close to blueprint, except for the surprise of the work, which is a yellow flower blossoming at the end of the man's oversize erection. What a funny thing for parents to have in their bedroom!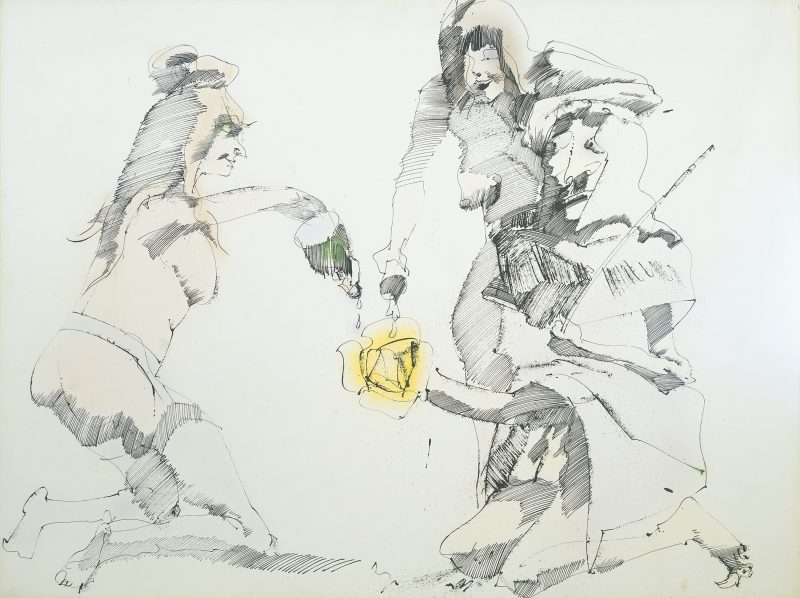 As far as I can tell, the work is untitled. Dated 1967, it was made in Los Angeles by the artist John Altoon, who died two years later of a heart attack. Altoon is a minor if storied character in L.A. art-world lore, having moved in the guy-centric circle around the Ferus Gallery with figures like Wallace Berman, Edward Kienholz, and Robert Irwin. "If the gallery was closest in spirit to a single person," Ferus's suave proprietor, Irving Blum, later said, "that person was John Altoon—dearly loved, defiant, romantic, highly ambitious—and slightly mad." This is the kind of retrospective compliment paid to those who evade success—emblematic because ­elusive—though it seems that Altoon was indeed an energizer and merry prankster. If Altoon's way of life personified the gallery's spirit, however, his aesthetic was nevertheless apart from it. Though he contributed to Berman's Semina, a beat publication composed of loose leaves of pictures and poems and sent to friends, his black-ink drawing of a priest hovering over a dead child stands out from the funky photographs and peyote paeans surrounding it. Indeed, Altoon never pursued a mythic, holy function for his art like Berman (who was arrested at his 1958 one-man show at Ferus for displaying biblically infused "pornography") nor did he make politically provocative tableaux à la Kienholz (whose Back Seat Dodge '38 [1964] was a cause célèbre). Unlike Irwin, he never explored the cool intricacies of optical perception. In many ways, Altoon had more old-fashioned ideas about being an artist. He put together serious-looking late abstract expressionist paintings, turned back to surrealist biomorphisms, and followed them both with spare, playful, airbrushed abstractions named after streets near his Venice Beach studio. He struggled, painted, swaggered, drank, womanized, and destroyed things. At times clinically mad, he once threatened to ruin every artwork on earth.   
In his later years, at the behest of his psychiatrist, Altoon began making a series of drawings that often returned to the figurative style he'd learned while training as an illustrator, producing works that frequently dovetailed with the currents of pop. ("The paintings always, almost always, well, not really always, seemed a problem," the legendary Walter Hopps, another proprietor of Ferus, wrote in a 1971 commemorative text. "The drawings and gouaches and near relatives just came and came.") In one drawing, from 1962–63, Altoon invents a Colgate ad with a clean-cut man and a half-undressed woman standing in front of a poster of a crucified female underwear model. "Who won… when clinical testing compared Colgate Dental Cream with the most widely accepted fluoride toothpaste?" the text in the center of the drawing asks, setting stakes in terms of winners and losers. It's a weird joke, to be sure, but the girls don't seem to be the butt of it, even if they are pictured on the wrong side of power. The drawing states rather frankly—regardless of Altoon's intention—that mass culture is misogynist, exploits women, and, in other works from this period, this system of masculine mastery begins to backfire, giving rise to a world anxiously animated by phallic appendages. One drawing from 1968 portrays a spastic penis breaking through a jar of Smucker's jam, while another depicts a flailing dick smothered in the viscosity of a can of motor oil. Like a coiled snake jumping out of a magician's trick, Altoon's cocks deliver violent shocks, but they are also violated themselves, cut off, slathered, and dismembered.
When seen in the context of these works, the flowering prick in my parents' print, reattached to man, looks like an attempt at resuscitation, a peace offering (a blossom stuck in its barrel), hovering comically—­ridiculously—rather than making a surprise attack. In a related drawing from 1966, F-24, two women ­water a similar member, stemming from an androgynous cloaked figure, maniacally trying to make it grow. The head of the penis here is once again a blister of yellow petals, though one critic recently saw "a man's enlarged genitals on fire," its flames fanned by the pair of women. No doubt the two have a mischievous glare in their eyes, but it seems important that these lines delineate a flower and not a fire. What is happening here is closer to a science experiment than an act of violence or sexual expectation. The women are waiting on the strange new creation growing before them. What shape will it take? they seem to ­wonder. Will it drop seed? Will it deflower or be deflowered? What does it mean for him, for us? These are open, perhaps unanswerable, questions, but what seems most important is that a new model for man, not to say persons, which is also to say relationships, is proposed here. Freud called the traumatic moment when one imagines one's parents having sex the primal scene. If these works by Altoon do not quite reach the level of its opposite or undoing (if these relationships are even consummatable), they are nevertheless powerful things to stumble upon in one's parents' bedroom.
The reforming of man, and the troubling of gender more broadly, was one of the great projects of the twentieth century, in and outside of the bedroom, continuing on, of course, to this day. In the late 1940s, the British artist Richard Hamilton began working on a series of prints based on scenes and images from James Joyce's Ulysses (1922), which often address similar questions to Altoon's works. Bronze by Gold (1985–87), for example, updates the Sirens section of The Odyssey with two bar wenches suggestively pulling drafts of ale from phallic handles. Here, as in Altoon's "cock in commerce" drawings, the world is again libidinalized, albeit less threateningly so. (Indeed, anxiety is not so much evoked here as desirous pangs elicited.) Any sense of danger and desire is diminished, however, in another print from the series, A languid floating flower (1983), in which Leopold Bloom slumps in the bathtub, a bit of his balls and the tip of his flaccid penis breaking through the water's meniscus. Exposed rather than intimated, the phallus is drained of life:
He foresaw his pale body reclined in it at full, naked, in a womb of warmth, oiled by scented melting soap, softly laved. He saw his trunk and limbs riprippled over and sustained, buoyed lightly upward, lemonyellow: his navel, bud of flesh: and saw the dark tangled curls of his bush floating, floating hair of the stream around the limp father of thousands, a languid floating flower.
A languid floating flower. I remember my college professor pointing to a passage in Ulysses that reads, "Professor Bloom is a finished example of the new womanly man," and thinking, excitedly, that this was right. Flaccidity, though, is not feminization. Hamilton misses the bloom in the floating flower. He never gets Leopold as good as Altoon, who, as far as I know, never meant to illustrate him.