Jacques Morali and Henri Belolo had been spending a lot of time in Greenwich Village that spring. It reminded the two music producers of Paris, and besides, the gay clubs had the best DJs. Though Henri, unlike his business partner, was straight, both men were infatuated with fashion, America, and, above all, disco.
It was a warm day in 1977, and they were on the make, having moved to New York from Paris after one of their groups, a Philadelphia trio called the Ritchie Family, made it to number five on the Billboard charts with a disco cover of a song from the 1930s. The Ritchie Family had been a hit, but now the producers were in search of a new act. Morali had always wanted to write songs for a gay audience, and though rock-and-roll record sales depended on radio play, Belolo knew that if a song made people at the discos rush onto the floor, it could break the bank.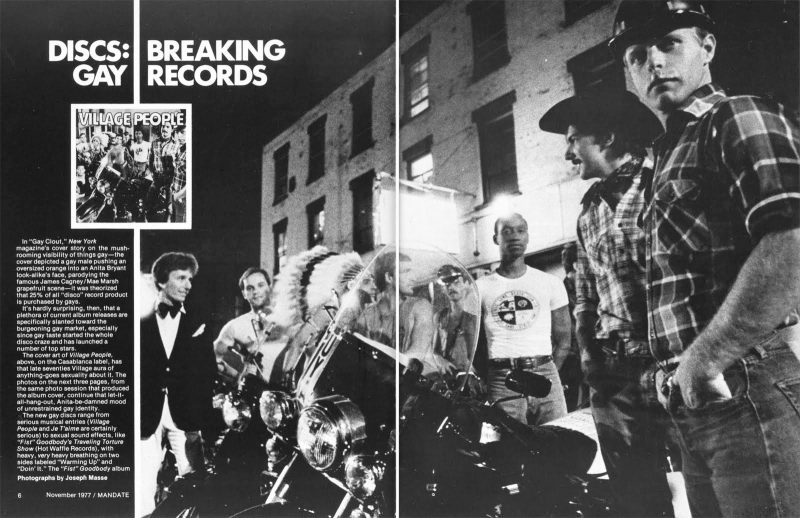 The producers spotted him on Christopher Street, of course. They heard bells ringing as the man passed by, a Native American headdress flapping behind him. He had a leather loincloth wrapped around his narrow hips, and bells tied to his ankles. He was heading into the Anvil. "Oh god, he is good-looking—I'm thirsty!" Jacques said to Henri.
Inside the Anvil, they watched Felipe Rose, the skinny guy who'd lured them there, take his place behind the bar. The DJ was playing a mix of what sounded like Native American tribal music and the disco Morali and Belolo revered. Every so often, Rose jumped onto the bar to dance. Next to the French producers sat a guy with a thick mustache, wearing a Stetson and boots. He looked like the Marlboro Man. Another patron could have just come from a construction site, if his jeans and boots hadn't been so clean and tight. My god, look at those characters, Belolo thought. It was as if every American male stereotype was there, welcoming them to the Village.
Looking around the room, the producers were thinking the same thing. Belolo grabbed a napkin and jotted down: "Indian, Construction Worker, Leatherman, Cowboy, Cop, Sailor." Morali walked over to the Indian (Rose was, in fact, Lakota) who'd enticed them into the bar. He wasn't shy. "Hey you, Indian—you want to be in a group?"
*
Like most stories of gay* life in New York between 1970 and 1990, the legend of the Village People has its origins in the Stonewall riots of 1969—"Our Bastille Day," as the novelist and critic Edmund White (who was at the riots) described the feverish June nights when queer Villagers fought back against the New York cops who'd been raiding their bars for decades.
During a typical raid in the Village, undercover police would enter a bar, gather evidence of "homosexual conduct"—same-sex dancing or touching, cross-dressing—and then turn up the lights and announce, "Police! We're taking the place!" Through the 1960s, men and women arrested in gay bars for "indecency" would wake up the next day with their names and sometimes their addresses in the newspaper. They lost their jobs, were cut off from family and friends, and were often subjected to psychiatric cures for "disordered" behavior—a steep price for a drink and a dance.
No one knows for sure why the raid at the Stonewall Inn—a mafia-owned gay bar on Christopher Street with a racially mixed clientele—was different. But whatever the immediate cause, on the night of June 28, 1969, many patrons refused to show police their IDs, and they didn't leave after being released. Instead, a tense crowd gathered. People started shouting, "Gay power!" and then, "Gay is good!," and when a butch lesbian resisting arrest was hit on the head by a cop with a billy club, the crowd went "berserk."
The cops were outnumbered and hid inside the bar. The Tactical Patrol Force tried to push back the raging crowd, which whooped and hollered and burst into kick lines. They mocked the officers' growing fury. The "fairies were not supposed to riot," as queer activist Bob Kohler said—but they had. An "adorable butch hustler boy" pulled a parking meter out of the sidewalk and used it to break down the door. And then protesters lit the bar on fire.
The Stonewall riots set off an era of gay liberation following decades of persecution and closeting. With liberation came an altogether more visible gay culture that was, in many cases, hypermasculine, sexually suggestive, and (at least in New York City) relatively separatist. The riots were violent and powerful. They challenged the stereotype of gays as weak and effeminate. For some, self-determination meant gender affirmation—the right to be gay and manly. Bars that had previously catered to a mixed crowd were now packed with men whose T-shirts stretched across bulging muscles, because guys in the West Village and nearby Chelsea had started working out—a lot. Gay men sported thick mustaches or short, trim beards, plaid flannel shirts, bomber jackets, work boots, and Levi's 501s tight enough to highlight a bulge. An unbuttoned fly suggested a package that the denim, stretched to its limit, couldn't contain.
In the wake of gay liberation, some gay men adopted this hypermasculine identity "as a way to challenge their stigmatization as failed men, as 'sissies,'" wrote Martin Levine, sociologist and the author of Gay Macho: The Life and Death of the Homosexual Clone, an ethnography of 1970s gay ghettos. "When the dust of gay liberation had settled, the doors to the closet were opened, and out popped the clone," Levine writes. "Clones" were men, usually under forty-five, who shared a common look and so could be hard for outsiders to distinguish. Among the "butch sign-vehicles in clone fashion" that Levine meticulously charts for readers are western, leather, military, laborer, hood, athlete, woodsman, sleaze, and uniforms. Straight men wore versions of these looks, too, of course, but gay men put a stylized look together—matching hiking boots with a leather belt, or a flannel shirt with a red thermal underneath.
The style became an identifier. Compared to straight people, who "could afford the luxury of elusiveness," gays had to signify sexual availability and be immediately recognizable to one another. They had to be "unambiguous, as glowing as a peacock's tail and as towering as a stag's antlers," as Edmund White wrote in his autobiographical novel, The Farewell Symphony. Hours at the gym produced a broad back, firm ass, and hard, defined pectoral muscles. Art historian and AIDS activist Douglas Crimp had "never before fully recognized the sexual appeal of that part of a man's anatomy; it took a chest overdeveloped by weight training to make me focus on it so fetishistically."
In the 1970s, those bulging pecs that Crimp was surprised to fetishize became known as "disco tits." Partially because most rock bands wouldn't play gay clubs, gay men had been early adopters of disco—according to Levine, one of the "four D's" that defined life in the West Village (the others being drugs, dick, and dish).
High, sweaty, and "extraordinarily muscular," at the disco everyone seemed invincible. Packed in tight, dancers groped anonymous bodies in the crowd. Some parties had live sex shows where men fisted each other or received golden showers in bathtubs. Previously, receiving sex had been feminized, but now clones could be masculine and enjoy bottoming. A burly, bearded, growling leather daddy wasn't a sissy when fucked by a similarly rough, hairy guy—he was taking it like a man.
So with a uniform and a soundtrack, a Greenwich Village routine commenced. White described the hip gay New Yorkers:
All week long they stay in or work out at the gym and put in long hours at their demanding jobs where they are, often enough, loners in a straight world. Friday night they have a quiet supper with friends, Saturday afternoon they perform their chores and clean house, Saturday night they boogie, Sunday they sleep.
*
After their burst of inspiration on Christopher Street, Belolo and Morali placed a want ad in the Village Voice: "Macho types wanted. Must have mustache." They included the list of characters Belolo had scribbled on a napkin in the Anvil. Around sixty guys showed up at the warehouse they had rented for the casting. "Sir, this isn't Halloween," someone told Belolo.
Belolo took a picture of the hottest macho gays at the casting in front of a West Side club. In the photo, a group of men gather around a motorcycle. There's a glimpse of pec from a ripped T-shirt. Two guys in flannel give the camera a knowing look and the slightest smile. Felipe Rose is in the background, wearing his headdress and face paint. It's nighttime and the motorcycle's windshield reflects a streetlight—or the photographer's flash. Far from campy, the "Village People" in the picture are cruising the camera.
Soon after they took the picture, Belolo and Morali went to see The Wiz on Broadway. One cast member, a guy named Victor Willis, blew them away. Morali went backstage to recruit him. Willis was straight, and as Belolo told the DJ and author Frank Broughton, "At first he said go to hell. Until he heard some of the music."
The Village People had found their lead singer. Willis recorded the group's first four Morali-penned songs ("San Francisco," "In Hollywood," "Fire Island," and "Village People"), each a nod or a wink to gay life, written to appeal to the guys at 12 West or SoHo's Flamingo on a Saturday night.
After the first recording session, Belolo and Morali went to L.A. to play the recordings for Neil Bogart of Casablanca Records, the record executive behind Parliament, Kiss, and Donna Summer. The night before the meeting, Belolo convinced a DJ at an L.A. club to play "San Francisco" at two a.m.—the peak disco hour. The song is heavy on bass, horns, and strings—it sounds a little like the theme to Shaft, or "Papa Was a Rolling Stone." It's funky, especially at the beginning. Willis's clear, soul-inflected voice echoes the backup singers: "Freedom… freedom's in the air."
Cycles, cycles in the night shining bright.
Brightly on nights tell a glory story. Leather, leather, leather (leather baby).
Levi's and T's are the best now (all right).
When the song came on at the disco, people left the dance floor and headed to the bar. Belolo started to panic. Had he misjudged the power of his new tracks? Maybe this music just wouldn't work outside Greenwich Village.
But then the chorus began: "San Fran-cisco, San Fran-cis-co, / city by the Bay, yeah. / You've got me"—to which Willis ad-libs, "Owwww! You've got me, got me, baby. Take me, take me, baby!" As quickly as they'd left, five thousand people rushed back onto the dance floor. Belolo was triumphant. The crowd loved Horace Ott's horn arrangements, the "pisht pisht beat," Willis's vocals—and maybe even the lyrics' thinly veiled subtext.
The next day, Bogart loved it, too. He agreed to release their album on Casablanca Records. The formula—a group of all-American men singing amped-up disco hits with thinly veiled references to gay sex and culture—had been tested, and it had passed. The photo taken around the motorcycle on the West Side became the cover of the Village People's first album.
With a record deal in hand, the producers went back to New York and finished casting their new hit machine: Glenn Hughes [the leatherman], Alex Briley [the GI], and David Hodo [the construction worker] all came on board. They found their last member at the Billboard disco awards. Morali noticed Randy Jones, a lanky, mustachioed brunet, dancing backup for Grace Jones. After the show, he openly admired the dancer's mustache and asked him if he could sing. "Yep, I can sing," Jones replied. He showed up to the audition dressed in boots and a cowboy shirt—he was from North Carolina, after all.
Their shirts open at the chest, packages bulging through their jeans, and mustaches meticulously combed, these men joined Willis and Rose as the Village People, and the producers set out to make them the new face of disco.
*
While their first album had been a tribute to the geographies of gay life, their second album, Macho Man, was infused with sexual innuendo and self-affirming mantras inspired by gay liberation—but it was this album that broke them out of the gay discos.
Willis sells the bass-heavy title track with the passion of a Motown frontman. He entices, "Check it out, my body, body!" The verses seem to revisit the themes of sex and fitness: "Works out in the health spa, muscles glow… Ready to get down with anyone he can." But are they simply extolling the virtues of a healthy lifestyle?
Every man ought to be a macho macho man.
To live a life of freedom, machos make a stand.
Have their own lifestyle and ideals,
possess the strength and confidence, life's a steal.
Belolo says the title track was meant to appeal to "the ego of all the people… going to the health club building muscles." Somewhere along the way, that came to include millions of straight people. In 1979, Morali told Rolling Stone, "When Macho Man came out, I did it believing that the gay audiences were going to like it very much. But the straight audiences liked the song much more, because straight guys in America want to get the macho look." As the producers were learning, they didn't have to specify their target. "Macho Man" made it to number twenty-five on 1978's Billboard Hot 100 chart and hit platinum. Either the Village People had found an audience beyond the gay discos or a lot of people were pumping up their disco tits.
In fact, both were kind of true. While gay men in the Village had been bulking up, slowly trading angora for ripped T-shirts and pegged pants for Levi's, straight men had registered that the "macho" look was en vogue in stylish cities like New York, Los Angeles, and San Francisco. Some straight men even started wearing bandannas in their back pockets—a method gay men used to signal their preference for different kinds of sex. Though they were oblivious to the code, straight men had figured out this was the "in" look.
"'Macho Man' did not happen in gay clubs but in straight ones," record executive Kenn Friedman of Casablanca Records told the writer Andrew Kopkind in the Village Voice in 1979. "The Village People is the first gay-to-straight 'crossover' group. The funny thing is that straights don't really believe the group is gay. They love 'em in Vegas and in tacky suburban dinner theaters in Midwestern shopping centers." The act was as suggestive as ever, but its audience was no longer in on the joke. What the success of the Village People really underscored during the late 1970s was the extent to which both gay and straight audiences were clamoring after a macho man.
The Village People's growing unwillingness to be open about their sexuality aided mainstream acceptance. Though Morali outed himself and defended the image of the group in a 1978 interview with Rolling Stone, saying, "I am gay, you know, myself, so I am not the kind of person to joke about the statement," a profile the following year offered a more cynical explanation for the group's image. Morali is "no dummy," Belolo told journalist Abe Peck. "He had a concept about an album that could appeal to the gay discos. Because he knew that if your album was played in the gay discos, you had immediate sales."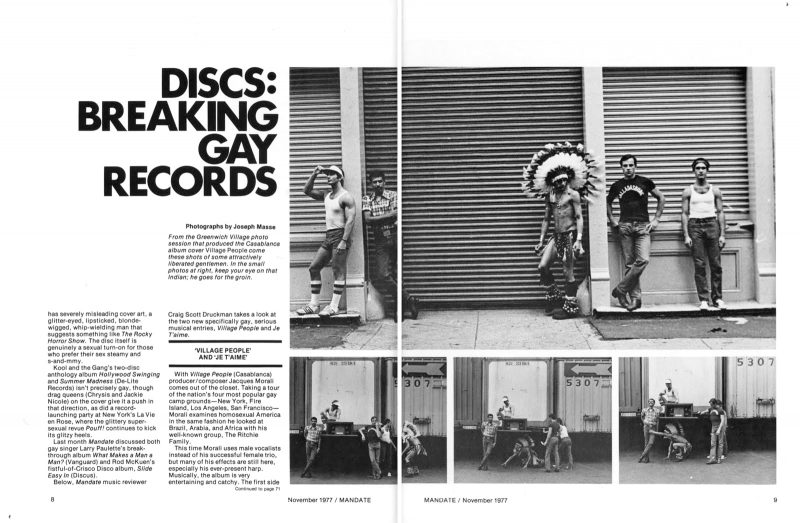 In the notes to Hot Stuff: Disco and the Remaking of American Culture, Alice Echols says that when outing himself in the 1978 interview Morali had caused a "'mild freak' within the Village People camp." Peck's article homed in on the disconnect between Morali's 1978 declarations of gay liberation and the ambiguous answers group members gave about how they "relate to the scene that helped get them started."
Glenn Hughes, the leatherman with a horseshoe mustache whose image was simultaneously the most entrenched in current gay culture and the most explicitly macho to straight audiences, told Peck, "We're six very positive male, energetic symbols. We are definitely gonna have a gay following. And so we don't discount the fact that we have a gay following. It's obvious that they are gonna follow us. But we're not gonna let them label us a gay group."
David Hodo, the construction worker, said, "You have the right to think anything you want. Because I'm up here furnishing the fantasy for you. If you want to think that I'm gay, that's great. And if you want to think I'm straight, OK."
Victor Willis went further in distancing the group from a gay identity, saying, "The group has never performed gay. Nobody has ever come out in drag. The group performs a masculine show. Gay people like us, straight people like us. But we're not a gay group."
Hodo, who decades later would refer to the Village People's first record as "the gayest album ever," told Peck that the group was successful not because it was gay but because Morali brought together "strong positive male American… bigger-than-life stereotypes."
*
Here is an incomplete list of people who have danced to "Y.M.C.A.," in no particular order:
former U.S. secretary of state Colin Powell
a group of cheerleaders in the audience at Dick Clark's American Bandstand, who were the first people to spell out the letters with their arms
the New York Yankees stadium grounds crew during the fifth inning of home games
pretty much every kid bar mitzvahed between 1980 and 1998
a fleet of men in Speedos during the "pseudo-biographical" musical about the Village People, Can't Stop the Music
around 70 percent of the guests at my cousin's Catholic wedding
Oakland Coliseum security guards (while dressed as construction workers)
How did such a gay song become the fifth-inning anthem at Yankees home games? Randy Jones has said he believes that the subtlety of the song's references to gay sex allowed it to sneak into popular culture, where, thanks to growing tolerance for gay people, it was eventually embraced in earnest. The book Macho Man: The Disco Era and Gay America's Coming Out, which Jones coauthored with journalist Mark Bego, takes as its premise the Village People as "the center of modern 'straight society' that was able to accept gay images and gay music openly." The Village People weren't exactly closeting themselves, but who knows whether Morali and the group could have achieved a Top 40 hit and been open about the song's gay subtext. In any case, the drawn-out battle over the "true" meaning of the Village People's most enduring song encapsulates the brilliance and the contradictions of the group's social position.
By the time he joined the Village People, Randy Jones had been going to the McBurney Y.M.C.A., in Chelsea, for over a year. He started taking Jacques Morali with him to work out, and Morali fell in love with the place. A guy could swim, weight train, play basketball, or rent a room. And because Jones knew a lot of porn stars who hung out there, Morali met people he recognized from magazines and movies. "Those visits with me planted a seed in him, and that's how he got the idea for 'Y.M.C.A.'," Jones told a reporter for Spin magazine. "By literally going to the Y.M.C.A."
At the Y, a spiritual man was a well-built, muscular man. The organization's leadership positioned the regional branches as destinations that could protect newcomers from "negative" influences. It was here that many young guys had their first homosexual experiences. So Jacques Morali and Randy Jones were part of a history that included both diligent Christian bodybuilders and men cruising for "trade"—straight-identified, masculine men. According to John Donald Gustav-Wrathall's meticulous history of male-male relationships within the organization, homosexual cruising and weight lifting went hand in hand.
Though the organization condemned homosexual sex as "immorality" or "perversion," by emphasizing fitness, the Y didn't just make sex between men possible, it "shaped same-sex sexual desire." An early adopter of sex education and hygiene programming, the Y.M.C.A. also spread awareness of homosexuality—even if the intention was to label it unchristian. A 1905 study guide for men's groups called Life Problems: Studies in the Native Interests of Young Men described what it meant to be a "manly man" as opposed to someone "unsexed." Group leaders were instructed to discuss "the effects of sex perversion upon the physical nature." At the Y during the first half of the twentieth century, men watched each other work out in a safe, unsupervised space where people spent a lot of time talking about sex.
By the time Morali and Jones came along, cruising had become less prevalent at most branches of the Y. With the post-Stonewall emergence of a more accessible and visible social scene for gay men and an increase in the memberships of women and families, the Y became identified with heterosexual culture during the '70s. This trend resembles the Village People's own movement away from gay identity toward a more family-friendly image. It's appropriate, then, that not everyone in the Village People camp describes "Y.M.C.A." as a gay song born of Morali's lust for butch guys. As Belolo tells the story of its origins—much more Sesame Street than Christopher Street—he and Morali were walking down the street and saw a sign for the Y. He asked, "Hey, what is that?" and Morali replied, "Henri, let me tell you something. This is a place where a lot of people go when they are in town. And they get good friends and they go out."
In 2011, Victor Willis (who shares lyrical credit) initiated a lawsuit to reclaim his rights to "Y.M.C.A." and other Village People songs. His publicist, Alice Wolf, denied the gay subtext. "Victor Willis wrote about the Y.M.C.A. and having fun there, but the type of fun he was talking about was straight fun," Wolf told Canada's CTV News. She said that the lyric "Hang out with all the boys" is about "the boys, the fellas," and while she insisted her client had no problem with homosexuality, she nevertheless said he was "appalled by the homosexual subtext [the Village People] took on, fearing that catering to a 'niche' market would doom the group to failure."
Many accounts confirm that Willis was not comfortable with the innuendo. In some respects, he is the most fascinating member of the group because of his insistent heterosexuality amid the open secret of gay touchstones and symbols. That Willis coexists seamlessly with the background dancers during performances demonstrates how easily macho gay culture could mix with a less ambiguous straight presentation.
While gay men in the '70s worked to transcend the stigma around their gender presentation, they sometimes looked assimilated—particularly to straight people. Because of this, many criticized the ghettoization and uniformity of post-Stonewall gay life, worried that rather than representing self-acceptance, butch style privileged and compelled masculinity and stigmatized effeminacy. Being seen as macho was seen as a way to hide within straight culture, of being materialistic, conformist, sexist, and white supremacist. There's no single interpretation of the trend. "What mattered was the doubleness of clone style—its self-conscious, almost parodying references to stereotypically traditional masculinity, and its self-conscious embracing of that very stereotype at the same time," said Martin Levine. That "clone style was both parody and emulation" was difficult even for members of the Village People to articulate openly.
The video for the song "Y.M.C.A." starts with a shot of the McBurney Y sign in Chelsea. The group dances below it on Seventh Avenue, on the piers overlooking the Hudson River on the West Side of Manhattan—popular cruising grounds—and on West Street under the sign for the Ramrod bar. When Willis shouts, "There's a place there called the Y.M.C.A.!" they all point enthusiastically at the McBurney Y sign. Enthusiasm is the primary emotion in the video. Willis sells it hard. He seems joyful, jubilant, even. But Willis does not seem gay. And though I've watched the video dozens of times, I still don't understand exactly why or how I think he looks straight.
In contrast, the other Village People all seem very gay. They hit the downbeats—"young man"—with a hop and an eagerness and intention that Willis lacks. They shimmy and throw more hip and shoulder into their turns. Not to say that Willis isn't dancing as well as the rest of the group. He is. But his costume looks less like a costume. His facial hair isn't as carefully groomed. Or it's possible I'm just aware of the difference between Willis and the backup dancers and reading too much into his presentation.
If Willis wrote "Y.M.C.A." then it's very possible that it wasn't originally intended to be about gay cruising—which, thirty years later, feels nearly impossible. The commercial success of the song is inextricably linked to the gay subtext—the "niche" market Victor Willis was afraid to appeal to gave the Village People their foothold. Without this initial gay audience, Willis would not have cared so much about his royalties.
*
After the mainstream success of Cruisin' and "In the Navy," the single off the 1979 album Go West, Morali and Belolo tried to branch out into film. The caricatures didn't fare well under closer audience inspection. The uncomfortably corny 1980 movie Can't Stop the Music, Bruce Jenner's film debut starring Steve Guttenberg and the Village People (excepting Willis, who'd just left the group), bombed. Disco was on its deathbed, and the Village People's efforts to stay relevant—the Bowie-inspired Renaissance album (face paint!) and a video for the title track "Sex Over the Phone," featuring a military phone the size of a cereal box and women as phone-sex partners—lacked the humor and sass of their earlier work.
A version of the original Village People still performs for hire at universities and bar mitzvahs across the country. As norms ebb and flow around them, the Village People have been remarkably unflappable in their presentation. But in 2013, the group is gay again. The costumes, lyrics, and dances could never be mistaken for depictions of straight male sexuality. The association with femininity and homosexuality that macho gay culture undermined during the 1970s is now further solidified by just how ridiculous it is to imagine these men—who spin, twirl, and shuffle onstage, who want to "hang out with all the boys"—as pillars of masculinity. At the same time, being simultaneously butch and gay no longer seems incongruous to many. There are out gay cops, a movie about gay cowboys was nominated for an Academy Award, and gay people can now serve openly in the military.
You can't separate straight appropriation of gay macho culture from gay assimilation. That most people now know and accept the Village People as a gay group says something about gay visibility, but it also says something about what forms of homosexuality are acceptable and recognized. Gays gained rights in the decades after Stonewall, but queerness and swish were still stigmatized.
"Y.M.C.A." was released on the brink of a health epidemic in which tens of thousands of gay men died. In the 1980s, when men in the Village started getting sick, they stopped going out as much and disco lost its magic. Edmund White contracted AIDS during that time (he has been living with the virus for over twenty-five years). Martin Levine died from AIDS in 1993. During the AIDS crisis, gay pride was no longer just a commemoration of Stonewall; it was about staying alive. Though the Village People had moved away from their gay roots and onto a Macy's Thanksgiving Day Parade float, AIDS affected them, too. Jacques Morali died from the disease in 1991.
In 1992, the Pet Shop Boys played a cover of the song "Go West" at an AIDS charity event in Manchester, England, offering the Village People a rare moment of queer recognition amid the unprecedented epidemic.
The lyrics are sweet, optimistic, and surprisingly chaste. They imagine a queer utopia free from the violence of AIDS—a paradise for all who identify with the song.
(Together) we will go our way.
(Together) we will leave someday.
(Together) your hand in my hands.
(Together) we will make our plans…
(Go west) life is peaceful there.
(Go west) in the open air.
(Go west) where the skies are blue.
(Go west) this is what we're gonna do.
In 1993, when the Pet Shop Boys put out the cover as a single, forty thousand people died because of AIDS. This included many macho clones from the West Village who had danced shirtless at the discos, lounged on the beach at Fire Island, had orgies at the Continental Baths, and dined at Clyde's; strong American men with mustaches who died in pursuit of pleasure and liberation.
The irony of clone culture is that it contained so much difference. Today, "gay rights" means the right to join the construction crew or get married, to live and look just like every other macho man. The Village is still queer, but it's also one of the most expensive neighborhoods in New York City. Forty years after gay liberation, the dominant, visible gay culture has departed from the clones' attitudes toward sex and relationships in favor of a new version of the old masculinity and a new take on heterosexuality: gay men getting married. But we've forgotten what was at stake during the Stonewall riots and the AIDS crisis. Institutions like marriage, the military, and the police force still persecute queerness and ignore complexity. The man the music producers saw in the Village wasn't trying to be a cop, he wanted to play one. To get out his handcuffs and pull that sexy cowboy into the back room. To be macho—not straight or gay, really—but "ready to get down with anyone he can..
*Gay is the word that most of the writers and characters I quote and discuss use, and so it's what I use most frequently. I try to reproduce or channel the language of the people who participated in or chronicled this movement.