Any minute now Michel Houellebecq, the bad boy of French literature, is going to do something very, very bad. It's true I've been on the road with him all week and his behavior has been impeccable, but something's got to give. There's too much history. What about his purported obsession with sex clubs and prostitutes? What about his penchant for hitting on female journalists, explaining that only one night with him will guarantee the real story? What about the time he called Islam "the stupidest religion"? Surely, the man's going to bust out with something reprehensible, and now, in his smoke-filled semi-suite at the Bel Age in L.A., is as good a time as any. He flies back to Europe tomorrow.
Houellebecq, forty-eight, is a slight man, fragile-seeming, handsome in his way. There's a boyish gleam to him that calls to mind that terrible disease where children age rapidly. I have to stop and remind myself that he's just a forty-eight-year-old man. Right now he slouches in a swivel chair while a woman he's met tonight, a well-known book critic, kneels before him. They speak in low tones about the possibility of love in a loveless universe, or something like that. I'm sitting on a sofa with a few other people drinking beer and whiskey and waiting for the bad thing. Maybe he'll denounce Allah while pissing on a Gideon Bible, assuming the Bel Age provides them. Maybe he'll curl up on the sofa and weep and curse liberal democracy. Maybe he'll demand the lot of us blow him. Maybe he'll do all of these things, but I doubt it. He's been a perfect gentleman since San Francisco. A sleepy gentleman, at that.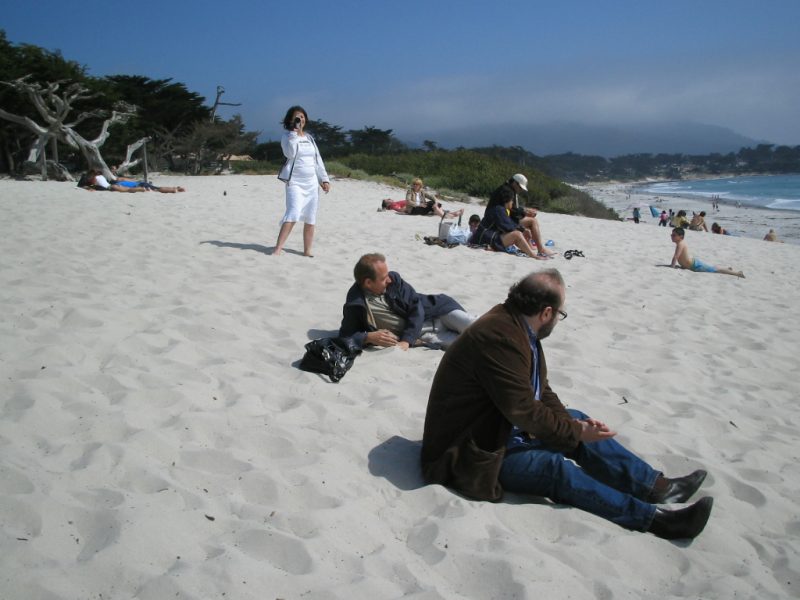 Still, I can't leave. I might miss something major. What if he orders up racist transsexual escorts to fist him while he questions the validity of monotheism? There's another journalist in the room, Brendan Bernhard from the LA Weekly, and I can't leave him here to witness any badness without me. Brendan wants to go home, too, but it's a stalemate, a sad case of prurient brinkmanship. So we wait here in the not-so-enfant terrible's room and watch him get wooed by the kneeling book critic and we crack some jokes with Sylvie, the French cultural attaché (who also wants to go home) and wait some more. Any minute now…
*
I've been a Houellebecq fan for a while. I even wrote an essay about him for this magazine a few years ago, but it never occurred to me I might get to meet him, let alone take a trip with the man. Margaret Atwood once wrote that wanting to meet a writer because you loved his book is like enjoying some pâté and wanting to meet the duck. But when I think about it, there is a part of me that wants to meet a duck, and so when the call came asking if I'd like to have a public conversation with Houellebecq in L.A. at the Hammer Museum, and spend the preceding week with him driving down the Pacific Coast Highway, which was his condition for the tour, I looked around at my toy-infested Queens apartment, my wailing, food-encrusted eleven-month-old son, my sleep-deprived wife, and said, "Sure."
It's been a long week for me. For Michel Houellebecq, it's been a long life. Born on the island of Réunion in the Indian Ocean, raised by a grandmother after his parents ditched him, Houellebecq was a morphine addict at eighteen and has spent some time in psychiatric clinics. His first book, an extended essay called H.P. Lovecraft: Against the World, Against Life, whose English-language publication (by Believer Books) has brought him out here to California, begins: "Life is painful and disappointing." He's been exploring that theme with increasing pungency and sales ever since.
While Houellebecq had gained a certain notoriety with his first two novels, it was Houellebecq's third, Platform, that made him more than just a famous writer. The novel revolves around the sex-tourism trade and ends with a Muslim terrorist attack. His lover killed, the narrator resigns himself to lonely bitterness, his only joy news of Palestinian deaths on the Gaza Strip. "It meant one less Muslim," he observes. Houellebecq, refusing to hide behind the brutal generalizations of his protagonists (that the main ones tend to share his first name makes it difficult), concurred with some of them when he told Lire magazine that "Islam" is the "stupidest religion." A few weeks before 9/11 Houellebecq appeared on the cover of a Moroccan newspaper beneath the headline: "This Man Hates You." The Houellebecq Affair became a touchstone for debate in France and Europe, perhaps a way to broach certain subjects—the changing demographics of Europe, the struggle over the forging of a European Union identity—at a safe distance, while heaping a complex web of catastrophes and misunderstandings at the feet of one slightly dweeby novelist. (Houellebecq, in his former life, debugged computers for the French Ministry of Agriculture.) Some French Muslim groups hauled him to court for libel, where the judge asked him if he was familiar with the French legal code pertaining to the case. No, Houellebecq replied under oath, but he imagined it had a lot of "boring passages."
Houellebecq was acquitted and the controversy died down, though 9/11 did give the book a prophetic mystique. Still, the rancor has never really gone away. Houellebecq has lived in semi-exile in Ireland with his wife and dog, and, more recently, in Spain.
*
I'm hoping to spend a few hours decompressing after the flight from New York, but in the elevator of the Hotel Nikko in San Francisco I chance upon my contact for the trip. Or she chances upon me. When the elevator doors open a woman I've never laid eyes on before shouts my name and embraces me. Dorna Khazeni was born in Tehran but has lived in California most of her life. She's an attractive and worldly translator who speaks French, Farsi, and English. It was her godfather, the movie producer Tom Luddy, who first gave her the idea to translate Houellebecq's Lovecraft book into English.
"Follow me," she says, and the next thing I know we're at Enrico's, a café in North Beach, with the Bad Boy of French Literature himself.
Maybe it's his jet lag, but Houellebecq seems to be the master of a kind of heavy-lidded stare that says, "Anytime You Want to Shut Your Stupid Mouth I'll Be Quite Delighted." He drinks a string of double espressos and sucks on his Philip Morris cigarettes, holding them between his middle and ring fingers, gnawing on the filter tips. The nicotine stain on his fingernail seems to possess a mysterious power.
We talk a bit, with long silences in between, about his flight, the perils of translation, his love for his corgi (later he'll confide that he "wouldn't survive the death of his dog"). His English is quite good, though he mumbles and pauses a lot. (Of course, being a monolingual American, I reserve the right to comment on the English of non-native speakers, and the fact that I don't have a driver's license makes my role in this enterprise even more suspect.) We talk about movies for a while. He's very up on the latest in serious cinema, though he also mounts a passionate defense of the latter two Matrix movies. Is it this kind of counterintuitive thinking that has set the Continent ablaze? I order a drink as we discuss where to go for dinner, and then I begin to describe the Hearst Castle, where I've been several times and which I suggest as a stop on our impending drive. As I hear the word "Rosebud" tumble out of my mouth more than once, I watch his eyelids lower again, those slightly milky blue eyes bearing down on me. I recall reading somewhere that Houellebecq is not such a sucker for that old-time Tinseltown glamour as some of his countrymen. Shut your stupid mouth.
After dinner, we get lost driving back to the hotel. Houellebecq snores in the backseat. Three (or maybe it was nineteen) double espressos will do that to you. Only a true provocateur, I think, would drink so many double espressos. Who knows what might happen next?
*
We've been in San Francisco less than a day but a drive out to Napa Valley seems like a nice idea. Things are getting weird here. Today I hit Mason Street in a good mood until a passing construction worker turned and called, "Hello, faggot!" Not a moment later, an older black man with a cane approached me at the crosswalk.
"Why are you smiling?" he said. "Don't smile. You stick out, man. Look around you. Nobody is smiling."
Some idiot's homophobia is one thing, but I will never smile in San Francisco again. Now we're heading to Francis Ford Coppola's winery in the big luxury Chrysler we've rented for the week in accordance with Houellebecq's request for an "American boat." Tom Luddy, who's with us, is Coppola's friend and longtime collaborator, and there's a chance Francis will be on the grounds. Soon the land turns pretty and Houellebecq seems to relax. He's had a revelation he's ready to share. Smoking bans have kept him off international flights in the past, but now that he's flown business, the amenities, he's decided, almost compensate for the patches and nicotine gum.
Still, he muses, "Do they let the prisoners about to be executed in America smoke?"
None of us are sure, though I offer up something inane like, "It goes state by state."
I'm suddenly reminded of a man I met the night before, when I left the hotel for a quick drink at the dive bar across the street. He was a Mexican optician named Frank who told me that if he were president he'd send death-row inmates into battle in Iraq and give them a chance to win their freedom through valor.
"There are some bad motherfuckers on death row," he informed me.
Frank, I decide, who said he moonlighted as a heavy-metal bassist and that he'd turned down a chance to become a cop in Mexico because he knew he'd be corrupt, would probably let the doomed men smoke. He'd certainly make them the offer he made as we said our good-byes: to hook me up with some cooler glasses.
I'm snapped out of my reverie by a new tension in the car. Apparently a few publications want to do extended photo shoots with Houellebecq later in the week.
"No," says Houellebecq. "As soon as there's a photograph it's all over." I assume he means the tour, or the presence of any press on the tour, but I can't help thinking he means it in a deeper philosophical sense, as well.
*
The Niebaum Coppola winery sits on some lovely acreage in the heart of the valley. If I knew anything about soil or grapes I'm sure I'd be impressed. After a visit to Coppola's movie research library and sound-editing center we stroll over to the museum and gift shop. There is a great deal of Coppolalia on display, including the Tucker car and Kilgore's surfboard from Apocalypse Now. There is also, in the gift shop, tons of food and wine and knickknacks bearing the Coppola name, from olive paste to leather-sheathed thermoses. Houellebecq and I sample some merlot and I ask if he's ever looked into these kinds of branding strategies. He seems to grow excited at the prospect, and decides he will launch his own line of cigars. Perhaps to celebrate, he buys a cigar cutter, the cheapest one they've got.
Francis isn't around, but maybe on our drive down south we'll drop in on Clint Eastwood. Tom Luddy appears to know him, too, and I'm not surprised. As we cruise back to San Francisco I stare out the window and take in the rolling hills while Tom fields a call from Andy Garcia and places one to his old buddy Werner Herzog. I fiddle with my cell phone so that it maybe seems Andy Garcia might call me in a moment, too, but the only message is some free-form babble from my son and a quick "We miss you" from my wife. I miss them, too, and I'm a little worried that I'm not really witnessing the bad boy being bad in America, but hey, the week is young. He may seem courtly and reserved now, but by the end of our trip, when he's shoving a magnum of Veuve Clicquot up his ass (or mine!) and denying the Holocaust, I'll have a hell of a story.
Back in the city limits we pass some low brick buildings that Tom says are leather bars. We pass an OfficeMax and I make a dumb joke about that being the biggest leather bar of all. Houellebecq's eyes light up but not for any obviously pervy reason. No, like many writers, yours truly included, stationery has a nearly pornographic appeal, and besides, he appears to possess a Frenchman's revulsion/attraction to big-box retail. We pull over and head into the store. He assures me he's an "efficient consumer" and once inside he does seem to know exactly what he needs: erasers, folders and, most intriguingly, Scotch tape. It's this final purchase and an earlier comment about how he planned to work in his room tomorrow that sets my mind racing. What's the Scotch tape for? What's he working on in his room? A collage? I've been on book tours before, and even bought stationery in foreign cities, but never Scotch tape. That must be the genius of Houellebecq.
*
It's Wednesday afternoon and there's trouble in the air. Tonight is Houellebecq's big to-do at Foreign Cinema, a San Francisco restaurant where he'll have a publicly attended chat with novelist Daniel Handler, better known as Lemony Snicket, followed by a feast for fifty hosted by San Francisco gallerist Martin Muller. This morning Dorna told me she'd happened upon a website calling for a protest against Houellebecq. Phrases like "anti-Muslim" and "the new face of Nazism" appeared in the announcement. I get a little giddy at the prospect of street action. Besides, won't this move units?
Most of the others involved don't share my enthusiasm. I guess I'm just a little burned out driving around this city and hearing so much French, waiting for snippets to be interpreted, or else barging into the conversation to shift it to English. I feel caught between things, not quite in my world but not really in Houellebecq's, either. At one point, when I'd asked him what he thought of San Francisco, he'd said it was no different from "any other Anglo-Saxon city." Tell it to Frank the Optician, I wanted to say.
By the next morning I'd broken through my funk. Maybe the threat of a protest was lifting my spirits. I was picturing barricades, mounted riot police, tear gas. And then, later, a top-notch meal.
The extra security turns out to be unnecessary, though they look sharp in their dark suits and Kangol hats. Houellebecq and Handler talk in a large packed room, mostly about the travails of Lovecraft and his horror fiction legacy. In his book, Houellebecq says that Lovecraft wasn't really literary. This is a compliment. The idea of "bad taste," or at least opposition to bourgeois notions of "good taste," is important to Houellebecq, still a way forward. The talk goes very well. They even get a few laughs, which is pretty good for a discussion about perpetual fear and the pointless agony of life. I begin to worry about how it'll go in L.A., when I have to do the talking. I'm afraid I lack the smoothness of Mr. Snicket. Then again, once you have millions of children under your thumb, what's one quasi-nihilistic French novelist?
At dinner I meet another duck, this one braised, delicious. We're all outside at one long table in the restaurant courtyard. Martin Muller, dapper, Swiss, intense, sits beside me. He's Diane Von Furstenberg's stepbrother and he's been showing art at his Modernism gallery since 1979, including works by Warhol, Crumb, and Russian giants like Malevich. Another of his artists is here in the flesh, painter Mark Stock, a big man with magic hands. He's got a deck of cards, and his tricks, including one where your card somehow winds up in his shoe, are strictly old-school, but amazing, at least to me. I can't even shuffle cards. Meanwhile Muller chats on beside me. He tells me how the Bohemian Club, and its annual two-week camp for the rulers of the planet in nearby Sonoma, has gotten a bad rap over the years. It's not just a place for CEOs and ex-presidents to traipse around pissing on the redwoods. "They don't care if you've got money as long as you have ideas to bring to the table," he says.
Dinner stretches through a few more glorious courses and everybody seems in a good mood. Maybe I'll join the Bohemian Club. I've got ideas. Houellebecq asks for his customary double espresso and seems very content, or bored. They might be equivalent states for him. I've had a little wine and I can't stop babbling about the Scotch tape. I'm still obsessed with the Scotch tape. Some of the guests give me a pitying look.
Later I'm back at the hotel again. No protest, and still no bad-boy antics. I haven't even seen Houellebecq drunk. Just very tired.
Still, tomorrow we hit the road.
*
We're a few hours out of San Francisco coasting down the PCH. Houellebecq is up front, his permanent place of honor. The door on my side is broken so every time we stop Houellebecq has to open it for me. It's nice having a world-famous novelist as your valet.
Beside me is Sylvie Christophe, deputy cultural attaché to the French consulate in Los Angeles. The consulate has kicked in some money for this tour and she's flown up to ride back down with us. I assume she's here as a sort of minder, to make sure that Houellebecq doesn't do anything too embarrassing, or to provide instant damage control if he does. We make jokes about how she's really a spy, but if she's not a spy, Chirac is making a big mistake. Sexy and stylish like all the official French people in California, Sylvie's also quite funny. But there's a levelheadedness to her that can almost unnerve. It's not hard to picture her lounging by a pool as she calls in coordinates for a Mirage jet air strike on Hamburger Hamlet. I try to keep her amused by teaching her Americanisms, some of which I make up.
The weather is beautiful and we stop off for lunch in Carmel. We drive up to the Mission Ranch, co-owned by Clint Eastwood, where we have instructions from Tom Luddy to pass a note to Clint and see if he'll join us. I lean over the seat into Houellebecq's ear.
"Are you a Clint Eastwood fan?" I ask.
Houellebecq pauses for a long time, squints into the passing landscape.
"I don't know," he says.
The restaurant is closed and nobody is around except for an older gentleman on some kind of motorized tricycle. We tell him we're passing through, friends of friends of Clint. How would we get a note to him?
"Send it to Paramount Pictures," the gentleman says.
So much for the celebrity circuit.
We eat pizza at an Italian joint, or three of us do. Houellebecq says he never eats lunch. We talk about the film he wants to direct, and some research he did in Pattaya in Thailand. He talks about the many Americans who go there and, when their funds run dry, commit suicide.
"Just Americans?" I ask.
"Usually, yes," he replies, a tiny smirk growing on his becalmed face.
We walk down to the beach and sit on the sand, which Houellebecq fondles and remarks upon for its softness. Then an older man, who turns out to be a Danish dentist traveling alone, takes our picture. He points excitedly at the photo in the digital viewfinder.
"You see, you see, I got all of your feet, too. I do not believe in photographs of people that do not show the feet. Without the feet you have nothing."
I want this to mean something, some corollary to Houllebecq's remark about the photo shoots, but I have a feeling it's just the ravings of a Danish dentist. Still, for the record, Houellebecq wears expensive-looking leather loafers on his feet, no socks. They work well with his light trousers, usually red or beige, buckled with a very skinny belt at the belly button, and the hint of turquoise wife-beater beneath his sedate striped shirt. It's sort of an insane taste-mocking look, but it works beautifully on the guy. Besides, it jibes perfectly with his literary aesthetic, which he describes at one point as the "brutal attack."
We drive a few more hours and Houellebecq seems to nap through a lot of it. He has this uncanny ability to appear asleep and then rise up out of his slumber with some bon mot, as though he's been listening to the conversation the whole time. It's his M.O. in a wider sense, too, this disheveled, seemingly discombobulated man, an establishment outsider who looks like easy pickings until he opens his mouth (or laptop) and starts hurling thunderbolts. It's hard to tell whether it's all a big game or he's some kind of narcoleptic savant. I'm beginning to think it's a bit of both, but that his glue is a sometimes charming, sometimes grating, semi-autistic geekiness. He's not a conversationalist, and he's none too curious about anything or anybody that doesn't directly feed his observational mechanism. He may be an artist for our age, but he's got none of the media-ready gabbiness or false compassion that goes with it. Even his narcissism doesn't seem to stem from the usual brew of selfishness and insecurity. It's a cold, glittering thing. Life is painful and disappointing. And then you die. He may be a major writer, I tell my friend on the phone one night from my hotel, but you wouldn't want him, say, running a country.
"Are you kidding?" says my friend, a Houellebecq fan. "You wouldn't want that guy running the local gas station."
*
Our next stop may have been my idea: Esalen. Founded in 1962 on the cliffs near Big Sur as a center for the exploration of "human potential," Esalen, with its New Age cant and hot springs and encouraged nudity became for many a symbol of all that is false and annoying about this part of California. Now, of course, it's more your usual spa destination, but I figured we should stop here because it's mentioned in The Elementary Particles as the model for the colony in France which Bruno's stepfather runs, the site of the young protagonist's formative sexual humiliations. We have a day pass, courtesy of Tom Luddy, of course.
It's near dinnertime when we arrive. We decide to skip the meal and simply stroll the grounds, better to take in the majestic sunset and maybe peep at some naked folk. Houellebecq wanders off, perhaps to ruminate on the failing dream of the European Union. I sit on a bench and watch a woman in spandex and headphones dancing on the edge of a cliff. If she had Rollerblades on we could be in Washington Square Park, but there's something eerie about the same self-absorbed gyrations here. It must be the cliff.
I spot Houellebecq at a balcony and join him. Below us, moving in and out of a warren of stone bathhouses, are tiny naked people.
"What do you make of it all?" I ask.
His eyes sweep up the hill past the dining hall across the grounds to the main entrance.
"There's a lot of parking," he says.
"I guess I mean given that you wrote about this place," I say.
"I never wrote about this place," says Houellebecq.
We walk up to the garden and sit on a bench surrounded by lush and highly-organized vegetation. Houellebecq lights a cigarette. I ask him if he's ever tried meditation and he says not really. I mention some monks I saw on television who could raise or lower their body temperature at will.
"I'd rather put on a coat," he says.
The sun is down and our momentous visit to Esalen has come to an end.
*
There is no time for Hearst Castle. There is time for elephant seals, though. At dusk we pull over to watch them wallow on the beach. They huddle together by the dozens, great gray tubular hulks, most asleep, a few bellowing on the margins of the herd like prescient and despised artistes.
We drive to a seafood joint in Morro Bay, eat some fish, and drink a few bottles of Riesling. Houellebecq unwinds with some stories about his last trip to the U.S., to New York. He's speaking mostly in French but Sylvie and Dorna interpret the choice bits, as when he notes that the "barmaids" in New York tend to be "big-titted, ambitious bitches," or that one of his middle-aged, long-haired American editors resembled a "rock music producer in his comeback phase."
Finally, I'm thinking, release the bad boy!
But next thing we're checking into our motel rooms in San Luis Obispo, saying good night. I sit up watching Dune on television until I get to the scene where Kyle MacLachlan has to put his hand in the pain box. Many have tried to write a compelling piece about Michel Houellebecq, I picture the old intergalactic sorceress/glossy magazine editor telling me, or Kyle, or both of us.
"Tried and failed?" Kyle and I ask, trembling.
"Tried and died."
In the morning we set off on the final stage of our Tour de Cali. But first it's breakfast at the Madonna Inn. The Madonna Inn, for those who've never been, is an irresistible tourist trap specializing in bizarrely furnished rooms—the rock room, basically a cave with light fixtures and a bed, is a favorite—and Southern German kitsch. The waitstaff uniform is pure Heidi, and the men's room has a waterfall for a urinal. The food is terrible, and though he appreciates the urinal, Houellebecq doesn't seem overly impressed. He says he's been to places in Bavaria where the kitsch is much more elaborate.
"Yes," I say, "but this is California."
Houellebecq seems to concede my point, and through this small victory, I feel we've forged a strange new bond. Later, at a gas station in Los Angeles, when he gives me a sip of his Frappuccino, I'll know I was right.
*
Now that we're in L.A. it's hard to believe the road trip is over. Our merry band was just getting into the spirit of things, even if Houellebecq slept through a good deal of this drive he insisted on taking. As it turns out, the pristine beauty of the California coast wasn't really what he had in mind. "I was thinking of Colorado or something," he tells me. At any rate, now it's time to greet the wider world. There's a radio interview with the king of book-talk in L.A., Michael Silverblatt, and there's still the photo-shoot question. Houellebecq agrees to a few pictures but no formal shoot.
Finally, a celebrity has been secured. Oliver Stone would like Houellebecq to join him for dinner. I'm invited, but against every journalistic instinct I decline. They will be speaking in French for one thing, and for another I want to visit an old friend instead. Shortly after his dinner with Houellebecq, Stone is pulled over and arrested for drunk driving and drug possession. Houellebecq is not in the car and I'm immensely relieved. It all belongs to somebody else's bad boy story. When I ask Houellebecq how Oliver seemed, he replies, "Agitated."
*
Saturday Houellebecq stays in his room until the late afternoon. Maybe he's finishing up the collage. Late in the afternoon we take a drive to a nearby PETCO, where Houellebecq shops for dog toys. He's also in the market for a GPS tracker that will fit on a collar, but that's a little high-tech for this place. I suggest he implant a chip in his dog's head. He's not at all amenable to that idea. The day before, watching a pit bull go by, he'd remarked how awful it was to breed animals for killing. What about humans? I asked. The eyelids lowered once again, this time not from fatigue, and it occurred to me that I was speaking with the writer who put the phrase "post-human" on the literary map. It's too late for us, but maybe not the pit bulls.
Later we go to a drugstore and Houellebecq buys an expensive facial mask. Should I be buying one, too? That night a group of us go to Mel's, the popular burger joint. Talk veers geekily toward The Lord of the Rings, and Houellebecq notes that part of its draw is the way people can imagine themselves as different beings from Middle Earth.
"What would you be?"
There's an almost dreamy cast to his face as he answers my question.
"An elf."
And now something truly magical occurs. A stranger approaches our outdoor table and hovers incredulously over Michel Houellebecq, world-famous novelist.
"Holy shit," he says. "Is that a quadruple espresso?"
*
It's Sunday afternoon, showtime at the Hammer Museum, with "show" being the operative word. Neither I nor the hundreds of people who've shown up at the Hammer are quite prepared for the Velvet Hammer, no relation, a burlesque troupe that's been hired to warm up the crowd. An MC charges out on stage and tells bad Vaudeville jokes while a drummer hits post-ironic rimshots. Next up are the strippers: the pretty one, the fat pretty one, and the tiny pretty one. The tiny pretty one is named Bobi Pins and she's very tiny. Circus-tiny. Some of the older museum subscribers gasp as she twirls her pasties.
It's a strange act to follow, but Houellebecq and I make the best of it. We're a good team. I stammer and he mumbles into a bad microphone. We talk about Lovecraft, cosmic fear, and the pointless suffering of life, not to mention the French referendum, in which the people of France have just voted down the EU constitution. "You can't have direct democracy if the people won't obey," says Houellebecq. Not even the local gas station, I think.
So now, after the wine-and-cheese reception, after one more long dinner, here we are in Houellebecq's room for the final stand. The book critic is a new addition. She's seems smart, if a little loony, and Houellebecq seems glad she's here. I'm glad he seems glad. It's been a frustrating week from a journalistic standpoint, often from a human, or even post-human standpoint, but I genuinely like the man, especially when he gets a little goofy, showing off his kung fu moves, as he did earlier this evening, or mixing up English words, declaring himself not an honor to but an "otter of" France.
Houellebecq opens his laptop and shows us the cover for his new book, The Possibility of an Island. It's a photo of a sultry woman submerged in water. The book critic pooh-poohs it, says the image is beneath the dignity and importance of his work, but Houellebecq stares rapturously at the cover model.
"I want to go to North Dakota," he declares. I strongly believe this is apropos of nothing.
We start talking about planes again, and travel. I quote the Austrian writer Thomas Bernhard.
"It makes no difference," Bernhard wrote, "whether I go from New York to London, or London to New York."
"Yes," says Houellebecq, "but Bernhard did not smoke so he would rather be on the plane."
"And if you didn't smoke?" I ask. "Would you rather be on the plane?"
"I think so, yes."
"Look, Michel," I say. "I need to ask you something."
"Yes, Sam?"
"What's with the Scotch tape?"
The answer is so mundane I want to cry. He's been using it to fasten some loose caps onto his pill bottles. And that's the true genius of Houellebecq. He just goes about his business, buys his Scotch tape. It's what the rest of us invest in his every gesture and utterance that keeps the Houellebecq balloon afloat. Without our slavering he'd be an important writer, for sure, but he wouldn't be Houellebecq. And it's now that I turn to Brendan Bernhard, the LA Weekly guy, and say, "Why don't we both leave? Then nobody misses the big scoop." Brendan takes a last look at Houellebecq and agrees.
There will be no bad-boy antics tonight, no scabrous words for the prophet Mohammed, no child hookers, no home porn. The bad boy of French literature is growing sleepy. Or maybe not. The book critic who was just speaking to him about the possibility of love is possibly spending the night.