It was Friday evening, an hour before showtime, and the art deco theater in San Luis Obispo, California, already had a line of well-dressed women circling the block, bound for the Wild + Free conference. They'd come from far and wide for a special weekend—hundreds of homeschooling "mamas" gathering "for two days of insight, inspiration, encouragement, and community," as the website promised.
Pauline Cook had traveled all the way from Central Washington. Before she became a mother, she had not heard of homeschooling. Now, over a decade later, with two teens and a twelve-year-old, she's a pro. There are as many ways to homeschool as there are families doing it—and there are families joining homeschool folds every day—but Pauline refers to her particular flavor as "Gospel-powered life school." This was her third Wild + Free conference. She'd attended her first five years earlier in search of resources. But she'd been surprised to find that Wild + Free wasn't just a place to share ideas—it was really a convening rooted in shared purpose.
"For as long as humans have lived on this earth," Wild + Free's founder, Ainsley Arment, has written, "children have been schooled at home." Arment is a homeschooling mother of five, and the modest Instagram account she started on parenting has now grown into something of an empire, offering monthly homeschool bundles, books, talks, retreats at a Virginia farm camp (you can pay extra to ride a zip line), a blog, and the annual Wild + Free conference, held this year in San Luis Obispo. "We may not all homeschool the same," as the conference invitation put it, "but we're in this together."
Pauline was dedicated to homeschool because it allowed her to spend valuable time with her children—time she knew was temporary—and to foster a sense of joy, wonder, creativity, and, yes, devotion to Christ, that can be difficult to achieve within the rat race of conventional society and institutional school. But above all, she wanted to protect her children's childhood. As a new homeschool mom, she'd found Wild + Free on Instagram, and it became a lifeline for her. Certain posts ("Life is messy, chaotic and full of distractions, which means learning at home will be too. But it can still be rich and beautiful") meant to inspire confidence in homeschoolers like Pauline when it wobbles. Other posts ("Home is not better than school if it is not a haven for a child's heart, mind and body") were reminders of what was most important in the homeschooling journey, to strengthen one's resolve.
In San Luis Obispo, Pauline queued up with the others in the shadow of the marquee. Inside, the atmosphere was electric. The other mothers ("While we value the vital role of fathers in homeschooling… this event is for women only," the promotional materials read) were dressed for the occasion: long boho dresses, high-heeled boots, perfectly tailored jeans, bowler hats, and beachy waves. They greeted one another with cheer, snacked on canapés, and crowded the maker stalls, where other attendees sold handmade journals and jewelry and hawked company schwag.
This was the Wild + Free community—women engaged in a vocation that can be remarkably demanding, has no clear map, and can also be quite isolating—together in the flesh. Arment liked to remind people that in spite of the fact that throughout history most education has happened outside of institutional schools, "we homeschooling mamas often feel like pioneers forging a new path for the next generation."
Pauline was here to reconnect with others based on that shared purpose she'd encountered at earlier conferences—to, as she put it, "refill my cup." She took a seat inside the theater; soon, the lights dimmed, and the screen lit up with a five-minute countdown. Then a video appeared, and the hall of women fell into a hush.
The camera began at the doorway to a home, then opened into a slightly out-of-focus living room, emptied of people. "This old house," a woman's voice narrated over the picture, "these quiet halls, these empty rooms, whisper from the past." It was Ainsley Arment's voice. The video then moved through the house's tidy rooms: a bunk room with mussed sheets, a dining room, a piano with two toy trucks perched on its rim—all "evidence of a life once lived together," Arment said. The long dining room table was set only for two now, for "childhood slips away like the turn of autumn."
The video cut to a pair of hands slowly washing a spoon at the kitchen sink. "We long for it to stay like this forever," Arment's narration continued. "But children grow up; that's what they do." The woman on-screen brewed a cup of tea and looked longingly out the window. "Dear Mama, whatever wounds you're mending, this, too, shall pass. The hardship, the heartache, the hopeless nights are only a small part of your family's story."
But what brought tears to Pauline's eyes was what came next: "All the good, all the love, all the beauty and blessings—they, too, will pass much sooner than we'd like." Pauline's kids were growing up. "The days are long," the oft-quoted parenting adage goes, "but the years are short." Soon, Pauline understood, would come a season of endings, of transition, of her children moving on.
The screen brightened, the woman came into focus, and the music began to surge and lift. "But not today," Arment's voice rang through the crowded rows of women. "Today, Mama, is meant for you. Today, Mama, is meant for them." The on-screen mama turned, and in through the back door ran four smiling children who leaped into her arms.
Across the theater sat another woman, named Trisha. This was her first conference, and she was stunned to find herself—not five minutes into the official program—also already in tears. Unlike Pauline, Trisha was new to the whole homeschool enterprise. The early pandemic virtual learning just hadn't worked for her kids, as for so many children and families. In late 2020, she took what she'd thought would be a temporary leave from her job as a physical therapist in Texas to tend to her children's education—just until school reopened and things returned to normal. Except that she fell in love with it. Her kids never went back to school.
In Texas she'd joined a Wild + Free meetup group, where she connected with other homeschool parents and arranged regular outings with them and their kids. When she and her husband decided to move their family back to her hometown in Hawaii, she started a Wild + Free group of her own. Trisha was secular, but the references to faith that permeated Wild + Free didn't bother her. At the root, she felt, all the Wild + Free folks wanted the same thing: to live outside the frenzy of a bell schedule and standardized testing, to spend as much time with their kids as they could while they were young, to put their children first.
Recently, though, Trisha had been doubting herself. Her in-laws questioned her decision to homeschool, and while her husband supported it, he felt she should be offering a more standardized curriculum than the free-flowing, child-driven format she favored—hiking to a waterfall one day, cooking and reading together the next—and in which she felt her children thrived. She'd justified coming to the conference because she needed resources. But sitting in that auditorium, she understood why she'd really come: for recognition from this sea of other mothers like her, and for validation that she and her family were on the right path.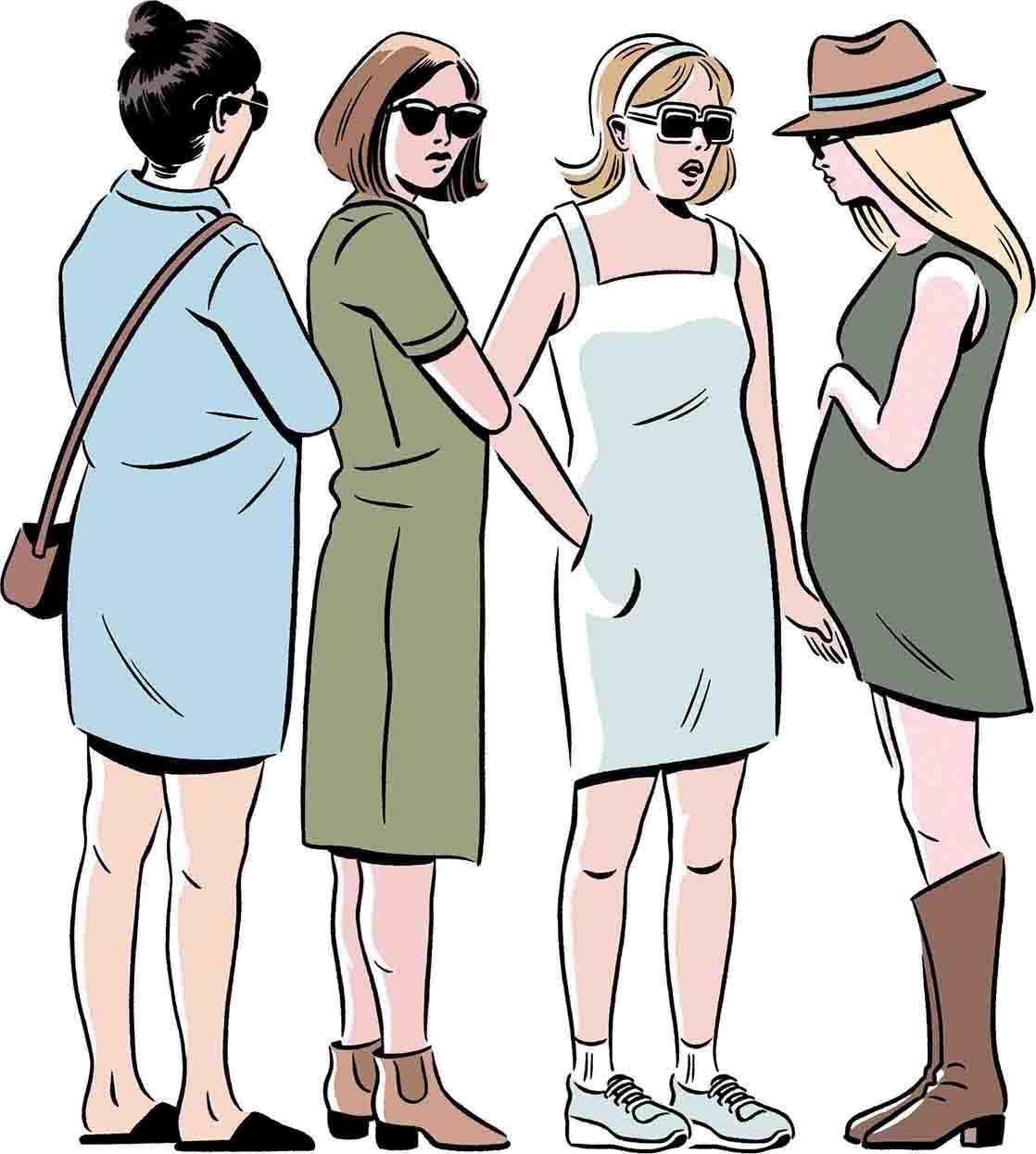 "You are needed," Arment's voice boomed through the auditorium as the woman on-screen embraced her children. "All of you: the parts that can bear it, and the parts that can't. The perfectly imperfect version of you. Because at the end of the day, you are exactly the mother your children need."
There were around eight hundred homeschooling mamas in the room that day. Some, like Pauline, were old hands. But many others, like Trisha, had turned to homeschool as a result of the pandemic and never looked back. Based on data from the twenty-­one states that track homeschooling enrollment, the practice has risen by 30 percent nationally since 2020. The actual numbers are likely far higher, according to education researcher Thomas Dee. "Notably," he writes in a recent report for the Urban Institute, "this dramatic increase reflects enrollment during the second full school year under the pandemic, when most schools returned to in-person instruction." Even when it was possible to send kids back to school, parents like Trisha opted not to. Now roughly 6 percent of the country's school-aged children are opting out of school in favor of learning at home.
I was in that auditorium too. I'd come because, as a longtime school administrator who had recently left my job in the Oakland, California, public schools, I was interested in the mass defection from institutional school: what it signified and what it heralded. I was also a new mother—suddenly included in the "mama" class—and thus charged with making decisions for a small being that rendered questions of school choice and educational philosophy far more personal than they had been before.
The video ended, and a cheery homeschooling husband-and-wife folk band took the stage, entreating the crowd to "sing along, or whistle along," to their hits including "Love Makes a Family," "The Best Love," and "Glory Days," because "this time with our kids is the glory days." Toward the end of the evening, the lights dimmed once again, and Arment walked onto the stage. With a laugh, she apologized for making everyone cry. "The title of my talk tonight," she said, "is 'The Lost Children'"—referring to all the children who had lost their way in this world as a result of leaving their parents' nests too early and going to school.
"Together, we stand in the face of all that society tells us and proclaim what is right for our house," she said to the crowd. Both Pauline and Trisha felt bolstered by this. This wasn't just a room full of mothers now, but of activists, trailblazers, believers, pioneers.
"We are here together for such a time as this," Arment declared as her talk came to a close, which I took to mean a time of maternal reawakening to both the wonders of childhood and the potential perils of institutional school. "I believe we can change the world," she said to the auditorium through the trembling of tears. "I believe we already are."
Here's a list of reasons parents gave me for choosing to homeschool:
Because, like Pauline, they are guided by Christ and want to integrate the gospel into their lessons. Because, like Trisha believes, children shouldn't be at desks all day, and they learn best when their interests guide the curriculum rather than the other way around. Because schools are racist. Because schools require vaccinations. Because they are afraid their children will get COVID. Because schools are increasingly banning books. Because schools are teaching books that parents find inappropriate or offensive. Because of school shootings. Because schools teach stuff that is wildly irrelevant for the future in a world that is vastly remaking itself before our eyes. Because schools are failing, as evidenced by crap test scores and national teacher shortages. Because schools aren't challenging students enough. Because of bullying. Because schools have a "trans agenda." Because schools are pawns of the educational-industrial complex. Because schools are pawns of the woke agenda. Because schools are hostile to trans children. Because schools don't serve neurodiverse children well. Because of the school-to-prison pipeline. Because school is about more than memorization. Because childhood is something to be honored and preserved. Because there's only a short period of time to spend with our children, and why send them away all day? Because, because, because.
This list reflects our country's cavernous divisions. At the same time, homeschooling is a peculiar prism through which to understand societal divides. For though homeschooling families' reservations about institutional education reflect varying political beliefs, the families all arrive at an identical solution: educate children at home. But doing so only promises further stratification. What does it say about the US education system that so many people are opting out, and how did we get here?
School as we know it in this country is a relatively new concept. Prior to colonization, Indigenous groups learned within their families and close-knit communities, and from their elders. The same was largely true of the Europeans who invaded this land. In colonial America, education tended to take place in the household, as many homeschoolers like to point out, but also, formally and informally, in the world: in the fields where children labored, in the homes of their friends and community leaders, in places of worship and of work. As Jana Harcharek, an Indigenous leader working for the North Slope Borough School District in Alaska, once put it to me, "There's a difference between education and schooling."
But over time, school—an institutional setting implementing a standardized curriculum and learning format—emerged as the primary mechanism through which our country's children were supposed to learn. Today's US public education system evolved from a few different philosophies in early America. The Common Schools Movement of the Revolutionary era was one of them—it held that education was a fundamental pillar of democracy. Its leaders, including Thomas Jefferson, argued that "the survival of the young republic depended upon educated citizens who could understand public issues, who would elect virtuous leaders, and who would sustain the delicate balance between liberty and order in the new political system." Later, in the mid-nineteenth century, "charity schools" began conscripting the poor children of the country's growing cities into schools. These schools were exclusively for the poor, and were focused less on academics than on "moral education." As Sheila Curran Bernard and Sarah Mondale put it in School: The Story of American Public Education, the charity schools "treated poverty as a defect of character." Education reformers of that era, they write, "denigrated the charity schools for isolating the poor, but they admired the highly organized urban systems that had evolved from them." These were the precursors to today's large school districts.
But the shift toward a compulsory, national public school system took time. Voters (not unlike today's homeschoolers) feared government intervention in education and schooling, particularly those in rural and religious communities. Reformers like Horace Mann, who saw education as "the great equalizer of the conditions of men—the balance-wheel of the social machinery," campaigned for universal, secular education taught by well-trained teachers; other reformers like Emma Willard and Catharine Beecher campaigned for female education. All of them believed school should be available to children at no cost, and should be funded by tax dollars. Horace Mann was appointed the first education secretary of Massachusetts. Later, in 1852, the state became the first in the nation to require its children to attend school. By 1860, most states had created a superintendent of schools position dedicated to formalizing and standardizing a common education system, and by 1918, school was compulsory in every state in the Union. The reformers had been successful. Education was now widely, if not exclusively, viewed as both a social lever and a public good that allowed for the ascent and well-being of the individual, but also the ascent and well-being of the nation.
This lofty ideal of education, as it is both obvious but necessary to emphasize, was applied only to white boys, and sometimes to white girls. And it is thus no surprise that school in this country has also long functioned as an agent of violence and repression. Starting in the late nineteenth century, tens of thousands of Indigenous children were forced into state-run boarding schools, where they were separated from their families, compelled to do manual labor, beaten for speaking their native languages, and physically and sexually abused. These schools were responsible for the deaths of at least five hundred children, according to a recent federal report, but probably many more. Their campuses were littered with mass graves, where the bodies of children who died in the schools' care were hidden away.
Such endemic violence is not a mere vestige of schools past. The chance that a Black child attends a high-poverty school is more than double that of a white child. Not unlike the mission of the charity schools of yore, the mission of some educators still seems to be to "civilize" Black and brown children into the norms of a white-dominated society. Though Black children account for only 16 percent of students enrolled in public school, they account for 31 percent of school-related arrests, according to the ACLU, and are suspended and expelled three times as often as white students—and those who have been suspended or expelled are three times as likely to end up in the juvenile justice system. What has been called "the school-to-prison pipeline" ensures that poor Black and brown students in certain districts are more likely to end up in prison than they are to go to college.
Education as a public good remains an elusive fantasy, yet is it not an ideal worth fighting for? "The road necessarily traveled to achieve freedom and equality in the United States leads directly through public education," writes Dr. Noliwe Rooks in the introduction to her book Cutting School: The Segrenomics of American Education. Throughout this country's history, white supremacists have tried to keep Black people, as well as immigrants, Natives, Asians, and brown people, from enjoying equitable public education opportunities—or sometimes any school at all. It has always been clear to white supremacists as well as to those in power that going to school is a mechanism of upward mobility. ("Education," as lawyer and diplomat J.L.M. Curry put it to the Alabama General Assembly in 1889, "would spoil a good plowhand.")
At the same time, education is big business. Free, universal access to our public education system is already hobbled by charters and private schools that, in the name of school choice, siphon off both resources and students from the public system. Virtual and homeschool charters are the next for-profit frontier. These schools, based overwhelmingly in poor Black and brown districts, recruit students by promising excellence and an alternative path from the standard "failing" public schools. Unlike in typical charter schools, all coursework happens online, and, in spite of having no buildings to maintain or non-teaching staff, like attendance clerks and food service workers, some are reimbursed by the state at the same per-pupil rate. To lure students, they even advertise on TV channels like Nickelodeon and the Cartoon Network. "Such schools are neither effective nor inexpensive," writes Rooks, "yet they continue to expand"—even more so post-pandemic, when fewer people are sending their children back to school.
Freedom of choice and the open market are fundamental to the American way—and so, it seems, is a fear of government interference in our children's education. "We can go to the mall and buy whatever we want," writes Sam Blumenfeld in a 2000 article in Practical Homeschooling. "But when it comes to education, suddenly we are confronted with compulsory school attendance laws, compulsory property taxes to pay for the government schools, compulsory testing, compulsory inoculations, forced busing, restrictions against prayer, forced sex ed, death ed, and drug ed."
In most states it's easy enough for a family to register as a homeschool—it requires just a bit of initial paperwork and periodic progress reports. A number of national homeschool agencies help parents navigate the process. However righteous the reason for opting to homeschool, the choice can be seen as the ultimate act of privatization: creating a school of one.
What is school for? Is school a mechanism for amassing knowledge or for learning to navigate the world? Is school meant to prepare a child for life or for further school? Is it fundamentally a social endeavor—a society in miniature? Or is it a place to get one's wider social-emotional needs met, like mental health and public benefits—a place to be safe and to be fed? Is it a place for students to bask in the innocence of childhood or meet the realities of the world? To expand their horizons or protect them? Is school a place for a person to discover who they are, and equip them to better become that person? Or is school an economic equalizer and a lever of democracy?
A school is shaped by how the people running it (or funding it) answer the question of school's fundamental purpose, and central to the problem of education in this country is that we can no longer agree on the answer—if we ever could. Given this fact, along with the rot at the center of school's history and the profit set to be made by alternatives to public school, it is no wonder that the system is falling apart—and that more and more people are pulling out altogether.
When Sofia was in middle school in New York City, her teachers never called on her. There were racist incidents all the time—students calling her the N-word, students bullying her for her looks—and Sofia, who is Puerto Rican, never felt her teachers did a good job intervening. She was sometimes harassed on the way to school. She'd harbored great anxiety in the classroom and school hallways ever since she was a little kid: about grades, about having the right answers, about doing the right thing, about generally acting right. Then, in the spring of 2019, her mom, Alyssa, got a job in California, and so Sofia, Alyssa, and Sofia's two siblings moved. When COVID hit, Sofia and her siblings were on Zoom all day long. She felt extra anxiety being on camera, as if everyone were watching her.
When online school reopened the next fall, Sofia and her siblings enrolled in public school, but by October they'd had enough and opted back into homeschooling. Alyssa felt it was better for her kids to be self-directed and engaged in what and how they were learning, and on schedules that better suited their adolescent biorhythms. But the pressure on her as a parent was immense. She was trying to keep up with three separate curricula—essentially, trying to replicate the school experience, but at home. She joined some Facebook groups in search of support, but the communities she found were largely right-wing, religious, and/or conservative, which didn't match Alyssa's ethics. The other parents in these forums were also mostly white. But then she found a group called My Reflection Matters, which was made up largely of women of color dedicated to the notions of conscious parenting and "unschooling"—a philosophy taking hold throughout the country, in which children learn with limited structure and based on their own interests and at their own pace.
"I was like, This clicks and this makes sense to me," Alyssa told me. It dawned on her that our educational system just told people what to learn and how to learn it. No wonder so many people ended up lost. She wanted her kids to recognize what excited them. She realized it just wasn't possible to replicate school at home—nor did she want to. Effective homeschooling meant shedding the rigidity of institutional school. It also meant building special relationships with one's kids and an open line of communication. Once this paradigm was revealed to her, the entire family relaxed—and began loving homeschooling more than they had ever loved actual school.
Sofia, in particular, relished learning at home. She signed up for classes through an Agile Learning Center—an increasingly popular distance-learning platform which allows students to sign up for short learning modules on anything from basket weaving to video game design. She loved fashion and period costumes, so she began helping out as a period performer at her local historical center. One day she just marched over there and asked for an internship. They'd never had an intern before, but they were impressed by Sofia's initiative. They made a role for her.
"Now Sofia and I talk way more than we ever did, because there's not this authoritative [dynamic of], You have to do it this way," Alyssa told me. Wouldn't most consider hers a successful learning experience? A student engaged in her work and better prepared to meet the world? Alyssa says she is just the facilitator, making sure Sofia has what she needs.
Homeschooling also allowed Sofia to better understand herself. A few months into homeschooling, she diagnosed herself as autistic. Alyssa dismissed her at first, but the more they looked into it together, the more it seemed to track. It explained some of her debilitating anxiety. Neither her autism nor her anxiety was supported or seen in the school context; at home, she could make choices to manage them.
Alyssa and her kids feel liberated. And there are many who understand homeschooling writ large—and unschooling in particular—as liberation work. School, after all, is a vestige of colonization. A rapidly growing demographic of homeschoolers are Black families and other families of color who have been failed—or expect to be failed—by institutional education.
"Instead of trying to work within the system to lobby and hope for change," writes writer and unschooling advocate Akilah Richards, who leads the Raising Free People Network, "we are designing our own liberation."
Many critics point out the luxury of homeschooling, but Richards contends that by shifting priorities, anyone can do it. She and her partner have two school-aged kids. "Today," she writes, "our measure of success ignores GPAs, degrees and the American Dream, and instead puts a focus on confident autonomy, autodidactic learning, strong discernment skills and happy people who are willing to approach their own ideas of liberation and joy…"
This utopic, liberatory framework for education seems to be taking hold nationwide. "What do I want to center here?" asked Frieda, a white homeschooling parent of two in Western Massachusetts, of her own unschooling practice when we spoke this spring. "I want them to know how to heal themselves." She is a dancer turned herbalist, and her children help her mix her tinctures and light the yurt's woodstove before her sessions.
"I want them to know how to make a fire without a match. I want them to listen to birdsong and sit in the woods and pay attention. To sit not just in a place of doing, but [of] being receptive." She paused. "I want to create a place of receptiveness." She sees the devastation of the planet, and the crushing inequality facing the world, as stemming from the lack of such attunement. By slowing her whole family down, helping them connect to the earth and to their wider community, she feels they'll be better stewards and people. In her eyes, this is best fostered outside the rigid confines of traditional school: at home.
I spoke to another homeschooler, named Bethany, who lives in Marin County, across the bay from my home in Berkeley, California. Her kid is fourteen and was homeschooling before the pandemic. She explained that homeschool "gives people freedom of choice no matter what freedom they want." It's not always about the curriculum, she points out, but sometimes about the other trappings of school: the schedule, the commute, the social pressures, the mandatory vaccines.
During the early pandemic, more and more people in her town were opting to homeschool. Bethany helped form a small network of families so kids could rotate between houses to study and to play. This network grew and more parents contacted her, hoping to join. At the beginning of the 2022–23 school year, they had eighteen kids in their group from throughout Marin County—too many to host at a single home. And the kids needed a bit more structure too.
So Bethany's group found a building to rent four days a week. It was an old log cabin built by the local veterans' society; the upstairs, where the homeschoolers began to meet, functioned as a community center, and downstairs was a low-lit bar where local vets gathered to drink. They arranged sixth-, seventh-, and eighth-grade pods. One of the parents signed up to teach science. Another offered to teach Shakespeare. A recently retired teacher from Bolinas had some extra time on his hands; they hired him to teach math and science. Another teacher, who had recently left his public school district after more than a decade, became the social studies teacher. During lunchtime, students ate at the play structure. They were asked to give up their cell phones each morning to avoid distractions. Each day of the week, a different homeschool parent was in charge of keeping things running smoothly—not unlike, say, a principal.
The homeschool pod had created something together, and what they'd created looked and functioned remarkably like a school. The only difference was that it was a school made in the image and values of the parents sending their kids there.
I arranged to visit on a particularly hot spring day. I'd come in time to observe a science class taught by one of the dads, which was meeting out back in the shade of redwoods, by a creek still running with the spoils of high winter rains. The teacher-dad gathered the students around a table. Each pair had been given a different experiment to conduct, and now they were re-creating the experiments for the group and explaining the chemical reactions taking place. I watched as a trio deposited a stack of Mentos into a two-liter bottle of Coke, which immediately began fizzing over with foam. "Pay attention!" the teacher-dad encouraged over the chatter. Besides being outdoors, the class looked more or less like a regular science class in a regular school, but with far fewer students: something was being learned, and a teacher was redirecting students toward the task at hand.
I walked back around to the front of the school, where Bethany and Amy, the parents on duty, sat in the sun. Amy's sixth- and eighth-grade daughters were attending this school. She explained that she had opted to take her girls out of the district because she wanted her children to learn according to their family's values. This echoed what many homeschooling parents had told me, and made sense. I knew that when the time came for my daughter to go to school I, too, would want her to attend a school that aligned with my values. But I also recognized the perils of this line of thinking. It suggested that a value system is static and absolute, and it left little room for a child to learn beyond the reaches of what her parents believed.

I asked Amy what the values were that most guided her family, and that she most worried her children weren't learning at their public school. She cocked her head and thought about this for a minute. "Huh, I'm trying to think," she said. Values weren't always an easy thing to articulate—they were sometimes more felt than spoken.
It was far easier to articulate the reverse: the values one felt were being imposed on their children at school. For instance: "You know, going into the whole gender issue." She paused. "That's one of those things where you're like, I don't really know how I feel about that. I don't have anything against it, per se, but when it's pushed on my kids, that's when I feel like I'm not quite sure."
Of course, parents push ideas onto their children all the time, and children are constantly barraged by ideological forces outside the home: from teachers, yes, but also from their peers, from the advertisements they see on TV or social media, from faith groups and soccer coaches and people at the grocery store or the playground. It's only when such ideas don't match our own ways of thinking that parents balk. And if Amy felt that the "gender issue" (which I took to mean the wider inclusion of trans-accepting language and practices at school) were being pushed on her children, someone else (me, for instance) might see it differently: that, by deciding to keep her child out of an environment where they were learning about the gender spectrum, a mother might be denying that child access to a worldview that both created a more caring environment and better reflected an opening world.
Parents make all sorts of decisions, for better and for worse, about what their children can access and do. The notion that we can insulate and isolate our children from what we see as nefarious forces strikes me as both the fundamental work of parenting and also the wild hubris of it. For this notion presupposes that it is even possible to protect our children from ideas and influences we don't agree with. It also presumes that the parents' worldview is both correct and complete, and that we can supply our children with all the information they need to live their lives.
At the same time, I harbored the same preoccupations as a parent. I understood that it was far easier for me to be clear-eyed about the perils of hegemonic value systems when the values at hand—trans acceptance, for instance—were in line with my own. What if my life's circumstances dictated that my family and I live in Florida, say, where anyone can carry a gun without a permit, and where state curriculum standards are now essentially teaching that Rosa Parks was merely a tired lady on a bus? In such a case, I knew, my belief that children should be exposed to value systems outside those of their parents would swiftly turn to dust.
Even while working inside the school machine, I'd long grappled with both the meaning and the purpose of school. Though I'd been a school administrator for over a decade, I'd often harbored the feeling that what we try to improve about schools—the curriculum, the teacher training, the test scores—is somewhat beside the point. Yes, it matters what we learn, but far more important is how we learn it. And the important learning that happens in schools, to my eye, has always been more social in nature. We learn to live and work in community. We learn to organize our thoughts and share them. We learn to listen to and interpret the thoughts of others. We learn deadlines and consequences, and to be beholden to a group. We learn hierarchies and, depending on the nature of the learning environment, how to perpetuate or question these divisions and exclusions. And we learn how to learn.
A few things became clear during the pandemic closures. One was that school was a vital form of child care, and that without it, parents could not do their own jobs. Another was that distance learning only exacerbated existing inequalities: parents in working-class jobs had less flexibility in their schedules to accommodate their children and help them in school, and poor families lacked the critical infrastructure—laptops, internet connections—needed for online learning. Another thing that became clear was that not a lot of learning happened via online learning—perhaps because so many of the social elements I listed above had been stripped away.
The school I worked at served newly arrived immigrant English language learners from around the world, and over 95 percent of our students lived at or below the poverty line. When our school shuttered for in-person learning in March of 2020, few students had a laptop at home, even fewer had an internet connection, and almost none had both. Many of our students and their family members worked in restaurants that had closed, leaving them, suddenly and devastatingly, with no income. So we spent those early months of the pandemic creating phone trees, signing up students for internet service, and doling out donated computers (masked, with gloves on) to students' homes. We also signed up families for emergency unemployment and arranged food-delivery systems so families had something to eat. It was demanding and urgent work—but it also highlighted what I had always suspected to be the truth of education: that schools are just as meaningful, if not more so, because of what happens outside the classroom, and that schools are, above all, communities—ones that both reflect and determine the functioning of society at large.
This is what made the homeschooling trends all the more worrisome to me on a larger scale, if all the more understandable.
But in a way I wasn't much unlike the new class of homeschoolers. In the fall of 2021, beaten down by the challenges of working within a system of vast dysfunction, I left my job of nearly fifteen years.
In those early days of mass shutdowns, there was a small flicker of a silver lining: perhaps, with everything having ground to a halt, we might be able to not just rebuild but entirely reimagine what school could look like. The same was true of other failing social systems: equitable health care, cities and public spaces that prioritized walking and biking, and a robust social safety net all felt like priorities that might flourish in the wake of the COVID catastrophe. There was an opportunity to start anew. But one of the secondary tragedies of the pandemic is that, when it comes to these critical social systems, it failed to induce meaningful structural change. After in-person learning returned, school looked just like it had before, only with COVID tests and handwashing stations and some feeble attempts at social distancing.
I wasn't the only one leaving. Prior to the pandemic, 75 percent of states were reckoning with a teacher shortage—for people were both leaving the profession and failing to join. By 2022, there was a 3.1 percent teacher vacancy rate—one of the highest rates ever. Administrators were tired. Teachers were burned-out, and once school resumed, the work was even more demanding. Class sizes weren't smaller. The students were behind after so much learning loss, and were struggling with mental health. Andrew, the teacher at the log cabin school who left his district job, told me that he and his fellow teachers had to use the passing periods between classes to sanitize their classrooms, and no new custodians were hired to help. When were teachers supposed to eat a snack or pee?
"Things were out of control," he said, and there weren't enough resources—or even enough will—to meet the need. "There was all that lip service when we were on Zoom of, like, Oh my god, we realize how valuable teachers are, now we're going to make changes," Andrew told me. "I realized that I'd been fighting for change in the public education system [for years]. And if the pandemic didn't actually make any significant change, then it's never gonna happen."
This was, in part, what made me leave my job: the feeling that I, and the rest of us public educators, would be rolling the same damn rock uphill for the rest of our lives.
Leaving public education offered me a break, but it didn't satisfy my desire for answers about what school was for, or how the disintegrating schooling system might be rectified. So one afternoon last spring, I dropped my daughter at her grandfather's house and drove out to Bolinas, California, a sleepy beach town perched on the continent's edge, to meet a woman named Rasa. She was an unschooling mother of three and pregnant with her fourth. She, her partner, and her kids traveled the country in a ramshackle blue van—a "gypsy clan," as she put it, "raising the vibe by redistributing health and wealth."
I met Rasa and her three kids at the beach. It was a particularly warm day, and her children—ages two, three, and six—soon stripped down naked and tumbled around in the sand. Rasa explained that in her twenties, she'd had a spiritual awakening that caused her to leave her job and marriage for the open road. She'd come to see that capital drove everything and corrupted both human relationships and the earth. She didn't want anything to do with those systems anymore, so she wandered in search of another way. She worked on organic farms in exchange for room and board and regularly attended Rainbow Gatherings—events in the woods where participants cook, sing, and dance together. She hadn't been sure she'd have kids, but her partner—whom she'd met at a Rainbow Gathering—said, "But if not us, who?" Parenting became an extension of her attempts to live in a paradigm outside capital and greed. And their school—or lack thereof—would be a part of this paradigm.
Rasa's three-year-old sat in the sand, making an imaginary birthday cake. "Happy birthday to Mommy!" he sang, handing a piece of this cake to Rasa, which she pretend-gobbled eagerly while her two-year-old leaped into her arms to nurse.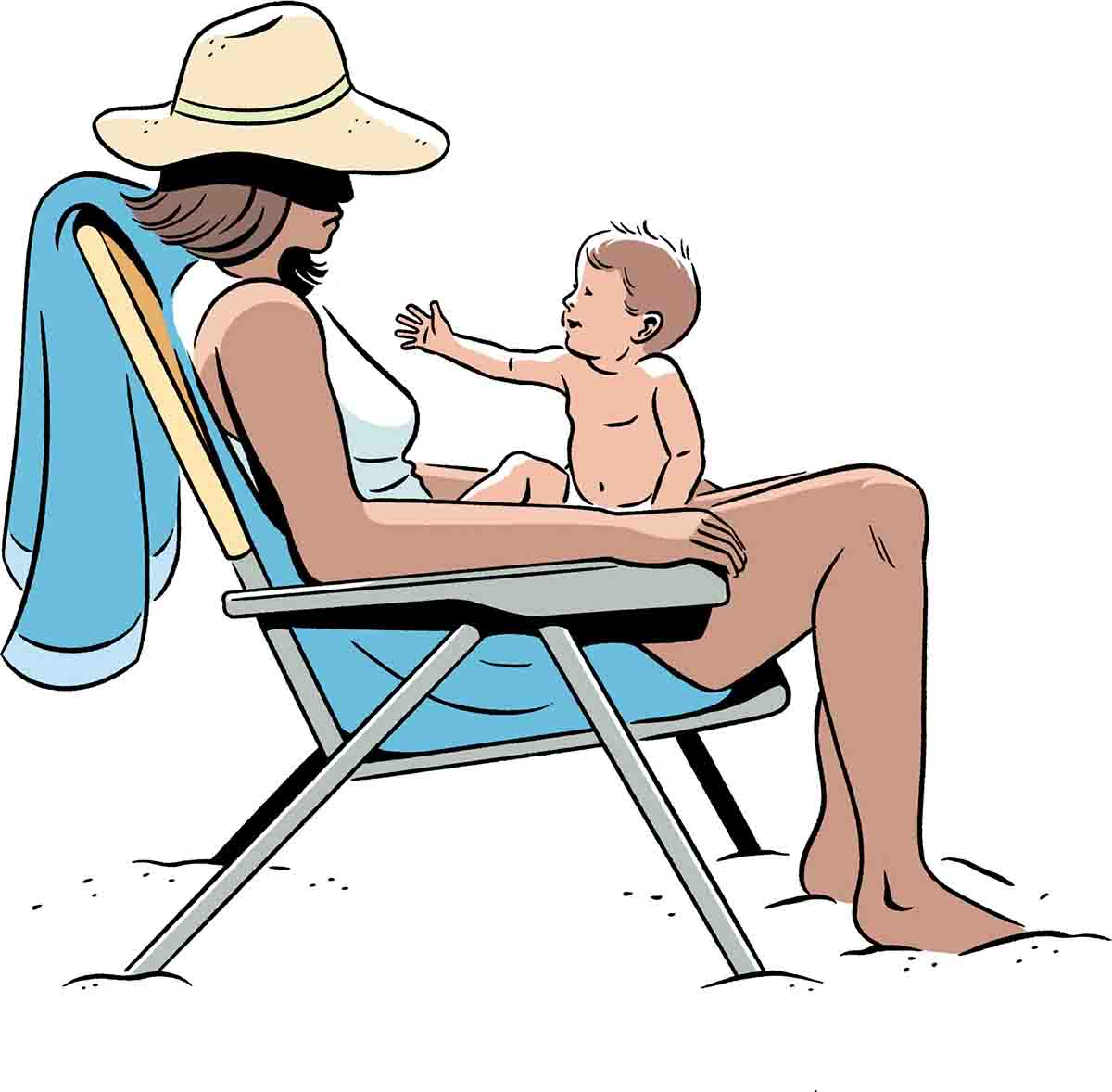 Rasa was happy to be on the beach that day, but she also seemed exhausted. She admitted it was much harder to live a non-normative life, and harder and harder with each new kid. She was around seven months pregnant (she forgoes institutional medical care in favor of what's known as "freebirth") and chasing after three little ones. Any structure that held her children was up to her to forge. That morning, the three of them had been particularly squirrely and her partner was working a short-term construction gig, leaving her to parent alone. She'd thought of calling me to cancel our meeting.
"Sometimes I feel like an impostor," she told me. "Like it would just be easier to vaccinate these kids and send them to school."
But as a brown woman with brown children, she didn't want any part in a schooling system that had been a function of empire and genocide. Becoming a mother was a chance to decolonize herself and her children. "I want to be able to nurture them to learn what they want to learn. I want them to be as sovereign as possible and gaining what I think public school lacks: emotional intelligence."
What my conversation with Rasa put into stark relief is that homeschooling both reflects and presages a larger dynamic of distrust in this country's institutions and public promises—which I tended to share, in my own ways and with my own interpretations. American individualism makes clear that it's up to you to make your own life—and capitalism makes clear that there's no guarantee that anyone or anything will support you as you do it.
I had a neighbor once, on a quiet hill above the UC Berkeley campus, who began homeschooling her young daughter, Nymue. I followed them on Instagram: Nymue collecting herbs from the hillside to make tea, Nymue dancing on the beach, Nymue at a many-day silent meditation retreat in India.
"Giving children a space of love and a trusting environment to explore from is some of the most sacred work we can do," Bronwyn, her mother, wrote. "I want to prepare Nymue to live an extraordinary life—to do what it is she came here to do, to enjoy the incredible opportunity of being alive, to be kind and embodied. I want her to have the opportunity to shape herself into herself."
Like with Rasa and many of the homeschooling parents I spoke with, I was struck by Bronwyn's commitment and clarity of purpose. It sounded so beautiful. And I wanted what she described for my daughter too.
Often, parents spoke about the desire to slow down and savor time with their children—to savor time in general. "I love my children," one influential homeschool podcaster told me. "I think they are amazing people and I like spending time with them." Though I was awed by these parents' resolve (even if I didn't always agree with their politics), it was also true that I did not really want to spend all day, every day—or even all day most days—with my child. This was hard to admit, especially as I had more conversations with people who did.
"I've thought about how maybe it's particularly hard to become a parent when you were happy with your life," I wrote to a friend while in the midst of researching this article. My friend had also recently had a baby and was struggling, like I had, with the swallowing nature of early parenthood. "Like, I didn't have a child because I had some gaping hole to fill, or because I couldn't imagine my life without one. I loved my life! But I did want a child." What I meant was that I didn't see these days with my child as my glory days, as the homeschooling folk duo had put it on the opening night of Wild + Free. Rather, I wanted all the days—what came before my child, what came now as a new parent, and all that was to come—to be as glorious as possible. And for me, that would require my daughter to be elsewhere at times. Like at school.
But there was another, more moral dimension to my desire to engage in the formal education system: I felt a responsibility, as a white parent, to invest in public education by sending my daughter to a public school. I wanted what Bronwyn described for my own child, yes—but I wanted this for all children too. Statistically, I know my kid will be fine no matter where she goes, be it a low-performing California public school, the popular bilingual magnet school, a forest school, a private school, or unschooling in my backyard. If I spent the majority of my time concocting the best, most individualized experience for my white kid, I would, at the end, be fomenting and perpetuating inequality. I don't judge the other parents I spoke to—especially the parents of color—who opt out of public school, but I can't imagine choosing against it when the time comes. It worries me that many white parents start off with my same convictions, but end up changing their mind when the rubber meets the road.
"I mean, sometimes I feel bad, I feel selfish," Bethany said of her choice to homeschool her kid (she herself is an intervention teacher in a public school). But on the other hand, she felt that the more people choose another path, the more change can be seeded. "I think people forget that they have a lot of fucking power," she said. "They can make choices." The more people choose another way, in her eyes, the more large-scale change might occur for all. And others, like Akilah Richards, saw it far more bluntly: that equality will never emerge from public schools and must be found elsewhere—starting by learning at home and in the wider world.
All the while, I'd been asking the question, What is school for? But in fact, that was the privatized, individuated version of the question I was really after. What I really wanted to know was, What is a public education system for?
There are elements of homeschooling—and particularly of unschooling—that appeal to me deeply both as a parent and as an educator, particularly the notions that schools should be freer of the structures and constraints that limit children, and that students will learn better if guided by their own instincts and wonder. But I also believe in—and am committed to—the value of an accessible, equal, public system. How might it be possible to have both? Homeschooling doesn't just presage the end of school—it also offers insights into how to fix it. Sometimes the fringe has something to teach us about what is missing in the mainstream.
Right after my daughter was born, I agreed to return to work at the school I'd left the year prior. It was a small contract, for only a couple hours a week, but I was back. I'd missed the work of building and imagining an ever-better school. I hadn't missed the overwhelm and jadedness that often accompanied it. But what if I harnessed the sense of optimism, wonder, and joy that Wild + Free trafficked in, and that was shared by so many homeschoolers I talked to across the political spectrum?
So I'm back to rolling the rock uphill again and again. But maybe what the homeschoolers were showing me was that it was foolish to keep trying to tip the rock over to the other side. What if we spent more energy at the base of the hill—that is, remaking the world where we already live?