When he was eleven years old, Andy Barker knew what he wanted to do when he grew up: build a real-life Old West town in his home state of North Carolina. When he was twenty-one and writing letters from the World War II foxholes of France, he told his mother about his plans for his "Western town," calling it one of his "best ideas yet since I've gotten my new partner, the Lord." In 1954, when he was thirty, Barker found the perfect plot of land in the Brushy Mountains just outside Statesville, North Carolina. He gave up his contracting business in Charlotte and moved his wife, Ellenora, and his two kids, Tonda and Jet, to a one-room cabin without water or power.
He called his town Love Valley.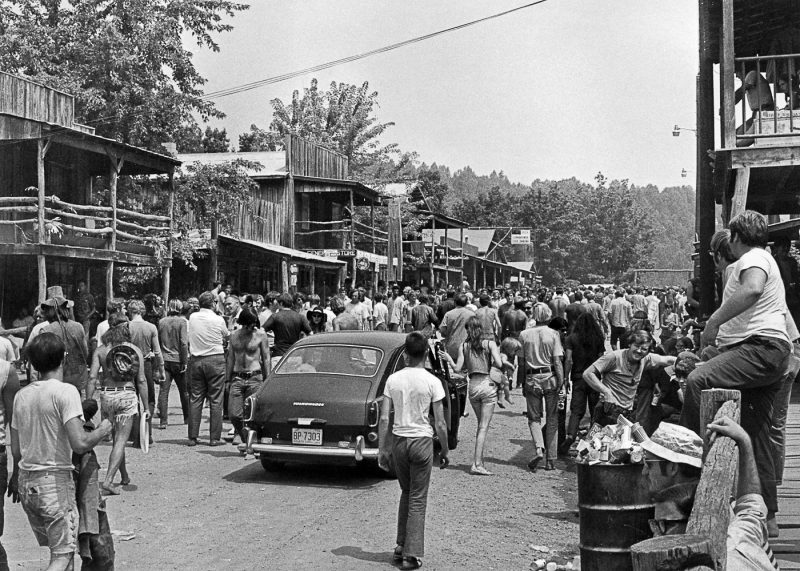 It may have been true that Barker was just overly fond of old John Wayne flicks. But he was also a religious man with an optimistic vision of the future. In 1998, Conrad Ostwalt, a professor of religious studies at Appalachian State University, in Boone, North Carolina, published a fawning exegesis called Love Valley: An American Utopia. "Andy Barker was concerned with space disappearing," he wrote. "For twentieth-century Americans, there is no longer an unlimited western frontier… His visions were based on the
image of the pioneer, who in Barker's mind lived in harmony with nature and neighbors and lived the heroic life of independence and freedom."
When Barker died, in 2011, at the age of eighty-seven, he was the oldest currently serving and most tenured mayor in North Carolina's history. There was only one time, in 1991, when Barker's name had been on the ballot and he hadn't been elected. Primarily, however, it was Barker who ran the place—with the notable exception of the one time he willingly abdicated his office and moved out of town entirely, in 1971, following a disastrous rock festival he'd masterminded, likely in part because the town needed a new sewer system and this seemed like a good way to raise money.
The festival was called, prophetically, the Love Valley Thing.
*
In Love Valley's early years, Andy Barker was concerned with maintaining a level of perceived authenticity. However, his main reference point was always Hollywood, never history; for a while, the town's strictest building code stated that "all main street buildings must look a century old."
Before building his family's permanent home, Barker built a church. It eventually joined with the North Carolina presbytery, but remained largely ecumenical. Barker's intentions were so simple as hardly to register on any theological scale: "We can keep young boys occupied and out of trouble by letting them help run the place," he wrote from his foxhole.
The town grew slowly in its first few decades; in the 1960s, the population hovered around seventy. Its first residents were Barker's own parents, later joined by others enchanted by the promise of community-focused values spiked with rugged frontier individualism in the Carolina Piedmont of the twentieth century.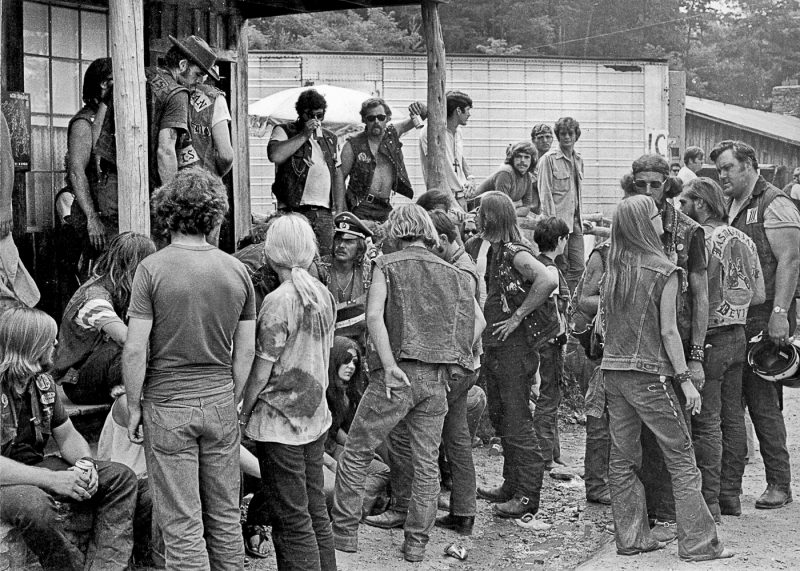 The surrounding Iredell County communities were agrarian, politically conservative, more traditionally religious, and a bit skeptical of Barker's venture, but from the start he was in the business of winning them over. His flair for the occasional big to-do was a keystone in the life and health of Love Valley. Rodeos, square dances, trail rides, big Fourth of July blowouts—they all helped foster the town's deliberate image as an epicenter of wholesome family entertainment, and they mostly helped the town's bottom line, too. Building the town up from nothing meant having to cobble together its economic base from the same timber and shingles as its main-street buildings, and, at first, Barker's proto–Field of Dreams-ish approach worked: he built it and they came. (They came, yes, and they did not drink: for quite some time, the town was entirely dry—even the saloon.)
But in the late '60s the blitz slowed. A few attempts at founding vocational programs for underprivileged youth had fully tanked, a land rush staged in 1967 drew precisely zero takers, and the rodeo crowd was being slowly nudged out of town by motorcycle clubs. Barker was excited about 20th Century Fox's plans to shoot the Civil War–era flick John Brown's Body in and around the town in 1968—but that fell through, just like an earlier attempt to relocate the gravesite of North Carolina folk hero Tom Dula to Love Valley for no particular reason other than that the man may have walked through the general area on the way to his famed trial and hanging.
*
By the early summer of 1970, a rock festival seemed like one of the only things Andy Barker hadn't given a try.
Recent history strongly discouraged such an endeavor. Woodstock and its attendant calamities had occurred one year earlier, followed by the tragedies at Altamont; Iredell County had had its own brush with festival trouble a few years before, when the rising popularity of folk music among younger audiences led to a spike in the number of wayward longhairs attending the venerable Old Time Fiddler's Convention over in Union Grove (­reports of trashed property and drug use led to protests by local ministers, and soon after to a schism among festival organizers).
But Andy Barker remained either ignorant of or unbothered by these cautionary tales. In the years he'd spent working to establish his little town as an antidote to the broader American culture, he'd lost touch with that culture's changing desires, and also its dangers. All these kids, he figured, just needed someplace friendly and wholesome and clean and safe where they could enjoy their music. (And it was very much "their" music, all that rock and roll; Andy Barker liked Tommy Dorsey, Guy ­Lombardo, big-band stuff.)
The Love Valley Thing was planned, or not planned, in four weeks. (Woodstock, by contrast, was in the works well over a year before its first band was booked and the final venue set.) Big Brother and the Holding Company (minus Janis, of course) and Tony Joe White, who'd had a hit with "Polk Salad Annie," in 1969, were booked; a bunch of local acts from the Piedmont were pulled in, too. And the headliners were a newish young act called the Allman Brothers, whose first record had just come out the year before.
As July rolled in, Barker's daughter, Tonda, heard that the official run of tickets had sold out and that fakes were going just as fast. Some illustrator (these days, no one in Love Valley can recall who) worked up a souvenir program, the cover featuring a shirtless and bearded man (arms extended out and above his head, both hands flashing peace signs, hair long and banded across his forehead, his body suspended in the center of the Jesus/hippie continuum). Bursting from below the figure were bloodred hand-drawn letters: the love valley thing. The week prior, bands began to roll into town and set up camp, and the
final nails were driven into the giant wooden stage down at the rodeo arena.
And then the crowds came.
*
Exact attendance numbers for the Love Valley festival are impossible to gauge. Fifty-nine thousand is one number anyone's remotely sure of—that's how many official passes were printed and sold for five bucks apiece at head shops around Winston-Salem and Charlotte, two of the nearest big cities, in the weeks before the festival. An unknown number of attendees paid cash at the gates; at least as many counterfeits were sold as legit passes, often for less than the asking price (in the weeks following the festival, slips of paper not quite entirely resembling the official tickets were found all over town). But it's likely that the vast majority of festivalgoers slunk onto the grounds without any sort of pass, cutting through the surrounding private farms and scaling the meager fences Andy Barker's crew had installed along the town's perimeter. And they didn't just trample property—they camped in fields, bathed nude in livestock ponds, left all manner of trash in creek beds.
On the first night, the crowds peaked: one hundred fifty thousand, maybe two hundred thousand.
Even the most reliable memories of the festival are hazy. So is ­recorded evidence, despite Andy Barker's best efforts. That summer, he tracked down some of the Fox folks who had been left high and dry on John Brown's Body and contracted a film crew to produce a documentary about the festival; they set up a recording studio, too, soundproofing the old town jail (another line on Andy Barker's résumé: president of Love Valley Records). By the end of the weekend, there were hours upon hours of footage, but no one's sure what became of it (or at least Tonda won't say, though I suspect she has some idea).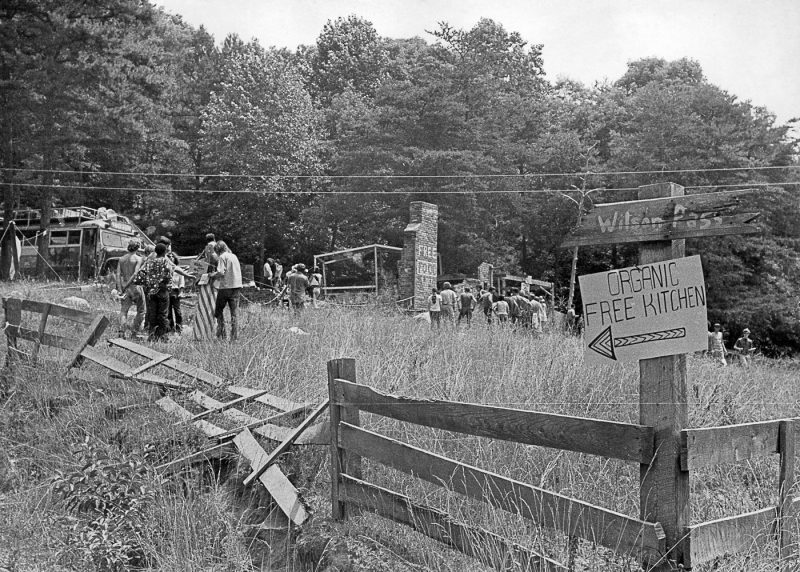 One member of the film crew was a kid named Ed Begley Jr., who fancied himself an actor but took the assistant-cameraman gig to make money between such roles as "Student (uncredited)" in The Computer Wore Tennis Shoes (1969) and "Student #2" on The Bill Cosby Show (1970). Later, of course, he'd do better: the TV soap St. Elsewhere and nearly every Christopher Guest movie launched him into a certain strata of ubiquity. But for nine days that summer he was lugging a ten-ton camera around Love Valley, trying to capture the hippies in their—and his—new habitat.
"I don't remember the acts that well," he wrote in an email, "as it was a long time ago (1970?)."
By the end of the weekend, twenty-four drug-related arrests had been made, which seems like an incredibly low number for as widespread and scantily concealed as the drug use had been ("Hawkers peddled wares they identified as hashish, mescaline, speed, LSD and ­marijuana," a July 18 UPI wire story read). A doctor who'd volunteered to provide medical service at the festival turned out to be a dealer; Tonda helped the DEA bust him at her parents' house.
One hundred total arrests were made during the festival; charges included larceny, assault, and one attempted rape. The only death—Grant E. McIvors, twenty-one, a soldier from Fort Benning—was ruled to be the result of heatstroke, possibly ushered along by drug use. Harold
Tester, twenty-seven, was shot, though not fatally, in a skirmish with a sheriff's deputy after he and some others were thought to be entering the festival grounds without tickets.
A few newswire services reported an incident that illustrates the heartbreaking degree to which Barker failed to understand the people he'd beckoned to Love Valley. It was dusk. Andy Barker approached the mic up on the huge wooden stage, welcoming everyone to his festival. The UPI reported that he was greeted with a standing ovation, and that he said to the crowd, "Thank you, beautiful people. Let me tell you I love you all."
Then, wrote the Australian Associated Press, "the white-haired mayor asked the crowd to stand and join him in singing [the national anthem], but received ­almost no response. Many silently raised clenched fists and fingers that formed a 'V,' symbol of peace. Barker stopped singing midway through the anthem, raised his own fingers in a 'V' and said, 'I'm with you, but let's sing.'"
UPI: "After several attempts failed to gain any response, Barker asked the crowd to bow their heads in silent prayer 'to give thanks to God for living in a country where we are able to do these types of things.'"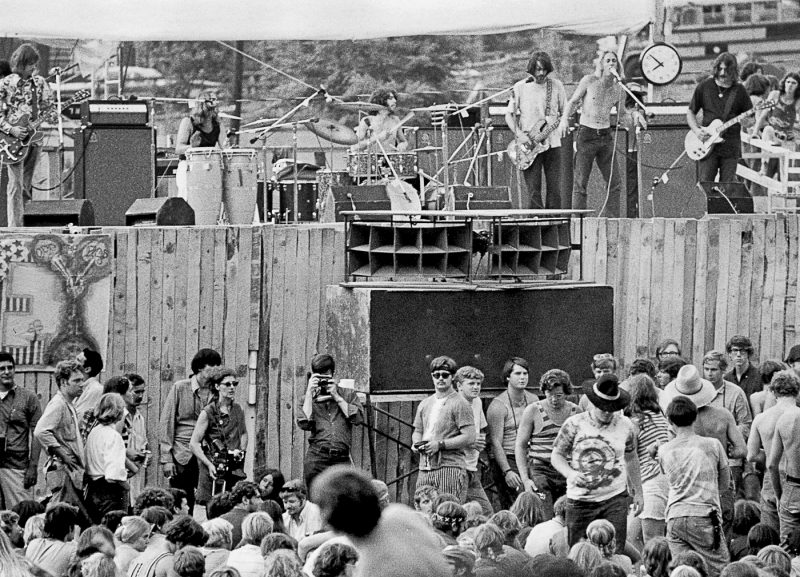 AAP: "He was hissed later when he tried to get the group to pray."
Earlier that day, according to the AAP, Andy Barker had "strode the dusty main street in his cowboy togs, greeting the arriving youth and urging them to 'try to keep it nice.'" Sunday morning, he would find himself wading into a simmering battle between the Hells Angels and the Outlaws, who'd rolled into town behind the longhair crowd. Tonda watched from the second-story window of the town's one motel as her dad approached the two gangs' leaders and told them to lay down their arms—a giant ax, a metal chain. They did.
Later that day, Barker collapsed on his front porch. He dropped so fast everyone thought it was a heart attack. Ellenora loaded him into their station wagon; Tonda figured she was hauling him off to the hospital. Instead, Ellenora drove her husband to a lodge in High Meadows, nearly three hours away, a place they occasionally went to escape the pressures of running a little city. This time, however, the escape was literal. Love Valley had been besieged by a hoard of invaders that Barker himself had summoned.
*
When the festival was over, the town was in shambles, and no small amount of devastation had been wrought upon Andy Barker's own personal internal landscape as well. He had been so unflaggingly open-armed, so deeply optimistic, so convinced that he and his town and its little festival could provide the antidote to all of the horrors and dangers of modern life, but he hadn't known—hadn't even known he didn't know—what that actually involved, until modern life was strolling down his Main Street, camping in his woods, demolishing his fencerows.
Despite abundant evidence to the contrary, Barker persisted in thinking that the crowds were all just idealistic youths. "[Daddy] didn't believe that these kids were taking drugs," says Tonda. "'Oh no, they don't do drugs,' he said. 'They're just out, they're free.'" It took legions of marijuana plants sprouting up all over town, the progeny of countless misplaced stashes, to convince Andy Barker otherwise.
Within a week, Andy Barker was back from his High Meadows retreat, somewhat restored. He spent a few months overseeing the cleanup effort and finding work for the dozens of festivalgoers who remained, but as he and Love Valley tried to heal, there came an onslaught of ire: a five-hundred-member community group called the North Iredell Betterment Association scrounged up legislation to regulate the size and duration of local gatherings, and local editorial pages bristled with attacks against the town and the Barkers. Business flagged; some locals moved elsewhere, all the fuss hampering the simple lives they'd sought there to begin with. In January 1971, Andy Barker turned Love Valley Enterprises and the running of the town over to his eighteen-year-old son, Jet, and struck out for the other side of the mountain, where he holed up in a one-room cabin—always with the one-room cabins at these ends and beginnings of things.
He tended to a vegetable garden and a beehive. Ellenora visited on weekends. A reporter from the Charlotte Observer visited at one point and described the elaborate outhouse he was building—carpeted and air-
conditioned. He had plans to upholster the toilet seat with mink.
Barker moved back to Love Valley in early 1972, but the festival remained a sore spot for years. The one time I spoke with Barker, he talked about the festival without provocation. He told me how he had given the Allman Brothers their big break, how Love Valley had been the Woodstock of the South. But other times he was less nostalgic. A quote he gave to Go, AirTran's in-flight magazine, in 2010, summed up his frustrations with the festival, and his inchoate weariness about it even forty years later: "I hated that cockeyed thing."
Overall, he probably collected on only about one in ten attendees. Tonda says that the family had to scrounge up nearly one hundred fifty thousand dollars in loans to cover the cost of the festival. It sank them.
*
I visited Love Valley in mid-January, when the town's in kind of a slumber, biding its time until the busy summer season. A few clumps of families on round-bellied horses saunter up and down the half-paved roads, everyone wearing jeans and hoodies. The town's main artery, aside from the snowflake lights still strung across the street from Christmas, and the occasional unconvincingly flickering open sign in a shopwindow, looks more Old West than ever, the buildings' slight lean almost imaginable as the result of years of stiff prairie winds rather than simple disrepair. Inside the Silver Spur Saloon, a giant woodstove heats a five-foot radius. The rest of the giant dining room is freezing, and would feel entirely desolate if not for its extensive taxidermy display. A thick curtain conceals a room with a stage built into a far corner; this is where bands play in Love Valley now, whenever bands play in Love Valley. According to the flyers taped up all around, it's also where Zumba classes are held a couple nights a week.
Love Valley doesn't allow cars in town, but really that's just on Main Street, which is no longer than a city block. The rest of the town is built haphazardly around this commerce center: a smattering of tin-roofed and vinyl-sided houses, most with a rusty horse trailer or two in the yard. The roads are named after the Barker grandkids—Tori Pass, Drew Trail. There are many cacti.
In the years following the festival and Andy Barker's first and second returns, Love Valley hunkered down. The rodeo eventually started up again, and between the lingering hippies and a renewed focus on the Old West theme, the town became a haven for craftsmen—blacksmithing, leatherworking, macramé. The motorcycle crowds came back, too; things could sometimes get rowdy, sometimes still can—partying, drinking.
Still, the impact of the Love Valley Thing lingers even today. Much like the unintended marijuana crop that popped up in the months after the crowds departed, the festival's modern progeny is in some cases entirely literal. "I'm a product of the festival," says a waiter at the Silver Spur Saloon. His name is Taj, as in Taj Mahal, the blues legend. He has tattoos on his arms, and a long, thin, brown ponytail snaking out from under a Guinness baseball cap. His dad, whose name is Terry but whom everyone here calls Honky, set out for Love Valley from Mississippi in early July 1970, drove clear across the South, tripped acid the whole time, got lost, finally ended up in town a full week after the festival, and then just never left. Honky met a woman there, and Taj came along a while later.
A man named Tav (unrelated to Taj) tells a similar story. I post on an Allman Brothers fan message-board asking if anyone has stories about the festival, and his is the only reply I get, an email a page and a half long. He'd been close with the Allman Brothers (they used his dad's lake house near Macon to work up Idlewild South, their second album, he tells me); he'd seen them play at the Atlanta International Pop Festival the weekend before, but was too messed up to get himself to Love Valley—strung out on speed, freaked out by a friend landing in a psych ward after a bad trip. But, he writes, "then this angel showed up—guy whose name i can't recall—but an angel because he drove up, said get in, I know where you need to be—i'm taking you to love valley."
Tav was friends with a band called Flood, who played at the festival and hung around the town ­afterward, too, despite losing their equipment when a roadie drove their truck into a nearby lake. That incident is not mentioned in the song they wrote and recorded in and about the town, "Love Valley, U.S.A.," which praises Andy Barker and his "open arms" by name.
Taj, who owes his very existence to his dad's initial enchantment with the place, represents the newer generation of Love Valley inhabitants, one that's insensitive to the town's lingering Old West appeal. He tells me that he's never ridden a horse in his life, mostly because he grew up hating the whole cowboy thing (also, you don't have to deworm a mountain bike). Love Valley never ­represented some escapist pseudo-historical ideal for him; at school he was teased for growing up in the cowboy town, and in the cowboy town he was teased for being a little long-haired hippie kid. Within the community itself, there were tensions—the cowboys and the hippies and the bikers—and, as in so many tiny Southern towns, there was the rumor mill, the racism, the general narrow provincialism. Like most kids do, Taj left Love Valley as soon as he could.
For nearly a decade he bounced from job to job in various states of homelessness; at one point, he was living in a tent, which wasn't so bad, but then winter came, and snow. His dad came out to visit him on Christmas Day, saw his collapsed shelter, and made him come back home to get his bearings and save up a little cash. It was supposed to be temporary, Taj says, but that was three years ago. He's older now, twenty-nine, and he appreciates Love Valley in a way he didn't—maybe couldn't—as a kid. The hippies get tattoos now, the cowboys smoke pot; there aren't as many fights. He uses the word integrated. Plus, he's got friends here, his mountain bike, an OK job at the saloon. I ask him if he thinks he'll ever leave. His answer is quick and adamant: "I'm not leaving… I'm never leaving again. I'm home."
If Andy Barker's legacy is different from what he envisioned when he founded Love Valley, his spirit continues, in a gentle way, to haunt the place. When I first pulled into town, I immediately felt his absence, and I mean that only partly in a hippie-dippy existential way. Next to his old house at the end of Main Street is his empty parking space, where a wooden sign still hangs on a split-rail fence, the carved recesses of its letters painted in red: andy barker—mayor. Another sign is tacked right under it: reserved for the world's best grandpa. It all seems like he's just trundled off on some errand, like he'll be right back any minute now.
Regardless, Barker's "open arms," especially as a means of raising funds, are no longer shared by his remaining family members, and probably wisely. The town has learned from its mistakes. All of the reasons that Love Valley should never have had a festival in the first place are the same reasons that Love Valley should not have a festival now—lack of resources, lack of enforceable perimeter, lack of any persons in the vicinity who know how to handle a crowd of more than a few hundred rodeo fans.
"I'm leaving town," Tonda says, laughing. "I'm leaving town if anybody does it again."