The crowd was growing. Hundreds had gathered across the road from the prison, bundled against the midwinter chill and warming themselves with a clever vendor's coffee and doughnuts. Though dawn had not yet broken, the ground was littered with beer cans. Celebrants lit sparklers, strangers joined in song, and children did their best to stay awake. One family, the Cochrans, told reporters they had left their home in Orlando, Florida at two o'clock in the morning so they could be sure not to miss the festivities. They had brought their six-year-old twins, Jennifer and May Nicole, because, Mrs. Cochran said, "I thought it would be educational for them, kind of like a field trip."
The throng had appeared as if from nowhere: the day before, there was only one man waiting outside Florida State Prison. His name was George Johnson, and when the camera crews found him, he was standing beside the trunk of his car, selling T-shirts for ten dollars apiece. "Do you think it's appropriate," a reporter asked him, "to be making money off some man's execution?"
"I don't see why not," George said. "He—"
The broadcast cut him off. Everyone already knew what he did.
Within hours, George was doing a brisk business. Printed in the bright red of cartoon blood, his T-shirts showed a sweating, wide-eyed man strapped into an electric chair, staring out at the viewer with an expression that managed to seem both helpless and imperious. The words splashed above him read BURN BUNDY BURN. The shirts were selling particularly well, George said, among women.
Ted Bundy had been on Florida's death row for nearly a decade, after receiving three death sentences in two separate trials, for the 1978 murders of three victims who could be called young women but could also just as fairly be called girls: twenty-year-old Lisa Levy, twenty-one-year-old Margaret Bowman, and twelve-year-old Kimberly Leach. Now, in the early hours of January 24, 1989, it seemed Bundy's time was finally about to run out.
When Ted Bundy was apprehended in Pensacola in the early hours of February 15, 1978, six weeks after he escaped from a Colorado jail, the FBI had already publicly linked him to thirty-six murders across five states. In the ensuing decade, both the random speculations of onlookers and the educated guesses of law enforcement often pushed the number far higher. Many said it had to be a hundred or more, and cited Bundy's own enigmatic statement to the Pensacola detectives who had questioned him about the FBI's claim. "He said the figure probably would be more correct in the three digits," Deputy Sheriff Jack Poitinger said.
Ron Holmes, a criminal justice professor who interviewed Bundy on two occasions, claimed that the total was 365, and that Bundy had raped and killed his first victim at the age of eleven. "Ted Bundy is not insane," Holmes told the press. "Ted Bundy knows the difference between right and wrong. But Ted Bundy does what he wants to do when he wants to do it." Holmes hadn't taped either of his interviews with Bundy, but he didn't need that kind of proof to convince people of what they already wanted to believe.
Ted Bundy was everywhere and nowhere, guilty of everything because he had admitted to nothing—nothing, that is, until the last few days before his scheduled execution. Then, as Florida restaurants put up signs advertising Bundy fries and Bundy barbecues and vendors stocked up on electric-chair-shaped lapel pins, Bundy said he was ready to confess—for a price. He would describe every murder he had committed, but only in exchange for a stay of execution. He needed a few more months to tell the whole story, he said, but he was willing to meet with investigators from around the country to show that he was serious. He would answer their questions if they would advocate for his life.
Florida governor Bob Martinez remained unmoved. "Justice has been on hold for a decade," he announced, "and it's about time that Ted Bundy paid for his crimes." To the viewers across the country who tuned in to watch the countdown to Bundy's execution, it was hard to imagine that the man whose name had become synonymous with the term psychopath deserved to draw another breath.
"'Ted Bundy' is to serial killers," Bundy's postconviction lawyer Polly Nelson once wrote, "as 'Kleenex' is to disposable handkerchiefs: The brand name that stands for all others." In America, in the decades since Ted Bundy's crimes, captures, trials, and resulting infamy, the term serial killer has itself become a kind of brand name for evil, one promising an ever-familiar fable about inhuman darkness disguised in human form, appearing out of nowhere, and terrorizing humanity until humanity can destroy it.
"If it should ever occur to you to relate this to anybody," Ted Bundy told one of the detectives he confessed to in the hours before his death, "you can tell them that I get no secret joy or pleasure out of it. That my own special kind of hell and madness that I lived in ten, twenty years ago was as wrong and as terrible as it could be. And I'm sorry."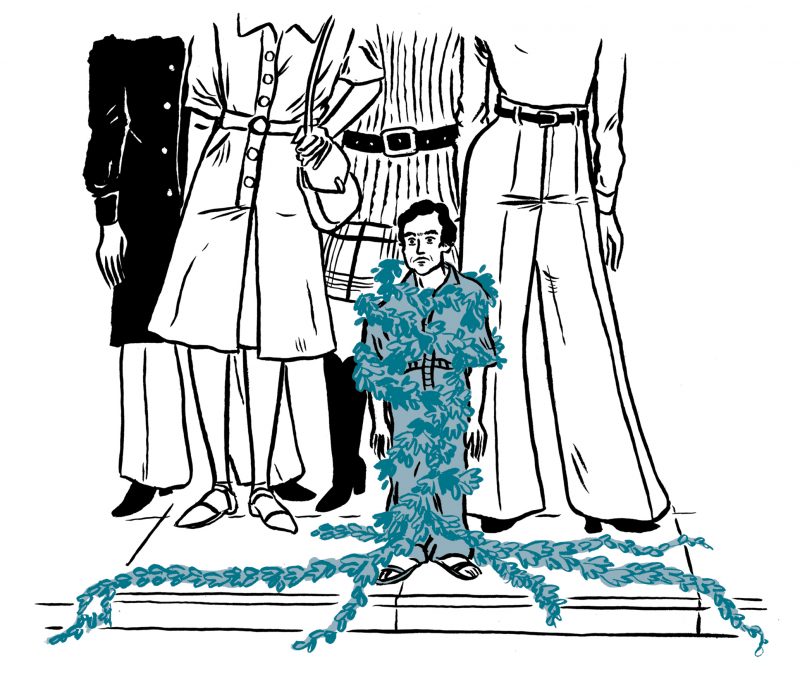 Is it possible to see this apology as genuine? Is there any sense in trying? Ted Bundy is the textbook psychopath who shows us how to recognize the evil in our midst. His story is the story we all know. And yet the longer you listen to it—and listen not just to the legend, but to the people who knew Ted Bundy, and even to the man himself—the more you will find yourself hearing the story of a man who was not a mastermind, was not a genius, and who seems to have understood as little about what motivated him as the people around him did. As you draw closer to its center—and closer and closer to the demon core—you may begin to feel that the longer you spend inside this story, the less sense you can find.
*
In the fall of 1974, Ted Bundy moved away from Seattle to start his first year of law school in Utah, and left behind not just an adoring girlfriend, a proud family, and a vast circle of friends, but a region in panic. Between February and July of 1974, eight young women had gone missing—seven in Washington and one in Oregon—and local detectives had few leads. Almost all they had to go on was the fact that on the day both Janice Ott and Denise Naslund vanished in broad daylight from Lake Sammamish State Park, a man in a cast had been seen introducing himself to various women, and asking them to help him move his boat. One woman accompanied the man as far as the parking lot, and noticed that he drove a light brown Volkswagen Beetle. No one saw him approach eighteen-year-old Denise, who disappeared after she left her friends to go to the bathroom, but a witness did overhear the man introducing himself to Janice, a twenty-three-year-old social worker who was sunbathing when a stranger knelt beside her and asked for help.
"Sit down and let's talk about it," Janice said. To the witness who later described their interaction to the police, the conversation seemed warm and friendly. The man promised he would give Janice a ride in his boat, and in the meantime, he introduced himself. His name was Ted.
Later, media accounts of what were then known as "the Ted Murders" suggested that Washington police immediately realized they had a repeat offender on their hands, and that the killer had held Seattle in his thrall since the disappearance of his first known victim, Lynda Healy, in the early hours of February 1. In fact, it wasn't until "Ted" turned up at Lake Sammamish, nearly six months later, that the now eight missing persons cases were linked.
It was also the first time some of the cases had received significant investigation. Despite the eerie circumstances surrounding the disappearances—Donna Manson had left a pot of soup on a burner turned to warm in her Evergreen State College dorm room; Kathy Parks had left her desk lamp on in her room at Oregon State University; Susan Rancourt had just put a load of clothes in the dormitory washing machine when she vanished from Central Washington State College—police officers were still inclined to dismiss the girls as runaways until they were overwhelmed by evidence to the contrary. Sometimes even that wasn't enough. After Lynda Healy, a twenty-one-year-old University of Washington student, disappeared from her own bedroom in the middle of the night, her housemates pulled back her covers to find that both Lynda's pillow and the mattress beneath it were soaked with blood. The police were unimpressed. Probably, they said, Lynda woke up with a bad nosebleed and took herself to the hospital. She was sure to turn up soon. Detectives believed their alternate explanation for the bloodstains also ruled out the possibility of foul play: "Because they assumed Lynda Healy was possibly having her period at the time of her disappearance," wrote Bob Keppel, the King County detective who would help head the area's "Ted Squad" task force, "[the police] couldn't figure out why anyone would kidnap her—they assumed no kidnapper would want to have sex with her."
The "Ted" killer's "method of operation seemed flawless, almost scholarly, leaving his hapless pursuers on the police task force very little in the way of clues," Keppel wrote of the investigation in his book about the case, The Riverman. Yet for nearly six months—quite possibly for longer—the killer had evaded the police in part because of their own blindness. Because they assumed Lynda had simply walked off into the night, the officers who investigated her disappearance didn't see the need to dust her room for fingerprints or to test a semen stain they found on her sheets. What evidence they did remove from the scene was destroyed six months later, as routine then dictated in a missing persons case—well before the police were able to conclusively link Lynda's disappearance to the seven that followed: Donna Manson the following month, then Susan Rancourt, then Kathy Parks, Brenda Ball, Georgann Hawkins, Janice Ott, and Denise Naslund, and then…
There was nothing to worry about, until suddenly there was. After Janice and Denise both disappeared from Lake Sammamish in a single afternoon, the police started paying attention. So did the press. "Our investigation collapsed under the volume of unsolicited tips and Ted sightings," Keppel wrote, "because we had no way to manage the information that was suddenly pouring in… the backlog of calls was so huge that Denise Naslund herself could have called in and told us she was fine and we wouldn't have found the message for a week."
The missing persons case turned into a homicide investigation on September 7, 1974, when two grouse hunters found a human skull, spinal column, and rib cage on a wooded mountainside overlooking Interstate 90, west of Seattle. Searchers found a second spine and jawbone the following day. And in the underbrush there was one final clue: three grease spots—remnants of the oil that soaked into the earth as three bodies lay side by side, disintegrating until they were nothing but bones. By the following day, investigators had identified two of the three sets of remains: they belonged to Janice Ott and Denise Naslund.
"The worst we feared is true," King County detective Nick Mackie told the press.
The news terrified the region. This was not the kind of destruction locals were used to, and it suggested that something was changing, that something might already be gone. In the past, a local woman told Tacoma's News Tribune, "murder was something you read about happening in California or somewhere. Now it's right in our backyards." Captain Herb Swindler of the Seattle Police Department consulted a psychic about the case and argued that a "demon cult" might be to blame, while others theorized that "Ted" was the Zodiac Killer, or a disciple of the Manson Family. Yet even as investigators dealt with the public's mounting terror, they still found time to undermine each other's work. When the Seattle Police Department and the King County Sherriff's Office created a combined task force, King County officers withheld information from the Seattle PD, worried that the competing jurisdiction might solve the case first and steal the glory. The joint task force folded within weeks. If nothing else, Bob Keppel would later recall, the people they investigated were always cooperative. "Everyone that we talked to as a suspect was helpful," Keppel told Bundy biographers Stephen G. Michaud and Hugh Aynesworth. "Even the best suspects, the murderers we talked to. 'Hey, man, I kill people,' they'd say. 'But I don't kill like that.'"
Throughout the blistering summer of 1974, as the rest of the country followed President Nixon's impeachment and the removal of US troops from Vietnam, Seattle residents waited for a break in the "Ted" case. It was a time when women feared for their safety, and men professed fear for the women they loved—men including Ted Bundy. Later his mother would remember a night when Ted, while visiting his family in Tacoma, watched his younger half-sister, Sandra, get ready for a date. "Ted said to me, 'You know, Mom, she looks like all those other girls,'" Louise Bundy told Seattle Times reporter Richard Larsen. "'I hope you know where she's going and who she's with.'"
Ted was equally protective of his girlfriend, Liz, and her young daughter. Liz was a twenty-four-year-old single mother when she moved to Seattle in 1969, and she had been in town only a few weeks when she met Ted in a University District tavern. Liz, shy about her secretarial job, said she worked making heart valves in the university's medical instruments department. Ted, twenty-three and still years away from finishing his bachelor's degree, said he was a law student writing a book about Vietnam. Both were pretending to be other people and seemed to find a sense of safety in each other. "It's as if we knew each other before in some former life," Liz remembered Ted telling her, after they had been dating for a few weeks. He became not just a boyfriend but a member of the family—and he adored Liz's daughter, reading to her, baking a chocolate cake for her fifth birthday, and watching Saturday-morning cartoons with her while Liz slept in. "Their favorite was Dudley Do-Right of The Mounties," Liz wrote in The Phantom Prince, her memoir of their relationship. "Ted could mimic Dudley perfectly."
The relationship that started with mutual lies soon seemed one in which they kept no secrets from each other. "My story about making heart valves had become a joke," Liz wrote. "Every Sunday night Ted would say, 'Well, you'd better get to sleep early so you'll be rested up for making those heart valves tomorrow.'" And Ted allowed Liz into his life, joking about the sulfurous "Tacoma aroma" that shrouded his working-class hometown, introducing her to his mother and stepfather, and weeping when he told Liz he was illegitimate: he had never known his father, and his mother had given birth to him when she was a teenager, something he said he did not learn until he was a teenager himself.
But Ted had big dreams. He was going to law school. He was going to make a name for himself. Liz supported Ted financially, since, she said, "neither of us doubted wealth was in Ted's future. He was marked for success." She was also sure they would get married and start a family. At first, Ted seemed to agree. They got engaged in early 1970, but Ted quickly broke it off. They were too poor, he said. They weren't ready. Liz got pregnant, and had an abortion at Ted's urging. Ted applied to law schools, and was devastated when he was accepted only at his last choice, the University of Utah. Their relationship stagnated. Ted saw other women. Liz got jealous. Liz saw other men. Ted got jealous. And gradually Liz saw a new pattern of behavior emerging: Ted would be cold and absent one day, then reappear the next, warm and present, showering her with declarations of his love.
Around the same time, Liz noticed another pattern: young women were disappearing across the Pacific Northwest. One woman, Georgann Hawkins, vanished en route to her sorority house, which was only three blocks from Liz's apartment. "Like most women living in the University District," Liz wrote, "I was deeply disturbed by these disappearances. Walking at night from my garage to my front door scared me." She might have felt safer if Ted had been around to protect her, but he seemed more distant than ever. "I was hurt that he hardly ever wanted to make love," she wrote. "There had to be someone else. I wished I knew what she was like so I could be more like her."
Sometimes Liz even wondered whether her Ted was the "Ted" the police were searching for—worries she usually dismissed as quickly as she allowed herself to entertain them. He had a VW, but so did she. She had found plaster of paris in his dresser—the same kind a person would use to put together a makeshift cast like the one witnesses had described—but he told her he had it in case he actually did break something. And the composite sketch didn't look like her Ted, but the description sounded like him: the tennis whites; the unusual, almost East Coast–sounding accent; and the story about the sailboat. Ted didn't have a boat, but he always talked about getting one someday.
When Liz could find no other way to ignore her suspicions, she thought of how they might damage Ted's future. "I visualized Ted and me married," she wrote. "He would be campaigning for governor when it was revealed that his devoted wife had gone to the police in 1974, claiming that he was a murderer." But in October, about a month after Ted left for Utah, Liz finally found she couldn't ignore her fears any longer. One of her friends went home to Salt Lake City to visit family and learned about the recent murder of a local teenager named Melissa Smith. "I don't want to scare you," she told Liz, "but it's happening in Utah."
That month, Liz called the King County Police Department's tip line. Soon afterward, her suspicions again gave way to guilt. She didn't have to worry: her tip immediately vanished beneath a drift of paperwork about likelier suspects. The Ted Squad wouldn't begin investigating her Ted until August 1975. By then, he had already been arrested in Utah.
Ted Bundy was arrested for the first time not for murder, rape, or kidnapping, but because he got lost. One warm night, he was driving around a Salt Lake City suburb when he got disoriented and pulled over to find his bearings. When he got back on the road, he noticed a car tailing him. He would later deny he knew it was a patrol car until he ran a red light and saw police lights behind him. Then, he said, he did what any law-abiding citizen would do: he pulled over and did his best to cooperate. He allowed the police to search his car, where they found an ice pick, a pantyhose mask, a ski mask, several pieces of rope, a pair of handcuffs, and a crowbar.
The tools looked suspicious—like a burglary kit, maybe—but at a meeting three days after the arrest, Detective Daryle Ondrak still hesitated before mentioning the search. "I don't know if this means anything," Ondrak said, "but I was involved with a stop this weekend and the guy had a pair of handcuffs in his car." As Ondrak described the man—well-spoken, apparently educated, and driving a tan VW—Detective Jerry Thompson wondered if this was the same man who had tried to abduct eighteen-year-old Carol DaRonch from a mall in Murray, Utah, the previous November. The suspect had lured Carol her into his tan VW by posing as a police officer, then tried to handcuff her and bludgeon her with a crowbar before she escaped.
In October 1975, DaRonch identified Ted Bundy in a police lineup. Of the people who were surprised by his subsequent arrest, Bundy seemed the most shocked of all. He said he'd expected to be back on campus in time for a 2L class later that day.
*
Even after Ted Bundy was convicted of attempted kidnapping, even after authorities connected him not just to the "Ted" murders of the Pacific Northwest but to at least seven more murders and missing persons cases in Utah and Colorado, and even after he was extradited to Colorado and charged with the murder of a nurse named Caryn Campbell, who had vanished from a Snowmass ski resort, it was still possible for people to look at Ted Bundy and feel not horror at what he was accused of, but shock that anyone so polite and clean-cut—so middle-class—could be suspected of such things. "If you can't trust someone like Ted Bundy, you can't trust anyone—your parents, your wife, anyone," said his former boss Ross Davis, whose two young daughters Ted Bundy had regularly babysat.
"I wouldn't hesitate to line him up with my sister," one of Bundy's friends in Utah told the press at the time of his arrest. With remarkable frequency, men described Ted Bundy's essential goodness in terms of how much they trusted him with the women in their lives—and as Captain Swindler of the Seattle Police tried to connect Ted Bundy to the "Ted" murders, he found that the department's new prime suspect had already been close to his daughter Cathy. She had dated Ted years before, and she had trusted him too. "He was someone," she said, "who had a great deal of compassion in dealing with other people."
At the time of his arrest, it was difficult even to describe the crimes Ted Bundy was accused of: the term serial killer, coined during this period by profiler Robert Ressler, still existed only in FBI circles. Ressler's criteria included at least three murders of victims unknown to the perpetrator, with cooling-off periods in between. In the past, killers who fit this mold—the Texarkana Moonlight Murderer, the Austin Servant Girl Annihilator, the Axeman of New Orleans—were colorfully named phantoms who terrorized a region for a few months or years, then disappeared. The public rarely needed to match a human face to a series of seemingly inhuman crimes, and in the rare case where a perpetrator was revealed, he was one of society's rejects: no one wanted the Boston Strangler to take his daughter on a date. Ted Bundy was different. What did it mean for a man who had succeeded in American society to be capable of committing—or even imagining—such violence? Did it say something about the country that made him? Or did the police just have the wrong man?
The general public had no words for Ted Bundy, and perhaps this was why, when he escaped police custody in June 1977—a feat he accomplished by leaping out the second-story window of the Pitkin County Courthouse law library when the guard stepped outside for a smoke—he became more folk hero than bogeyman. Aspen radio station KSNO announced a "Ted Bundy hour," and played listener requests including Helen Reddy's "Ain't No Way to Treat a Lady." A local woman named her quarter horse foal Ted Bundy, because, she said, "it'll know how to run." Aspen residents fund-raised for a courthouse plaque reading Ted Bundy Leapt Here, and a folk singer commemorated the event in ballad form:
So let's salute the mighty Bundy
Here on Friday, gone on Monday
All his roads led out of town
It's hard to keep a good man down
When Ted Bundy was captured after six days on the run—exhausted, starving, freezing, injured, hallucinating, and reportedly twenty pounds lighter than he had been when he escaped—he still managed to grin roguishly for the cameras and make sure the headline writers knew he was in on the joke. "He said it was just too nice a day to stay inside," the police officer charged with questioning him told the press.
In December 1977, Ted Bundy's former coworker Carole Ann Boone came to visit him in jail. As Ted and Liz drifted apart, his letters to Carole had shifted from friendly to intimate, but Carole still wasn't prepared to see the man she called her "Sweet Theodore" in custody. "I was shocked to see him in a cell," she told authors Michaud and Aynesworth. She was positive that Ted was innocent—a position she would maintain, publicly, for the rest of her life.
When Carole described her jailhouse visit with Ted, she spoke of a man who seemed not just physically apart from the wider world, but no longer of it. "It is hard to describe," she said, "except that in some strange way he was as far away, as far removed, as a person can be. Exiled in the midst." During Carole's visit, she noticed a spot on the floor where the gray paint had been worn away, exposing the pink material beneath. It was the place where Ted turned when he paced around his cell. Not long before, Ted had asked his former attorney John Henry Browne which states he thought were most likely to carry out the death penalty following the end of its national moratorium in 1976. "Texas and Florida," Browne replied.
saw something else that day, something she didn't mention to the guards: a hole in the cell's ceiling. Not long after Carole's visit, on December 30, Ted Bundy climbed up through the hole and into the crawl space above, and escaped through the warden's apartment. He had pulled his sheets over a pile of clothes, crumpled papers, and law books, so the guards would think he was still in bed. It was the kind of ruse that should have worked only in a cartoon, but it worked for Ted Bundy. It wasn't until noon the following day that anyone noticed he was missing. By the time the police alerted the public and set up roadblocks, he was already more than a thousand miles away.
Back in Seattle, Keppel informed Liz of Ted's escape, and told her to contact him immediately if Ted tried to reach her. "As I lay awake that night, listening to every creak in the house," Liz wrote, "I admitted to myself that I might be afraid of Ted."
Liz didn't hear from Ted in the days following his escape, but some part of her knew how to find him. "One morning in mid-January," she wrote, "I picked up the newspaper and saw a picture of a frightened woman peering out of a gap in the drawn drapes of her sorority house. The story said an intruder had raped and murdered two young women and beaten two others as they slept in their beds at Florida State University… Now I had the ominous feeling that [Ted] was in Tallahassee."
Liz didn't have to wait long for her fears to be confirmed. A month later, on February 16, 1978, she got a call from Ted. "It's OK," he told her. She could tell that he was crying. "It's OK," he said again. "I'm in custody. It's all over." Unwilling to ignore her fears any longer, Liz asked him if he was a suspect in the murders she had read about.
"I wish we could sit down alone," Ted said haltingly, "and talk about things, with nobody listening. About the way I am."
*
After he was captured in Florida, Ted Bundy changed, in the public eye, from an outlaw to a monster. It was no longer possible to separate the man from his alleged crimes, just as it was no longer possible to tell a story about a girl who simply vanished, then reappeared months later as a skull, a jawbone, a broken tooth or a strand of hair—a changeling offering mute testimony that something terrible had happened not here in our world but in that strange realm called "thin air." Now there was no such separation. What had happened at Florida State University had happened in our world. It had happened here.
At the Chi Omega sorority house, a man had stolen upstairs in the earliest hours of January 15, 1978, and gone from bedroom to bedroom, bludgeoning his sleeping victims with an oak log. Twenty-year-old Kathy Kleiner and twenty-two-year-old Karen Chandler survived that night, though they were beaten so severely that drops of their blood were later found on the ceiling. Both Lisa Levy and Margaret Bowman were strangled and bludgeoned to death, and Bowman was beaten with such violence that her temple was crushed and fragments of her skull were driven into her brain. Levy was raped vaginally and anally with a bottle of Clairol hair mist, and her autopsy would reveal that she had been sexually assaulted with enough force to damage her internal organs. Her killer had bitten deeply into one of her buttocks and nearly tore her nipple from her breast. Contrary to what Liz read in the newspaper, Levy was the only victim to be sexually assaulted, but the manner in which Bowman, Kleiner, and Chandler were attacked suggested a form of domination akin to rape. Someone had wanted not just to hurt or even kill these women, but to obliterate them.
It had all happened in a matter of minutes. The attacker had moved from room to room, beating each woman in a violent frenzy, then pulling the covers up to her chin and moving on. After he left the sorority house, he went to a duplex eight blocks away and assaulted Cheryl Thomas, a twenty-one-year-old dance student who lived there, in the same way that he had attacked Kathy Kleiner and Karen Chandler—and then he was gone again. Thomas, Kleiner, and Chandler had no memory of their assaults, let alone of their assailant. The only description the police had came from Nita Neary, a Chi Omega sister who caught a momentary glimpse of the killer as she returned from a date. She described him as a white male in his early twenties, between 5'8" and 5′ 10", weighing around 150 pounds, with brown hair. In other words, he could have been any one of countless students on FSU's own campus.
When The Florida Flambeau printed a front-page story on the attack, it had no more information to report, nothing that could make the community feel safer. "So far," FSU's student paper told readers, "he has managed to elude a dragnet that has every detective in Leon County working around the clock." The rest of the issue was shot with ads for self-defense devices ("Every 10 minutes, an American Woman is attacked… DON'T THINK IT COULDN'T HAPPEN TO YOU!"). On sorority row, university officials visited each house to warn the girls about the danger that might still lurk on campus. "We're here because we want to tell you the facts," they told the sisters at Pi Beta Phi, "and we want to put the fear of the Lord in you."
Students withdrew from the university. Some never returned. "It was a very dark time," remembered Ron Eng, the Chi Omega house's handyman. "I can remember walking across campus a few days [later], trying to make a class or something like that, and no girl would look a man in the eyes."
Three weeks after the murders at Florida State, twelve-year-old Kimberly Leach disappeared from her school in Lake City, a small town east of Tallahassee. She had forgotten her purse after homeroom that morning, and she and her friend Priscilla left their PE class so she could retrieve it. On the way back to the gym, Priscilla was momentarily distracted, and looked up just in time to see Kim walking toward a stranger's car. Two months later, her friend's remains were found in an abandoned hog shed.
Six days after Leach disappeared from her junior high school, Ted Bundy was captured in Pensacola. For the second time, he was arrested because he got lost. At 1:30 in the morning on February 15, 1978, patrolman David Lee noticed an orange Volkswagen Beetle driving down an alley behind a restaurant he knew to be closed. Deeming this behavior suspicious, Officer Lee, like the Salt Lake City Police had before him, acted on a gut instinct and followed the driver. When he radioed the license plate and found that the car was stolen, he gave chase. The driver tried to speed away. Lee followed. Finally, the driver pulled over and cooperated as Lee began cuffing him. Then he escaped Lee's grasp and tried to run away. Lee fired a warning shot, then fired at the man. He missed, but the man fell to the ground as if he had been injured. After Lee handcuffed him and pushed him into the back of his patrol car, the man remained silent, save for one phrase.
"I wish you'd killed me," he said.
The Pensacola police initially had no idea who the man was, though by then he was on the FBI's Most Wanted list. At first, he refused to give his name. Then he told police he was willing to confess—but he had conditions. If they wanted to know what happened, he said, then "it would all come out. I mean not—and again I know what you want—but I'm interested in the whole thing. I'm interested in everything. OK? … And it's—it's got to be dealt with." He was transferred to Tallahassee before the Pensacola police could bring him any closer to a full confession.
As it turned out, they didn't need one. From this point forward, there would be few surprises: not when Ted Bundy was indicted for murder, not when he insisted on representing himself at trial, not when he decided to accept counsel after all, not when his trial attracted a crush of media attention that put him in living rooms across the country, and least of all when he was sentenced to death not once but three times: first for the murders of Lisa Levy and Margaret Bowman, and then for the murder of Kimberly Leach.
"That he most probably looked normal and walked among us seemed the greatest of horrors," a Florida State student wrote in the The Florida Flambeau. The murders, he wrote, "stripped away a little of the humanity from most of us. Right now, Tallahassee is a town of open wounds. We are like sharks, excited by the smell of our own blood… Quite correctly, many have said these murders are one of the strongest arguments ever for capital punishment."
*
Ted Bundy looks at Sheriff Ken Katsaris, who stands behind him, reading aloud the list of atrocities for which he will soon stand trial. Bundy's smile vanishes. For a moment, he seems near tears. Then he looks back at the cameras.
This is the picture you have seen: the man looking out from under a lowered brow, his mouth quirked in a half smile, his eyes deep-set, shadowy, but still focused directly on the camera lens, looking through the flash, through the decades, and into you. This is the Ted Bundy we know today: the man who was pure evil, and proud of his evil, and wanted the world to witness just how evil he was. This is the man who, in the words of one of the countless TV specials dedicated to his life and crimes, "had the capability of being virtually anything he wanted, but… instead chose to become a monster obsessed with murder."
This picture was taken on July 28, 1978, when Bundy was indicted for the murders of Lisa Levy and Margaret Bowman. Katsaris made the unusual decision of inviting the press to watch as he read the indictment to the defendant. Katsaris was dressed for the occasion in a sharp black suit. Bundy wore a jail-issued jumpsuit and sandals.
"What do we have here, Ken?" Bundy asks as he is led out to stand beside Katsaris. "Let's see. Oh, it's an indictment! All right. Why don't you read it to me?"
"Mr. Bundy—" Katsaris says.
"You're up for election, aren't you?" he interrupts.
"Mr. Bundy—"
"You finally got it, didn't you?"
"Mr. Bundy—"
"You told me that—you told them you were going to get me," he says, gesturing to the reporters and camera crews arrayed before them. Suddenly he seems a little calmer: he has an audience to play to. "He said he was gonna get me," Bundy says, and turns back to Katsaris. "OK, you've got the indictment. It's all you're gonna get. Let's read it. Let's go."
As Katsaris reads the charges, the defendant walks out in front of him, as if to replace the entity described in the indictment with the real Ted Bundy, who could never have done these things. "My chance to talk to the press," he says, and smiles for the cameras, or tries to. It looks painful to sustain.
"I'll plead not guilty right now," he says, and raises his hand, smiling again. The shutters click.
*
One summer, while researching a story about Florida, I found myself at the prison where Ted Bundy died. I had already done everything else I could think to do in the state. I had watched trained dolphins perform to "Footloose," then taken a boat tour of the Everglades and watched wild dolphins perform for no one, and tried not to eavesdrop too much on the other passengers' conversations. ("It's like catching snowflakes," a lawyer from Miami said about his work.) I had lined up with all the other tourists at Key West and taken a picture of the end of America. I had sustained mosquito bites above my hairline and on the soles of my feet. I had gone to the Florida Citrus Center and contemplated alligator claw key rings and back scratchers, alligator tooth necklaces, and dried alligator heads, and I had finally seen the LIVE BABY GATORS promised on all the billboards, where they appeared in cartoon version, wearing diapers and pink bows and looking as rosy-cheeked as reptiles can be imagined. I had done everything on my list, but I still felt that something was missing—and so, instead of going to Disney World, I went to the unremarkable patch of grass that had once been, for a few hundred citizens, the happiest place on earth.
Florida State Prison is often called Starke, taking its name from the closest nearby town, and maybe it was because of this name that I always thought it would look stark in its own way: dry and heat-tortured, glimmering with mirage but incapable of sustaining real life. I didn't know I was imagining such a place until I saw it contradicted by reality. I had been reading about Ted Bundy since I was a high-school student in Oregon, when I became fascinated by the endless true-crime books and TV specials and tabloid spreads about all the terrible things it seemed were always happening to girls not so different from myself. But the more I learned, the more I found myself trying to move beyond dread and into something harder to find in the pages of a paperback: comprehension. Ted Bundy had been a person, too, I realized. I wasn't so different from the girls he murdered, but I also wasn't so different from him. We were members of the same species. Was it truly impossible to understand his actions beyond simply attributing them to evil? Was it dangerous even to try? I didn't understand how it could be, but it seemed to me that most people thought it was. Gaze long enough into the abyss, everyone knows, and the abyss gazes into you—and its gaze is apparently enough to destroy you. I didn't understand how that worked, but it seemed like everyone around me did.
I had pictured Ted Bundy spending the last years of his life in a place that was the opposite of the Washington forests where he had grown up, but Starke is in central Florida, and, for sheer verdancy, central Florida puts the Pacific Northwest to shame. It is a land that dares things not to grow. Kudzu snakes across power lines and dangles from the trees, kissing the flat surfaces of carefully mown lawns. As you travel north toward the prison, the vines do not just choke the trees but swallow them whole. The 357 prisoners on Florida's death row as of this writing make it the second most populous in the nation, and in the area surrounding the prison, seemingly every roadside sign advertises gas, boiled peanuts, or God. FROGS ARE COMING, reads one. THERE'S ALWAYS FREE CHEESE IN THE DEVIL'S MOUSETRAP, reads another. WHEN SATAN COMES KNOCKING AT YOUR DOOR, a third sign instructs, SIMPLY SAY "JESUS, WOULD YOU PLEASE GET THAT FOR ME?" In the end, they all say the same thing: you could be good, if only you wanted to be.
Ted Bundy's postconviction lawyer Polly Nelson traveled this same highway in April 1986, when she met her client for the first time. She had been practicing law for only a few months, and neither she nor Jim Coleman, Ted Bundy's principal postconviction lawyer, had any idea who Bundy was when they agreed to take his case. "Which one was he, the guy who killed the nurses in Chicago?" Nelson recalls wondering when a coworker asked if she wanted to help a Florida inmate apply for a stay of execution. After she and Coleman looked over the petition the inmate had prepared, they decided to represent him. Ted Bundy—who had been painted in the press as a legal mastermind even after his spectacular defeat in both of the capital murder trials at which he had served as a member of his own counsel—was representing himself just as ineffectively as he had since his indictment in Tallahassee.
The comparison between Ted Bundy's legal reputation and his behavior in court paralleled his reputation as a criminal mastermind: both were directly contradicted by his actions. While living in Utah, he had saved receipts for the small quantities of gas he purchased close to the Wildwood Inn in Colorado, where Caryn Campbell disappeared, around the time she disappeared. The receipts were discovered neatly collected in his desk—not far from a ski resort brochure with an X beside the Wildwood Inn—after Bundy consented to a search. The police asked him if he had ever been to Colorado. Bundy swore he hadn't, not long before they found the receipts and brochure.
During the penalty phase of his trial for the murder of Kimberly Leach, Ted had called in Carole Ann Boone as the defense's sole witness. Acting as his own counsel, Ted questioned her about his good character. Then, while she was still on the stand, he married her. The newlyweds even found a way around the prison's lack of conjugal visits, and in October of 1981, Carole gave birth to a healthy baby girl.
"The effect of [his daughter] in Ted's life," Polly Nelson wrote, "was to give him his first glimmer of heartfelt love. Until then I think he had believed that no such emotion truly existed, that the rest of us had been faking it too. [His daughter's] unconditional, unguarded, uncomplicated, real love for him touched him very deeply and elicited a strange new feeling that opened his mind to the possibility of the existence of love." When I spoke to Nelson nearly three decades later, Ted's transformation in these moments was still fresh in her mind. "He just lit up," she said.
Nelson's descriptions of meeting Ted Bundy for the first time—and of all the hours they spent together as she worked on his appeal—are remarkably different from other writers' depictions of the same experience. She believed he was guilty just as fervently as she believed in her duty to save him from the death penalty, and the difference between her view of him and the impressions that others described to the public was based not on what Ted Bundy had done, but what he might be. "He fascinated me," Michaud wrote, "like a viper motionless in a crevice: a black, palpable malignancy… Often he made me literally sick to my stomach, and sometimes it was all I could do to get out of the prison and back to the car before I vomited."
During their first meeting, Nelson wrote, Ted did his best "to impress me, please me, block out for the moment what he knew I knew about him. He wanted me to see him as he liked to think of himself: sophisticated, urbane, polite, respectful." Yet she always saw him not as the man he wanted her to see him as, but as a person trying to pretend he was someone else. "I always had the impression," she wrote, "that he was consciously creating himself, his persona. His natural instincts, I think, gave him no clue how a normal person would act."
By the time Nelson and Jim Coleman took Ted Bundy's case, their client had become a character in the American imagination—a transformation helped in no small part by a crime desk reporter turned thriller author named Thomas Harris. Harris's time observing Bundy's trial influenced his creation of Hannibal Lecter, the cold, calculating, erudite villain of the best-selling series that included The Silence of the Lambs. "Nothing happened to me…" Lecter explains. "I happened." Hannibal Lecter, born bad, believes he is superior to the people around him, having transcended their pointless attachments to each other—and, remarkably, Harris's other characters agree with him. They are frightened, it seems, that if they listen too closely to Hannibal Lecter, they will be swayed by his logic and become evil themselves. As Ted Bundy sat on death row, and as the legend of the genius serial killer grew up around him, the public came to view him with the same fear.
Yet when Nelson met Ted Bundy, she felt not terror or revulsion, but pity. In appealing their client's death sentences, Coleman and Nelson chose to focus on his mental health, and on whether he had been competent not just to act as his own counsel in his Florida trials but even to make the decisions required of a defendant. Bundy's new lawyers argued that their client's mental illness had destroyed his right to a fair trial, and that both trials' prosecutors and judges had been either unable to comprehend his mental illness or unwilling to address the issue.
Perhaps the most glaring evidence supporting this theory came in the form of a plea deal Bundy rejected before he went to trial for the murders of Lisa Levy and Margaret Bowman. Had he accepted it, he would have pled guilty to both murders and to the murder of Kimberly Leach in exchange for three life sentences. Instead, he decided at the last minute to reject the plea, then complained bitterly about the inadequacy of his counsel. The case went to trial, and Bundy served on his own defense team, alongside a group of lawyers who were forced to work without a coherent defense strategy, since their client—and co-counsel—refused to address any of the evidence against him.
"When Bundy sabotaged the plea agreement," Coleman told me, "it was pretty clear at that point that there was something going on that was related to mental illness, and that this was not a rational thing that he had done: trying to fire his lawyers on the grounds that they didn't believe in his innocence, when he was about to plead guilty." In the course of rejecting the plea deal so that he could stand trial, Coleman and Nelson argued, Bundy had already proved that he was not competent to do so.
This logic either makes sense to you or it doesn't. It makes sense if you are willing to believe that Ted Bundy really was mentally ill, and that his mental illness affected his ability not just to defend himself at trial but to make rational decisions about any aspect of his life. It makes sense if you are willing to consider applying a new diagnosis to Ted Bundy, and moving away from one that has been applied to him to the exclusion of all others: psychopath.
"Psychopathic killers," Dr. Robert D. Hare writes in his 1993 best seller Without Conscience: The Disturbing World of the Psychopaths among Us—published two years after the film adaptation of Silence of the Lambs, starring Anthony Hopkins as Hannibal Lecter, swept the Academy Awards— "are not mad, according to accepted legal and psychiatric standards. Their acts result not from a deranged mind but from a cold, calculating rationality combined with a chilling inability to treat others as thinking, feeling human beings." Psychopaths, according to Hare, are incapable of experiencing even the faintest tremors of love or empathy, and can never be taught to feel any differently. If you encounter a psychopath, Hare says, you can do only one thing: flee. "If we can't spot them," he writes, "we are doomed to be their victims."
In addition to solidifying the public's understanding of psychopaths, Hare invented the most widely used tool for diagnosing them: the Psychopathy Checklist, first published in 1980, and known as the PCL-R since its only revision, in 2003. The checklist comprises twenty questions whose answers trained examiners rate on a scale of zero to two, typically after talking with the patient for about two hours. In the context of a prison diagnosis, some scored criteria—like "shallow affect" and "lack of empathy"—may be bolstered by an examiner's assessment of state-provided information such as a trial transcript or police record, while others—like "juvenile delinquency" and "revocation of conditional release"—are based entirely on a patient's past interactions with law enforcement. Because of its frequent use in criminal sentencing, the PCL-R necessarily conflates the concepts of "criminal" and "psychopathic": a PCL-R score of thirty out of forty makes you a psychopath, and at least five of the list's items can be scored solely on a subject's history of trouble with the law. Today, since black Americans are incarcerated at five times the rate of white Americans, a black American is also five times likelier to have a ten-point head start on the psychopathy checklist.
Despite this, the PCL-R—which Hare sells on his website for $460, in a bundle that includes an interview guide, a rating booklet, and a set of QuikScore™ forms (with webinar training available for an additional $499)—is regarded by laypeople and legal insiders alike not as a highly subjective questionnaire but as an infallible means of separating good from bad. Today, the diagnosis of "psychopath" is meted out as freely in the courtroom as it is during prime time, and its effect is always the same: instant dehumanization.
When it comes to assigning blame, no designation could be more comforting. The psychopath is born bad. Nothing can fix him. Society cannot be at fault, and there is no point in wondering whether timely treatment could have averted the inevitable. He does what he wants to do. He knows it is wrong. He can control himself; he simply chooses not to. The idea that the psychopath is somehow more deserving of blame because he was born bad—that his lack of empathy serves as proof of his evil, despite a diagnosis that says he cannot feel it, no matter how he tries—is a paradox few have attempted to address.
*
The evidentiary hearings concerning the issue of Ted Bundy's mental competence began on October 22, 1987. Jim Coleman started by questioning Mike Minerva, the public defender who had been appointed to represent Ted Bundy after his indictment in Tallahassee, regarding a note he made in the case file soon after he began preparing for the Chi Omega trial. "I believe," Minerva wrote, "[Bundy] has a basic defect in his reasoning process which prevents him from reviewing the case in a realistic manner." Throughout both their preparation for the trial and the trial itself, Minerva testified, Ted was "keeping everybody off balance," and demanded that his entire defense team come to see him for several hours each night, in visits that served no purpose but to keep him from being alone.
"Did you believe that insanity might be an issue in the case?" Coleman asked.
"Yes, I did," Minerva said.
"Were you able to pursue the insanity defense?"
"We were not able to pursue it. No, sir."
"Why was that?"
"Mr. Bundy did not want us to do that."
Despite his client's refusal to address the issue, Minerva hired Wayne State University psychiatry professor Dr. Emanuel Tanay to evaluate Ted, and to advise the defense team on whether their client would be capable of accepting the plea deal they were negotiating. After Tanay interviewed Ted, Minerva testified at the evidentiary hearings, he "expressed great reservations [about whether] Mr. Bundy would actually be able to go through with the agreement because of his mental illness." At the time, Tanay wrote: "I would anticipate that in the unlikely event that the prosecution's case against [Bundy] would weaken, he would through his behavior bolster the prosecution's case."
Yet for a brief period, Minerva testified, it seemed as if Ted Bundy really would take the plea. "We went through the whole thing with him, and his mother talked to him, and Carole Boone talked to him," Minerva told me. "They all were trying to convince him that it was OK with them…because they were going to still believe that he was innocent, that he was entering a plea so he could stay alive. He agreed to it. And then he comes in the very next morning and takes it all back in open court."
I asked Minerva why he thought Bundy had rejected the plea deal.
"I don't know," he said. "That's over my head. I don't know."
Bundy's abilities as a lawyer were, Minerva recalled, "scattershot." Mostly, he said, Ted "knew the performance": when to stand, which phrases to use. After his trial began, Ted continued to dictate his lawyers' actions and require their nightly visits, leaving them not just unprepared but increasingly sleep-deprived. He was not only unwilling but also apparently unable to comprehend the evidence against him, and refused to discuss it with his lawyers, instead talking to the press and performing for the media at every opportunity. He also impulsively cross-examined a prosecution witness before his lawyers could stop him, leading the witness to describe the horrific aftermath of the Chi Omega murders, including the pains paramedics had taken to ensure that Kathy Kleiner and Karen Chandler didn't choke to death on their own blood. To the public—and to the jury—it was hard to imagine that Bundy had a motive for such questioning beyond the desire to revel in his own destructive power. What other rational motive could there be?
As the trial progressed, Bundy's attorney Ed Harvey requested another competency hearing, because, he later testified, "it was obvious to me that…what he was doing during his trial was hurting himself." The court denied Harvey's motion, and Ted Bundy, always the staunchest believer in his own competence, was happy with the ruling. "At that point," Harvey testified at the evidentiary hearings, "I felt that the relationship between Mr. Bundy and everybody on the staff was such [that] we could not ethically go on and represent him. There was no lawyer-client relationship left. So I made a motion to withdraw as counsel… [and] the court appointed him as chief counsel and relegated us to the official position of being just standby counsel." Once again, Ted Bundy was on his own.
At Coleman and Nelson's evidentiary hearings, Dr. Dorothy Lewis, a Yale professor and psychiatrist, testified that she had, after evaluating Ted Bundy, outlined a history of alternating periods of mania and depression dating back to 1967. She diagnosed Ted with bipolar disorder, to which she also attributed his behavior at trial. According to Lewis, the question of whether Bundy was competent to act as his own counsel was not even at issue. "I don't even think Mr. Bundy was competent to accept or reject a plea," she said.
Immediately after the state finished calling its witnesses—concluding with a psychiatrist who stated that Ted's concern for "his dental care, his body cream, his skin condition… shows that Mr. Bundy definitely is not depressed"—Judge G. Kendall Sharp announced that he would not need to listen to any final arguments, and required no time to deliberate. "After hearing all of the testimony," he said, "the Court now concludes that [Ted Bundy] probably is the most competent serial killer in the country at this time… he is a most intelligent, articulate, and complex individual. This Court views him as a diabolical genius."
Judge Sharp made no secret of the fact that he had made up his mind in advance. Before the hearings began, Polly Nelson wrote, "a television reporter [asked] if he thought a hearing on Bundy's competency would be a waste of time." The judge answered, "Absolutely."
*
On January 23, 1989, hours before his scheduled execution, Polly Nelson visited Ted along with Dr. Lewis. "Have you felt good at all to have gotten it off your chest?" Dr. Lewis asked Ted, who had already made extensive confessions to the investigators who had flooded the prison over the past several days.
"It doesn't feel any better," Ted told her. "Not yet, 'cause I haven't really told anybody, I don't think, the whole story."
Now, with Lewis recording the proceedings and Nelson standing by, Ted did his best to tell it. He said "something happened" the summer before he started high school—something that left him feeling "really out of touch with my peers—really out of touch. I mean, my old neighborhood friends went on to groups, and high school, being [part of] a bigger community—and I was sort of just stuck. I spent a lot of time with myself." Ted would run naked through the forest behind his house, and "fantasize about coming up to some girl sunbathing in the woods," he said, "or something innocuous like that." As he grew older, his fantasies grew darker. He scoured the library for descriptions of violence, and developed a taste for true detective magazines and their photographs of dead bodies. At twenty-one, after his first girlfriend—a beautiful, wealthy young woman he idolized—ended their relationship, his dependence on pornography and his own fantasy life began to deepen. "It was like I just ran for cover emotionally," he said. "And, of course, that was the only thing that ever made sense."
Ted's fantasies came to include "some faceless character" assaulting his ex-girlfriend. "I think he raped her," Ted told Lewis and Nelson. "But he didn't—he didn't—I didn't, I didn't take it—he didn't kill her or anything like that."
But the line between "he" and "I" had begun to disintegrate. In the first months of 1969, Ted said, he felt "the entity begin to reach the point where it's necessary to act out. No longer just to read books, or to masturbate, or fantasize, but to actually begin to stalk, to look." The fantasy, he said, "became more graphic each time it was aroused." That spring, Ted recounted, "I really, for the first time, approached a victim, spoke to her, tried to abduct her, and she escaped. That was frightening it its own way. But that was the first—the kind of step that you just—that you don't—that I couldn't ever return from."
"Did you ever think about talking to a psychiatrist or someone about this?" Lewis asked.
"No," Ted said. After that first approach he had stopped himself, and believed that he could manage without help. He met Liz that summer. He went back to school. "Things seemed to be good," he said. "I felt like I had myself back together. I was disturbed about what I was doing in 1969… and, yet, I figured that it was in control, really.
"It wasn't," he said. "I wasn't."
"Did you ever think you were crazy?" Lewis asked later in the conversation.
"Oh, yes," he said. "There are times I've, the rage and the madness was just so strong, I was just so… I'd be screeching, screeching, cursing, you know. That's when I was, deep down inside I was watching this, I said, 'You're absolutely mad. This is just madness.'"
But after each murder, he could still tell himself that it was over. "I convinced myself, OK, this is it, I've satisfied myself. No more. I'm OK now. I feel good. I feel like I don't need that, I know I don't need that anymore.
"I can remember that very feeling," he told them. "It's very strong in 1974, leaving the state of Washington, going to law school in Utah, feeling all of this is behind me. I got this over now," Ted said. "This is going to be OK."
*
"It was a perfect winter dawn," Margaret Vandiver later wrote. She had provided pro bono paralegal services to Ted Bundy, and after visiting him before his execution, she stood across the road from the prison, walking back and forth between the mass of revelers and the few death penalty protesters who stood apart from the celebration. Believing the prison lights would dim at the moment of the execution, some onlookers began a raucous countdown—"Ten, nine, eight, seven"—as if they were anticipating not a man's death but a space shuttle launch.
Earlier, prison officials laid out a breakfast of coffee, grits, ham, and bacon and eggs for the execution's audience. It was a generous spread: Ted Bundy was allowed to choose two witnesses, the state supplied another ten, and the rest of the chairs were filled with as many spectators as the space could hold. "There wasn't any room for anybody to move, it was so jam-packed," said Fred Lawrence, the Methodist minister who prayed with Ted Bundy in his final hours.
Ted addressed his last words to Lawrence, and to Coleman. "Jim and Fred," he said, "I'd like you to give my love to my family and friends."
"He seemed disoriented," Coleman remembered. "He seemed helpless. And he seemed very small.
"Is that all there is?" Ray Parrish, a college student from Kimberly Leach's hometown, asked the reporters outside the prison. "I don't feel any different," he said.
For the six-year-old Cochran twins, Jennifer and May Nicole, whose family had left Orlando at two o'clock in the morning so they could join the festivities, the "field trip" their parents planned had been an educational one. Jennifer told reporters from The Gainesville Sun that "she understood why Ted Bundy was going to die. 'He killed a lot,' she said."
May Nicole had a harder time focusing on the lesson at hand. "We saw a deer this morning," she announced.
The party was over. The crowd dispersed. The TV stations packed up their equipment. The vendors counted their takes. The sky was the pink of an Easter egg, until the sunrise faded and it was just another day.
*
It is impossible to believe in evil without believing in choice. When we talk about the psychopath, we describe a person born without a conscience, yet we often talk about this lack as if it is not a disability but an advantage: proof that someone has evolved beyond the pesky morals that hobble the rest of us and is now free to enjoy a consequence-free life of sex, theft, and violence. Whether psychopaths actually do enjoy this life is, according to Dr. Hare, not a question even worth asking. Therapy—especially "attempts to teach psychopaths how to 'really feel' remorse or empathy"—is "doomed to failure," Hare writes in Without Conscience, primarily because psychopaths don't want to change. "They see nothing wrong with themselves," Hare explains, "experience little personal distress, and find their behavior rational, rewarding, and satisfying; they never look back with regret or forward with concern. They perceive themselves as superior beings." To Hare, and to the psychiatrists and legal professionals who continue his work, a diagnosis of "psychopathy" is wholly separate from mental illness, and cannot serve to mitigate a defendant's guilt. The only guilt it can mitigate is a jury's: if it is wrong to kill a human being, it can still be acceptable to recommend the death penalty for someone who is not really human.
When I asked Ted Bundy's attorneys whether they would describe him as a psychopath, their responses were not just unanimous but unambiguous. "No," Minerva said, without hesitation. "I think he was severely, deeply mentally ill," he said. "Psychotic. I always believed that."
"I think we understood why he did what he did," Coleman said. "We knew it was a product of a mental illness."
"He was mentally ill," said Joe Nursey, a lawyer who worked with the defense team during Ted Bundy's abandoned plea bargain and subsequent trial, and is now a supervising attorney at New York's Office of the Appellate Defender. "Anybody who looks at it with any degree of honesty knows that he was mentally ill," Nursey said. "Just being with him long enough, you saw it.… His mind [didn't] function rationally: on any level, on anything."
Nelson was silent for a long time as she considered my question. "You know," she said, "'psychopath' to me implies some kind of evil motivation, like an evil corporation knowingly polluting. And I don't see that in Ted. He was much more like an addict."
More often than not, the lawyers I spoke with found the term psychopath so poorly defined that they didn't feel comfortable applying it to anyone. The word, Coleman said, "becomes a cop-out. Judges latch onto it to avoid having to deal with what's actually going on. It's presented to juries as a way for them to not struggle with understanding the defendant's behavior, and to attribute to it this label that basically explains everything."
"It's a cheap word," Nursey said. "It's a word that is used to avoid trying to understand something in a larger context. Medicine has not developed to the point where we understand the mental illness that leads people to commit what appear to everybody to be random, cold-blooded acts of violence… These are out-of-control people, but we won't acknowledge that they have a mental illness. We just want to say they're pure mean."
For decades, Ted Bundy has served as the textbook example of psychopathy not just for tabloid readers and true-crime enthusiasts, but for revered psychologists like Hare. But after hearing the same thing about Ted Bundy from so many of the people who both knew him as a person and accepted his guilt, I had one question left: if Ted Bundy wasn't a psychopath, who is?
"The better question," Nursey told me, is "'Does the term have any real meaning?' And it doesn't."
One of the most troubling aspects of Hare's description of the psychopath, particularly in Without Conscience, is its sheer simplicity. There is only one diagnosis, "the psychopath," into which every patient must fit. Personal history, age, gender, past trauma or abuse, evidence of brain injury, and diagnoses of other personality disorders or even mental illnesses don't enter into the equation. And while it is comforting to believe that the only reason a person can commit or be complicit in the most horrific of crimes is because they were simply born bad, we have to wonder whether this sense of comfort leads us to accept certain conclusions not because they are logical, but because we want them to be true.
We can say that Ted Bundy was a psychopath, but we can also attribute his behaviors to the mental illness his lawyers observed in him, and doing so reveals a very different picture from the one we know. It shows us a man who appears to have been unable to control his actions or make the decisions that would have saved his life, who put on shows of competence and superiority because he needed to force the world to see a version of himself that he was no longer sure existed, and who loudly proclaimed his own innocence because, to him, it had become a kind of truth.
"I think he always viewed himself as being two personalities, in effect," Coleman told me. "One good and one bad. He viewed the good Bundy's role as protector of the bad Bundy, because that was the only way to protect the good Bundy… So denying that he was guilty—I don't think, in his mind, he was doing anything contradictory. He really did believe it."
"The person standing before you couldn't kill anyone," Ted told the jury at one of his trials. It was a tactic he used repeatedly, despite the fact that it never convinced anyone of anything. "The bottom line," he told another jury, at his Orlando trial, "is that the person who murdered Kimberly Leach is not in the courtroom today." The jury deliberated for less than an hour before recommending the death penalty.
Dr. Al Carlisle, the psychiatrist who evaluated Ted prior to his sentencing in Utah, concluded after six weeks of interviews that "the constant theme running throughout the testing was a view of women being more competent than men. There were also indications of a fairly strong dependency on women, and yet he also has a strong need to be independent. I feel this creates a fairly strong conflict in that he would like a close relationship with females but is fearful of being hurt by them. There were indications of general anger and, more particularly, a well-masked anger toward women."
Polly Nelson researched Ted's childhood in preparation for the evidentiary hearings, and learned, she wrote, "that, contrary to Ted's description of an idyllic family background, his grandfather had been a violent and bizarre man who beat his wife and talked aloud to unseen presences. Ted's grandmother had been hospitalized for depression several times and treated with electroshock therapy." Eventually, "the family had conspired to get Ted and his mother out of his grandfather's house—and out to Seattle to start a new life." But, Nelson wrote, "Ted's mother denied there had been any problems."
Ted told a similar story. He was fiercely protective of his mother, especially when it came to guarding her from any suggestion that she might have influenced his behavior. During Carlisle's evaluation, Ted insisted he felt no resentment toward his mother, because "she had sacrificed a great deal to have and raise an illegitimate child."
"My mom loved me enough to give birth to me, to care for me and love me," he wrote to authors Michaud and Aynesworth. "This seemed to be more than enough."
Louise Cowell was seventeen when she gave birth to Ted in a home for unwed mothers. She decided to give her baby up for adoption, and left him there. When she returned three months later, it was not because she had changed her mind about being a mother, but because her parents had changed her mind for her. When Louise brought Ted home, her parents alternated between passing him off as her brother and simply hiding him away.
"She tried to do the right thing," Nelson said. "She knew her limitations and her feelings about him. And then she was pressured to do otherwise. She was young."
Carlisle also noted Ted's intense attachment to Liz. During his evaluation, Ted wept as he recounted a time when Liz had been unfaithful. "My world was so destroyed," he said.
"In this life we are fortunate to find one person to love and love completely," Ted wrote to Liz shortly after his first arrest. "I am lucky because I love you in this way… In this hour when my whole life is threatened, the only thing I regret is losing you and [your daughter]. So I give you one more thing. It is the one part of me that cannot be taken away. I give you my love as deep and as powerful as any human being can have for any other. I give it to you as the woman who has captured my soul… Without you there would be no life."
At the sentencing hearing for his Utah trial, Ted was particularly outraged by Carlisle's claim that he was dependent on women. "Good grief!" he said. "I don't know that there's a man in the courtroom who isn't. And if he isn't, maybe there's something wrong with him. Our mother is a woman."
"I think when you are as desperately dependent on something as he was… you resent it," Nelson told me. "I think a lot of men feel that way."
"He received no pleasure from harming or causing pain to the person he attacked," Ted said, in one of the many interviews he conducted with Michaud and Aynesworth under the premise that he was theorizing about what the real killer might have done. "He received absolutely no gratification," Ted insisted. "He did everything possible within reason—considering the unreasonableness of the situation—not to torture these individuals, at least not physically."
Lisa Levy was unconscious when Ted Bundy assaulted her, raping her with a hair spray can and nearly biting her nipple from her breast. How many of these other girls and women were unconscious, or already dead, when he carried out his assaults? In many cases, we cannot know, just as we cannot know what need he served by staying with some of his victims' bodies until dawn, and by returning to their corpses sometimes weeks after he killed them, perhaps until there was nothing left to return to.
"If there was anything he was ashamed of," Nelson said, "it was that. Any kind of contact he had with the body after death. He couldn't wrap any story around that."
We have found a way to wrap a story around most of Ted Bundy's actions. In all too many depictions of him, there is, lurking in the background, the idea that every man wants to rape women, but Ted Bundy just got carried away and took things too far. The necrophilia, the mutilation, and the destruction and visitation that seemed to feed his compulsion more than any recognizably sexual motive are harder to cram into a ready-made narrative. They reveal a man who perhaps felt the need not to revel in his victims' pain but to destroy the body that should have given him the love he needed but never gave him enough, never enough so that he could truly feel it, never enough so that he could finally become whole—or else to steal inside it, to disappear, and to no longer be alone.
When I talked with Nelson, I asked her if Ted Bundy's gradual progression to serial murder seemed as inevitable to her as it did to him. "I wouldn't say it seemed inevitable to him," she countered. "He was always hoping it wasn't. We all think we're strong enough to resist our temptations, and like all of us, he just thought, OK, I'm stronger than this. Now I know, so now I really can be strong.
"And whether anything could have happened at any time," she continued, "so that this could not have happened, I think definitely… I think he's on a spectrum, and other people are on parts of that spectrum, and very few of them end up like he did. But he had all the right ingredients."
*
The jungle growth of central Florida stops abruptly about a mile from Florida State Prison. The trees disappear. The sky is suddenly endless. The first real clue that you are approaching the complex is a sign that reads FLORIDA STATE PRISON NOW HIRING. If you're not going in for a job interview, or to meet with an inmate, it is easy to drive straight past it. There is no place to pull off the highway, let alone a marker setting one drab stretch of shoulder apart from the rest, and this seems right to me. I came here because I wanted to see the spot where so many people shared so much joy at the death of a man, and because maybe by standing in this place I would understand not just their joy but the man whose death inspired it. But there is no place to look at, and I am looking for something no one has. I am looking for an answer.
Of all the aspects of the psychopath diagnosis that Ted Bundy challenges, perhaps the most striking is the one that does not apply to him at all: satisfaction. Psychopaths, Dr. Hare assures us, celebrate the way they are, and see the rest of us as weaker beings. One never encounters descriptions of the psychopath that include not just the way their inability to feel love harms the people around them, but what it is like to survive without love, and to endure what must, at times, seem like an empty hell.
Nor does one encounter the suggestion that the psychopath can, with age, feel moments of relief, flickers of love, as Nelson says Ted Bundy felt for his daughter. The same daughter left Ted's life forever in 1986, when Carole Ann Boone quietly moved back to Washington, taking their child with her. "I think he agreed to it," Nelson said of their departure. Before they left, Ted drew so close to an execution date that he had said goodbye to his family—his head already shaved for the electric chair's sponge—before he received a stay. Ted seemed to recognize, Nelson said, that his wife and daughter would have a better life without him. And, she added, "as things were heating up so much, [his daughter] was going to see the news or the newspaper. He didn't want her to have that impression of him."
Then, too, there was the question of whether Ted Bundy truly wanted to stop. After his first escape, in Aspen, he told Michaud and Aynesworth, he didn't feel the urges that had dominated him before his arrest. He believed that he had cured himself, and was free. The second time he broke out of custody, he was high on the thrill of escape until he got as far south as Atlanta. Then, suddenly, something happened.
"I was waiting for the bus," Ted said, "and I was watching all these people—these people who had real lives, backgrounds, histories, girlfriends, husbands and families. Who were smiling and laughing and talking to each other. Who seemed to have so much of what I wanted. All of a sudden, I just felt smaller and smaller and smaller. And more insecure, too. And more alone… Bit by bit by bit, I felt something drain out of me." Within two weeks, he would murder Lisa Levy and Margaret Bowman.
A lifetime is not long enough to comprehend the pain Ted Bundy caused. I limit myself to one woman's life and I know I cannot fathom such a loss, let alone such losses. I don't believe anyone can. I am powerless to understand, to begin to imagine, just who his victims were. I can tell you only what I have learned from true crime: that Lynda Healy was studying child psychology; that Georgann Hawkins's mother called her "the Pied Piper" because of how many friends she always had at her side; that Donna Manson made a list titled "Things to give to people," and it went:
—A string of beads
—A taste
—A rose
—An ear
—A hand to help
I will never grasp the totality of these women: of both their own lives and the lives that touched theirs; of their loves and fears and anger; of the possible worlds they walked beside, and the world as it was, as it was when it was theirs, and in moments that were theirs alone, and that could never be translated for the public into another humanizing fact, another reason that this was a girl who deserved to live.
"You can go as high as you want," Bundy told Aynesworth when the writer wondered how many victims the "person" they were discussing might have killed, at a time when both men understood they were talking about Ted Bundy himself. "The higher the number," Bundy said, "the better. The more horrified people will be, the more they will read, and the more interested they'll be in finding out what makes a person like this tick… Make it up. I'm not going to do it. I can't… but you can."
Ted Bundy was adamant about the few insights he did have about himself. If he could not explain why his compulsions had emerged, he could at least cling to the knowledge that there was a time when they had not controlled him. In response to Beverly Burr, a Tacoma resident who begged him to confess to the murder of her eight-year-old daughter, Ann Marie, Ted wrote: "You said she disappeared August 31, 1961. At the time I was a normal 14-year-old boy." In a few years, things would change forever. But not then. Not yet.
"We're right down to it," Bundy said near the end of his final meeting with Nelson and Dr. Lewis, hours before his death. "I've pieced together an explanation of sorts which makes sense, yet I don't know. I wish I did know… that's what I'd like to understand, why. I think for me sometimes it's sadly, just because.
"Forgive me for digressing a little," he said. "Maybe this will help. You asked me why I never sought help. At first I didn't think I needed it. Then I suffered from delusions that I could handle it myself. Then it was too late because I knew if I sought help, that was—I didn't trust anybody."
Dr. Lewis asked Ted to relax as deeply as he could, to reach back into his childhood, and to tell her what he saw. "Ted had laid his head down on his hands," Nelson wrote, "but his handcuffs cut him and he was unable to concentrate. I cupped his head in my hands. I had never been this way with Ted before, touching him, comforting him. But today was different… Today I was a human being and he was a human being."
"Well," Bundy said at last, "looking back now I couldn't, I couldn't, certainly didn't, see it or understand it. I can only say that…what I lacked and didn't understand and express was love.
"By love," he said, "I mean the ability to sense someone else's feelings and when to comfort them and to protect them and do good things for them. And in turn have that same kind of feeling, be the focus of that same kind of feeling.
"I feel that it wasn't there in me," Ted said. "I mean, how else?"
*
When I first learned about Ted Bundy, I was sixteen and working through myth after myth, trying to understand why the dark forces inside a man needed, so badly, to destroy me. Sometimes victimhood seemed inevitable. And sometimes it seemed like the best thing that could happen to a girl. Once you were dead, you could be loved forever. Once you were dead, no one asked if you had fought back hard enough, if you hadn't really wanted it after all.
I learned, from all these stories, that there were good men who wanted to save me, but only after I was dead, and I learned that there were bad men who wanted—needed—to kill me. But I didn't understand where this need came from, and the answers people gave me never made sense. He wanted to be evil. He had become superior to other men—the less capable of love he was, the more superior he became—and he realized there was nothing to stop him from possessing all the women he wanted, because isn't that what all men wish they could do? And that, as far as I could tell, was why you weren't supposed to put the good men in a room with the bad man for too long: they were afraid they would start seeing things his way.
So I went to the bad men. Listen, I said, to the shape I conjured, who usually looked like Ted, usually was Ted, though our life spans had overlapped by just a few months. Listen, I said, when I imagined him driving me up the mountain some dark night, up a narrow logging road, the way long, the radio gone to static. Listen, I'd say. Just tell me what you need from me. Why is my body the one you have to tear apart? What do you think you'll find?
"It's funny how he's still the poster boy for serial killers after all these years," Nelson said, near the end of our conversation. It was hard for me, I told her, to imagine knowing the real person first, and then watching the myth be built around him. I had only ever known the myth.
"Not that he'd be unhappy with that," she said. "He would much rather go down as a brilliant, manipulative serial killer than a disturbed individual, out of control and sad. You're going to be ruining it. That was worth a lot to him."
Why am I trying to ruin this for you, Ted? Why am I here? It's not just because I was a girl, and you were the worst of all the bad men I ever learned about, and I thought figuring out why you needed me to die would mean figuring out why the whole world did. It's not just because calling you "a force of evil" isn't good enough for me—not just because, more and more, I am coming to believe that evil refers to nothing, means nothing, attaches itself to acts of violence or cruelty, but is never, by itself, an identifiable force. And it's not just because I learned to understand my value to society by imagining how much I would be missed if I were taken away by someone like you, and it's not just because I studied these stories to learn how to survive (don't take the shortcut through the alley, don't talk to strangers, don't go into "thin air"), and it's not just because you are human and I am human. It's because I see myself in you.
*
As a teenager, the story I found when I looked and looked for the evil people seemed to see when they looked at Ted Bundy was always, to me, the story of a lost boy: one who couldn't understand relationships and connections around him, and who was always on the outside, looking in. "I didn't know what made things tick," Bundy told Michaud. "I didn't know what made people want to be friends. I didn't know what made people attractive to one another. I didn't know what underlay social interactions."
The first time I read these words—still a teenager, still meant to identify with the murdered girl and no one else—I recognized them as my own. I had to think through nearly every interaction in advance. I felt I had no basic understanding of the people around me, and this made me feel like I was completely alone in the world, and sometimes meant that when I looked at the people around me, I could feel only fear, and sometimes hostility. Something had broken—who knew what, or when, or how?—in my early life, in my ability to trust people, to reach out, to feel that I could be seen and known as I was, and loved unconditionally. Some early relationship had faltered enough, some early trauma had broken me enough, to make me feel so lost—this, at least, is what I think now: something happened. And then something else happened. Something lost hold of me; something gave. I learned, slowly, to trust other people. I reached for them. I knew them. I loved them, and I felt their love.
And why was it that I was allowed to move on, and you weren't? I never felt the urge to hurt the people around me, but that wasn't a choice; it was a lack of compulsion. And if I had wanted to hurt people, would I have tried to get help? Where would I have gone? Where would I go tomorrow, if the need suddenly appeared and took control of me?
The insects' singing vibrates the grass. I am sweating so much I think I might be melting. I have come as close to looking at you as I possibly can, Ted, and like Polly Nelson before me, I feel only pity. I thought I wasn't allowed to feel just that: I thought I had to feel fear when I looked at you, fear of the demon core you held, because looking at it too closely would mean witnessing your evil, and knowing that it burned in me too. Isn't that what all these terrified men see when they look at you, Ted? But we can be scared this way only by beliefs we feel we could share. I do not believe that the harm you caused made you somehow powerful, but for all the time I have been looking at you, I have felt the people around me looking at you that way. Why are we so determined to estimate a victim total? Why are the numbers we guess always so high? How many people do we want you to have killed?
What made you the way you were? Which chemicals did your brain misproduce, which cells didn't divide, how many crucial grains of love and nurture were blown out of your life and allowed to stay in mine at the moment when they most mattered? I am tired of being told that there is something in the abyss that will glower back at me, and make me want to stop looking. I have grasped for your demon core, Ted, and I have found nothing, again and again. The good men lied. I have found only humanity, only a need to love and feel loved as well as we can, and the fact that some of us can do this easily, and some of us hardly at all, and I cannot imagine a reality where someone would choose violence over love, emptiness over love, feeling lost the way you did, lost the way I did, over love, when love is there. I don't think love was there for you, and I don't know why it wasn't, and I'm tired of being told there's no point in searching for answers that might lead to solutions, tired of living in a world where some people are just born bad, and all we can do is wait to catch and destroy them, and where catching and destroying a monster means waiting until they start killing women and girls. I am tired of living in a world where this is the only story we can tell. I am tired of this story. I want a new one.
*
It is difficult to see Ted Bundy as human. It is difficult even to entertain the belief that he did not need to destroy as many lives as he did, or that his own life could have been different. Believing this means believing that Ted Bundy and others who commit crimes like his are not born irreparably wrong, are not unavoidably evil, do not belong to a separate species from the rest of us. This is a frightening conclusion to draw: that the actions and crimes and atrocities we so often call "inhuman" do, in fact, belong to humanity, because they are committed by human beings. Rejecting the label of "psychopath," not just for Ted Bundy but for anyone, means accepting that it is not a hard, scientific fact that we could never do what they have done—and that we could, under different circumstances, go down the same path they did.
But there is hope in this conclusion, too. It means their paths were not inevitable. It means there was a time when they might have come back, away from violence, away from emptiness, and toward attachment, toward empathy, toward the bright and benevolent side of human behavior we have grandiosely labeled "humanity." It means that those we call lost do not need to stay lost forever. It means that we, too, can be found.