New York art critic Jerry Saltz is known for his regular (and generous) rants about the lack of attention paid to women artists in the art world, especially in the oversaturated New York art world. In a piece he wrote for the Village Voice critiquing the dearth of women who appeared on the various top one hundred (or top ten, or top thirty-two) lists of 2005, Saltz supported his outrage with the following bleak numbers: only nine women made the list of eighty-four artists and art-world muckety-mucks published in Art and Auction's "Power Issue"; ArtReview's "Power 100" list featured only nineteen women; and in the top ten lists compiled by eleven different curators for Artforum, only eleven of a hundred and ten slots were filled by women.
One might conclude from these statistics that lists are by de­finition arbitrary and stupid. One might also conclude that women artists don't fare well on arbitrary, stupid lists. When asked by the Believer to compile a subjective but hopefully not stupid list of ten up-and-coming/underrecognized artists, I decided to narrow the selection process by choosing all women. Yes, this is another arbitrary way to make a list, but when it comes to frontin' for the ladies, I can't neglect such an opportunity. This is not to say that the work these women produce can't achieve the recognition it deserves on its own merits. So why the consistent dis from the bullshit power structure? Honestly, I'm not sure I can articulately answer this in the given space. Let's simply say that, despite the paltry female showing on those 2005 best-of lists, the art scene today is one where the best galleries are owned by women (Andrea Rosen, Metro Pictures, Paula Cooper, Regen Projects, Barbara Gladstone, to name a few), where most of my museum colleagues are women, where art schools are full of women. You're free to draw your own conclusions from the disjunction.
So while acknowledging that all lists are subjective and ex­clusionary, here are the reasons (besides gender) I chose whom I chose for my list. I've tried to select artists who form what I do as a curator, and who make work that forces me to keep coming back to it with more questions. Some of the artists I know personally and have worked with over the years; some I chose because I'm just starting to discover their work and sense that I'll be wanting to spend a lot of time with it in the future. When people ask why I like the work of a particular artist, I'm often hard-pressed to deliver an articulate speech on his or her work's merits. The best explanation I can offer is this: my favorite artists make art that is inexplicable, even to someone like me, who spends a lot of time specifically thinking about and looking at art. If you could really and truly explain the art's effect on you, what would be the sense of continuing to ponder it? At the end of the day, these are ten artists who inspire me, who teach me things that I need to know, and who keep me thinking.
*
At a time when most art audiences are no longer faced, as they once were, with art about politics, Los Angeleno Andrea Bowers makes political art. The grace note in her work is that she so deftly infuses an aesthetic into subjects ranging from important women artists, crowd mentality, capitalism, and activism in many forms to abortion rights and environmental battles. She foists forgotten histories right back at us and once confronted, her images are hard to shake. Her recent solo exhibition at REDCAT in Los Angeles chronicled and re-created the archive of the "Army of Three," abortion rights activists who, in the late '60s, helped women find legal and safe abortions. Also included was a series of drawings of internet press clippings about the deaths of two civilian aid workers, an American and an Iraqi, killed by a car bomb in Baghdad. They counted the Iraqi civilian victims of America's "war on terror" so that their families might receive compensation. Let's face it. For many of us art is an escape from the crap that is the world situation today. But Bowers's work elegantly demonstrates that the political is always and forever important.
*
Ceramic? Oh yes. New Yorker Nicole Cherubini takes clay to a level that would make any traditional ceramicist faint. Hand-built, use-free (they are full of holes), and overscaled, Cherubini's funky G-Pot vessels are glazed repeatedly to create a seductive richness of hue. They are built in layers, from the bottom up, then glazed with different colors, sometimes carefully applied, other times dripping and messy. The pots are then festooned with all manner of baroque appliqué: garishly dyed furs, fake gold rings, silver chains. Some pots are barnacled with ceramic gem shapes. The pedestals on which the pots sit are very much part of the work. Where the pots are over-the-top decorative, the pedestals are mucky minimalism, made from materials such as steel rod, plywood, Plexiglas, and painted foam. The balance of elements in Cherubini's work always veers close to failing, which is what makes her work so exhilarating.
*
One of Trisha Donnelly's recent works, included in the 2006 Whitney Biennial, was composed of sound. With it, she described a U-shaped form—a loud brass-plate gong—that in its installation on the fourth floor of the museum laid itself across the entirety of the space as well as permeated the remaining floors of the museum. If you stood in the correct place, you heard this noise—which sounded every half hour—move away from you and then return, creating a form, a complete arc. The experience of Donnelly's work, thus, is slightly one of happenstance. If you spent not quite ­thirty minutes in the gallery you might have missed it en­tirely. I knew what to expect, or rather what to listen for, but the experience was still brief and disorienting. For San Francisco–based Donnelly, sound is resolutely physical, and the rest of her work grapples with its repercussions, through video, photography, drawing, and performance. She uses these media in precise ways, usually together in one installation wherein they become component parts of a whole that is better experienced than described.
*
Anne Chu is a New York artist who makes figurative sculpture. Though this practice might sound outmoded, Chu gives it a freshness by deftly mixing formal and narrative influences such as marionette puppetry, Tang Dynasty ceramics, traditional Chinese painting, and even roadside chainsaw sculpture. All of her work re­tains a rawness and the character of its origin, whether made from bronze, papier-mâché, ceramic, or wood. Much of her work depicts animals and court figures. The animals are oddly human, more characters from myth or fable than scenes from nature. Chu ingeniously mixes artistic influences from east and west to explore meaning in both cultures.
*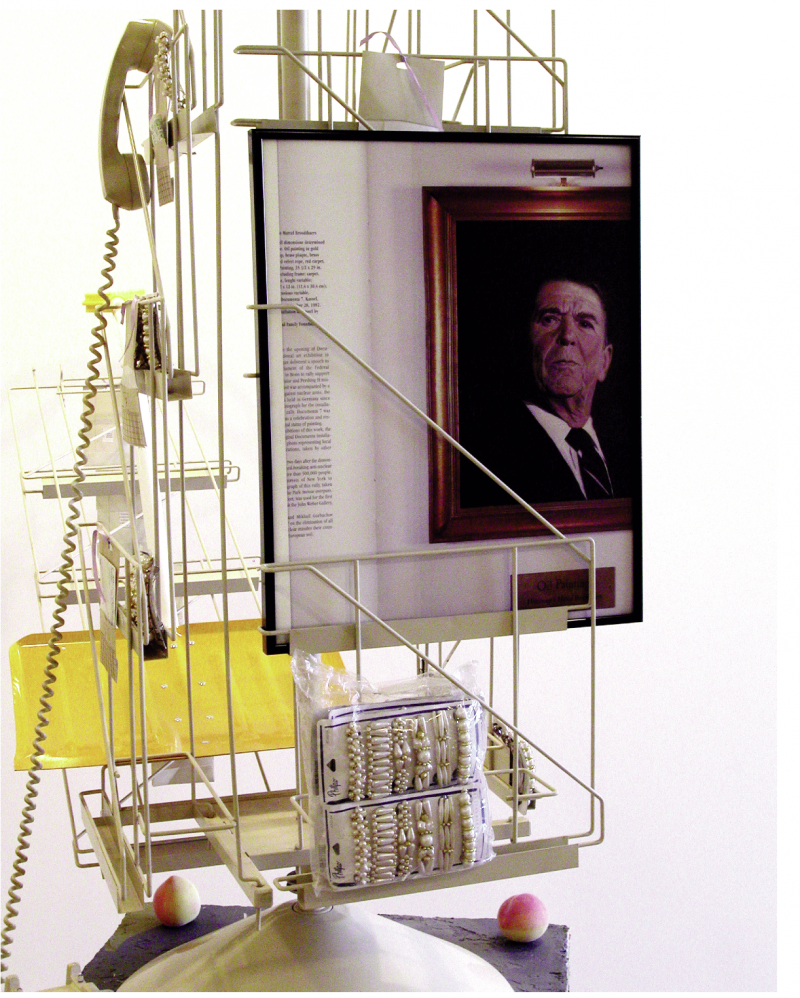 New Yorker Rachel Harrison's work has inspired my thinking about art ever since I saw her uncanny sculptures in MoMA's famed New Photography series in 1998. Sculpture in a photography show, you ask? Affixed to each form was an image, thus marking its eligibility for the photography collection. Indeed, Har­rison works in the space created by the collision of abstract and found-object sculpture and photography. She does this better than any of her imitators, and there are many. Her precisely rendered, careless-seeming com­positions join together papier-mâché, cardboard, perfectly chosen store-bought objects, photography, paint (the list goes on and on) to create sculpture that is otherworldly in its humor, beauty, sincerity, precision, and nose-thumbing.
*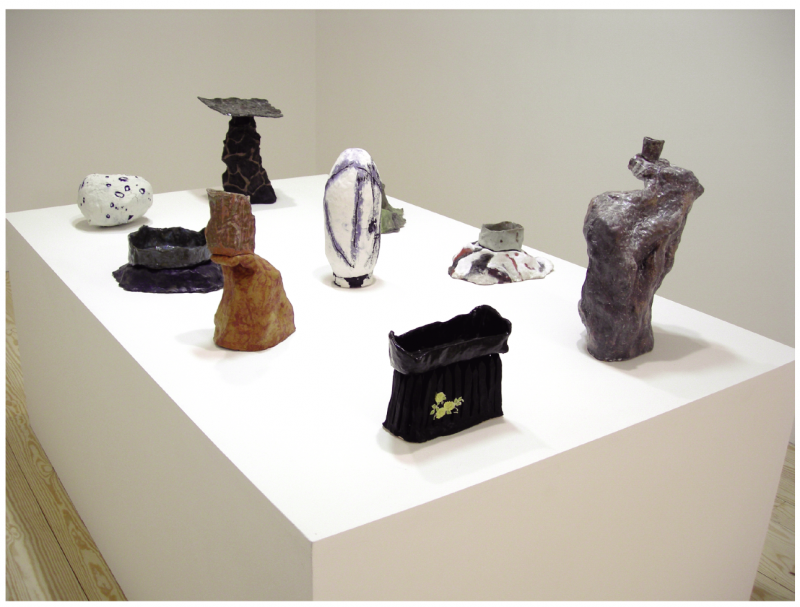 Jessica Jackson Hutchins's papier-mâché and found-object sculptures attempt to capture, through form-making, the ephemerality of the natural world. Besides these materials she also works in ceramic, makes collages and drawings, and even recently produced a piece made of hand-blown glass—of Darryl Strawberry becoming a mountain. Her work reflects a fascination with her surroundings, whether they are the urban streets of her hometown of New York or the dramatic geography of Ice­land. Places, and the connections we have to them, represent a grappling with the potential and potency of horizons, and what is metaphorically atop them: love, death, desire, failure, empathy. Hutchins's works evoke the irrationality of sincere human connection, but also the hopefulness of these attempts.
*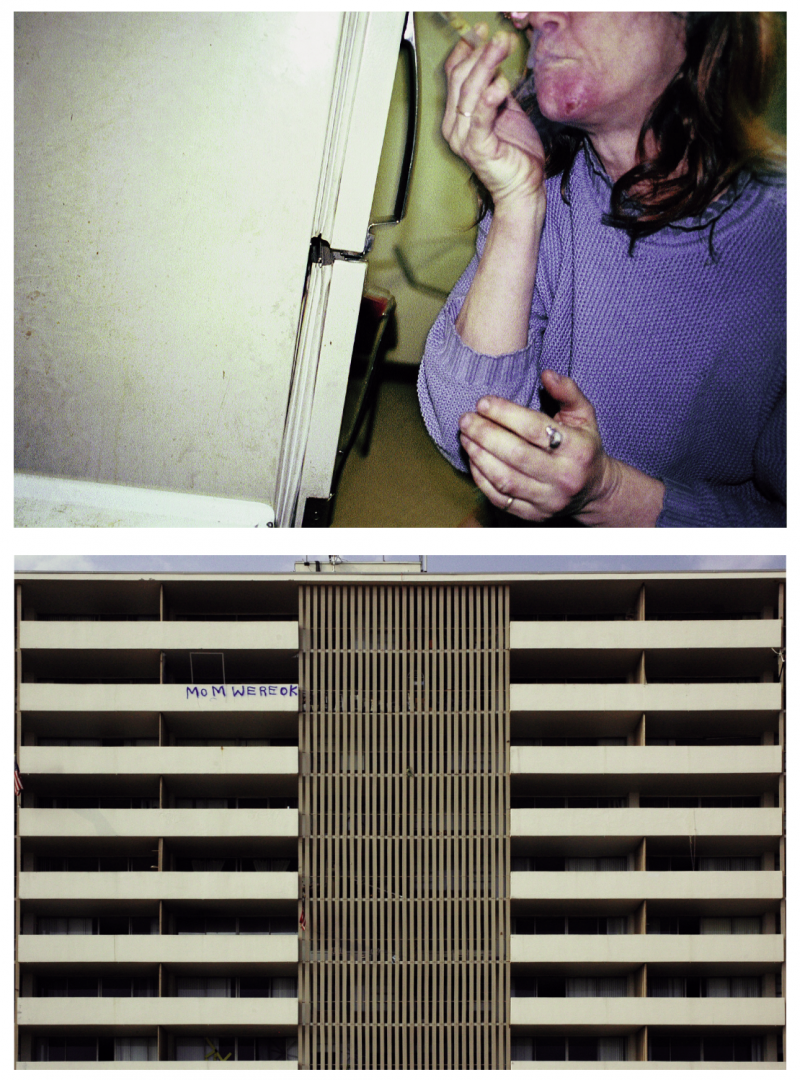 Native Philadelphian Zoe Strauss's photographs document the city in which she lives. Like the work of other street photographers before her, Strauss's images show little separation between art and life. The photos are at once gritty and beautiful. She documents people and the places at the margins: drug addicts, half-demolished signs, the aftermath of last year's hurricanes, prostitutes, kids playing on old mattresses. Her keen eye finds what others miss but especially seeks out desire in its myriad forms. Twice a year she holds free, public exhibitions of her work. One of these takes place every spring, when Strauss presents a show under the elevated section of I-95 where it runs through south Philly. The square support columns of the highway each display one photo, and the "exhibition area" is vast. Any photo of Strauss's can be purchased for five bucks, and people wait in line for more than an hour to buy work.
*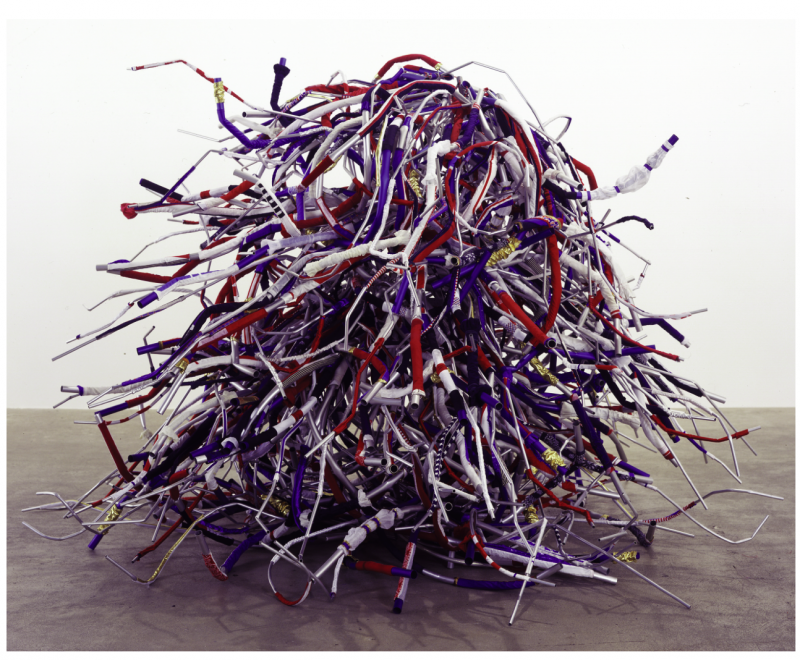 Liz Larner is no unknown to the art world of Los Angeles, where she lives. She is major influence on many artists there both through her art and as a teacher. In 2001 she received a full-service survey at the Mu­seum of Contemporary Art. A recent solo gallery show included a chaotic sculpture called RWBs—red, white, and blues—in which a mass of materials, from men's ties to scrap metal, exploded into a patriotic ball of confusion. She is not afraid to work on any scale, from room-sized installations to pe­destal-bound sculptures. Larner makes work inflected with a personal politics, in her case a potent feminist thread picked up in many and various ways.
*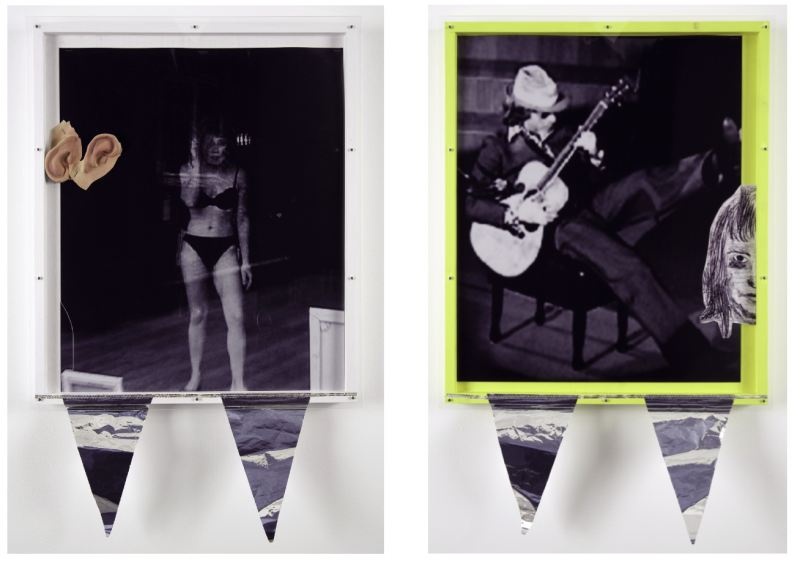 German Rosemarie Trockel came of age in 1980s Co­logne, perhaps the most male-dominated art world of them all. To counteract that ego, she created works from materials associated with the "female domain." Tapping into '80s theories of ap­propriation and machine production, her wool works use imagery ranging from abstract brushstrokes to corporate logos like the Playboy bunny. Though best known for these wool  "paintings," Trockel's practice extends to sculpture, book proposal sketches, film, photography, and mixed-media assemblages—constructions of made and found objects that are like allegories. Her work is intentionally and powerfully feminist, challenging the notion of male-artist genius with specific materials and subjects. It is also humorous. Her recent museum survey in Germany was titled "Post-Menopause"—that ought to scare the boys. Unfortunately, we don't see enough of her work in the States.
*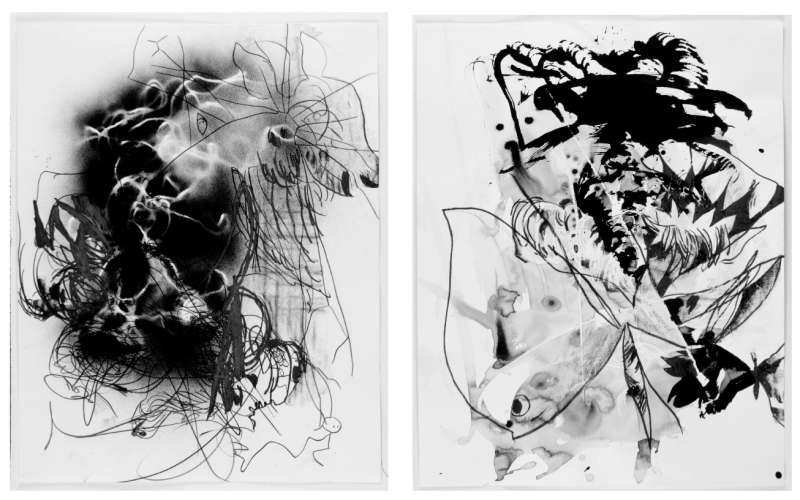 It is the brave artist who treads the historical path of painting, and rarer still for a woman to navigate this male arena so successfully—especially with German painting being typically so gigantic—literally and figuratively. No one paints like German artist Charline von Heyl. Her work is relatively new to me, though she has had several prominent exhibitions. Her recent New York gallery show blew my mind. Though the black-and-white collage works were described as road maps for her painting process, they are stand-alone works. Mixing photocopied imagery, drawing, washes of ink, and other elements, these works on paper become a strange litany of gesture, from abstraction to representation. All combine to make swirling images that lead the eye around and around, each time catching some new element. They are beautiful and dark. I could stare at them for hours.