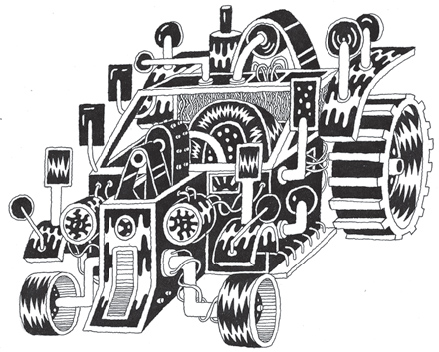 (1) Jeffrey Foucault, Cold Satellite (JeffreyFoucault.com). A collaboration with the poet Lisa Olstein, who wrote the words for Foucault's drawl—a drawl that sometimes grows a tail so long it curls around itself, with a country feel that puts the people who live in the Nashville charts to shame. Then a deep-ditch electric guitar takes a country song into the blues, and lets it go back where it came from. Nothing is pressed, to the point that sometimes the way the voice pulls away from a word or a guitar from a phrase is its own kind of preciousness—but not in "Twice I Left Her," which shifts the music into a more resolute kind of quiet, a bigger emptiness in a single room. An acoustic guitar figure comes up against drums buried far away, like a memory. The story creeps out, and stops well short of its end, though you can glimpse it. Foucault drifts over the words so lightly that they seem to fade as they're sung, and you might stop trying to hear them as words, let them come as sounds.
(2) Cee Lo Green, "Fuck You," from The Lady Killer (Elektra). The emotions in these three minutes and forty-two seconds are so wonderfully scrambled—I hate you, I hate your money, I hate her for loving your money, I love her anyway, you can keep your money, just let me have her back, but following you both around all over town is better than staying home and hating myself—that every time the singer gets to the chorus, you can imagine that he's never felt better in his life.
(3) Gary Kamiya, Shadow Knights: The Secret War Against Hitler (Simon & Schuster). From the new Pulp History series, Kamiya's startlingly immediate text plus documentary photos, maps, and blazing war-comics illustrations by Jeffrey Smith. With crisscrossing stories from Norway, Paris, and London, the tension, the excitement, and the glamour build until you feel like you're trapped inside of every good antifascist movie ever made. Until the end, in a torture chamber in Dachau, when you are trapped by history.
(4) KT Tunstall, "Uummannaq Song," from Tiger Suit (Virgin). "Hold your fire—I'm coming out and I'll tell you the truth": in the front, her voice is pop, singing harmlessly defiant lines, reaching for a hit and a spread in GQ. But in the back, her shouts are pulling in another direction, where she's running for her life even though she's the last person on Earth.
(5) Paul Auster, Sunset Park (Henry Holt). Moving through this tale of Brooklyn squatters are the themes Auster has been pursuing since his first novel, City of Glass, appeared in 1985: the way a ghost can come out of nowhere and leave everything changed. Life is a field of unlikelihood: "That is the idea he is toying with, Renzo says, to write an essay about the things that don't happen, the lives not lived, the wars not fought, the shadow worlds that run parallel to the world we take to be the real world, the not-said and the not-done, the not- remembered." That is philosophy, but in real life lives actually lived can become so spectral they disappear back into the not-lived. Unlikelihood turns into forgetting and facts into fables, as with a character catching the news of the death of a pitcher who, on the mound in 1976, talked to baseballs before throwing them past baffled hitters: "First Herb Score, and now Mark Fidrych, the two cursed geniuses who dazzled the country for a few days, a few months, and then vanished from sight."
(6) Rod Stewart, Once in a Blue Moon: The Lost Album (Rhino). From 1992. For his covers of Stevie Nicks's "Stand Back," the Contours' "First I Look at the Purse," and more—but especially for "Shotgun Wedding." Stewart's hero Sam Cooke didn't do this? Why not? Yes, he was already dead when Roy C wrote it, but for a song this right he could have climbed out of the grave.
(7) Daniel Lanois, Soul Mining: A Musical Life (Faber & Faber). A producer looks back. And remembers how much better Time Out of Mind would have been if Bob Dylan hadn't interfered.
(8/9) Keith Richards, Life (Little, Brown) and Dangerous Minds, "Deconstructing 'Gimme Shelter': Listen to the Isolated tracks of the Rolling Stones in the Studio" (dangerousminds.net). "I wrote 'Gimme Shelter' on a stormy day," Keith Richards says, and even with the Bulwer-Lytton cloud floating over the words, they can send a chill through your skin, because you are about to hear—maybe: who knows what he'll say?—the story of the rock 'n' roll song that, from "Mystery Train" to "Ready Teddy" to "Whole Lotta Shakin' Goin' On" to "A Change Is Gonna Come" to "Like a Rolling Stone," the form itself was asking for all along. "I was sitting there," Richards says a few pages later, "just looking out of Robert's window and looking at all these people with their umbrellas being blown out of their grasp and running like hell. And the idea came to me. You get lucky sometimes. It was a shitty day. I had nothing better to do… I wasn't thinking about, oh my God, there's my old lady shooting a movie in a bath with Mick Jagger. My thought was storms on other people's minds, not mine."
That's one version. When you hear the pieces of the song on their own, each part—separate tracks for Richards's two guitar lines, the vocals, bass, and drums—is so strong it becomes not a part but a version of the whole. With each track four minutes, the length of the full song, so that there are silent periods whenever the given element isn't present, there's nothing that isn't thrilling on its own terms. Richards is so thoughtful, and at the same time such a master of instinct—he knows what he's going to want, and uses that knowledge as a guiding hand when pure desire seems the engine of his playing—that you could listen for hours without beginning to get to the bottom of the work. The shocker is in the vocal track—Mick Jagger and the soul singer Merry Clayton in tandem. There's a dank, hollow echo behind every word, as if they were recording in a mine shaft. It's not apparent if you listen to the song as it has played on the radio for the last forty years, but here it's overwhelmingly present: the source of the depth of the sound of the whole.
Whether or not Jagger and Clayton recorded separately, at different times, even in different places, as you listen you hear them singing face to face. With the first "Rape, murder, it's just a shot away," Clayton soars, dives down, in complete control, like an eagle surveying the whole territory of the song, and suddenly her voice almost breaks. As Jagger shouts in the background, she seems to hesitate, falling behind the beat, the song itself, then rushes back, finding her footing in the maelstrom: "It's—just—" And then all the way back, reclaiming the song with its hardest, most desperate moment, with the cadence of the last three words like someone throwing herself down a flight of stairs in a harsh and perfect rhythm: "A shot away." It's one of those panicky instants in the creation of a piece of music that could never be predicted or planned, and that only the best record- makers hear for what they are and leave in, letting the mistake define what will be left behind. "What key? What key?"
(10) Lisa Olstein, "Radio Crackling, Radio Gone" (lisaolstein.com). This poem could be about Katrina or any other natural disaster, and Olstein's own reading is a flat, conversational, unpretentious, ordinary recitation: a young person's voice, American and modern, accentless, without attitude or pose, picking its way through the ruins piece by piece.