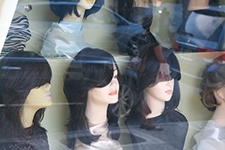 I. The Sexiness of Minimized Sexiness
In Brooklyn's Orthodox Jewish neighborhoods, where religious married women are expected to cover their hair in public, dozens of high-end shops sell glossy human-hair wigs for upward of five thousand dollars. One such retailer, Shevy, offers among the most expensive on the market, in New York or anywhere. Its wares run from nineteen hundred for a standard pixie cut to forty-eight hundred for The Knockout, advertised as a "curtain of luxurious locks, ever-so-slightly layered for maximum movement and show-stopping glamour." These wigs have been sewn by hand overseas, by a seamstress who used a tiny hooked needle to loop each strand of hair through minuscule netting the color of a white woman's scalp. The hair is stitched so tightly and evenly that it can be laid along any part, unlike machine-sewn or synthetic-hair wigs, which give themselves away with artificial parts and hairlines.
Until recently, when an Orthodox Jewish woman in Brooklyn needed a hair covering she visited a neighbor who sewed wigs in her living room. The traditional wig was basically a synthetic helmet. When a woman wore an obvious wig she showed her neighbors that she was religious and married, and she unapologetically signaled her faith to gentiles. These living-room businesses are quickly disappearing, however, as the wigs worn by some Orthodox women become less brazenly wig-like. In Orthodox neighborhoods, hair doesn't hang or stick or pucker. Each woman wears a dome of dark gloss, and if these hairpieces' names—Roman Holiday, Sassy Swoon, Downtown Edge, Hamptons Chic—are any indication, Orthodox customers now aspire to signify more than just faithfulness. It's not uncommon for a wig distributor to play up the sex appeal of products hypothetically intended to minimize sexiness. Shevy's website plays low-toned mood music and flashes pictures of full-lipped models performing sultriness. They're all cheekbones and narrowed side-glances. In defense of their marketing tactics, it should be said that Brooklyn's upscale wig retailers don't cater just to Orthodox customers: celebrities and cancer patients buy, too. Snoop Dogg's ex-wife has shopped at Shevy. Yet soon-to-be-married Orthodox women still make up a large portion of these retailers' first-time wig buyers. How does spending two grand on a shiny wig called Rebel Yell, which Shevy's website promises "brings out the independent spirit," fulfill a young woman's covenant with her husband, community, and God?
II. TAMING THE INHERENTLY LECHEROUS
On July 2, 2009, Hadassah Sabo Milner, mother of seven and resident of a small town in Rockland County, New York, described on a friend's blog the grief she'd felt after her divorce. By most contemporary measures, Milner's decision to write publicly about her private "pain and suffering" seems unremarkable. Yet Milner's post so departed from her community's expectations that it inspired nearly two hundred comments, many of them angry. Like many Orthodox Jewish women, Milner wore a wig to cover her natural hair during her marriage. In her post, she wrote that after her divorce she stopped wearing wigs because they'd always "felt like… shackles," and once she was single she'd told herself: "I am doing what I want."
Milner's words subvert two thousand years of religious discourse. For hundreds of years, women of many faiths wore headscarves, but among Jews today, only Orthodox women routinely cover their hair with hats or scarves, snoods (bell-shaped knit hats like those favored by Rastafarians) or wigs. In the first written records ofJewish law, penned around 200 CE, rabbis assert that women's hair is erotic. Men are inherently lecherous, the rabbis write, and women must not tempt them.
In the past several years, though, on blogs and online forums, Orthodox women have begun publishing for the first time their unfettered thoughts about hair covering. Some online commentators argue with such lawyerly precision that their exchanges mimic Talmudic discourse; others write the confessionals and beauty secrets typical of mainstream women's magazines. On dozens of sites, women describe covering their hair as a "daily struggle." Protected by anonymity, they leave comments that they're understandably reluctant to voice in public: "I still hate covering my hair, and it does not help that I originally did so at my husband's insistence, without having any say (i.e. guts to argue)"; when wearing scarves to work, women claim they "developed poor self-esteem and felt incredibly self-conscious."
We hope you enjoy this excerpt.
To read the full piece, please visit our store to purchase a copy of the magazine.