I.
I'm at Boar Gully, an hour outside Melbourne, trying to score a good camping spot at a three-day music festival called Golden Plains. I moved to Melbourne in 2008 within two weeks of a tight group of Brisvegans, pronounced "vayguns," from Brisvegas, an affectionate term for Brisbane. In the three years since moving here, my friends and I have felt something like proud when we've finally met someone from Melbourne, only to learn usually that they're from Perth. But on the eve of Golden Plains, we've been persuaded by a group of confirmed Melbournians to stay the night at nearby Boar Gully.
It's lightless when we set up tents between deep streams of rainwater. We the Brisvegans pack our wet selves into, and so wreck, a lone Winnebago; the Melbournians seem fine in ponchos, smoking spliffs. At two a.m. the rain clears and they draw us through a fence, and we tramp through bush that is the densest with koalas of anywhere on the continent. Soon, the bush breaks over a vast, ghostly, treeless valley. It's lovely here, and Sean, a Melbournian, starts to politely vomit where he stands.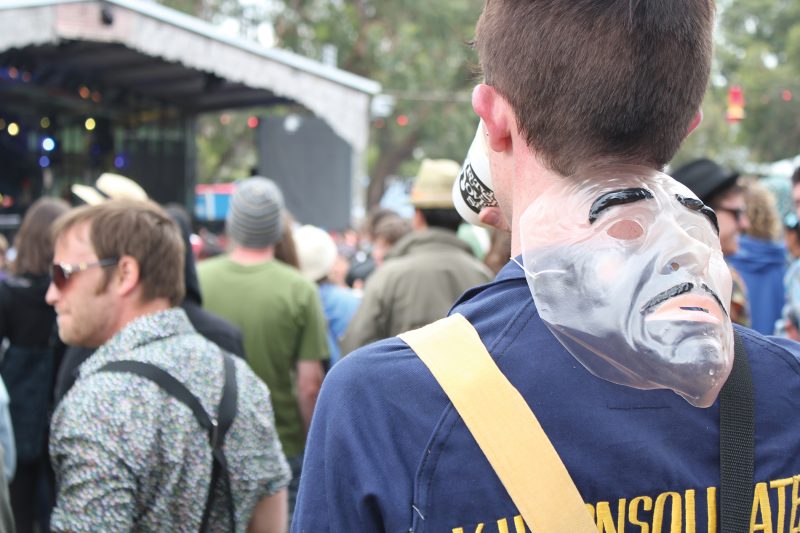 I am speaking with James, another Melbournian, about his work in IT, when he excuses himself in the middle of his sentence. He begins to run around Sean and is joined by several others. I don't know who is the first to shout,"Chuck!"
My Brisbane friends and I watch the proceedings uncertainly. Is this a healing ritual? Is it an accusation?
The shouting—"Chuck! Chuck! Chuck!"—syncs as the circle shrinks. When the circle is as fast and tight as it can be, a Melbournian, Dylan, punches Sean in the stomach and shouts, "Chunderstruck!"
Sean holds his knees and moans, "Oh, oh."
He asks, when he's recaptured his diaphragm: "Can I wipe my mouth on you?"
Dylan touches him.
"What are ponchos for?" he says.
II.
Due partly to a recent confluence of the U.S. and Australian dollars, our country is undergoing a mixed renaissance of festivals. It's so cheap to slap some bands together that it seems anyone can do it, whether they're Richard Branson, with his V Festival, or the curators, ages twenty and twenty-three, of the ­Blueprint Festival, which failed so dramatically these curators went into ­hiding from creditors "somewhere in regional Victoria." Blueprint was poorly managed, a downside of how easy it's been to throw on a festival and say your event has a "boutique feel." But like all of Branson's enterprises, V Festival was managed well; most people assume it failed due to a festival fatigue.
This March's Golden Plains, though, was the fifth instance of that festival, and last year's ­Meredith Music Festival, its big sister, was the twentieth. Both are deliberately small, with Meredith capped at 11,500 people and Golden Plains 2,600 fewer. Both are camping festivals, with ­lineages traceable directly to Woodstock. Like the Meredith festivals, Woodstock was held on a dairy farm, and like Woodstock, whose stage was built in a bowl that led to a lake, the stage at Meredith is built in what the organizers call a "Supernatural Amphitheatre." Like Woodstock, the camping aspect forces you to interact with fellow music enthusiasts on matters such as sleeping, eating, pissing. Unlike guests of Woodstock, though, these colleagues are not necessarily like-minded.
In part, this is because today's alternative-music fandom is broad and demographically imprecise. The Big Day Out, a national institution that occurs every January, began in Sydney in 1992, where it had the luck to have booked Nirvana shortly before Nevermind combusted. (Today, the Big Day Out extends to Adelaide, Auckland, the Gold Coast, Melbourne, Perth, and, although a single ­Sydney Big Day Out hosts 55,000 people, a second instance in that city is regularly needed.) Last year's Big Day Out lineup included Muse, Lily Allen, Groove Armada, Magic Dirt, Mastodon, Peaches, the Decemberists, Girl Talk, and Dizzee Rascal, with bands like Muse being the most capital-A Alternative, and the others constellating outward. Point being, an act like Lily Allen could belong to the Big Day Out or a pop festival, depending on the stickinesses of the acts surrounding, many of which would not themselves be able to cross festivals. Part of the Big Day Out's success is that it touches every possible quadrant of ­alternative-music fandom: it doesn't have to be in any way specific.
But the result of this success is, of course, cultural collision: it's the equivalent of a Woodstock attended by hippies and The Man. In specifically Australian terms, however, what the festival's reach means is that you're going to run into some bogans.
The Urban Dictionary, ­better in this one case than the ­Oxford, defines the bogan as "a combination of what the Yanks call ­Rednecks, Jocks, and Trailer Park Trash." Bogans, and their variants, are the reason for the Big Day Out's ­success, but are also the cause of some painful identity crises. In 2007, I attended a session at an ­industry conference at which the panelists were representatives from Spunk Records (the Australian label for Joanna Newsom, M. Ward, and other NPR-ready indie), Popfrenzy Records (Xiu Xiu, Q and Not U, and lots of less-wholesome indie), and Modular ­Recordings, home to Klaxons, the Presets, and other bands whose sales were growing sharply, inversely to bands on the other labels. During one awkward silence, of which the panel had many, the Modular representative said, "Hey—have you guys heard of mogans?"
Mogans are bogans who enjoy Modular Music: intersections of ­indie rock with post-punk, dance-punk, and straight-up dance. Everyone in the room giggled, because we all knew about the mogans. Except in Brisbane, we called them "flogans," for "fluorescent bogans"—or else simply "jocks on pills."
Although in cosmo circles we make fun of the bogan, I'd like to say that there is nothing wrong with being one. For me, the worst the bogan does is presume I'm from England, presenting me with the choice of lying and saying that yes, I am from England, or else explaining how studies show that ­inner-urban, outer-­suburban, and rural Australians all have different accents—depending on money, exposure to the arts, and education. In most circumstances, the relationship to the bogan of an urban, tertiary-educated gay arts worker like myself is extremely pleasant. My boyfriend's granddad is an example of a bogan who delights me. Whenever as a teenager my boyfriend would bring home a girl, his granddad would say to her, "I'll bet you five dollars I can make your boobs jiggle without touching them." Thinking, Oh, Granddad!, the girl would agree—whereupon he'd grab her breasts, give them a jiggle, and hand her five dollars.
For most Australians, bogan or not, this instance would fall closer to "hilarious" than "harmful," a scale similar to the one we have for ­racism—although replace "hilarious" with "something close to ­benign." A relative in my own family recently alarmed me by saying, "I have to clean the guest room! It looks like a boong's camp," where a boong is a (very loaded) term for an indigenous Australian. But this does not reflect how my relative feels about black people. While conditional racism is obviously not "the best," in Australia it's often the best we have. And when you ­consider that our country lacks anything so singularly symbolic as Wounded Knee, it becomes a little easier to understand why, for example, our government formally apologized to Aboriginal Australians for its historical crimes only as recently as 2008.
One of the cooler things about living in a newish country is that different social clusters have developed in directions that are wildly different from others, even within one's own family. In spite of ­accents, our social divisions are nowhere near as pronounced as America's; whatever else contributes, we simply haven't had time to develop them. These people can and do all eat together at the dinner table: merry granddad, hipster teen, potentially uncomfortable female schoolmate.
But when we learn that we like the same music as these people, people with whom we'd prefer to believe we share nothing "actual" in common, the situation becomes more threatening and complex.
III.
In 1950, A. A. Phillips published an essay in an Australian journal, Meanjin, coining an influential term, "the cultural cringe." The cultural cringe is an inferiority complex by which people dismiss their home culture; Phillips noted that within ­Australia, writers gained esteem only when their work followed international fashions. In today's Australia, art seems to gain esteem by demonstrating cultural attentiveness. When a local band tries its hand at, for instance, hip-hop, critics can be quick to point out an incurable "strine." This is, literally, a cloistered rendering of the word Australian, but, as practiced, it means the results of inattentive appropriation: it's not wrong to appropriate, but it's important to do so in a way that works with Australian nuances. If one fails to show those nuances appropriate attention, one risks being accused of elitism, and the cringe.
Last year, Christos Tsiolkas's The Slap, a page-turning social novel, was long-listed for the Booker Prize, which led to a series of British headlines that, from down here, looked surreal. Some British critics, notably India Knight, posed that Tsiolkas's book was racist, loveless, and misogynistic, where I and others saw the novel as a plain-faced depiction of the world.
Both Tsiolkas—who in the Guardian said, "It's not a misogynistic book; it's about… men who are misogynistic"—and we at the ­dinner table were placed in the uncomfortable position of having to speak forthrightly about our ­culture. And of course not just our culture, but ourselves.
This problem was faced recently by the Big Day Out's ­organizers. In late 2005, several men of Middle Eastern appearance attacked a group of surf lifesavers on Cronulla, a Sydney beach. Some days later, a crowd attacked a Middle Eastern person, igniting what are now known as the Cronulla Race ­Riots, which caused several countries to issue travel warnings for Australia. For the 2007 Big Day Out, as a response to just these tensions, the festival's ­organizers discouraged the typical practice of punters draping themselves in the ­Australian flag. This discouragement was itself frowned upon by our then prime minister, and the band Jet played the Big Day Out against a ­backdrop of a modified flag, their frontman saying, "I can't tell anyone else what to do, but we as a band are very proud to be Australian, and we don't want to feel we are not ­allowed to feel proud," thereby taking a sterling crown in the game of miss-the-point.
Perhaps, however, in some ways, the organizers had, too. The Big Day Out's nationalist mood comes partly because one city's festival usually falls on Australia Day. And a flag ban, although largely gestural, couldn't have made much of a ­difference—because many of the Big Day Out's attendees have Southern Cross tattoos. And while this is an expected ­behavior, it also creates a sense of discomfort among those of us who aren't prone to wearing flags at any time of the year, and forces us to defend ourselves against the inevitable ­conclusion—we are here, ergo, we are more like them than we think. In order to reassert some category distinctions, if only to ourselves, my friends who attend the Big Day Out play a game whereby they try to find the ­occasion's worst T-shirt. This year, Shannon won by spotting this is australia. we eat meat. we drink beer. and we speak f#ckin' english!
IV.
In the summer of 2010, my friends and I were enticed by its excellent lineup to try the Falls Festival: Grizzly Bear, Future of the Left, Major Lazer, the Yeah Yeah Yeahs. The Falls had been held in Victoria since 1993, and we'd heard from friends that it was full of flogans. But we hadn't heard anything about the Tasmanian chapter, held on scenic Marion Bay. We booked early enough that flights were cheap.
We camped in an open field between the stage and the bay, near six amiable men who'd arrived in twin four-wheel-drives on which were painted ripped constructions, presumably the name of their business. The men were ­shirtless, with ripe, bright, hairless chests, and spent their time at the campsite wrestling in a friendly, aerobic way. Between bouts, they yawned a lot as excuses to flex, evoking collegiate, impressed smiles from one another. This by itself seemed sort of dorky and nice, but there were also women camping with them. At Australian festivals, you can often tell baseline things about a group of men by whether at least two women want to be around them. (The Melbournians who took us to Boar Gully are more pugilistic than blokey. Still—they have women with them apart from sisters or shags, and, of course, they're also friends with homos.)
In the afternoon we met up with our friend Laura, who'd broken with us earlier to watch Sarah Blasko. Blasko is one of the female musicians, inevitably called "chanteuses," who come into vogue ­annually in our music media (see also: Sally Seltmann, who cowrote "1 2 3 4" for Feist). Blasko, who had passed the vogue and settled on a plateau, writes smart, pleasant pop songs offset by the odd glitch. She was ­playing early at the main stage, so Laura was able to stand right up at the barrier. Midway through Blasko's set, the stage began to fill, and Laura was jostled from behind by a few shirtless men. One told Laura to get off the barrier.
"I'm not here for long," Laura said. "Who are you here for?"
"Hilltop Hoods," the man said.
"I'm just here for Sarah Blasko," Laura said. The Hilltop Hoods were playing in another several hours.
"We're going to dislodge you," said the man.
Laura focused on the stage as the men pressed around her. They heaved into her back and sides, squashing her into the barrier and tearing
her dress, but leaving her nowhere to be dislodged. They conferred.
"We're going to wedge you over the barrier," one man said.
"Hey!" said Laura, trying to get a security guard's attention.
"If you don't shut your mouth, you're going to get it," one man said.
"Get what?" said Laura. But she had had enough. The crowd was still only ten deep, but she didn't want to walk through it. She had a guard pull her over the barrier. He said of the men that he would "watch them."
The day and night passed eventlessly, and the next day, too. At ten thirty on New Year's Eve, I walked back to our campsite. One of the women camped beside us was crouched on the ground, holding a Ripped Constructor in her arms. His body was damp with sweat, both eyes fluttering direly. "Do you want help?" I said.
"No, no," she kept saying.
We decided that for the Yeah Yeah Yeahs we should find our way closer. When we were about thirty people off the barrier, another of our friends, Lucy, was marched into by a tall man. When he bumped her, he was diverted into another man. He went to punch the second man, missed, and Lucy stood between them. He went, then, to punch Lucy's face, and the second man stepped in to block him. Deciding it wouldn't end well, we moved toward the back, and, at midnight, the Yeah Yeah Yeahs counted down to their song "Zero."
On New Year's Day, I woke up parched, though I'd done the festival free of alcohol or drugs; the sun is serious in Tasmania, in part due to its angling through a depleted breadth of ozone. I crawled out of my tent to find some water and to pee. "Nyuck nyuck nyuck," I heard nearby and cranked my head around. Two men were sitting on the hood of a Ute, drinking cans of beer. "Look at this fucking cunt," one said. "Didn't get enough sleep, mate?"
I blinked at them, kept walking, drank, peed, and took a wide route back. "Nyuck nyuck nyuck," I heard, once back inside my tent. "Look at these fucking chimps, just rolllling around."
How did we end up at a cultural event with these people? It is elitist to ask; it is natural to ask. Here is what I think happened. My friends and I'd been drawn to Falls by an excellent lineup. But, checking later into previous Falls lineups, it seems the excellent lineup was just a function of money: the organizers had clicked Pitchfork's Best New ­Music, and seen that our own listening currents had joined with those much bigger. The festival's (seventeen-year) culture and the culture of those bands were made to converge on false terms, without yet having had time to find peaceful overlapping regions.
Steven Hyden, in his essay "Whatever Happened to Alternative Nation?," saw a difference of context between Woodstock '69 and Woodstock '99, its most famous revival, due, sadly, to ­vandalism and fires and rape (one testimonial: "One guy put his hand inside my anus. Another guy was yelling, 'Rip her apart!'"). "Today," wrote Hyden, "grouping hundreds of thousands of people together to enjoy live music is hardly a once-in-a-lifetime ­phenomenon; it's not even a once-a-year phenomenon….  These festivals come around at the same time every year, they stick around for several days, and then they disappear until a similar amalgam of bands appears ­somewhere else a few months later."
Although Hyden is writing of festivals' finest example of a gap between expectation and reality, in this formulation it's ridiculous that any festival borrows Woodstock's values—specifically the expectation of a concentrated ­generational encounter. In many ways, this is a ­brilliant thing. Why shouldn't you get high and wear an Australian flag if you want to? Why shouldn't you sit on a Ute and call people cunts of a morning? As long as you're not going to incite a race riot or anything, experiences like the Falls Festival should be healthy for all parties, though of course it's also ridiculous to posit that the Big Day Out or Falls should ­supply any kind of deep cultural function. They're talented machines for entertaining, and that's enough.
What, then, of the Meredith festivals, whose lines to ­Woodstock are clearer? Although Woodstock saw an attendance base of half a million people, it did so at a time when cultural concentration was possible—and when "­alternative music" wasn't just loosely descriptive of a sound. Woodstock, then, is an example of a successfully elite festival, which the ­Meredith festivals achieve by limiting their sizes. An organizer, Matt High, told an entertainment website that the reason for Meredith's complex ticket system—there is even a "last chance" quota awarded on write-in merit—is to ensure that tickets reach only "those ­people for whom the festival is designed." Sometimes, "certain forces act on [our] original ethos that you have to kind of fight off with all your might. At times over the years it's just become popular in slightly the wrong way…. And whilst that might sound elitist," he says, "there are plenty of festivals in the world."
Meredith and Golden Plains carry an identical "No Dickhead Policy," put forth online thus: "­Essentially this is a self-­policing policy whereby 'the dickhead' is not ­celebrated…. Dickheads or people involved in dickhead behaviour will usually find that a solid citizen will firmly but ­politely inform them that their dickhead behaviour is not admired or appreciated. The Dickhead will usually realise they are being a dickhead and will pull their head in." Which causes me to wonder what a dickhead really is. The man who called me a cunt was obviously a dickhead. But how about my boyfriend's granddad? Or the guys from Ripped Constructions? On the one hand, there was that tragic New Year's Eve collapse—but on the other, that dorky, ­harmless wrestling!
And what about my Melbourne friends who all perform the "Chuck Dance," whereby, should somebody vomit, that person must be "chunderstruck," meaning they must be punched in the stomach? My Melbourne friends, who are all smart, passionate fans of music, have developed this and other rituals over many years at Meredith. One Brisvegan recently spilled her beer at Golden Plains, ­whereupon the Melbournians pointed at her and chanted, "You suck dick!" This is apparently just a thing they do.
The Meredith festivals are more than just an elite fandom's playground. Some Merediths, it gets so cold I pee in plastic cups, and in the morning, I say, "Kristy! Why did you leave cups of pee outside my tent?" Blake, a Melbournian, likes to get so high that one Meredith, at dawn tai chi—a Meredith tradition—he was chewing on a Styrofoam cup, totally hands-free, making shapes right out of a body-horror movie. He did so near a family—you can bring your kids to Meredith—and when the little boy was staring, Blake held out the chewed-up cup and asked him, "Want some?"
What it all comes back to, I think, is that everything's conditional: it's OK to say "boong" until it's not. My friends aren't dickheads; whereas the Big Day Out has shirts that read fuck off, we're full, Alex, a Melbournian, wears one that reads come in, there's heaps of room. But at a place where nothing of the "real" dickhead is allowed, we subsume ourselves quite safely in the strine.
V.
One year we rode the Ferris wheel on one of those nights and days when the rain just defaults life to "hopeless." We'd heard rumors of Melbourne having hail the size of hatchbacks. The four of us, Michaela, Katie, Patrick, and I, bought light, sweet Pink Flamingo cocktails from the festival bar—the bar where Matt High says takings are lower every year, a certain "era of hedonism" seeming to have passed. Upon leaving the bar, we noticed, in the dark and rain, a man in a security vest about to eat a meat pie. "God," said Katie, "I could go a pie."
"I could murder a pie," Patrick said.
The man in the vest heard us, and he held his pie, nervy.
"Hey," said Michaela, "can we have some of your pie?"
"Oh," said the security man, "I don't know."
"Carn," said Patrick, a bogan contraction of "come on."
The man gave us his pie. "Umgghhhhh," I said. We left the man and drew the pie out of its wrapper, tearing it four ways and dripping mince all down our ponchos.
I said when it was over, "Hey, I don't think that was right. We just bullied a stranger into giving us his food." We'd circled him with grabby hands, stretched nakedly like ringwraiths. Just then, though, the man skipped over and offered us an ­extra. We thanked him and ate it with equal grace.
When Katie finished her pink drink, she so revealed that we had dropped some mince in when we'd torn apart the pies. "How horrible!" she said. "Look what we did."