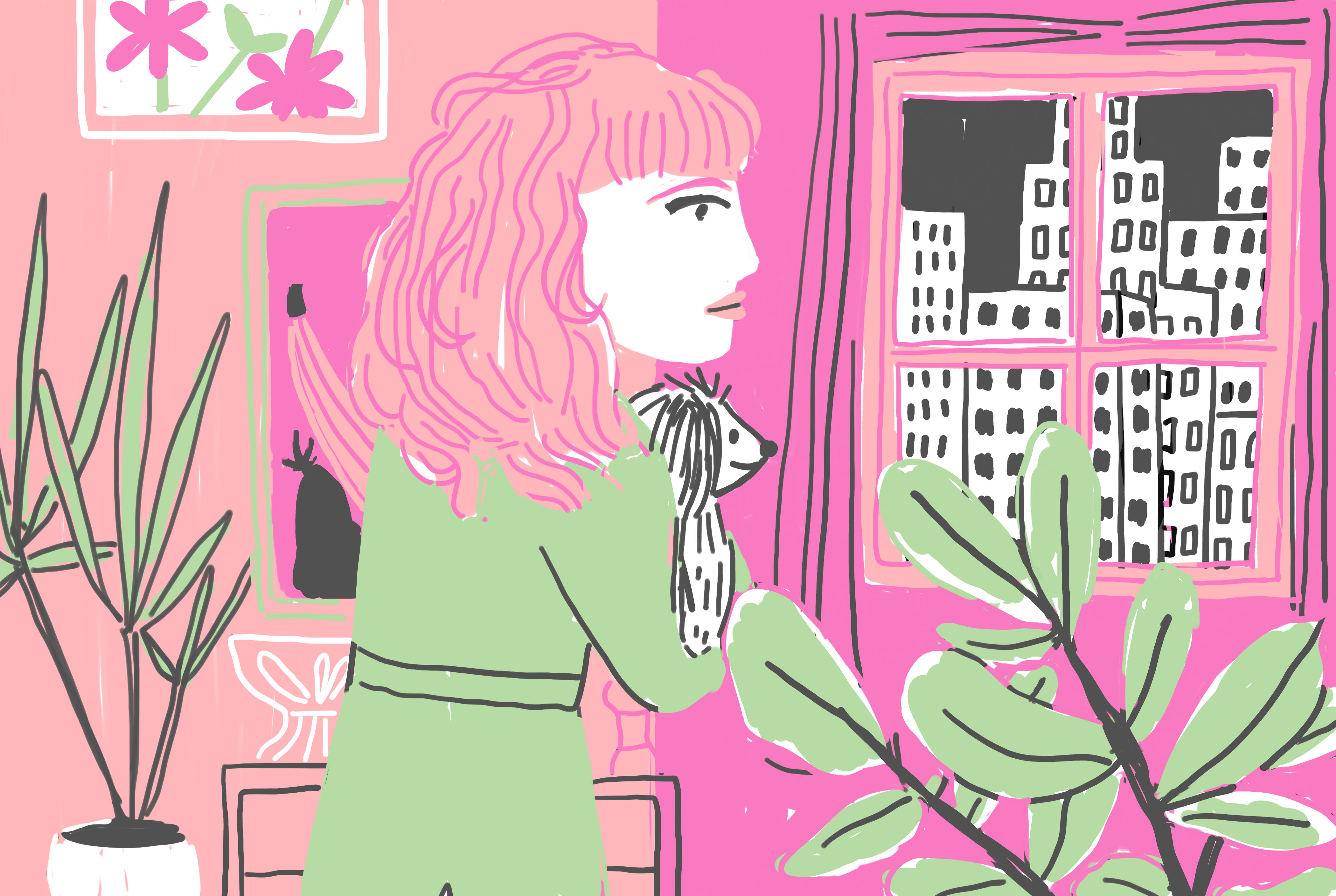 Windowside is a new column that aims to document art as it exists online: the pieces and practices published on and informed by the Internet.
In a ritual familiar to my personal undergraduate journey, I began what turned out to be my last day on campus by throwing up. The first week of March, I'd been recovering from a few bouts of food poisoning (salad stops being good for you if it's expired, said the nurse at the student health center), and recovering from general exhaustion as a poll worker, and I croaked through a final presentation then skittered to the pharmacy. Hours before my classes went fully Twitch, a week before nurses began protesting for more protective equipment, days before our holy saints of Hollywood sent thoughts and prayers from the mansions revealed to be, as they always were, elaborate panic rooms—I nipped from a jug of Pedialyte and discussed poems with my thesis advisor out on UCLA's main lawn.
As part of the protest for a cost of living adjustment across UC campuses, the graduate students encouraged us to have class out on the grass in solidarity, to make classroom labor visible and accessible to all. Looking down my timeline now, it seems the world has gathered on that grass. Every hour, in every time zone, someone is teaching a skill, a recipe, a new hobby, to whoever has the technology to tune into the great indoors outside of the internet.
Like the grad student protests, these online workshops have become a place for communities to connect, as well as an economic necessity for teachers and the DIY spaces they represent. There have been many calls for productivity under quarantine, to capitalize on the free time assumed to be universal. With all the new strains on daily life, there's no need to pressure yourself into writing King Lear 2: The Reckoning. For students of the livestream, it's not a good time to learn eight new instruments so much as it is deeply therapeutic to cultivate some kind of pleasurable, intuitive art practice. There are many ways to approach this, and I hope to present a useful path as your very correct and picky guide. Going forward, this column will focus on art as part of a restorative process for both artists and audiences. Joy can be a compass. Even when describing a wound's contours, there exists the thrill of articulation.
Rhiannon Recommends: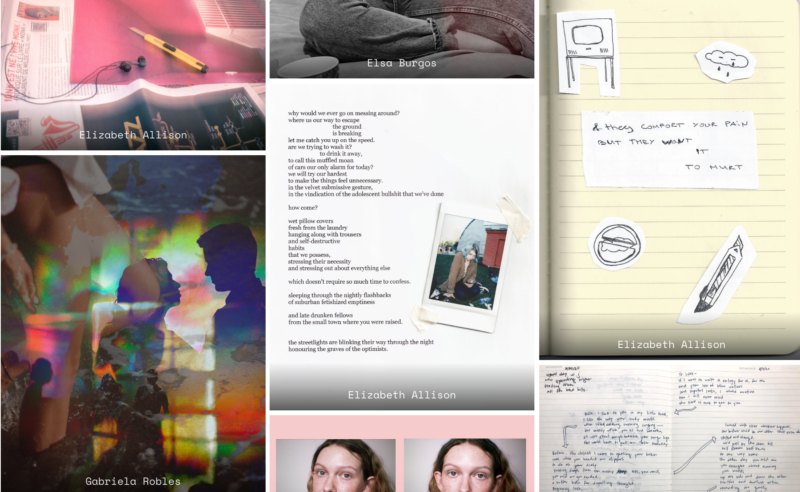 Dear Grrrls has nurtured that kind of practice since spring 2019. Organized by Gabrielle Barrera, this international mail swap connected woman-identifying artists each quarter to send and receive anything they've created "free from judgement or the gaze of men." The project now runs entirely on digital submissions, and the March 2020 archive is updated regularly with gorgeous pieces.
Yumi Sakugawa's continued work also speaks to that mindful creativity. Her illustrations and writings have long been an inspiration on my feed, encouraging people to question with compassion. Her donation-based April 8th webinar was a virtual party on Tea With Your Demons, providing doodle prompts and an outlet to very much draw out feelings, and you can find the recording and paint along here.
The constant commentary of a livestream chat log reminds me of the conversations between audience and performer during poetry slams: the snaps, whistles, cheers that compose the air around a poem. For me, that space is Da Poetry Lounge, where so many people would come that we'd end up sitting on the stage, leaving a tight crown of light around whoever was speaking. Running since 1998, every Tuesday the open mic would command a line stretched from the Greenway Court Theatre stairs down the block to Melrose Avenue. That energy continues via Instagram live: the list to read filled up in three minutes last week. Alyesha Wise and Matthew Hernandez, internationally-recognized teachers and my high school slam coaches, will be hosting the 4/21 open mic alongside writing workshops. With these virtual events, Ms. Wise is looking forward to "holding space for community" most of all, acknowledging that the actual space makes the biggest difference. "The specific venue, the atmosphere, the presence of community is what makes an event pop. We keep going online because we love and need us. But it's different now."
Junior High was another venue I'd bicycle to as a teen, to grow my own sound when the house was too loud. Their robust calendar of music, art showings, and crafty workshops has been converted to Cyber Sundays where guest artists take over the Instagram to let it all stream out.
As physical spaces transition into digital environments, wholly new projects emerge from the pandemic's conditions. Routine disruptions, floods of information, and anxiety thick in the skies have given many people the most vivid dreams of their lives. Skilled in weaving her own dreamscape into poems and film, Melissa Lozada-Oliva began a public Google document on March 5th where people can leave their dreams, redacting personal information as needed. As of writing this, Quarandreams run 58 pages of sprawling anonymous text, a forum for the psyche.

The diaries include elaborate plots, full-body sensations, and little corners of strange peace. Half-window, half-mirror, it's comforting to read the updates and know that other people are waking into the same world. Ms. Lozada-Oliva is now arranging the dreams into separate docs based on "recurring subjects" like "Suddenly My Ex, I'm Pregnant, I'm in High School Again, I'm With a Reality TV Star."
For another poet's project that is not a poem, except that it totally is, go soak in girlsofisolation from Olivia Gatwood. After her own selfie was met with a monochromatic meadow of responses, she began collaging black and white portraits of girls in isolation. Anyone who identifies with the title "girl" can submit to the account, which aims to "curate the self-documentation of girls around the world in their isolation spaces [….] how they want to be seen, & their relationship to their space." In the collages, girls deadlift, read, smile, grimace, and pose in their own light and shadow.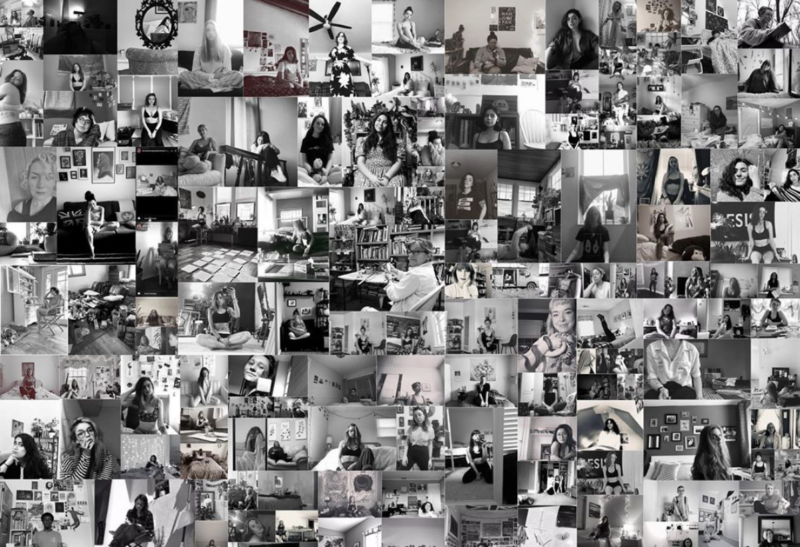 The collective flurry of arts and crafts reminds me so much of Rookie Mag's golden days, and happily, the Nearness Project was just launched by staff alumnae Anna White and Alia Wilhelm. As a balm against isolation, the blog publishes prompts, submissions, and editorials to "occupy other kinds of closeness… through online communities or more tangible practices". The first prompt was a collage kit of photos and headlines for readers to pin together in their own rooms.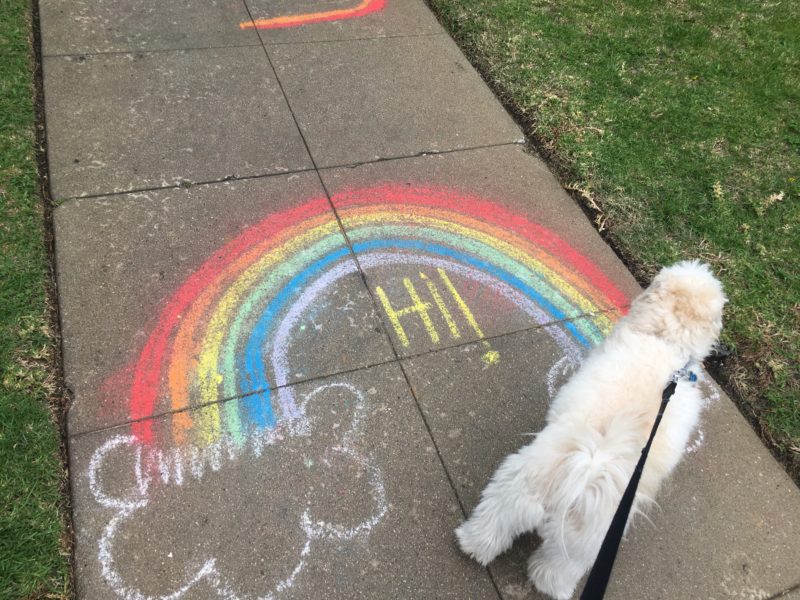 A collage feels true for this time. The quilting and/or collapse of words and images, first alone then brought together. An effort to collect what you can in whatever carrier bag fits. I'm seeing collages more and more—in some of the works mentioned here, in the timeline's multimedia sprawl, on the blue walls of my teenage-and-now bedroom covered with disposable camera pictures and love notes from friends. More prolific in hopscotch routines than ever, the kids in my neighborhood have taken to the streets with chalk. Their bright messages are a collage of feeling and infrastructure. On my weekly walk for groceries down the void-full streets, my whole body covered from the whole world and straining under supplies for my family, the sidewalk sketches remind me that other people are close. I notice the fading colors and new additions the way I watch jasmine bushes flourish over time. So often left broken by ficus roots or halved by parking meters since Nobody Walks In LA, it's nice to see the shrunken sidewalks claimed for pedestrian joy. The pastels melt in the spring rains, but I hope this wide reach toward public, participatory art does not. Knowing how integral these art practices are to survival, I don't believe it will.