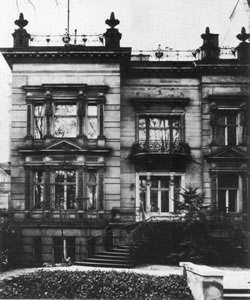 Eighty years ago, in October 1939, Adolf Hitler signed a memo. He instructed SS officer Dr. Karl Brandt, his personal physician, and Philipp Bouhler, Chief of the Chancellery of the Führer, to "broaden the powers of physicians designated by name, who will decide whether those who have—as far as can be humanly determined—incurable illnesses can, after the most careful evaluation, be granted a mercy death."
But the memo we have today is dated September 1, 1939. Evidence shows Hitler backdated it to September 1 so it would seem directly related to the war, which officially began that day. The planning and killing of sanatorium and nursing home patients had already been contemplated as early as 1935, but Hitler thought the killing of patients during wartime would be easier to conceal.
Earlier, in May 1939, Hitler had received a request from the parents of Gerhard Kretschmar, who was born blind and missing limbs. The Kretschmars wanted to kill their child. Hitler authorized Brandt to have Gerhard killed. Records show Gerhard died on July 15 of "heart weakness." He was five months old.
Historians look at the murder of Gerhard Kretshmar as the beginning of Aktion T4, the Nazi "euthanasia" program. From January 1940 until the end of 1941, when Aktion T4 officially ended, 70,000 people with disabilities were murdered at six sites: Brandenburg, Bernburg, Grafeneck, Hadamar, Hartheim, and Pirna-Sonnenstein. Though T4 officially ended in 1941, 230,000 more people with disabilities were killed, including shell-shocked German soldiers, by other means from 1941 until 1945.
On August 18, 1939, only three weeks after Gerhard Kretschmar was killed, Brandt and Bouhler began the system for registering children with disabilities. Doctors were required to notify the Reich Committee for the Scientific Registering of Serious Hereditary and Congenital Illnesses—a panel of "expert" pediatricians, psychiatrists, and jurists—about children up to three years old who had mental and physical disabilities. The Committee was the central office that recorded and organized "child euthanasia." They decided which of these children would be killed.
When I was born in 1960 nobody knew whether I would live or die. Born a month premature, missing bones in my legs, I spent the first four weeks of my life in an incubator. I was fortunate to have a doctor, and parents, who saw to it that the body with which I was born was kept intact. I was able to walk by the time I turned one year old.
Doctors were instrumental in allowing Aktion T4 to happen. Not only were they part of the selection process, deciding which of the disabled would be killed but doctors literally turned on the gas in the T4 killing centers.
What most people don't know is that the disabled were the first to be mass murdered by the Nazis. The staffs at the T4 killing centers went on to head and staff the well-known extermination camps at Sobibor and Treblinka. The mass murder of the disabled was a forerunner for the attempted genocide of the Final Solution.
Those who participated in the killings did not see the disabled as being human. After the war, Dr. Georg Renno, second in command at Hartheim, continued practicing medicine and worked at a pharmaceuticals laboratory until he was arrested in 1961. Though he admitted that "for a while" he turned on the gas at Hartheim, Renno claimed various illnesses. He was never put on trial. In 1997, he told journalist Walter Kohl, "As far as I'm concerned, I have a clear conscience; I don't feel guilty. It's not like I killed someone with a gunshot or something. It was not torture; for those sick it was rather, so to speak, a liberation."
In 2013, when I first arrived in Berlin, in an inoperative bus stop outside the Philharmonie, the iconic home of the Berlin Philharmonic, there was a temporary exhibit memorializing T4. The open-air exhibit explained the history of the site. The Philharmonie was built in 1963 on the site where once a villa at Tiergartenstrasse 4 stood. The villa, expropriated from the Jewish Liebermann family, served as bureaucratic headquarters for Aktion T4, which is how the program received its name.
The exhibit told the story of Anna L., diagnosed with "congenital and heritable mental deficiency." Because of this diagnosis, she was forcibly sterilized under the Law for the Prevention of Hereditarily Diseased Offspring. She was committed to a provincial psychiatric hospital. Deemed not only "hereditarily inferior" but also useless for the economy, she fulfilled the criteria according to which a Berlin medical commission selected thousands of patients to be deported to the killing centers as "life unworthy of life." On March 7, 1940, Anna L. was murdered in the gas chamber at Grafeneck. She was twenty-four years old.
Reading Anna L.'s story, I was struck by the similarity of the name by which she is remembered to that of Anna O, Freud's famous psychiatric case. Both Annas are identified by a first name and an initial. The shame and stigma of families that had a relative with a disability, as well as German medical privacy laws, relegate most victims to being identified not as a whole person but as a case study in a medical text.
Unlike those who survived the concentration camps, there are no T4 survivors. Most of what we know is from medical records and from the perpetrators. As a friend whose great grandmother was killed at Hadamar reminds me, the site of the Memorial and Information Center for the Victims of National Socialist "Euthanasia" Killings," which finally opened outside the Philharmonie almost fifty years after the war ended, is at the site of the perpetrators.
The fate of the T4 sites was unlike those of the concentration camps. Instead of ruins or sites of remembrance, after the war most reverted to the psychiatric institutions they were before T4. One site became apartments.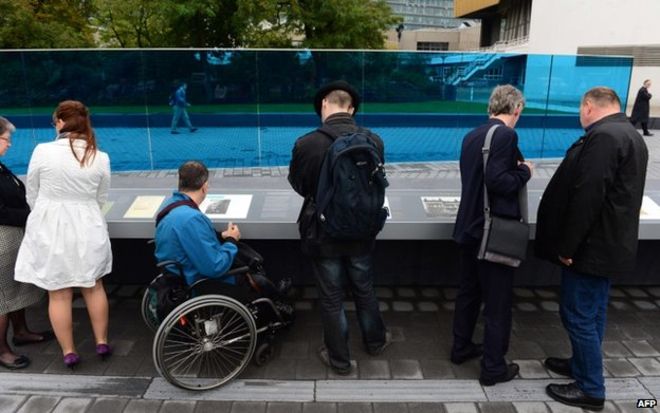 I have visited all six of the former killing centers. Each tells the story of Aktion T4 and memorializes those who were murdered in their own way. There are different ways to remember.
But it is telling what we do not remember. Most, even Germans, still do not know about Aktion T4.
Why?
Hitler's memo, written eighty years ago this month, calls the killing he sanctioned "mercy death." But who truly benefits from such "mercy"?
Eugenics, central to Nazi ideology, promulgates the removal of those deemed imperfect to perfect society. Eugenics predates the Nazis and was rampant not only in Germany but also in the U.S., Canada, and the U.K.
In 1920, Karl Binding and Alfred E. Hoche, published Permitting the Destruction of Unworthy Life. Binding, a German jurist, says that anyone who acts on the behalf of a seriously ill person and kills this person has acted within the law. Hoche, a psychiatrist, says the killing of those who had "neither value for society, nor for themselves" was not "equated with killing another human being." He argues the killing of the disabled for purely financial reasons, calculating the "financial and moral burden," on "a person's family, hospital, and state," specifically mentioning "the national burden" is a fine idea. What Binding and Hoche wrote guided the Nazis in their policies on "mercy death."
In 1960, when I was born, thankfully I was spared such "mercy."