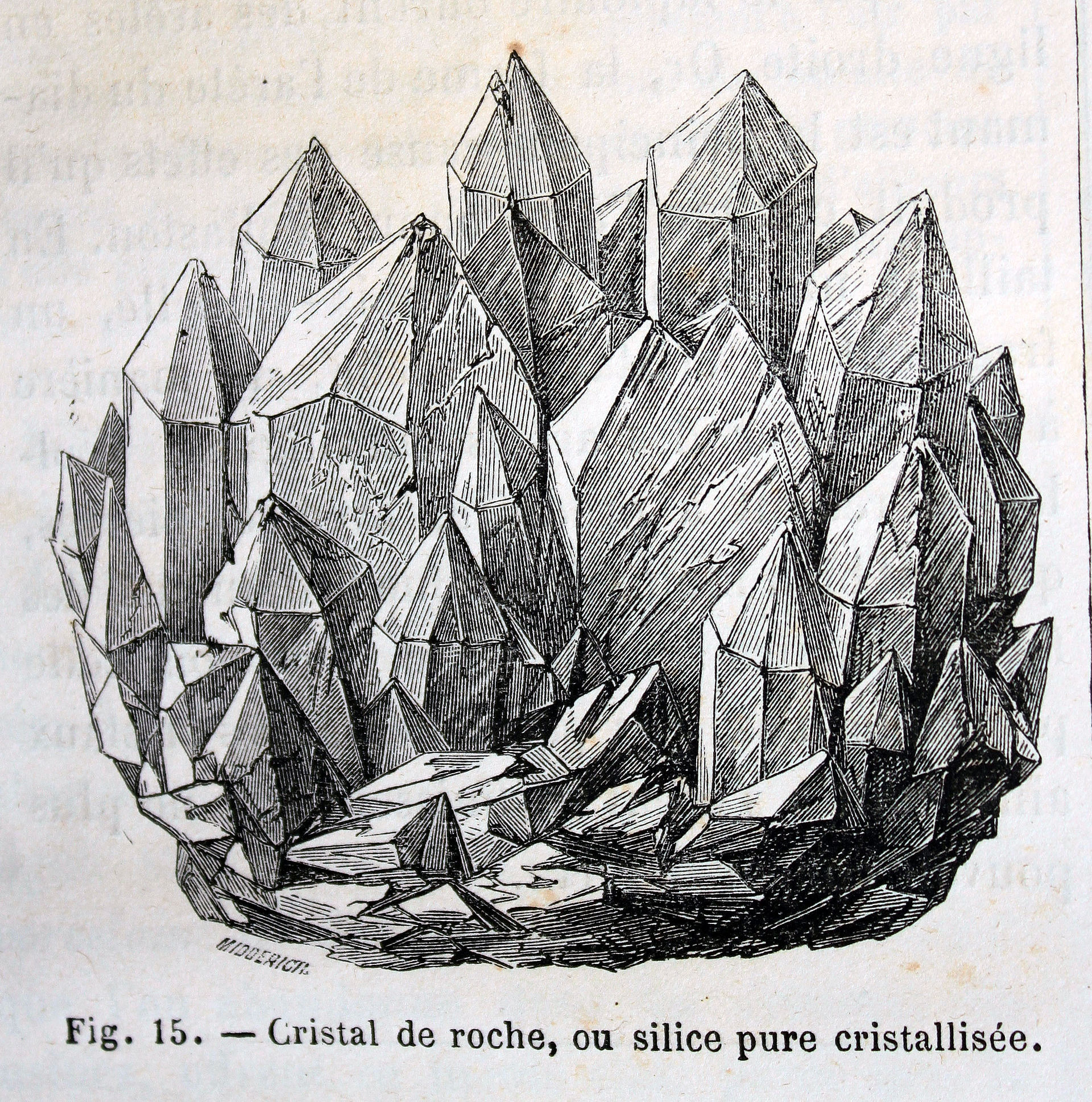 In a pink-lit room dubbed the Pleasure Paradigm, I stretched out atop an infrared heating pad filled with crushed-up amethyst while a young woman rolled a crystal sphere over my abdomen. Healing crystals have popped up everywhere in the last year, but until that moment, a crystal had never been so close to my vulva. The woman sitting beside me, her hip pressed lightly into mine, was Julia Schoen, co-owner of Glacce, purveyor of the "original crystal-elixir water bottle." It was Mardi Gras season in New Orleans, and the opening party of Glacce's headquarters buzzed on the other side of the door. But the vibe in the Pleasure Paradigm was muffled, interior, like a therapist's office, complete with suggestive tools like a hand-drawn Ouija board and a foraged branch serving as a white-noise machine. In this room, you—and the crystals—are meant to heal yourself.
"Crystals are mirrors," Schoen said. "The basis of healing is learning to access the special intuition we all possess."
Glacce hopes to expand on its primary product: an $80-and-up, cylindrical, glass water bottle with a crystal obelisk inside, sold by GOOP and Free People, and named a "2018 Status Symbol" by Vanity Fair. As part of the plan to transition the company into a holistic "luxury-spiritual lifestyle brand," Schoen demonstrated the crystal massage Glacce offers in partnership with boutique-hotel spas—on me. She described how the infrared rays penetrated six to eight inches into my body. I closed my eyes as she rolled the heavy ball over my rib cage, then down, flattening my stomach. The moment—my tingling back, a stranger's warm voice in the dark—was compelling enough to suspend my skepticism. Then the sphere edged over my hip, curving slowly along my lower abdomen, pressing against my pubic bone. Suddenly, something was happening in my, ahem, sacral chakra. My eyes popped open.
"Crazy, right?" Schoen's gaze was like a weighted pillow. She meant the amethyst, the magical power of crystals. I nodded and smiled, fairly certain it was some other combination of charm and pressure at work on my mind and body.
An assistant opened the door and whispered, "Sharon needs the stage smudged with cinnamon again."
Schoen apologized Zen-ly and left me clutching the ball to my belly. When I reemerged to the party, someone handed me a cocktail with fresh mint and pebbles in the bottom of the glass. I sipped through a Glacce reusable metal straw, retail $68, and wondered what the witches I knew would think of all this.
---
Glacce's products are representative of the current wave of crystals in the marketplace: high-end, obsessively curated, and a blur of spirituality, health, and consumerism. Created by Schoen and Sharon Leslie in 2015 when they were twenty-five years old, the product design came to Leslie in a dream. The vessel she envisioned is made of thick glass and stainless steel, uses no adhesive, and weighs 1.5 pounds when empty.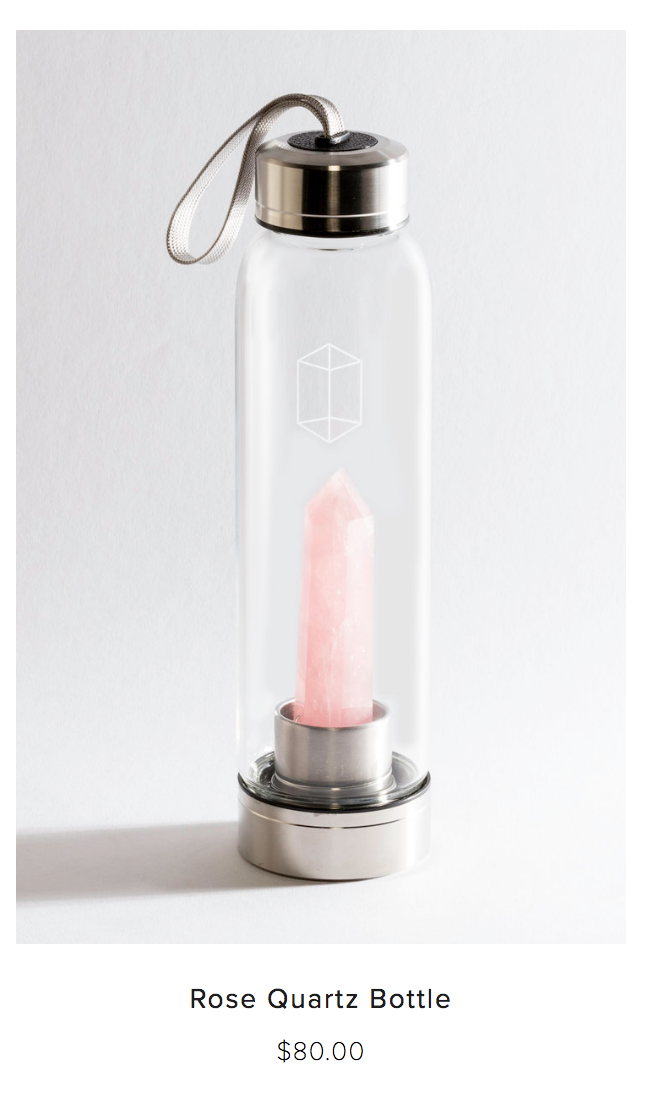 The crystal inside, which comes in smoky quartz, rose quartz, amethyst or obsidian, looks like a pointy—and admittedly, pretty—three-inch phallus. The idea is that the charged-up crystal infuses the water with "health" benefits ranging from "energy" and "clarity" to support for customers struggling with addiction. Primarily, the crystal-water is infused with the customer's own intentions, which in turn infuse the customer.
Today's crystal industry is worth $1.5 billion, tucked into the $4.2 trillion wellness industry. As healing crystals have become trendy and ubiquitous, they've become increasingly commodified at every price-point: sold as high-priced aspirational products like Glacce bottles, but also as loose stones in any random boutique—a few dollars each, an impulse buy between the tiny succulents and the cash register. Yet unlike other products that could be considered frivolous luxuries or harmless contemporary "snake oil," the crystal industry raises concerns about traditional appropriation and environmental sustainability. Crystals—usually minerals like quartz or fossilized resins, sometimes semi-precious stones, believed to conduct energy—have been accepted tools in healing and spiritual practices around the world for millennia, and more recently as hallmarks of "alternative medicine." But now crystals are mined in developing countries at a frantic pace and under unregulated conditions. Then their natural-mystical aesthetic is leveraged for premium pricing in the western wellness market.
In addition, crystal vendors are overtly selling more than an aesthetic object; they're peddling the promise of mystical healing. In 2017, TIME compared crystals with "honest placebos," in that beneficial effects—while potentially real—result from the user's perception and the ritual of care. But can there be harm in belief, especially when it's commodified? GOOP paid a $145,000 settlement over the notorious vaginal jade egg and its unproven health claims. There are plenty of knockoffs of Glacce's $84 crystal-infused bottle, despite the company's patent, and they frequently contain substances like fluorite and selenite, which are toxic when degraded in water. Glacce is careful not to make scientific claims about its products, yet in the next breath Schoen and Leslie insist that the magic is real.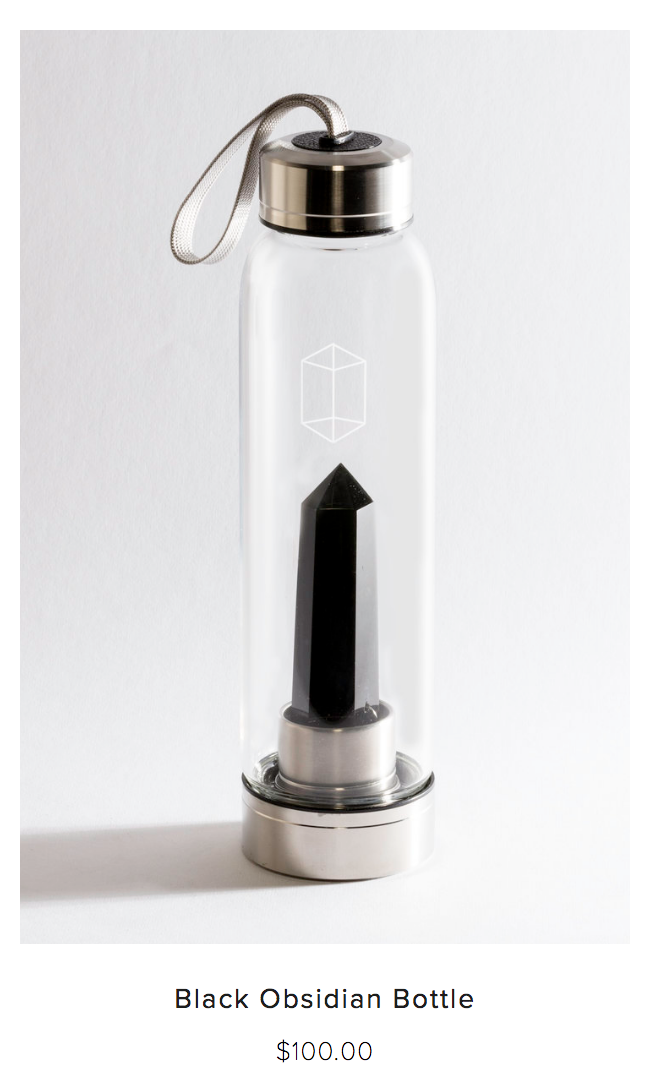 In my mid-twenties, I learned about ritual and crystals from a circle of women. We had moved to a small town for a graduate writing program. Yet they arrived from far-flung communities steeped in unfamiliar strains of knowledge—unfailingly feminist and queer knowledge and practice. Surrounded by people who tracked (and bathed under) the moon, they taught me about tarot, spells, ancient symbols, natural remedies, and life cycles on a universal scale rather than my myopic one. I rode out my Saturn Return, those tumultuous years from twenty-seven to twenty-nine, supported by the very people who informed me that the painful upheaval was called something at all. And this knowledge was free—freely given, foraged, mixed at home, passed between hands in cheap amber vials. My housemate, witchiest of them all, regularly wandered into the woods and returned with hawk feathers, delicate skulls, medicinal roots, and cracked open, sparkling geodes. Quartz. Crystals.
Which is probably why, when I heard about Glacce and its $80 water bottle, it struck me as a sign that a kind of mysticism had become basic, and crystals made inaccessible. But does a price-point make the difference between snake oil, placebo, and authentic ritual of care? And if crystal vendors believe in what they sell, how do they reconcile the industry's contradictions?
---
Glacce's New Orleans neighborhood is an in-between space—wedged between the highway, Treme and the Seventh Ward, and a mile from the French Quarter's boozy tourism. Driving, I practiced pronouncing "Glacce" out loud—sounds like "lace" with a "g," and does not, as I thought, rhyme with "blasé." Google Maps shows Glacce's headquarters as a large storm-rotted, boarded-up building, a corner grocer abandoned long before Hurricane Katrina. The location has been gutted and spruced up, painted a cheery blue with a fenced-in backyard. Leslie and Schoen welcomed me inside: natural light flooded the concrete floor and vaulted ceiling, walls lined with bare wood benches they built themselves. At one end was a low, gleaming-white stage. At center, two enormous trash-mache snakes spray-painted gold intertwined around a support pole, formed a feminized caduceus. A variety of rituals could happen there—yoga, electronica shows, mass smudgings. Off the main room, a gallery displayed Glacce products, as well as apparel by designer friends, including crystal-obsessed pseudo-celeb Spencer Pratt. But the space's layout made clear that it's for experience, not retail.
They guided me into the "Spirit Room," where we sat around a huge white table hand-painted with gold symbols, from the alphabet to zodiac to pictograms. "This is the Spirit Table—not a Ouija board, don't want to freak anybody out," Leslie said. "We're very careful about what we call things."
Leslie handed me a glass of grappa while her dog Mufasa, who also happens to be white, gold and ethereal, nestled against my shins. Leslie, lithe and blonde with beachy waves, sat cross-legged on a chair in leggings and a loose crop-top. She wore delicate gold jewelry, including a belly chain that wrapped in a complicated yet effortless pattern around her body. She had just returned from the enormous annual gem trade show in Tuscon, and periodically rolled a crystal sphere over her bare midriff.
I asked how she took Glacce from a literal dream to an operational business. "Tinder!" she laughed. She was only half-joking: when Glacce began, Leslie was in the middle of a big breakup, assembling the bottles herself in a basement apartment in Colorado and selling them via Instagram. She recruited Tinder dates to lend a hand building bottles while drinking cheap beer, and secured Glacce's shipping-and-fulfillment facility through a man she met on the app.
Leslie is a charismatic if unpredictable model for the brand. Photos of her posing with Glacce bottles—crouched on a mausoleum or memorably, draped nude over boulders in Joshua Tree—have popped up on the company's social media. At the opening, Leslie performed original music dressed in dusty-rose silk pajamas, surrounded by crystal spheres and standing atop a slab of obsidian. She moved frenetically, filtering her voice through various machines until she sounded like Grimes thrown into a wormhole. I couldn't look away.
Glacce's aesthetic and marketing may be good business, but its founders aren't cynical about their product. Though Leslie and Schoen can't technically claim the crystal contain innate power, they repeat the company's motto, "Beauty is part of the healing process," to explain how the bottles work. "When you recognize something beautiful, when you experience awe, you're automatically forced into the present moment," Leslie said.
"Even if you don't believe in the crystal's energy, if you take a minute to look at it, then you will be captivated," Schoen said. "It's glass and fragile, so handling it, you have to be more mindful. The whole design propels people to be intentional. It's a tool."
Schoen and Leslie cited this generation's inundation by the media, instant-access technology and economic insecurity as the roots of the demand for crystals and other such tools. According to a 2018 Pew study, four-in-ten Americans believe that spiritual energy can be found in physical objects. More than a quarter of Americans identify as "spiritual but not religious." A 2015 Pew report found that while millennials are far less likely to adhere to organized religion, they are as likely as their elders to seek cosmic guidance; 46 percent "feel a deep sense of wonder about the universe at least once a week."
"Spirituality is becoming decentralized," Schoen said. "You're learning not from a church but from your friends, family, community, so it's much more intimate. You're learning from trusting your intuition."
The search for balance via self-knowledge dovetails with both a generational familiarity with psychotherapy and a growing mistrust of over-diagnosis and over-prescription in the medical field. What results is a DIY, self-directed approach to spirituality and wellness that borrows from whatever tradition that resonates individually.
This approach plays out for the co-owners of Glacce both as they grow their business and as they deal with the ongoing effects of personal trauma. After downsizing its staff in fall 2018, the company's constants are Leslie and Schoen, who themselves have been adjusting to living together in their hometown for the first time since Hurricane Katrina in 2005. Like so many New Orleanians, the pair point to the storm as the major rupture of their lives, though Schoen calls it her "first real dose of practical gratitude."
Schoen grew up steeped in rituals of life and death, and crystals: her extended family owns a prominent 150-year-old funeral home, and her father is an artist who passed along New Age ideology, from color therapy to orgone energy. As a kid, she was encouraged to drink from water pitchers with special stones resting at the bottom. Leslie, on the other hand, came to crystals through the lens of science: her father is a geology enthusiast, and her grandfather Robert Leslie "discovered" jade in Guatemala in the 1950s, after Mayan mining operations had ceased hundreds of years earlier.
As children, the friends would spend hours in Schoen's treehouse, trying to cast spells. "We just really wanted to come into our powers," Leslie said. The girls sold Mardi Gras beads to tipsy patrons outside the New Orleans Jazz & Heritage Festival. "I always thought I would be an archaeologist and a rock star. I was like, 'I wish to have every job ever,'" Leslie said. "I'm almost too good at manifesting."
In the wake of Katrina, the two friends were sent in opposite directions: Leslie to Miami and California between parents, Schoen to the Northeast for school. They kept in touch over the phone, sharing what they were teaching themselves about Eastern traditions and New Age thinking. Schoen described a book, Psychomagic by Alejandro Jodorowsky, which emphasizes perception as the key to healing. ("Meanwhile I'm reading The Secret," Leslie laughed. "So basic.") Both studied music business in college, and for several years, Schoen worked for concert promoter Superfly, known for putting on large-scale events like the Bonnaroo festival. Meanwhile, Leslie's nomadic path circled through the South and West. "[After Katrina], I didn't have a home to go to," Leslie said. "That's been my biggest driving force, that pushed me to create a home for myself. It's always been, Where's my home? How do I get there?"
Leslie is open about her mental health, sharing that she's been diagnosed as bipolar with schizophrenic tendencies, experiencing ADD and PTSD. "But I don't identify that way anymore," she said. Leslie said that in the past she followed all directives from doctors, including taking medication and attending therapy. But the idea of relying on pills for the rest of her life soured, she said, because she believes "you can be healed from anything." In the fall of 2018, she experienced a "mental breakdown," and this time prescribed her own line of treatment. She spent a week by herself at her family's rental property: communing with nature, meditating, energizing crystals, and sorting her shit out. "When I was diagnosed with bipolar, probably what I needed more than to go to a hospital was to go out in nature and be creative," Leslie said. "So every day when I embody being an artist or exploring my mediumship, that's when it feels healing. Crystals are a reminder that magic is literally here on this earth right beneath our feet."
When asked how Glacce operated during Leslie's absence, Schoen said, "As co-owners and best friends, we are actively healing and trying to embody the best versions of ourselves. If one of us needs a break, we figure it out. The business isn't going to run if we're not in a good place."
The privilege to opt out for a mental-health break—and turn to expensive crystals—is something Glacce acknowledged obliquely: "If you're lucky to have a support system and resources, there's an opportunity to explore alternative methods of healing," Leslie said. "There's a power in that, there's a dance."
---
"Capitalism doesn't provide for healing, so people are harkening to these practices of healing through nature," said Edgar Fabian Frías, a licensed clinical therapist based in L.A. and Tulsa, who often incorporates crystal healing into their practice. They agree that there's a present demand to draw on various, often "unscientific" traditions in arranging mental healthcare. "Capitalism is about directing forward, and these practices are about returning to the self, a self that doesn't only project forward."
Most of Frías's counseling work, which they offer on a sliding pay scale, is about helping people tap into their intuition—which recalls Schoen's explanation of crystal power. But the basis of healing, according to Frías, requires both the practitioner and the patient to have faith in the process, and there must be a connection between the two people.
"I became a clinical mental health counselor and therapist because I actually wanted to work with diagnoses and understand that side of things," Frías said. "But it's not the whole system. It all comes down to what paradigms you're working inside." When conducting a long-distance counseling session, for example, Frías may employ pink calcite, said to both amplify energy and promote calm. If a patient in their late twenties expresses feelings of depression and anxiety, it's useful to know they could be experiencing their Saturn Return.
Frías is also a multidisciplinary artist who makes collage, video and performance work that sometimes draws on their Latinx and indigenous heritage. Performances often involve ritual, taking place at the locations of environmental and human violence. Frías credits a powerful crystal vision, experienced while washing a stone found on a hike, with the direction of their current practice.
For many consumers, the question is: what can you control in our world? Not much. But you can hold your crystal and direct your intentions.
Intentionality, unfortunately, is often at cross-purposes with our dominant systems, which Glacce has discovered. When pressed on the bottle price-point, Leslie said, "Honestly we don't charge enough, based on the effort that goes into it." She's referring not only to herself but to the miners and craftspeople from Arkansas to Brazil to China whose labor makes a Glacce bottle. Glacce said it's making strides towards transparency with its customers, reducing its production footprint, and ensuring ethical partnerships. One effort is to actually visit the mines that source the crystals—an attempt that Leslie said is frequently thwarted. In a 2019 Guardian article focused on the deadly conditions of Madagascar crystal mines and their barely paid laborers, Schoen said that Glacce's "number one priority" is ethical sourcing. But Schoen admitted to me that shifting the notoriously unregulated industry "will take lots of money and collective energy." Besides, Leslie insisted, customers don't care. People keep buying pretty crystals and focusing on themselves.
I showed Frías a Glacce rose-quartz bottle. "Capitalism makes it really hard to honor the land and not to exploit labor," they admitted. We admired the stone, the glass cylinder a few moments. "We have to examine why we are so quick to criticize this water bottle, don't we?" they added. "Why is this bottle, which is so femme and etheric, called 'snake oil,' but a hydration tank made by, say, Lance Armstrong and sold for $80, is not?"
The answer, of course, is because a "hydration tank" signals exercise and nutrition—science!—while the trappings of luxury crystals signal an aesthetic weaponized against female consumers. I still read anything dusty-rose and overpriced as another corset packaged as empowerment. I forget that a crystal can actually reference a different and deep system of resonant knowledge, even within my own limited experience.
People have always found ways to make money off each other's spiritual desires, their search for meaning or coping tools. So why not a beautiful crystal, an intention that's positive, a placebo that soothes? Perhaps the founders of Glacce are just examples of young people sincerely grappling with mental health while figuring out how to make a living off products that people find meaningful. This streamlining of purpose—mind, body, soul, ethics, style—feels admirable, yet still uncomfortable for its position in the marketplace.
In "Stone Rematriation," intuitive healer Dori Midnight advocates for returning crystals to the earth. "When we're not connected to a root tradition…that reconnects us with source or self or earth," she writes, "we grasp and mine and appropriate wildly." In this case, the mining is literal. In commodifying crystals, the objects are further divorced from their natural origins and older human uses, and the crystal becomes just another possession. Yet we're still left grasping for a way to deal with hardship and uncertainty, to serve some kind of purpose, to figure out how to "come into our powers," as Leslie said—if we have any at all.
"I'm learning that the magic is not in the thing, but in the relationship," Midnight writes of crystals, "and I don't need the thing to be in relationship."
---
On a blustery spring day, I drove to a Wyndham hotel on the outskirts of Tulsa for a "Crystal and Spirit Fair." The event included on small ballroom of crystal vendors: trays and tables full of polished pebbles, pendants wrapped in copper wire, notecards printed in Comic Sans listing the attributes of stones. There was also a large, sold-out ballroom featuring a program by Cyndy the Angel Lady. Cyndy Green is a medium, a messenger between angels, the dead, and the living. On her website, she equates "intuition" and "god" in ways that seem flexible for whoever is reading. The audience was all ages, but mostly middle-aged-and-older women. Multiple generations clustered on beige chairs under fluorescent lights. The scene felt as trendy as Bible study at Denny's.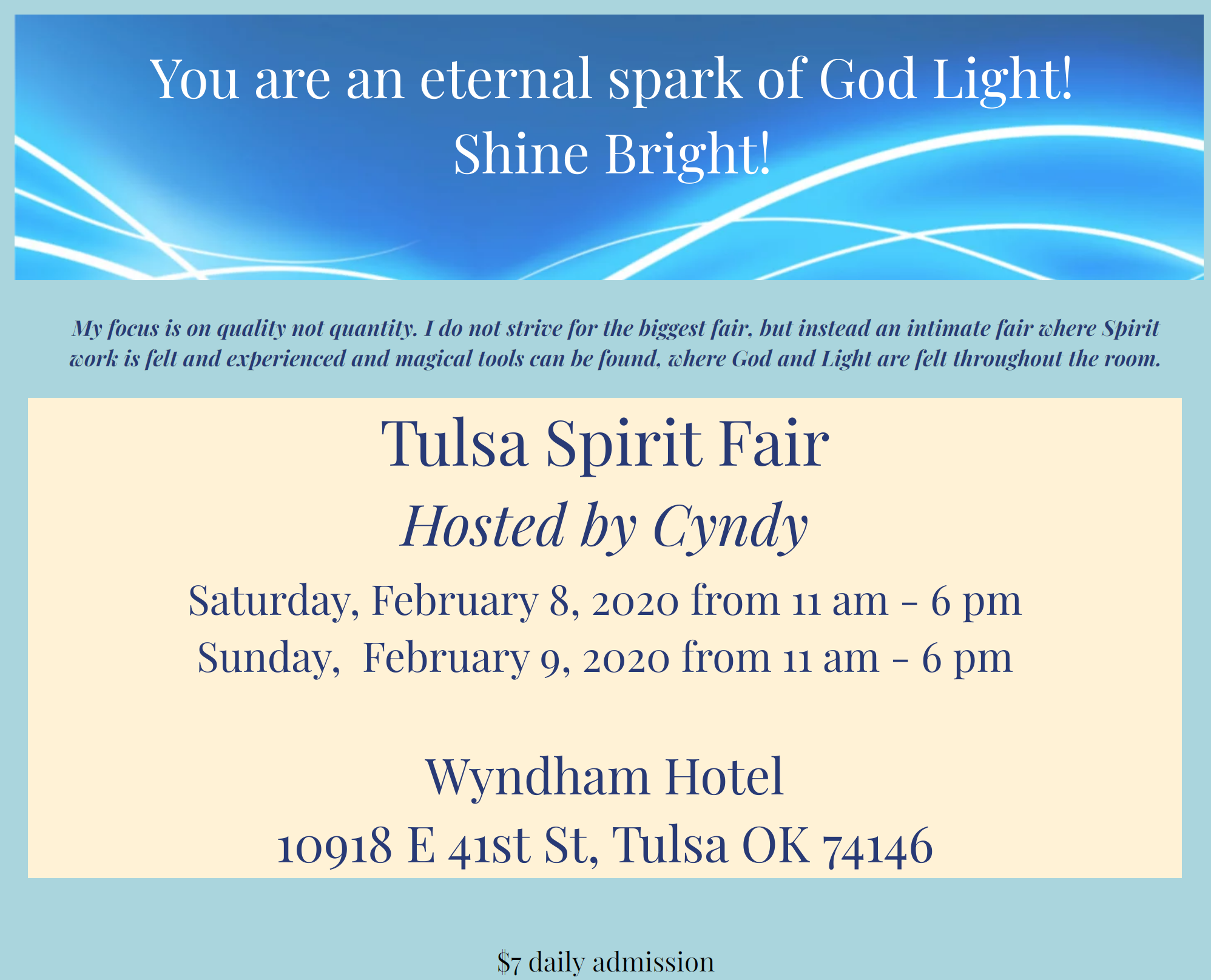 Unlike psychics of daytime TV, Green didn't read the crowd's faces for clues; she couldn't see them. She stood at the front, dressed in a sparkly red tunic, and donned her homemade multi-colored blindfold. While country band Alabama's song "Angels Among Us" played from a small boombox, attendees wrote questions addressed to dead loved ones, which were collected in a wooden box. Meanwhile, Green swayed and sang along, and the crowd joined in, "Oh, I believe there are angels among us…" Sniffling echoed from the high ceilings.
Green entered the trance portion of the program, picking up papers from the box, rubbing them together folded and unfolded between her palms. I wondered if she was reading the messages with her fingers, through indentations like reverse Braille, but she held the papers for just nanoseconds before slapping them against her head and dropping them back into the box.
Green called out initials and images like cryptic personal ads: "K for K, he's an older man wearing tie-dye!" Audience members responded to see if it was their loved one, some desperate, some hesitant: "Well, I'm Kendall, and my dad was Ken, but he would never wear tie-dye…"
Green: "I don't know, he's pointing to it, saying, 'It's dyed.'"
Kendall: "…Oh shit, my last name is Dyer."
Sometimes the messages were specific, assuring the target they were right to sell the family business, but mostly they were simple: Everything is okay now: no pain, no confusion. At the end of the hour, the room was all balled-up Kleenex from those who received messages and brave smiles from those who didn't.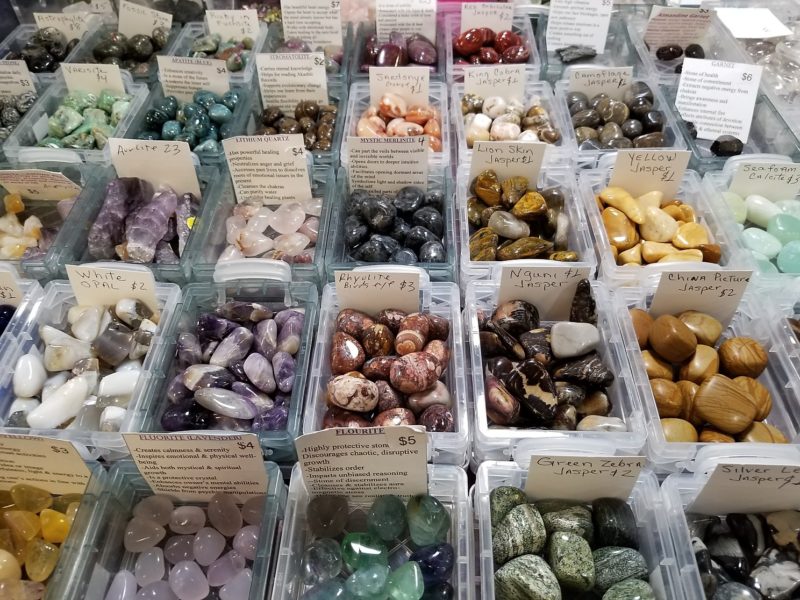 The real fear is that we buy these crystals, perform the energizing rituals—and nothing happens. We won't be transformed. The risk of participating in metaphysical healing is that we will sit in the room for hours with the living and the dead, and no one will call our name.
Behind me, a woman comforted another who sobbed while scrolling through photos on her phone. "That's who was talking to me," she said. The women, I realized, were strangers. "You'll hear from yours soon," she continued. "Have you tried amethyst or black tourmaline?"
These folks didn't look like the types to spend $80 on a crystal, but they did spend $10 to be there. Maybe that's why it felt more like communion: with or without the Angel Lady, whatever magic or divinity or healing experienced in that room was what we created together. That catharsis felt real, because it reverberated off other bodies. The true power of crystals might be not as a tool for self-reflection but as a shared language of some kind of healing. As an honest placebo can stimulate real results, maybe individual "wellness" can lead toward empathetic collective action.
Drinking from a crystal-elixir water bottle, holding a shiny stone in my palm, did inspire the individualistic meditation that the Glacce brand suggests. But the times I felt connection and mystery, more centered and energized—even in contact with something beyond—were not when I was alone with a crystal. It was when I was in close contact with other people: in that hotel ballroom, charged by longing and openness. In Glacce's Spirit Room or cafes or apartments, sitting beside folks, discussing possibilities and challenges of what we call things, how to live and treat ourselves better—and hopefully, by extension, each other. And that power definitely existed in the Pleasure Paradigm, in the touch of a stranger rolling a stone along my body, in my own willingness to lie there and feel it.