Dance
Denis Lavant
Exactly what happens at the end of Herman Melville's final novel, Billy Budd, is ambiguous. The basic gist is that a sexually repressed master-at-arms on a boat in 1797 can't deal with the emotional turmoil that another male sailor's beauty has inspired in him, and so lies to the boat's captain about mutiny and gets stabbed. Melville ends the novella with three chapters that show how the master-at-arms' repressed emotionality made him a tremendously unreliable narrator: everything he presented about his reality was guided by feeling, how envious he was of the other man's beauty.
What happens at the end of Claire Denis' Beau Travail—an adaptation of Billy Budd, set in Djibouti—is equally ambiguous. Sergeant Galoup, played by Denis Lavant, is courtmartialed from the French Foreign Legion because of some harsh disciplinary action he took against another soldier. The Legion—which is as tightly knit, violent, and homoerotic as any group of physically active young men can be—was Galoup's life, and without it, he's bereft. The movie is ninety minutes of doom and woe, Djibouti disco, men doing calisthenics on the beach to Benjamin Britten, a march across a desert landscape to a Neil Young's "Safeway Cart"—and it ends with a dance.
Where Melville upended Billy Budd with factual unreliability, Denis does it with pure physicality. A few things worth noting happen in the available YouTube.com excerpt of Beau Travail's ending. First, a shirtless Lavant makes his bed with maniacal army precision. The task finished, he sits down with his thoughts, and in his mind's eye, sees all his army friends posing on the beach with guns. He's alone now, with time to kill. He pulls out his own pistol, lays down on the bed with it, and rubs it against his body. Maybe he's about to shoot himself. Suicide is implied. But instead, during a shot of a throbbing vein on Lavant's arm, Corona's 1993 Eurodance banger "Rhythm of the Night" begins to play.
While it plays, the shot cuts to Lavant, standing alone next to a mirror inlaid with lasers. He's smoking a cigarette. He teases out small movements with a hand, takes a few steps, and traces the basic shape of what he's about to do—and then does it.
Describing the dance with words is possible, but ridiculous: Lavant's body does the talking. He is an actual acrobat with circus training. He is a spiny man with a craggy face who director Leos Carax has perform crazy gymnastic shit in most of his movies. Claire Denis said: "In an early draft of the screenplay the dance fell before the scene where he takes the revolver, contemplating suicide. But when I was editing I put the dance at the end because I wanted to give the sense that Galoup could escape himself." And that he does.
Buzzfeed.com's twenty-six-word review of "Rhythm of the Night" says that "it's not only a song, it's a lifestyle," and in the context of Beau Travail's ending, they've never been more right. The song is a lifestyle, and now free from the Foreign Legion, Lavant is living it. Take six minutes and fourteen seconds of your time to watch this dance, and you can, too.
—Hayden Bennett, Deputy Editor
Memoir
Julie Delporte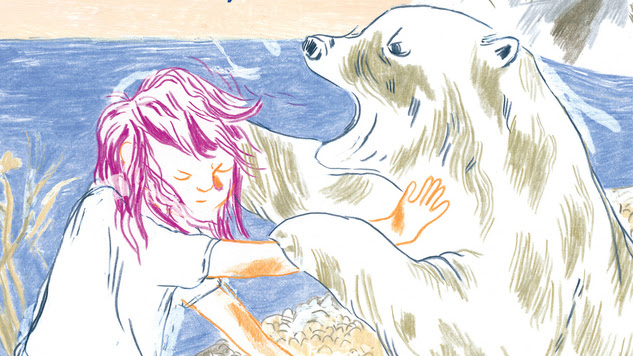 Who is the woman referred to in the title of Julie Delporte's airy and pensive graphic memoir? It could be the author herself, though she is still having trouble identifying as a woman, still thinking of herself as a girl while aspiring to the freedoms and autonomy afforded to men. Certainly, Delporte has enough questions about what it means to be a woman, from her conflicting fear and desire to have children, to the way her work has been devalued by the men in her life, to the reverberations of the sexual abuse she experienced as a child that was subsequently swept under the rug by her family. Or perhaps the woman in the title refers to Tove Jansson, the Scandinavian writer and artist and creator of the Moomin series, whose work inspires Delporte to go on a pilgrimage to Finland. She researches Jansson's life for a future project—though whether that project will be fiction or nonfiction she hasn't yet decided. "My therapist asks me what Tove Jansson would do," she scrawls in orange cursive next to a scratchy illustration of a woman sprawled in bed (or is it on the floor?) surrounded by a notebook, a tea kettle, a half finished bottle of wine. "So this is what it means to have a role model…"
Maybe the woman in the title refers to women, plural: the artists and writers and creators whose works are omnipresent in Delporte's work. Her contemporaries and foremothers—Virginie Despentes, Barbara Loden, Marjane Satrapi, Elena Ferrante—appear as reading material in the background, quick sketches on the page. They are mentioned in passing, but they are never front and center like Jansson. The significance of this is clear: Julie Delporte, the woman, and Julie Delporte, the artist, owe a creative and spiritual debt to their predecessors. In which case, the singular "woman" in the title is a misnomer. What is a woman, Delporte seems to argue, but the sum of all others who came before her?
—Anna Fitzpatrick, Digital Media Editor
Erasable gel pens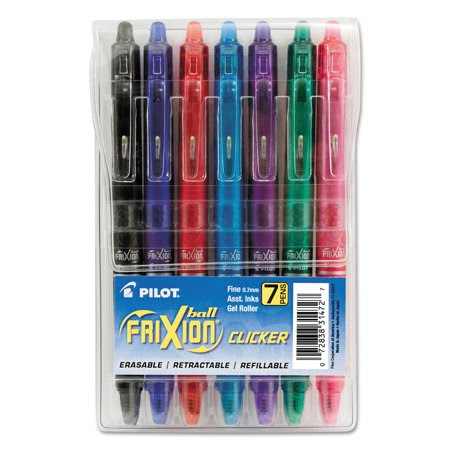 The creamy ink flows so sinuously from the Pilot FriXion's nib that it seems to anticipate your next stroke. Its eraser never wears down, is sharp enough to transform a semicolon into a comma in one stroke, and leaves no crumbs or holes in the page as evidence of editorial indecision.
How does this pen—the new hot item among the editorial cognoscenti—achieve this magic? When rubbed over the page, the friction of the eraser heats the thermo-sensitive ink to 140 degrees Fahrenheit, rendering it invisible. But here's the catch: the ink disappears in any heated condition (a hot car, say) and reappears at temperatures below 14 degrees. While this effect can be disconcerting to the uninitiated, it makes the FriXion ideal for sending and receiving secret messages without the trouble of squeezing lemons or heating a clothes iron.
As in a luxury car brand, there is a hierarchy of FriXions. The starter pen is the ColorStick, which comes in sixteen vibrant colors and features non-rolling cap. Midlevel FriXions include the retractable Clicker, which emits a productive rattle as you write, and the needle-sharp Point, great for marking dense copy. Finally, you earn the svelte LX, appropriate for business settings. With its brushed-metal barrel and hidden eraser, the LX projects not only class but editorial confidence.
—Caitlin Van Dusen, Copy Editor
Film
Bing Liu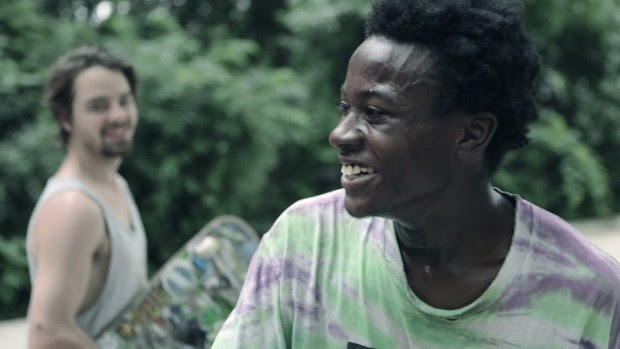 There's a moment in Minding the Gap, Bing Liu's bravura debut documentary about skateboarders in his hometown of Rockford, Illinois, where a deck is shown with the handwritten words, "This device cures heartbreak." It's a line that could also be applied to the filmmaker's remarkable ninety-three-minute feature, and perhaps art more broadly: what is art if not an instrument with the power to bring people together, transcend our hurts and missteps, and even, eventually, heal?
Employing footage shot over twelve years, starting when he was a teen, Liu follows the lives of his childhood friends Zack, 23, and Kiere, 17, as they struggle with the newfound obligations of adulthood. From there the film expands into an uncommonly poignant meditation on the cyclical effects of abuse. As an interviewer Liu—who was also the film's cinematographer, co-editor, and producer—doesn't shy away from asking uncomfortable questions: why has his immigrant mother stuck with her abusive second husband, Bing's stepfather? Why did Zack start beating Nina, the mother of his child? In spite—or because—of what Liu has described as this "one-man-band type of production," Minding the Gap captures a stunning range of emotion, from revelations to regrets, disappointments to joys.
As the credits roll, Zack and Nina's young son sprints up to his mother, handing off a painted pumpkin. "I made this for you," he says. It's a tiny, triumphant moment. One gets the sense he's speaking for the filmmaker too.
(Special shout-out to skateboarding Rockford native David Michael, whose tremendous personal essay, "Skate Escape"—also recommended—led me to the film.)
—James Yeh, Interviews Editor