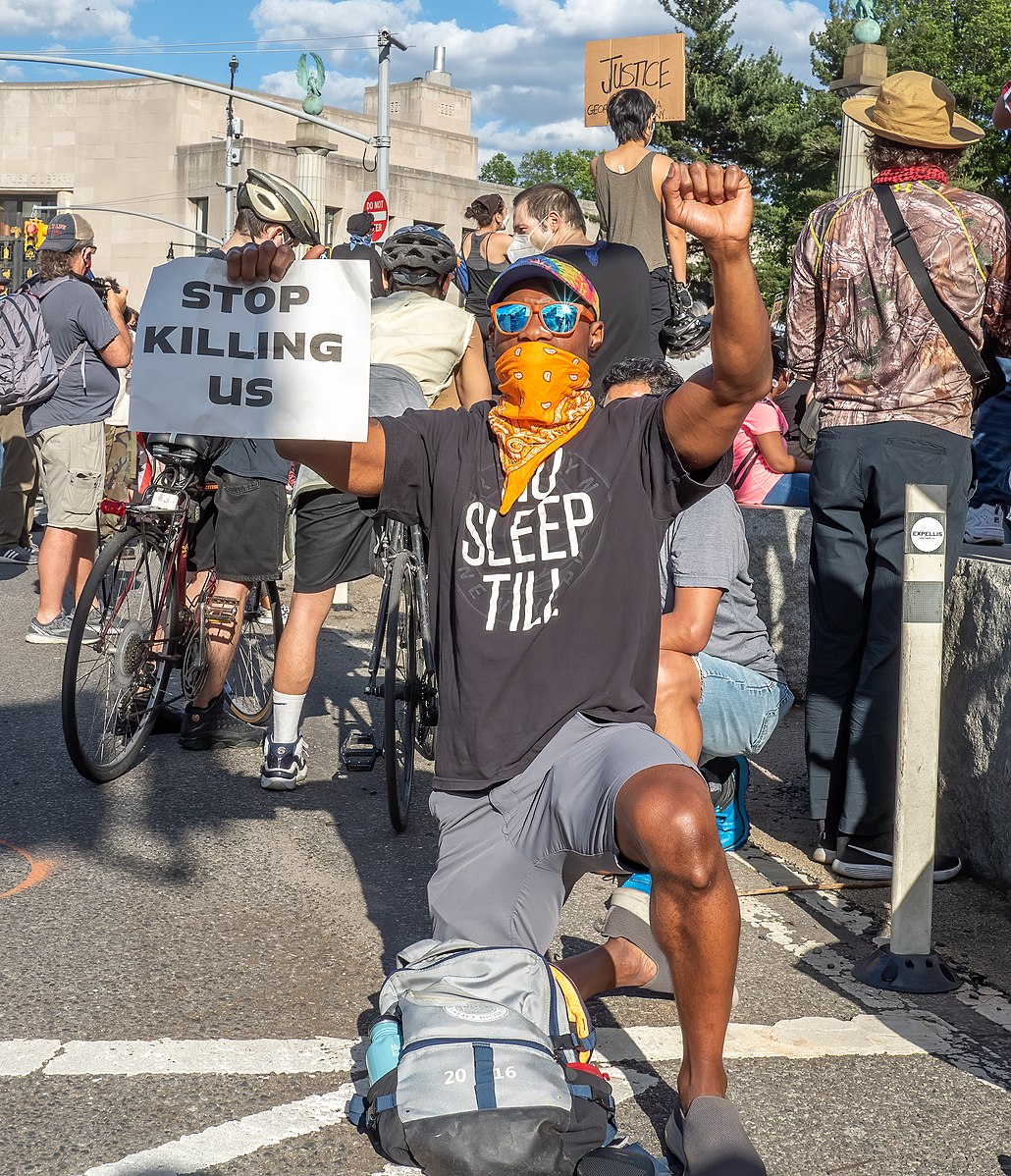 "On a somatic level, even being in the presence of riot cops, and especially the tear gas, it's traumatizing. And at the end of the day, the goal is healing."
Sara Dendy-Green is a Unitarian-Universalist clergy member in Nashville, Tennessee. In a city that's known to have "a church on every corner," she ministers to none of them. Instead, Dendy-Green does her work on the streets. She is a "movement chaplain," responsible for tending to the spiritual wellbeing of those on the front lines of protest and community organizing.
Dendy-Green grew up Southern Baptist in New Orleans, and was educated in Catholic schools. "I was in church a bunch," she told me, and the churches she was in were part of denominations that believe the preaching voice should always be male. She was drawn to divinity school anyway, in spite of the conservatism of her early experience.
Though religious leaders often march and speak at protests, Dendy-Green's work goes much deeper than just showing up. A dedicated movement chaplain is part of the ongoing life of an organizing community, supporting the spiritual wellbeing of both long-time activists and the fluid group of participants who happen to show up on the day of a protest. The chaplain is involved in planning protest actions, with an eye toward keeping people safe in both body and mind. They might help build a network of religious allies who are willing to provide a place to take shelter near a protest route. Or a chaplain may ask to set aside space for processing or prayer during a march. Chaplains are also part of the ecosystem of care during a demonstration itself. Along with street medics, who tend to injured protestors, and members of the safety team, who are responsible for keeping participants together and avoiding confrontation, chaplains provide moments of centering ritual, support those who experience fear or trauma, and generally diffuse tension through interfaith prayer, song, individual intervention, or whatever else a situation might call for.
Though they often fly under the radar, movement chaplains have been on the ground in many of the major social-justice movements of the past decade: Occupy Wall Street, the counter-demonstrations to the Charlottesville Unite the Right rally, and, now, the unfolding protests in the wake of the deaths of George Floyd and Breonna Taylor. In early June, as bodies rushed into the streets across the country and the world to decry white supremacy and police brutality, Dendy-Green spoke with me about what she was seeing, hearing, and feeling on the front lines.

—Amelia Schonbek
THE BELIEVER: Movement chaplaincy is something most people don't know about. How did you find your way to it?
SARA DENDY-GREEN: I was in graduate school for education, and I had started organizing around the experiences of black students. It was November 2014 and the Black Lives Matter Nashville chapter was coming together. I saw how people around me were just getting tired. I started thinking: how are we caring for our whole selves in this moment? Policy and direct action is some of what's important, but caring for people's spiritual selves, so that we can be in it for the long haul… I ended up enrolling in Divinity School. It seemed to me like the place on campus where the most critical dialogues were happening.
The movement chaplains in Nashville really assembled shortly after Charlottesville. There was a white supremacist rally scheduled in Shelbyville, Tennessee. In the past, we'd seen a lot of clergy folks show up to protests in their robes, all of their garb, and you know, sometimes just there for a picture. We wanted a different way to gather than just being there with our status symbols.
Everyone was kind of on edge. We had seen Charlottesville play out. This was definitely not when the alt-right started organizing, but some of us had never experienced it. I remember we had a whole moment of, do we even know anybody in Shelbyville? Any people, or any church people? Because that was a rural area, we wanted a safe space if things got hairy or if people needed medical attention. So we started reaching out to clergy. And we had no idea where they were at, politically. In an ideal world, you already have those relationships, and you activate them. But we had to build those relationships, and there were some pretty intense asks.
All I remember that we were laser-focused on the job, which was keeping people safe. It was January, it was freezing. Are people warm and fed and hydrated? We're checking in with people and deescalating. We're responding to the safety team's ask to get people moving in this direction. We're looking for people with young kids, making sure they're good. And you know, in the end, nothing really popped off that day. We had double if not triple the number of people as these white supremacists. I remember feeling overprepared, but that was the best possible thing. That was a win.
BLVR: At a protest, you don't have the expectation that everybody there shares the same faith, or has any interest in faith at all, which is pretty different than a church service. How do you think about your role in that context?
SDG: I think the easy thing has always been to show up in our collars. When I think about clergy in past movements, that's the image that comes to mind. But the Nashville movement chaplains don't show up in robes or stoles or collars. If someone was lining us up, they probably couldn't tell we were clergy. We each wear something purple, and it just says "care team." So it's not always outwardly obvious who we are. But I do think our presence is a secret superpower: that focus on safety and care and safety and care. Which is not always a mantra that a lot of other people there have in mind.
I think you have to shift into a more holistic picture of what pastoral care means. Before a protest we'll try to find time to do something grounding, a short ceremony, or maybe that happens afterward. Depending on people's capacity, the aftercare plans can be really elaborate: processing what happened, a lot of food.
On a somatic level, even being in the presence of riot cops, and especially the tear gas, it's traumatizing. And at the end of the day, the goal is healing. If the church isn't tending to that on the most basic individual and group level, then we're missing the whole point.
But, yeah, the congregations are not necessarily where the people at the protests are. In divinity school, there are so many things you don't learn, and people are concerned about staying in their lane. We spend a lot of time on Biblical hermeneutics, but not the extent that it moves us to the street.
BLVR: When did you first realize that the police killing of George Floyd would spark such a huge outcry?
SDG: I have a lot of friends in Minneapolis, and I've done some church stuff in Minneapolis, so I heard about what was happening pretty immediately, and watched it unfold that day. When I started direct action work, I wasn't married and I didn't have kids. I was watching it and thinking, oh my gosh, what's about to happen, and what am I about to do? But it also felt so familiar. And then I had to be the one to tell my kids and my partner what was happening.
A couple of days later they announced an action in Nashville. I checked in with friends, and said, "I have to go. I can't not go." One of my kids was working, and I left the other one at home. I got there, and I was a little nervous. I wasn't there as a chaplain—we go where we're called, and if we're not called, it's tough to show up in that capacity. We stayed for a while, and then a cop car got smashed. I was standing with a guy I know, and we were like, do you think they're going to use tear gas? Well, that would be a pretty big leap, for Nashville. And then I had to go pick up my kid from work, and right after I left, there was tear gas. That's honestly the moment when I realized: oh, it's not just Minneapolis. Nashville police in general are a pretty PR-savvy crew. We thought they wouldn't go that far. So then I realized, this is a new moment. After that, I pinged the chaplains in an email and said hey, we should circle up.
BLVR: What was it like to have to leave the street to go get your child from work?
SDG: My kids are twelve and sixteen. They came into our lives through foster care. And they're white. So it's a lot of overlapping things. I think about the state's involvement in my house. Not that I've ever tried to get arrested—that's never been a goal or plan of mine—but I have to be aware of what that would mean. And in order to be certified as a foster parent, I had to make this place in my house that had a list of emergency numbers. I remember talking to my mom, saying, "Do I need to put 911 on there? How do I frame it so that calling the police is the last possible option?"
The kids have led, in some ways, whole lives before they moved in. We've tried to connect what's happening in the world to their experience. They don't have a lot of positive thoughts about the police, either. They get that we need better schools, we need more social services. The task has mostly been about holding consistency for them. They're getting so many messages. They see pictures of the cops, or maybe they have a friend whose parent is a cop, and that friend says, well, my parent is a good person. I don't know if we're prepared to navigate all the counter-arguments, and all the folks who want more police and more black bodies dead. I think we need more practice in how to have those conversations.
We do have family meetings, and we're due for one this weekend. It will be a chance to sit down with them and think, if something happens in our family, what are the alternatives to calling the police? I think it would be good to make some action plans around this moment. I want to talk about how we police each other in our home, and how we treat each other, and how my partner and I parent. All in due time. We talked about property destruction, and yesterday, they were talking about smashing a cop car. I was like, okay, but… let's not.
BLVR: You were ministering to a demonstration yesterday that was organized by teens, right?
SDG: Yeah, it was put together by five teenagers. They're like, fifteen, sixteen! They wanted to make a space for young people to come out and have their voices heard about ending police brutality and racism. They really wanted people to be safe, and the chaplains were part of that.
Especially in these weird times, now that a lot of organizing is happening over Zoom, we were hearing that people really wanted to remember that they weren't alone. One of the folks said, as long as I see people who I know, I'm good. That's one of the most important things to feel in the moment, when you're standing up to violent power. You can look around and say, this is who I'm with.
We kept that in mind. I recruited people to do some quiet ceremony, just to say prayers of protection. It was raining yesterday, and they were saying there was a tornado warning. Later in the night, the crowd had dwindled to a relatively small group. We were walking down Broadway, which is really the seat of Nashville's economic life, all the tourism. The group was planning to do a die-in. There were probably as many cops out there as there were protesters at that point. And it felt like a high-energy moment. There was the potential for things to escalate: these cops could throw tear gas at any moment.
I caught up with a friend, another chaplain, and we were like, what should we do? We wanted to make sure the group was feeling good and supported and courageous and brave, that they had people to talk to if they started getting anxious or scared. A lot of the work is putting feelers out, just getting a sense of what people need. And we just sang a song. Some of the words were, there's love that fortifies us. We wanted to remind them to be connected to their bodies, and their choice to be there. That's what the work is about.