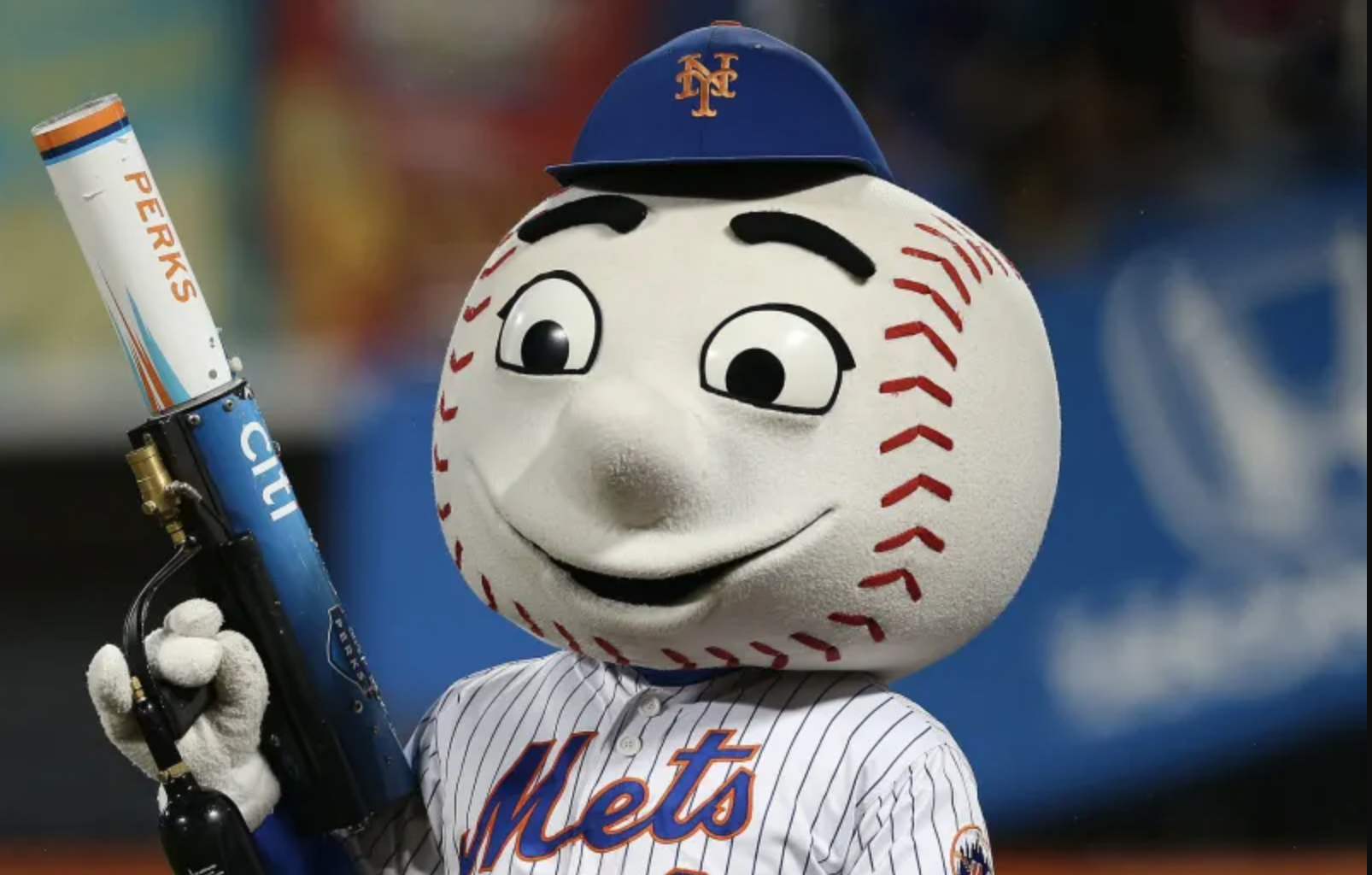 As an avid baseball fan who wasn't born in the 19th century, for a long time I thought the game's tagline of "America's favorite pastime" was at best, corny, and at worst, out of touch with what American culture has become. The more I thought about it, and the more kinds of sports I watched, the more I began to see the ways in which we find our values, fears, desires, and priorities (for better or for worse) reflected back at us from the pitch. From baseball to Australian Rules Footie, fans have been interweaving sports and identity for as long as games and teams have existed. This new monthly series will spend time parsing out ways we see ourselves—as Americans, and as humans—in our sports, and what that might say about us.
Mets' 1962 Inaugural Season Record: 40-120; Worst Season Record in Modern-Day Major League Baseball: 40-120; Citi Field Seating Capacity: 41,922; Number of Shake Shacks in Stadium: 1; Number of 2019 Mets Bobblehead Giveaways Remaining: 3
My grandma had a story she liked to tell about the birth of my dad.
"You know, your father came out ass first," she would say. It was a fact she'd offer up regularly at the dinner table, whenever my father would tease her or refuse to take her Christmas shopping in mid-September, a reminder of how she'd suffered for him. The story never did end there, though, at least not for long. Because the other thing about my father my grandma wanted people to know about was his utter perfection: "He was bleach blonde," she'd say—good hair a compliment of the highest order from a former hairdresser—"and he had a perfect curl, right at the top of his head like this." She'd take her two fingers and mime a ringlet at the center of her forehead.
At the time my grandma was 22, living with her parents in their apartment atop the family-owned bar. Fifteen months earlier, she'd given birth to my uncle. It was the summer in Newark, NJ, and it was hot. She survived those airless final weeks of pregnancy by stationing herself in front of a box fan and the television, faithfully watching Major League Baseball's newest edition—the New York Mets—in their inaugural season.
The 1962 Mets were a wonder—without a stadium to call their own, they played at the Polo Grounds in Washington Heights, and whiffed their way to the worst season record modern-day baseball has ever seen: 40 wins and 120 losses. No one in the history of the MLB has ever been more terrible, though the 1899 Cleveland Spiders, considered pre-modern era ball, managed an impressive 20-134. The '62 Mets' starting rotation also set a record of its own, a major league low of 23 wins in a season. That record would be tied 19 years later…by the 1981 Mets.
I'm not sure what, exactly, my grandma found so compelling about this team. Maybe it was a bit like watching a train wreck. Maybe she was fascinated by the notion of the team's owner, Joan Whitney Payson, the first woman to own the majority share of a baseball team without having inherited it. Maybe it was the box fan. But from then on, my grandma was hooked. Her Mets, she'd call them.
And so began a multigenerational love affair with a very bad baseball team.
Fast-forward over fifty years later and here I sit: mid-heatwave, nine months pregnant, sweating before the television, watching the Mets. Things are different—I live in South Philly (deep in enemy territory) and there's no bar beneath me; I have air conditioning; most US hospitals won't even let you have a breech birth. It's been a little over a year since I lost my grandma, a blow I still feel acutely. Every time I go to the obstetrician, or feel the baby karate chop me in the gut, it's her I think to call. I couldn't write for months after she died, so firmly was my self-confidence tethered to her belief in me. Never have I met someone with so few resources have the capacity to make her children and grandchildren feel more valuable and safer than she did. In her presence, I knew that even if I came at something ass-first or flamed out more fantastically than the '62 Mets, she'd be there to cheer me on.
Of course, the Mets are a major market team with a large following beyond those conditioned in fandom by family tradition, from your lay-residents of Queens and New Jersey, to the likes of Jerry Seinfeld, Hank Azaria, and the late Harper Lee. Certainly, there is an appeal to rooting for an underdog. But the real reason, I think, is an addiction to the almost. The Mets are mythically bad, but they're not only bad like, say, the Orioles, who rarely offer an intimation that they might win. Mets players try hard despite the franchise's dismal karma, and sometimes they even look good. Sometimes they make it to the World Series. Sometimes they have a star-studded pitching rotation, one of whom wins the 2018 Cy Young award. Sometimes, they draft a kid who breaks Daryl Strawberry's and ties Mark McGuire's rookie home run records before the All-Star Break. The thing about the Mets is they get your hopes up.
Then, they crush them.
What the Mets love more than anything is blowing a lead. At the time of this writing, the Mets are fresh off a four-game series with the Phillies—each game they lost in late innings despite an earlier lead of two runs or more. For the third game of this sweep, I even waddled down to Citizens Bank Park to watch the face off, in which they actually managed to keep things tied at 4-4 before losing in extra innings. Their losing-despite-being-ahead-for-the-majority-of-the-game streak, currently five games strong, hasn't happened in the majors since the Mets did it in 2011.
While the fledgling Mets of the sixties at least had an excuse to be bad—they were new, underfunded, sans home stadium—the current team is plagued by its own set of problems. The team's ownership, the Wilpon family, famously ran them into the ground by investing with Bernie Madoff, and continue their shady dealings by claiming insurance money off injured players which they do not reinvest into the franchise, prompting internet protests by the group Mets Fans United, and garnering them the nickname "The Wilponzis."
The team's managers also struggle with making basic baseball decisions, like how to make a lineup or when to pull a pitcher, no doubt in part because general manager Brodie Van Wagenen, the Anthony Scaramucci of baseball, was recently caught calling games from the comfort of his La-Z-Boy at home.
And then there's your spate of regular baseball problems—slumps and injuries, and just plain bad luck: this season, you've got your classic bullpen implosions, Robinson Canó sporting a batting average lower than the pitcher Steven Matz's and fielding like he's never heard of the concept of second base, never mind manning it as his job, and the team's left-field slugger Yoenis Cespedes reaching peak-Mets by breaking his ankle falling into a hole in his backyard.
The franchise is a mess from every possible angle. Their luck is so dire not even the golden boy aura of Leonardo DiCaprio can outrun it. Sometimes they are difficult for me to gaze upon, knowing that even when they are ahead they'll find a way to lose. While my dad and grandma have a pair of wins under their belts, I wasn't yet alive the last time the team won the World Series. But being a Mets fan is nothing if not a lesson in fortitude, in unconditional loyalty no matter how short someone you love may fall. (The joy one feels when they surprise you and do something right isn't bad, either.)
It feels strange to bring a child into a world without my grandma. I wonder what kind of mother I'll be. Will I be able to cultivate that feeling of safety for them in this increasingly harrowing world? Will I be an unconditional cheerleader who can still provide space for them to try things and fail big? I hope so. At the very least, I can still share a part of her through the Mets, and all the lessons that come with them.