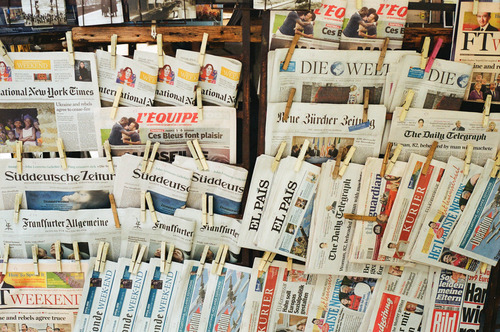 Photograph by Teju Cole
I've never really worried about writer's block. I think of breaks from writing more as "installing important updates," focusing on input rather than output. But lately I've been going through a period of reader's block, a new and frustrating experience. I haven't been in the mood to read books or even articles. This got me thinking about the reading habits of writers; I wondered how they differed from my own. So I asked thirteen questions to ten writers I admire, working in different genres, in an attempt to discover how writers read.
—Elisa Gabbert
4) Do you ever read for "guilty pleasure"?
ALICE BOLIN: I think no. I get my trash from TV.
TEJU COLE: I read what I like. No guilt ever.
DARCIE DENNIGAN: I grew up in New England and went to Catholic school most of my life, so yes, when reading feels pleasurable, as it often does, I do feel guilty. I guess I always feel guilty when I read these days because when I'm reading, I'm shirking any number of responsibilities. The laundry, the dishes, buying my daughter shoes, finishing a freelancing project, correcting papers. The only thing I don't feel guilty about not doing when I'm reading is writing.
But I guess you mean do I ever read anything sort of easy, just to escape? Of course. Mostly that kind of reading I do online. cnn.com is the best guilty pleasure. It's so over the top, so ostentatious yet so conservative. They always find the scariest stories that prey on all of my fears and they barely footnote how unlikely the scenarios are. I'm sorry that I add to their number of hits every day, but I do.
JORDAN ELLENBERG: I read books I think are in certain respects bad, like the "Twelve" series, which is about psychic vampires. But I don't feel guilty about it. I think I'm reading those books for a reason.
GRAHAM FOUST: You mean like US Weekly or something? Sometimes I do, but I don't feel all that guilty about it.
RUTH GRAHAM: Of course!
J. ROBERT LENNON: I have never in my life felt guilty for reading anything.
ADA LIMÓN: Oh yes, I love guilty pleasures. Depending on what's going on in my life, I will read popular novels (all of Gillian Flynn's thrilling and gruesome books) or even get on a British detective novel kick. I devoured all of Susan Hill's Simon Serrailler detective novels and Robert Goddard's mysteries. Oh, and yes, I read all the magical Deborah Harkness novels over a particularly hard winter when witches and vampires just made more sense than life. I don't know if I think of it as "guilty pleasure" reading really, but more like necessary mental escapes. Sometimes we need a perfectly written sentence; sometimes we need a fast-paced transporter to take us out and away. The best is when they go hand in hand.
LEIGH STEIN: A few years ago, my friend Catherine Lacey told me there's no such thing as guilty pleasure; there's only pleasure. I like that. In any case, there's nothing I read that I feel guilty about.
LAURA VAN DEN BERG: Not really. I have so many other guilty pleasures. I live for bad TV. Scandal, Pretty Little Liars, all the Law & Orders—I could watch for hours. I prefer bad TV to good TV, frankly. Same goes for movies. Little makes me happier than a chance to re-watch, say, Demolition Man in the middle of the afternoon. But the wooden dialogue and the melodrama and the terrible pyrotechnics I find so entertaining on the screen would pain me on the page. I'm only really interested in reading stuff I find seriously interesting on both an aesthetic and human level. Perhaps this is because I read virtually nothing as a kid, save for The National Enquirer, and as a result still have a lot of catching up to do.
5) Do you read YA? Do you read genre fiction?
ALICE BOLIN: I read detective novels but usually ones that are a little more venerated by time, rightly or wrongly. I try to give YA novels a chance but I think they have the problems of contemporary grown-up novels except multiplied a few times; meaning they mostly wish they were movies.
TEJU COLE: Neither. I liked YA when I was a YA. I kind of have the desire to be really into crime novels set in hot places. But what's that, "the desire to be into"? You either desire something or you don't, and mostly what I desire is what I read: poetry, novels, essays, and plenty of time left aside to take photos, look at art, go to concerts, watch movies. Reading is maybe 25% of my engagement with art.
DARCIE DENNIGAN: I love Dorothy Sayers. I love mysteries but usually only those written by a woman.
JORDAN ELLENBERG: The YA I read is all YASF – often old YASF that I actually read as a young adult, like the White Mountains books and Robert Silverberg's The World Inside. When I was a kid I read SF almost exclusively, before getting turned on to big-L "literature" by my 9th grade English teacher who was into Eugene Ionesco. Through him I read John Cheever and that taught me a lot about what Stephen King was trying to do. And off I went into "non-genre fiction" if there is such a thing. I stopped reading science fiction for decades, but lately I've been reading more. I don't read it in a different way than I read other fiction, don't ask it for different things, which probably means I'm reading it wrong. I still read Stephen King. I'm fascinated by the fact that he has a thing that he does, it's phenomenally successful, other people have been trying to do that same thing for forty years now and just always failing. Except finally this year I read the first novel I'veever seen that actually does that thing. And it turned out that the author was Stephen King's son!
GRAHAM FOUST: I read science fiction from time to time, though I don't really think of good science fiction as "genre" fiction. I will probably read more YA as my kids get older, though right now they are still a bit too Y for YA.
RUTH GRAHAM: No YA, unless I'm preparing to write about it. Genre fiction, yes: mystery novels, mostly British ones.
J. ROBERT LENNON: Not YA. It just isn't interesting to me. Even the extremely well-written examples of the genre feel massively condescending. I did enormously enjoy reading YA fiction to my kids, though, when they were younger. Philip Pullman, the Oz books, Laura Ingalls Wilder. I still think that the ending to Little House in the Big Woods is one of the most beautiful endings of any novel. My appreciation of these works depended entirely on sharing them with my children, though. I am definitely on board with mystery, science fiction, fantasy, and romance. (It's hard to find actual writing I like in romance, but it's out there!)
ADA LIMÓN: I do read YA. I'm working on a young adult novel now and needed to be inspired. Gwenda Bond's books are wonderful. I'm looking forward to digging into her new one, Girl on a Wire, and I loved the book Far Far Away by Tom McNeal. The idea of writing for a certain age is fascinating. There's a freedom to the pacing, the story rules, and there's also a bare sense of honesty and emotional energy that I appreciate.
LEIGH STEIN: I do, but usually when it is recommended to me and/or really buzzy. I don't seek it out on my own. I've read the Hunger Games series, and a couple books by Tana French, recommended by a friend. I've read Gone Girl. These are the kind of books I take on vacation, because they don't feel like work. (They would feel like work if I was trying to write a murder mystery novel, but I'm not…yet)
LAURA VAN DEN BERG: I guess that depends on how we define those categories. I don't know that I really read YA, but a lot of fiction I love one might call "genre-bending." Victor LaValle's The Devil in Silver, for example. Or Margaret Atwood or UrsulaK. Le Guin or Emily St. John Mandel's first three novels, which you could call literary noir, or Jeff VanderMeer. I just move toward whatever catches my attention on a given day.
6) Do you gravitate toward shorter books or longer books?
ALICE BOLIN: SHORTER BOOKS.
TEJU COLE: Shorter. Lazy. Also, Penelope Fitzgerald and Nabokov give you more per page, per paragraph, than Murakami or John Fowles. I like that vibe of "no wasted gestures" that really good short books send out. Coetzee's Disgrace. Fitzgerald's Blue Flower.
DARCIE DENNIGAN: SHORT!
Except Bleak House, which could have been 500 pages longer.
JORDAN ELLENBERG: I gravitate towards longer books but then get distracted by other books so there are a lot of long books I've read part of, while short books are more likely to get finished.
GRAHAM FOUST: Both, though I'm better at reading long books in the summer.
RUTH GRAHAM: No preference. For the last few years I have made it a point to read at least one very fat 19th-century classic per winter, which is satisfying. But in general I think about difficulty more than length, and they don't seem to overlap very much.
J. ROBERT LENNON: If I'm in a position to notice, definitely shorter. I'm impatient and easily distracted. But I read a lot of ebooks and I'm often quite far into an ebook before I realize how long it is.
ADA LIMÓN: I will listen to longer books, and read shorter books. The heavier and longer the book the more I don't want to carry it around. I'd rather read a shorter book and listen to the longer, epic novel.
LEIGH STEIN: Definitely shorter. I have a hard time finding the courage to read long books without the support of a group…one summer, I launched a book club with a girlfriend so we could read Anna Karenina (which I loved and could have read on my own but it was so daunting to begin!).
LAURA VAN DEN BERG: Shorter. A lot of my favorite novels—The Lover, The Loser, The Naked Eye—are under 250 pages, if not shorter. There are many long novels I love, but sometimes I have a low threshold for doorstoppers. Especially if the book is really really long and historical and involves some sort of multi-generational family saga, all handled with great loyalty to the conventions of realism; in all likelihood I will never read such a book. I have a horror of boredom. That is entirely my own weird failing and I'm sure I'm missing a lot. I will have to console myself with yet another viewing of Demolition Man.
*
Alice Bolin is a poet and essayist living in Southern California. You can find her on twitter @alicebolin.
Teju Cole is a writer, art historian, and photographer. He is the author of two books: a novella, Every Day Is for the Thief, and a novel, Open City. He is the Distinguished Writer in Residence at Bard College.
Darcie Dennigan is the author of two poetry collections, Corinna A-Maying the Apocalypse (Fordham University Press) and Madame X (Canarium Books). She teaches at the University of Connecticut and is a cofounder of Frequency Writers: A Writing Community for Providence & Beyond.
Jordan Ellenberg is a professor of mathematics at the University of Wisconsin and the author of How Not to Be Wrong: The Power of Mathematical Thinking, as well as a novel, The Grasshopper King.
Graham Foust is the author of five books of poems, including To Anacreon in Heaven and Other Poems (Flood Editions, 2013) and, with Samuel Frederick, the translator of Ernst Meister's In Time's Rift (Wave Books, 2012). He teaches at the University of Denver.
Ruth Graham is a contributing writer to the Boston Globe's Ideas section and a freelance journalist who writes for Slate, the Poetry Foundation, Al Jazeera America, and many others.
J. Robert Lennon is the author of seven novels, including Mailman, Familiar,and Happyland,and the story collections Pieces for the Left Hand and See You in Paradise (Graywolf Press). He teaches writing at Cornell University.
Ada Limón is the author of three collections of poetry, Sharks in the Rivers, This Big Fake World, and Lucky Wreck. Her fourth book, Bright Dead Things, is forthcoming from Milkweed Editions. Her work has
appeared in The New York Times, Poetry Daily, The New Yorker, and elsewhere.
Leigh Stein is the creator of BinderCon, a conference for/by/on women and gender non-conforming writers, as well as the author of two books: The Fallback Plan(a novel) and Dispatch from the Future(a book of poems).
Laura van den Berg is the author of, most recently, Find Me, a novel (FSG, 2015), as well as two short story collections, The Isle of Youth (FSG, 2013) and What the World Will Look Like When All the Water Leaves Us (Dzanc Books, 2009). She is the 2014-2015 Faculty Fellow in Fiction at Colby College.