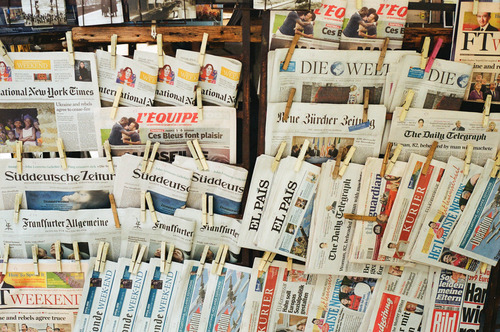 Photograph by Teju Cole
I've never really worried about writer's block. I think of breaks from writing more as "installing important updates," focusing on input rather than output. But lately I've been going through a period of reader's block, a new and frustrating experience. I haven't been in the mood to read books or even articles. This got me thinking about the reading habits of writers; I wondered how they differed from my own. So I asked thirteen questions to ten writers I admire, working in different genres, in an attempt to discover how writers read.
—Elisa Gabbert
1) We've all had "writer's block," but do you ever get reader's block? If so, do you "downgrade" and read something "easy" or just not read at all?
ALICE BOLIN: This definitely happens to me. I feel like it's more common than the times when I'm just whipping through books. I can blame it on being a poet/having anxiety/living in LA but I'm not ultimately sure why.
I reread all the time; that's usually my solution. Just pick up Alice in Wonderland or James Schuyler or something.
TEJU COLE: For me, the peak reading experience is definitely about deep focus, to be lost in a book of poems or in the thicket of a solidly executed novel. I don't think I get there so often. It's always a joy when it happens. So, I think I know what you mean by reader's block. But when that happens, I don't then downgrade to easier material, I just read the same stuff I'd normally read in a slightly less intense way. I've never really understood the concept of "beach reads." I want good stuff all the time: it can be hilarious or somber, but I want it to be very good, always.
DARCIE DENNIGAN: Not really. I will read the back of the granola bar box over and over again rather than sit with my own thoughts.
GRAHAM FOUST: No, I don't think this has ever happened to me for any prolonged period of time. I mean, obviously I get tired of reading and have to go outside or something, but I can't remember a time when I wasn't reading something that could be called "literature."
RUTH GRAHAM: I've never thought of it that way, but I do go through brief periods of wanting to read easier things, like mystery novels and magazines.
J. ROBERT LENNON: I generally "downgrade," and just read stuff online or read comics. I should add that I don't think comics are a "downgrade" as an art form, only that they're easier for my brain to apprehend than text-based literature. When I'm really bored with reading I might play a videogame or play the guitar instead.
ADA LIMÓN: The only time I don't want to read anything is when I'm working on fiction. I'm such a mimic that it's just all too easy to let someone else's voice and style take over my long-form writing. I read a ton leading up to a project, but then when I'm right in the middle of it, it's best if I'm not being influenced by other fiction. I can pretty much always read poetry, however.
LEIGH STEIN: Absolutely. My reader's block doesn't really prevent me from reading, though, it just prevents me from finishing anything…during these periods, I read lady magazines (I subscribe to Vogue, Marie Claire, Elle, Self, and Women's Health…and The New Yorker, but that is not "easy" reading for me). I get a sense of accomplishment from finishing one and taking it to the recycling bin.
LAURA VAN DEN BERG: I definitely go through periods where I'm in some kind of very-specific-yet-indefinable reading mood and I try book after book, but nothing is striking me in the right way. This often happens when I'm traveling and have packed a stack of books, only to discover that I have, annoyingly, "nothing to read." When this happens, I just keep trying book after book until I find what I'm looking for.
2) What genre do you read most—fiction, nonfiction, poetry? Do you mostly read in the genre that you write in? How is your reading experience different when reading outside your genre?
ALICE BOLIN: I think I read nonfiction and fiction most. I read a lot of poetry but it's usually rereading. I think because it's where I started out, I'm quicker to give up on new or new to me poetry that rubs me wrong. I am more angry when I don't like a novel but I'll finish it.
TEJU COLE: Poetry is what I probably read most (most=most attentively). One of the things to really enjoy about that, for me, is that I know that (a) I'm not competing with these folks and (b) I'm getting good stuff that many other novelists don't even know about. If the other kids are reading the Pulitzer fiction shortlist and I'm reading Elizabeth Bishop, I feel like I'm getting away with something.
DARCIE DENNIGAN: I mostly read fiction and essays. Virginia Woolf, Borges, Kafka, Donald Barthelme, and David Markson. Clarice Lispector. I feel like I could reach just for these writers all the time and be okay, because they lead me other places. Like, The Waves will lead you to Shelley. And then you go back to The Waves. Borges leads you everywhere—Melville, Coleridge, etc. And though I totally love some of Melville, I never like him better than when I'm reading about him via Borges.
Modern and contemporary poetry is exhausting to me to read because it's what I want to write. It feels like very important homework, or like an exercise in controlling jealousy, or worse, contempt.
JORDAN ELLENBERG: I read roughly equally in prose fiction and nonfiction; I read poetry less than most poets but more than most other people, which is to say, sometimes.
GRAHAM FOUST: Hard to say what I read most. I've noticed, though, that as I get older, I tend to want to read older poems—often very old poems—and also more literature from other countries.
RUTH GRAHAM: When I'm reading for pleasure I read almost exclusively fiction, which I don't write at all. I suppose I am a little less critical when I read fiction, just because I'm not thinking about it from a technical or professional point of view. But really I just tend to find fiction more immersive, and therefore pleasurable.
Of course I read lots of journalism online, in magazines, and in newspapers, and occasionally in books. But when I think about the longer pieces of nonfiction I have enjoyed the most in recent years, they all have strong narrative elements: Off the top of my head, David Grann's collection The Devil and Sherlock Holmes, Lawrence Wright's Going Clear, David Carr's The Night of the Gun, Adrian Nicole LeBlanc's Random Family—they all "read like fiction" in some way. I also wind up reading a lot of nonfiction books for research purposes, of course. But it's just not what I reach for when I'm reading before bed. I'm also not on the essay bandwagon yet; I enjoy them as one-offs online and in magazines but haven't found myself pulled into reading a collection in ages.
J. ROBERT LENNON: If we're talking about actual books, I almost always read fiction. Sometimes poetry, rarely nonfiction. I read the latter mostly online—in my RSS feed or via Twitter links. About half the fiction I read would not be found in the literature section, although I don't find genre distinctions to be very meaningful.
ADA LIMÓN: I read a great deal of different genres and styles. I love it all. I usually have one or two books I'm listening to, and then a stack of books by the bed, and then a stack of them in my office. Lately, I've been enjoying being an information sponge and learning new things or revisiting classic subjects. So I've been listening to Great Courses on literature, romantic poetry, great plays, and I just finished a biography of Jack London. I love listening to non-fiction because I find other people's lives, especially the lives of writers, so fascinating. I always have poetry and fiction by the bed and in the office (both books and anthologies).
LEIGH STEIN: I looked at my reading diary for the year so far and I'm at about 40% non-fiction, 40% fiction, and 20% poetry. I definitely read more book-length work in the genre I'm writing in (currently non-fiction). Whatever genre I'm not working in—that kind of reading is what feels most pleasurable.
LAURA VAN DEN BERG: I write fiction and I primarily read fiction, though when I read lit mags or glossies like The New Yorker or Harper's, I usually read everything in there. When it comes to books, poetry would be second to fiction and nonfiction would follow, though I'd like to start reading more book-length nonfiction. When I do, I'm usually very glad.
3) Where and when do you usually read? In bed? On the train?
ALICE BOLIN: I read in bed or outside on the bench at my boyfriend's house. I love reading outside.
TEJU COLE: Everywhere. How long does it take to pee? Twenty-five seconds? I like to have something in hand even while doing that. (Don't look at me that way, it's not such a tricky skill.)
DARCIE DENNIGAN: At a coffee shop is best. That way, if I'm reading something good, something worth reading, it will be ok—I'll be safe, there will be people around, my life won't be totally changed because there's the world going on right there and I can step back into it.
JORDAN ELLENBERG: I try to quit working at around 11:30 so I can read in bed for a half hour before sleeping. It's the main time I read. But planes, too, when I'm on one. I'm actually writing this to you on a plane right now and just before I took out my laptop and started answering these questions, I was sort of vaguely alternating between the opening pages of The Man Without Qualities (used paperback, bought I don't remember when) and the opening pages of Alan Mendelsohn, The Boy From Mars (on my phone). Airplanes are for disorganized reading, the bed for organized reading.
GRAHAM FOUST: In a chair or on a couch somewhere. In airports and bars. On the bus.
RUTH GRAHAM: I read books in bed, overwhelmingly. Both in the morning and at night. Unless I'm truly engrossed in a book, I find it hard to concentrate on them in other places. Plus, being in bed is so comfy, why not spend more time there?
J. ROBERT LENNON: On the sofa, in the evening, with my wife. Sometimes in bed, too. I wish there was a train that could take me to work; I'd read on it for sure. I read on planes. Every once in a while I'll designate a day just for reading and will do it all day long, wherever I happen to be. That's a rare treat though.
ADA LIMÓN: I listen to books all the time while I'm cleaning and organizing, hiking, driving, or even working out. I find that it makes the time go quickly and there's nothing like being outside on a gorgeous country hillside listening to a great novel or a non-fiction book. The only thing wrong with that is it can make me even more spacey than usual. So you know, I have to be careful not to fall off a cliff or get lost when I've got a particularly good book on.
LEIGH STEIN: On the subway (last year, I taught once a week in the Bronx and had a three-hour round-trip commute; I read a lot of books!) and at my kitchen counter while eating breakfast or lunch if I'm working from home that day.
LAURA VAN DEN BERG: Everywhere, but I especially love reading on trains. Planes too, if my flying terrors can dissipate enough for me to focus. Alone in restaurants. If I have the time, my very favorite thing is to read for a few hours first thing in the morning, with coffee. I like the idea of reading in bed at night, of ending the day that way, but usually fall asleep too quickly to get very far.
*
Alice Bolin is a poet and essayist living in Southern California. You can find her on twitter @alicebolin.
Teju Cole is a writer, art historian, and photographer. He is the author of two books: a novella, Every Day Is for the Thief, and a novel, Open City. He is the Distinguished Writer in Residence at Bard College.
Darcie Dennigan is the author of two poetry collections, Corinna A-Maying the Apocalypse (Fordham University Press) and Madame X (Canarium Books). She teaches at the University of Connecticut and is a cofounder of Frequency Writers: A Writing Community for Providence & Beyond.
Jordan Ellenberg is a professor of mathematics at the University of Wisconsin and the author of How Not to Be Wrong: The Power of Mathematical Thinking, as well as a novel, The Grasshopper King.
Graham Foust is the author of five books of poems, including To Anacreon in Heaven and Other Poems (Flood Editions, 2013) and, with Samuel Frederick, the translator of Ernst Meister's In Time's Rift (Wave Books, 2012). He teaches at the University of Denver.
Ruth Graham is a contributing writer to the Boston Globe's Ideas section and a freelance journalist who writes for Slate, the Poetry Foundation, Al Jazeera America, and many others.
J. Robert Lennon is the author of seven novels, including Mailman, Familiar,and Happyland,and the story collections Pieces for the Left Hand and See You in Paradise (Graywolf Press). He teaches writing at Cornell University.
Ada Limón is the author of three collections of poetry, Sharks in the Rivers, This Big Fake World, and Lucky Wreck. Her fourth book, Bright Dead Things, is forthcoming from Milkweed Editions. Her work has
appeared in The New York Times, Poetry Daily, The New Yorker, and elsewhere.
Leigh Stein is the creator of BinderCon, a conference for/by/on women and gender non-conforming writers, as well as the author of two books: The Fallback Plan(a novel) and Dispatch from the Future(a book of poems).
Laura van den Berg is the author of, most recently, Find Me, a novel (FSG, 2015), as well as two short story collections, The Isle of Youth (FSG, 2013) and What the World Will Look Like When All the Water Leaves Us (Dzanc Books, 2009). She is the 2014-2015 Faculty Fellow in Fiction at Colby College.