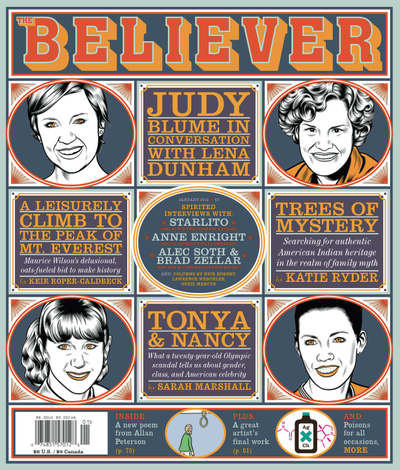 The January issue is here! Now featuring: A great artist's final work, poisons for all occasions, colors, Nick Hornby, the 1994 Winter Olympics, Hip hip hop as a power tool for self examination, Judy Blume and Lena Dunham, British adventurers, and more!
Read it: blvr.org/104
Buy it: blvr.org/buy104
Learn more about it:
Table of Contents
Remote Control by Sarah Marshall [Full text!]
Revisiting the myths and media narratives behind the off-ice melodrama of Tonya Harding, Nancy Kerrigan, and the 1994 winter Olympics.
The Ecstasy of Maurice Wilson by Keir Roper-Caldbeck
The story of a British adventurer who tackled Everest alone in order to prove the power of faith and fasting.
Real Life Rock Top Ten by Greil Marcus
"You get the feeling all of the people here could walk out of the gallery and into any other place and buy whatever they want with the currency of their mere existence."
Indian Lake by Katie Ryder
Digging up the tangled roots of Americans' (generally erroneous) belief in their own Indian heritage.
Judy Blume in conversation with Lena Dunham
"I feel so much more than my gender and I feel so much more than my relationship to my body and my relationship to men, but suddenly you're asked to be an expert."
COMICS!
Schema: Appointments with Death by Shoshana Kabas
A survey of the various poisons used for nefarious purposes in Agatha Christie novels.
Reviews
Stephen Burt on Deborah Woodard, Douglas W. Milliken on coupons affixed to the refrigerator, James Santel on Saul Bellow [Full text!]
Pillow of Air by Lawrence Weschler
Anne Enright interviewed by Conan Putnam [Full text!]
"There is a run, a fantastic slide toward the end.And with the run there is this terrible pang of loss."
Starlito interviewed by Joshua Bauchner 
The Process by Chris Clayton
Alec Soth and Brad Zellar talk about the LBM Dispatch and its recent focus on the Silicon, Death, and San Joaquin valleys.
"Implicit," a new poem by Allan Peterson [Full text!]