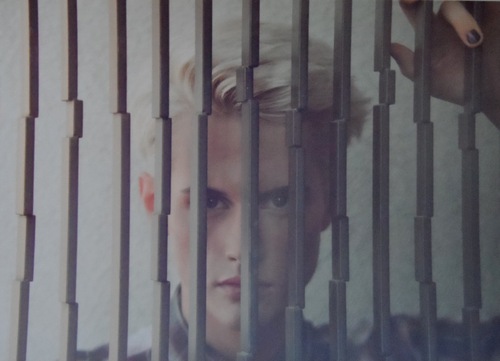 From November 21st to November 28th we'll be posting writing from Ed Wolf documenting his trip to the Side-By-Side LGBT Film Festival in St. Petersburg. Catch up with Part One, Part Two, Part Three, Part Four, Part Five, Part Six.

Part Seven: LaSky
Tuesday, November 26, 2013
I toss and turn and don't sleep well. In the morning there's a message from Olga, the volunteer who I met on my second day here. She reports that last night's fire was most probably an accident with no connection to the festival.
I go down to breakfast, feeling nervous about tonight's screening of "Blue Is the Warmest Color," which won the Cannes Film Festival's Palme d'Or this year. It's showing at a mainstream cinema, the time and place of which has been well announced. I'm trying to imagine what it would be like to walk with other festival-goers through a taunting crowd who might be throwing things at us. I've never forgotten walking to my Perry Street apartment in Greenwich Village back in the 70s when a rock the size of a bowling ball came hurtling down from somewhere above me. It bounced off the sidewalk with a large crack. When I looked up, I couldn't see anyone.
Olga has agreed to come to the hotel and take me to the LaSky office. They're the community group dedicated to preventing HIV infection as well as improving the quality of life for those already living with HIV in Russia. We decide to have lunch first and Bard joins us. He knows of a good Asian restaurant in a nearby mall.
I've gotten so immersed in the day-to-day events here that I haven't noticed Christmas has crept up on us. The mall is full of Christmas trees and lights and sale signs. It's depressing. Over our meal we talk about tonight and what to anticipate. I ask Bard and Olga if they've ever had to walk through a crowd that was throwing things at them. Bard says yes, but it was a long time ago. Olga says never.
I ask if the police will protect us. They both agree they probably won't. I suggest bringing our own eggs and returning the gesture. That, they say, would be something the police would respond to. Before we leave the restaurant, Bard says I must go and check out the bathroom and, to my great surprise, there are two commodes in it. This weird discovery helps lighten my mood a bit before Olga and I head off to find meet Valery at the LaSky.
Olga has to make several phone calls before we can locate the building. We're in a part of the city that is unfamiliar to her and LaSky's address is purposefully not listed. Caution, especially after the attack earlier this month, has to be taken. Valery appears at an opened door, signals to us and we enter. We walk through a dark foyer into a much larger room with tables covered with HIV prevention materials, condoms and packets of lube. He makes tea.
We talk about the HIV/AIDS situation here that is, of course, very dire. Accurate figures are not collected and many of those who are infected do not seek out testing or, if they do, may not access treatment because of stigma and fear, especially if they are gay men. Most of LaSky's funding comes from international organizations and agencies, and they receive little to no funding from the Russian government.
I ask Valery what I can say about the work he and the others of LaSky are doing following the "We Were Here" screening tomorrow night. He says that most of the Side by Side audience will already know about the HIV situation in Russia and that perhaps it would be best to talk about what was done in the US in terms of organizing and activism. I tell him that a key component of the US strategy was using volunteers, whether it was by delivering of food, providing emotional support, forming ACT-UP, or creating hot lines. He says that this is one the major problems in St. Petersburg: the lack of involvement from the LGBT community itself.
I ask him about the man who was shot during the attack on LaSky in early November. Valery says that although he was shot in the eye and has lost his vision there, he is already back doing his work for the agency. I ask him what I asked Olga and Bard earlier today, if he's ever had eggs thrown at him. "But of course," he responds. His advice is to be aware of where the eggs are coming and move quickly. He smiles and adds, "Perhaps bring an umbrella." The afternoon is winding down and Olga and I take our leave. Valery says that he and some of his volunteers (there are eight altogether) will be at the screening tomorrow night.
On the way back to the hotel, Olga tells me she is moved by the conversation we had. She translated a lot of what was discussed. She says that she will probably do some volunteer work with LaSky after the festival is over. We acknowledge that we're both a bit nervous about what is going to happen tonight when we go to the screening. Will there be a crowd? Will there be violence?
Back in my hotel room, I lie down and tried to calm myself. I'm letting my imagination run wild with scenes of hundreds of people taunting us, throwing things, injuring someone. It's not helping and I think about everyone else who will be at the screening with us. Safety and support in numbers. I'm also comforted by the remembrance of my friend Jim, a gay man who lived to be ninety-four. He told me many stories of gay life of the 40s, 50s and 60s—the busts, the arrests, the careers ruined, the suicides. He lived to see the LGBT liberation movement come to life and flourish. I have to believe that can happen here.
And then suddenly it's 7pm. Olga and Bard are waiting in the lobby for me. I'm afraid. I take some deep breaths and go down to meet them.
The trip across town happens quickly, a bit too quickly, and we are approaching the cinema. It's a multiplex theater like every other one in the world, except that are a large number of policemen out front. There are also a small number of people with cameras and videos standing behind the cops, photographing everyone going in and out of the theatre. The police take Olga's bag and look into it. I empty my pockets and Bard is searched as well. Then we enter into a lobby full of wondrous queers.
The routine is now familiar. You check your coat, you look for someone that you know, you embrace, you look for someone else. I am so relieved to have gotten into the theatre without something thrown at us. I am elated. The lights flash on and off and we enter the theatre. It's a huge room full of stylish wooden couches on increasingly higher levels, stadium style. Each has numerous bright orange cushions and seats two people. I find the perfect spot where I can stick my long legs out into the aisle. Olga joins me. We listen the British Consulate to St. Petersburg welcome us and the film begins.
The soundtrack is in French and the subtitles in Russian. I'm not going to be able to understand what's being said, but the film is gorgeously shot and I settle in to do the best I can. The couches are comfortable, and the pillows make it even more so. I start to drift off.
All of a sudden, the lights come on, the doors are thrown open. Bomb scare. We need to evacuate the building. The crowd moves calmly, lines up in a leisurely fashion, waits to get their coats. As I stand with them, I look through the windows that face the main street. There are people with cameras again, photographing us. But now there are others as well: men gesturing for us to come outside. Their smiles are threatening. A young dyke with short blue hair leaves the line and goes up to the window and faces them. The group outside presses forward, encouraging her to come out. She stands there and shows them her middle finger.
Bard and Olga and I retrieve our coats. We're instructed not to go out the front door where the crowd waits for us. Instead, we're herded into a back courtyard where we stand and wait. The temperature is so cold our breath creates clouds of mist. I talk to Gulya and ask her if Olga and I can leave. Olga has to get home and I can't really follow what's happening in the movie. Gulya tells us it's not safe yet.
It gets colder, and then colder still. I begin to tremble. I feel trapped.
I see others starting to walk away from us, heading to the far end of the courtyard. They disappear for a moment, return to say something to Gulya and then they're gone again. Gulya says it seems that if we leave right now, it will be safe. Bard tells us he must stay as he one of the festival jury members and at some point the screening will continue. He insists on going with us to the subway.  We slip down the narrow passage and out onto the street.
There's no one there, only a handful of other audience members who are trying to  slip away as well. We walk slowly, casually, and then turn onto the main street. The photographers and threatening men are gone. We walk past the theater and continue on. In the distance we see a tall man speaking loudly to two young women. They stand their ground. As we pass, Olga translates: He's telling them they've sold their souls to the devil. I slow down and turn toward the man, but Bard encourages me to keep going.
And then it's over. Olga and I are heading down the escalator and the danger is over. On the ride home, quiet descends again. The repeated bomb scares, the hopelessness of not knowing what can be done, the fear, the relief, the frustration; it's exhausting. I tell Olga I'm glad that we didn't have anything thrown at us. She nods in agreement, but doesn't say anything.
She walks me to the hotel and we hug goodbye. I watch her go down the street, back to the Side by Side offices. I go up to my room.
I lay down on the bed without taking my shoes off. My tears are a mixture of relief and grief and anger. I've got one more day here and then tomorrow night, the screening of "We Were Here."