Last October, Deitch Projects in New York embarked on an extreme performance orchestrated by Francine Spiegel. With the assistance of ten volunteers, Spiegel produced a horror-shoot-cum-food-fight, dousing the participants in pancake syrup, grits, chocolate syrup, and whipped cream while a photographer captured the whole debacle. The photos were then displayed in the gallery alongside seven of Spiegel's paintings.
Spiegel said the horror-movie magazine Fangoria inspired the blood-and-guts ingredients for the shoot. Her models are neither damsels nor monsters, but are instead a unique hybrid of the two. According to the gallery, "Spiegel's goo girls look like gory super-heroines."
The images also conjure food fetish porn, or something of that ilk. But under Spiegel's control, the images become a feminist work of art against the patriarchal image of a sexy, doused lass.
The budget below does not include the paintings on display at the gallery, but it reveals the gory details of the shoot itself and the true costs of maintaining a gallery in New York—such as an almost $4,000 dinner and the exorbitant price of art-world advertising.
This budget is an installment of Creative Accounting, a series dedicated to the financial ledgers behind the creative industries. In the end, we will compile the accounts into a single volume, published by Believer Books.
—M. Rebekah Otto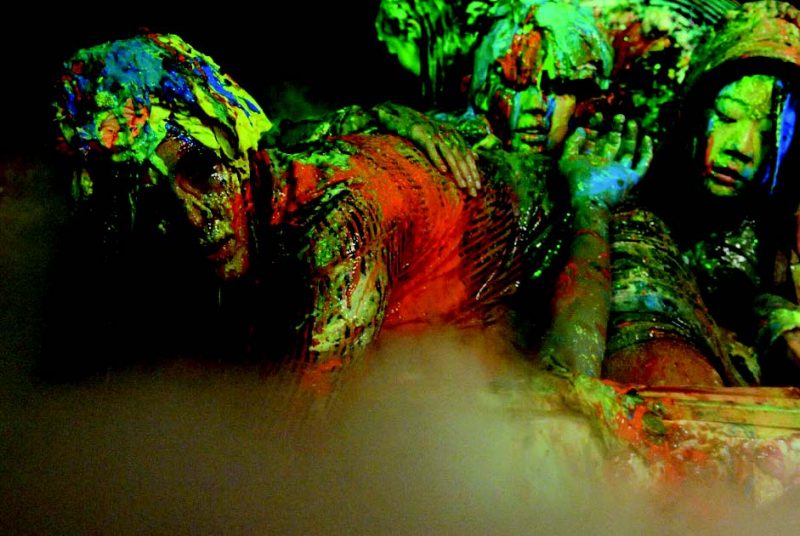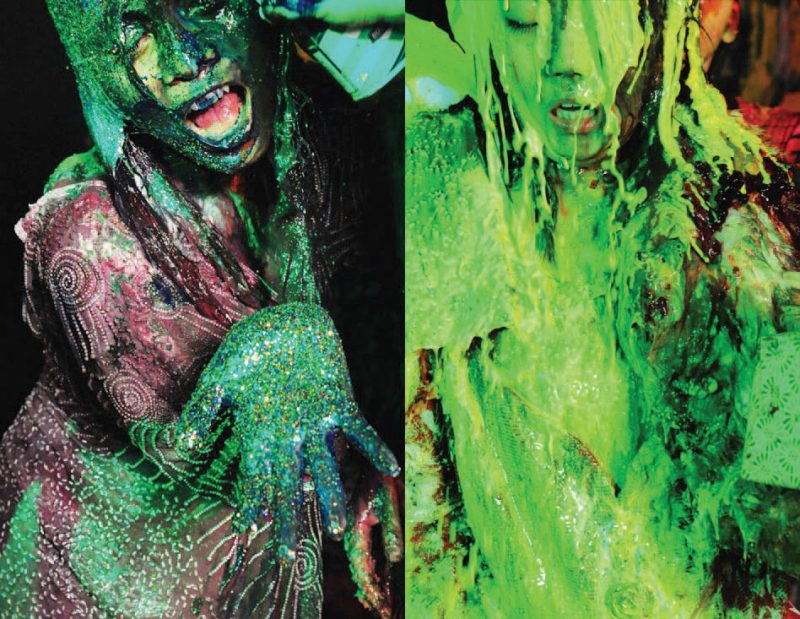 Production Costs $6,755.25
8 photographic prints $1,610.00
from Pochron Studios
Photo mount on Plexiglas $1,896.00
City Frame $1,450.00
Photographer $500.00
Artful Transport $1299.25
works brought from studio to gallery
Promotional Costs $15,948.85
Invitation printing costs $3,737.00
by Green Earth Enterprise
Invitation mailing $2,496.00
Photographic documentation of the show by Adam Reich $901.56
Dinner for forty $3,575.06
At Le Grand Dakar
Wall signage $159.23
by Specialty Signs
Full-page color ad in Artforum $5,100.00
Performance Supplies $3,352.59
Performance wire $129.50
Neon tempera paint $233.80
from Pearl Paint
Squirrel mixers for slime $57.67
Squirrel mixers attach to a drill to mix paint quickly
Uline plastic $147.19
Lighting $289.00
Reddi-Wip Fat-Free Whipped Dairy Topping $59.80
$2.99 per can
Hershey's Chocolate Syrup $23.90
24 oz. bottles at $2.39 each
Karo Light Corn Syrup $92.07
16 oz. bottles at $2.79 each
Log Cabin Original Syrup $44.90
24 oz. bottles at $4.49 each
McCormick Assorted Food Color $91.80
1 fl. oz. at $4.59 each
Quaker Quick Grits $18.90
24 oz. at $1.89 each
Solo Plastic Cups $3.79
50 ct.
Ten assorted pies $210.54
from Gourmet Garage
Various art supplies $122.50
Paying Rebecca to cook grits and bring them to the studio $300.00
Sound system rental $277.64
Three performance assistants $812.00
Replacement for photographer's phone that was destroyed during shoot $360.61
Fake arms and blood $76.98
Grand Total $26,056.69