The stores were all full. We noticed it in our first minutes in Ukraine. We'd crossed the border from Poland in early December, and after passing through the Polish checkpoint, then the Ukrainian checkpoint, we stopped at a gas station that had a café within, and we were surprised to find that it was immaculate and well stocked. There were three women in uniforms working at the small lunch counter. A trucker sat at a blond-wood table, eating a fresh crepe.
Anything that you could find or want was there. There was coffee from Ethiopia. There were chips and soda and high-quality chocolates. There was fresh fruit. There was liquor of any kind. There were books. There were mugs that celebrated the Ukrainian military.
I bought two such mugs. One bore the Ukrainian logo, and the other had a graphic of a hand throwing a Molotov cocktail accompanied by the words ukrainian smoothie. When we got back to the van, our driver, a middle-aged Ukrainian, saw my mugs and insisted on helping me wrap them to make sure they wouldn't be damaged in my backpack. First he used tissue paper. Then, finding that insufficient, he went to the gas pumps, and found that cloth used to clean oil dipsticks, and returned, insisting on wrapping my mugs himself. He did not want those mugs, with their defiant messages, to come to harm.
I was not expecting that there would be clean and well-stocked gas stations all over Ukraine. I did not expect every store in Lviv and Kyiv to be full and well lit and spotless. I did not expect to be able to buy Christmas ornaments made to look like Ukrainian soldiers in masks and carrying Sidewinder RPGs. I bought one of these, and bought toilet paper bearing the face of Vladimir Putin. All over Kyiv we ate at sophisticated cafés and restaurants—Crimean food, Georgian food, haute Ukrainian cuisine made by a celebrity chef named Ievgen Klopotenko, who had trained at Le Cordon Bleu and now wanted to prove to the world that borscht was not a Russian invention but was Ukrainian, one of so many things and people (Gogol, Bulgakov) that were Ukrainian but had been co-opted by the Russians, then the Soviets, then the Russians. It had to stop.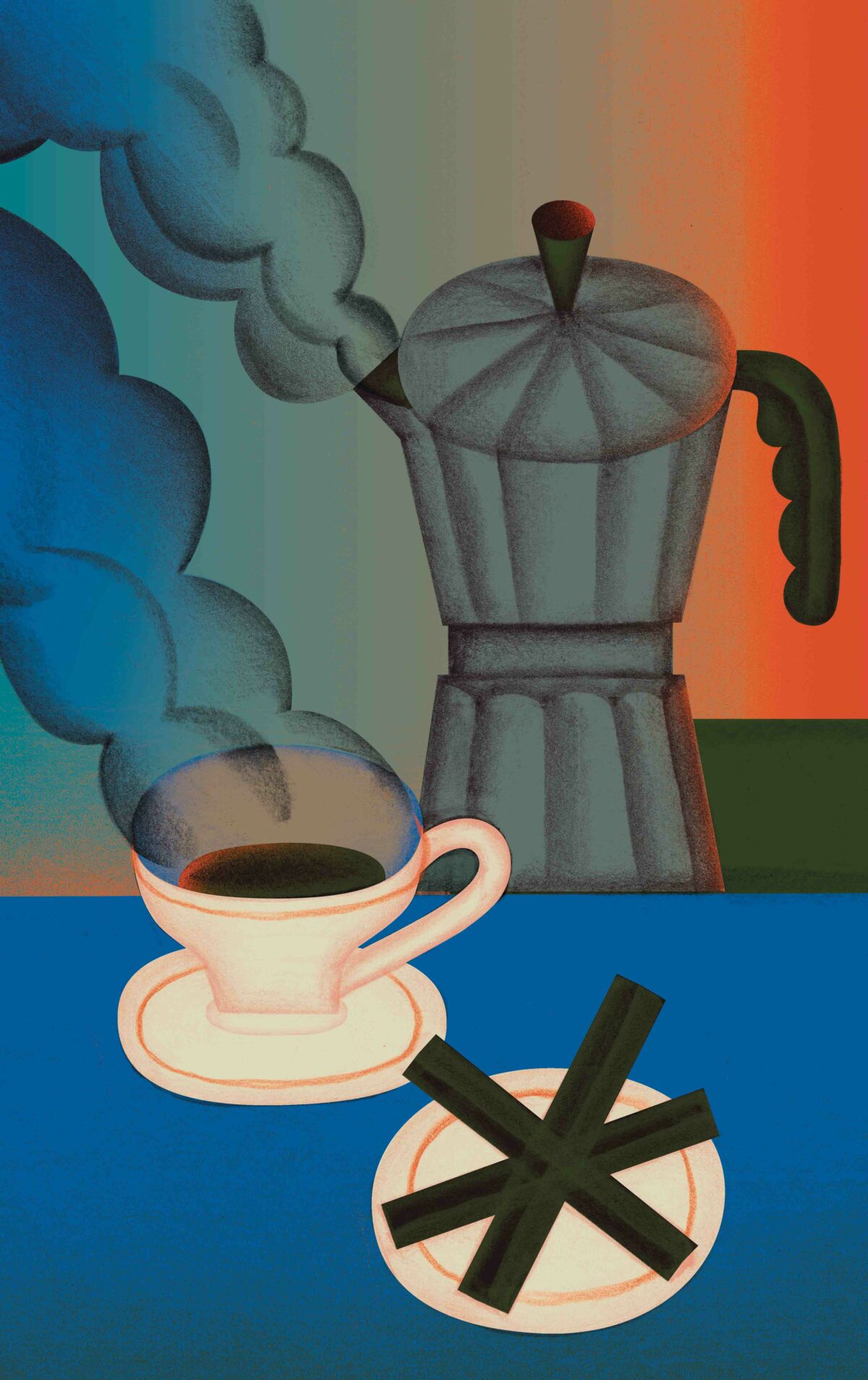 I believe that in the West we have not gotten a full picture of life in Ukraine during war. It is infinitely richer and more alive and inspiring than we are led to believe. The city of Kyiv in the first week of December was frantic with cars, with commuters, with Christmas music, with candlelight concerts, with shoppers. The stores were open. The nail salons were open. The movie theaters were open. The tattoo parlors were open. The bars were open. One night we sat in an underground pub, drinking local stout, when a large man in a Ukrainian military uniform walked in with his girlfriend, who wore a cat-eared tiara. They sat at a lacquered table, talking with bright eyes, holding hands, until another man came in, with a dog on a leash. The man seemed to be the soldier's brother or friend and they hadn't seen each other in a while. The two men embraced, while the dog, a muscular black mutt, whined and spun with vaulting joy. The soldier leaned down to pet and wrestle the dog, and finally everyone sat again, the mutt under the table, draped over the soldier's feet, soon asleep. The World Cup was on TV.
I went to Ukraine as part of a PEN America delegation bringing attention to Russia's attempts at erasing the history and culture of Ukraine. Because this is a key element of the Russian strategy—to absorb Ukraine, they must convince the world, and some percentage of Ukrainians, that Ukraine never really was a separate nation, a distinct people. The delegation was led by PEN's director, Suzanne Nossel, and included the writers Peter Godwin and Barbara Demick, and members of PEN's staff in the United States and Ukraine. We toured sites of Russian war crimes around Kyiv, met with local leaders, and students and writers, activists and passersby, and we were crushed by the useless waste of life that Putin made possible, and at the same time moved by the undentable resolve of every last Ukrainian we met. Contrary to Russian military theory, every new attack, every fresh atrocity, only makes Ukraine stronger.
I want to tell you about the wretched suffering that you have seen and read about, but if you will permit me, I'd also like to tell you that Ukraine is an almost fully functioning nation that defies one's expectations for the conditions of life during wartime. This is not to say that the war raging in the eastern part of the country was not being felt in the capital. It was. It was on everyone's minds at all times. The once-weekly air strikes were on everyone's minds. The power outages were talked about, workarounds were settled upon. The chief guide at the National Museum of the History of Ukraine told us that when the electricity goes out, and she can't take the train in to work, she walks six kilometers through the snow and slush to get to the museum, which is empty. In the days after Russia invaded Ukraine, they emptied the museum of most of its eight hundred thousand objects. We visited the museum, and were interrupted by an air raid, during which over seventymissiles were sent to Ukraine from Belarus. More on that later. We met a philosophy professor who once a month buys and drives used cars to soldiers who need them to get to the front. We met a young couple who fosters dogs abandoned during the fighting. We met a groundskeeper at an elementary school who gave us a tour—will give anyone a tour—of the basement where he, his family, and three hundred and fifty others from their town were held hostage by Russian soldiers for twenty-eight days, and where twelve people died. We saw the mass grave behind St. Andrew's Church in Bucha, where Ukrainians had to bury their own—one hundred and sixteen civilians killed in the first days of the invasion. We saw the Banksy on a crumbling, fire-licked building in Borodyanka. In a library in Chernihiv, we saw the hole where a Russian missile had torn through the roof, but on the first floor we saw a group of women who were taking Ukrainian lessons. Until then they'd spoken only Russian.
Everywhere we went we saw a rebirth of Ukrainian identity. In 2014 and in the buildup to this invasion, the Russians had sought to diminish the distinctiveness of Ukrainian culture and identity, claiming that the country had always been part of Russia, and would be again—that 40 percent of the country already spoke Russian as their first language. They sought to water down, to swallow Ukrainian identity, to absorb it into Russia as they had again and again before. But Putin's invasion has produced the opposite effect: Every Ukrainian we met was aglow with national pride, and to the last person we spoke to, they loathed all of Russia with molten fury. The librarians and literature students would no longer read Dostoyevsky or Pushkin—both of whom were considered propagandists for Russian imperialism. We went to a classical music showcase one snowy night, packed with well-dressed couples and families and a few soldiers, too, and though the musicians played Mendelssohn and Mozart and Bach, Tchaikovsky was notably absent. Anything Russian had been banished. The Russians past and present were orcs, animals, complicit, and soon would be defeated. Everyone expected victory over the Russians—we never heard the least bit of doubt, ever, from anyone—but what would happen afterward was considered the hard part. How to relate to their aggressors, and to a nation of silent Russians who enabled the invasion, after the war?
"I just can't imagine it," said Anna Shcherbiak, a PhD student. She and her boyfriend, Andrii Fedotov, had brought us to a bustling restaurant called Musafir, opened by Crimean refugees who fled the fighting in 2014.
"In 2014," Anna said, "there were Russian liberals opposed to the war. Now there are no Russians you can connect with. Why don't these people feel guilt? I want them to recognize this. I want them to say, I'm guilty."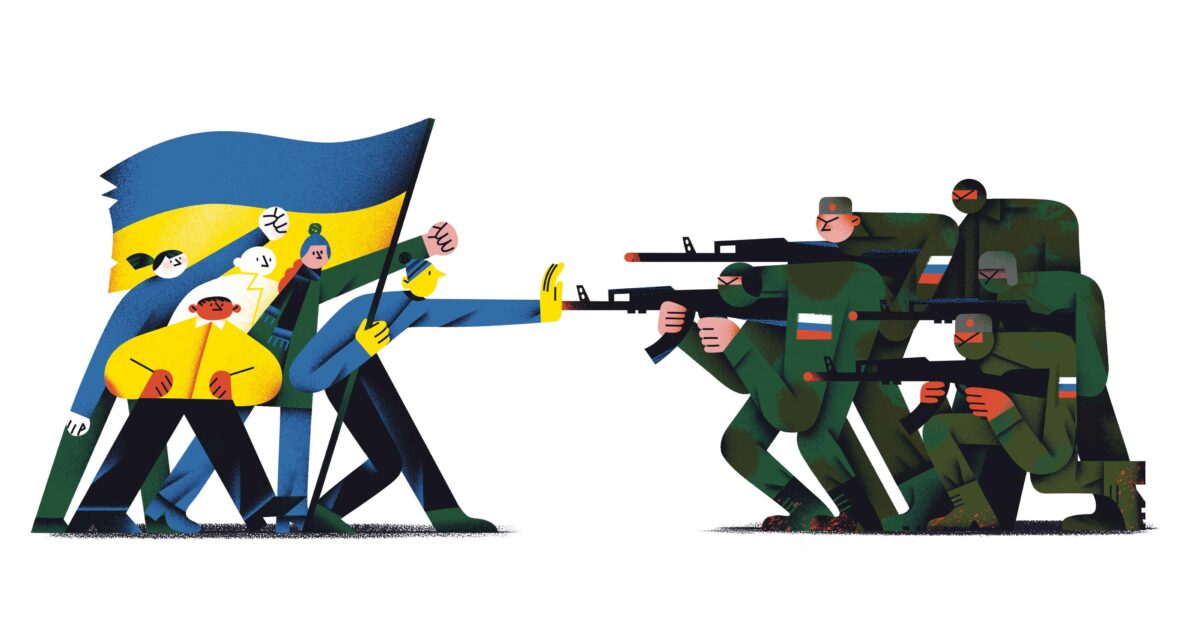 It is not hard to get into Ukraine. Fly to Kraków or Warsaw and get on the road. Or take a train. The border takes a while—about two hours—then you're in. There are thousands of vehicles, and dozens of trains, going in and out of the country every day. The drive from Kraków to Lviv takes four hours. Kyiv is another seven. The hotel where we stayed in Kyiv, the Radisson Blu, had power continuously and was filled with Americans and Europeans. There were evangelicals from Tennessee and Alabama, there were Catholic priests from England and Scotland, there were German mercenaries, there was a gathering of the Danish Refugee Council. Each morning, some mix of all these groups would populate the dining room for the breakfast buffet, which was just short of extravagant. There were vats of sausages and bacon. There were pancakes and waffles and seasoned potatoes cut into small wedges. There were eggs any way you'd like. There were croissants, pastries, a half dozen kinds of cereal. There were a dozen cheeses and yogurts. There were oranges, bananas, persimmons, pineapples, cucumbers, and peppers. All in Ukraine in December.
This is not to diminish the deprivation felt at the front. This is only to demonstrate Ukrainian resilience. Russian aggression will not prevent them from having their pineapples in December. It will not prevent them from filling their malls with new electronics. One day in Bucha, which was hit hard in the war's early days, we visited a mall that had every new television, every new phone, and was brightly lit and full of shoppers. Next door was the ruin of an outdoor market that Russian rockets had reduced to twisted metal. That and so many ruins had the look of World War II—the snow-covered rubble, the fire-stained concrete skeletons of homes and factories and markets. But then so often, next door, there were brand-new malls with their twenty-first-century goods, there were karaoke bars and pole-dancing exercise studios. There was Uber. A stone's throw from neighborhoods flattened by Russian bombs, developers were building new condominiums. North of Kyiv, construction cranes were everywhere. If Ukraine is not the most resilient and defiant nation currently on Earth, please show me what is.
They are getting on with things.
The soldiers take trains east, or drive used cars to the front, and the rest of the population gets on with things. School must be taught. Trucks must transport goods. Cars parked in the wrong spot must be towed.
One afternoon we watched a tow truck appear in front of our hotel and, in less than three minutes, remove a car that was parked too close to an alleyway. It was the thousandth example of everyday life going on as before, and I found it so startling that I filmed it. The two men in the tow truck saw me filming, and they seemed to recognize how odd the whole thing seemed—towing away a car in the middle of a war—so when they finished, in under three minutes—it really was extraordinary—they waved to me and gave a thumbs-up as they sped off.
The two men in the tow truck looked to be in their early thirties, and seeing young men towing a car, and not fighting Russians, was something we had gotten used to. The streets of Lviv and Kyiv are full of young men and women of fighting age who are not fighting. There are healthy young people making coffee at restaurants. There are healthy young men and women studying at the university and working at McDonald's. There are young men standing guard at high-end apartment buildings and gift shops. When the war began, Ukraine instituted a ban on any men between ages eighteen and sixty leaving the country until the war was over, and everyone in our delegation assumed this meant the cities would be largely devoid of men in this age range. But they were everywhere.
Early in our visit, I'd tried, as delicately as possible, to ask some of the young men we met how they had managed to avoid military service thus far. The answers varied. One tall, athletic man said he had not passed the physical. Another said he thought he was signed up for the draft, but hadn't heard anything from his government. It was hard to untangle the rules of who had to serve and when, but here is a very simplified version: There is a standing army of professional soldiers, just as most countries maintain. A huge portion of these soldiers were trained by American advisers after the 2014 invasion—partly in anticipation of another invasion. In addition, there are those who signed up early in the war and by now are well-trained and seasoned soldiers. Then there are new volunteers.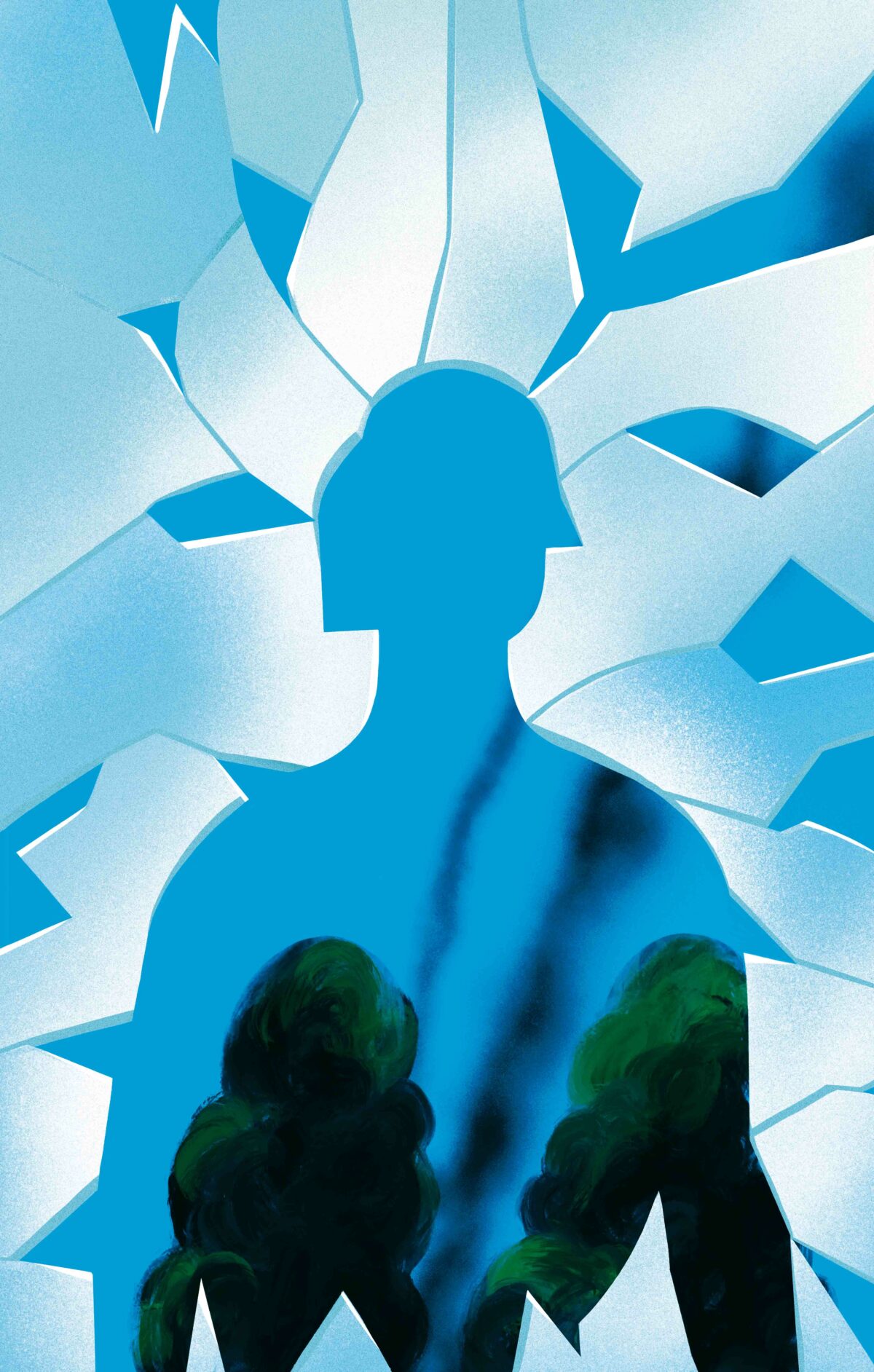 But there is not yet a full mobilization. There is not yet the kind of draft that sends all young men to war. So there are thousands of young people all over the streets of the cities and suburbs, going about their business—working, studying, bartending. We went to the Kyiv Zoo one day—it's open! In the dead of winter!—and though its inhabitants live a profoundly sad existence, next to the zoo is a university,
and classes were in full swing, with hundreds of laughing young students trundling by on the icy sidewalks. That there could be hundreds of thousands of young men and women who are able to fight but are not fighting during this existential war is one of the many complexities that many generally informed people might not know.
I also did not know about the star restaurateur named Ievgen Klopotenko, the one I mentioned earlier.
Our group had dinner one night at his restaurant, called Rokiv 100, a three-story establishment, Scandinavian in design, warm and clean, and full to the brim with stylish diners on a Tuesday night in December. As we sat down, one of our Ukrainian hosts told us that the chef was very well known and well regarded. He'd been trained at Le Cordon Bleu, he'd written books, was often on TV, had fed refugees in Lviv when the war was new. We ate fish soup and potato mousse and galyshki, all of it excellent, the menu a mix of traditional and playful—even including a dish called "fried honey bees." Late in the evening, we ordered the bees, and they arrived in a little black heap of bodies and wings, with a length of honeycomb making a sort of roof over the pile of dead insects. Some in our party ate the bees, which had no notable taste, and the rest of us had more sparkling wine from Odesa, and then the chef himself appeared.
He was young, thirty-five, with a tangle of curly reddish hair, shaved tight on the sides. He wore a yellow sweater and capri pants and bright red sneakers. When he appeared from the kitchen, the patrons of the restaurant all looked up, briefly awed. Then he held court at our table, telling us the many ways in which Russians had tried to appropriate Ukrainian cuisine. Borscht is a Ukrainian dish, he said, and the Russians had claimed it. For years Klopotenko had been trying to convince the world that borscht was Ukrainian; he'd even submitted an application to UNESCO to have it so recognized. More than simply claiming many Ukrainian dishes, the Russians, he said, had waged a centuries-long war on spices. In particular, oregano.
He pronounced it "or-eh-GHAN-o," and spoke for ten minutes, in skilled but tumbling English, about the Russians' war on oregano. It was highly entertaining, and very unexpected, to be hearing about a war on an Italian spice in the middle of this grim Ukrainian winter.
Next to me was the writer and philosopher Volodymyr Yermolenko, who in a few days' time was heading toward the front, driving a used Mitsubishi he had bought for a Ukrainian soldier—a former student of his. She'd been studying literature last year, at the Taras Shevchenko National University of Kyiv. Then she joined the army, and needed a way to get to the fighting.
"You can come if you'd like," he said.
I didn't understand why he was bringing a car to a soldier. Weren't there troop transport vehicles?
"No, no," he explained. In this war, Ukrainian soldiers are not brought to the front via military trucks or planes. No, for the most part, they drive themselves to the front. And in many cases, they need vehicles. So people like Volodymyr, too old to fight, have been donating used cars to these soldiers, so the soldiers can then drive them to Bakhmut and the Donbas. At the front, these cars are usually abandoned.
The drive to Kherson would take Volodymyr about ten hours. A friend of his would be following him, and would drive him back. They did this trip once a month. They'd donated eight cars already.
I wanted to go. I took his number.
We all left Klopotenko's restaurant and met the cold, snowy Kyiv night. Some of the buildings were dark. Some were brightly lit. In the city center, it was hard to figure out who had electricity, when, and why. Every hotel and major restaurant seemed unaffected by the blackouts. Meanwhile, all the civilians we met dealt with long blackouts—four hours, eight hours. Often they answered emails late, apologizing, citing that they'd been without power since the day before. Not that anyone complained. No one complained. There were always people, millions, who had it worse. We parted ways with everyone who'd come to dinner—students and writers, activists and philosophers.
The next day, many of them were going to Kharkiv, an all-day drive, to attend the funeral of Volodymyr Vakulenko, a politically active writer of prose and books for children, who had joined the Ukrainian struggle, and had been kidnapped from his home and was missing for months. Finally, when the Russians retreated from Kharkiv, his body was found. Until it was identified by his family, it was known as Body 319. He'd been shot twice and left in the street.
The next afternoon, Peter Godwin and I were back in that neighborhood. A few blocks from Klopotenko's restaurant is the National Museum of the History of Ukraine, a stately gray building, Roman in design, and now surrounded by sandbags. To get warm—it was ten degrees and felt colder than that—we went in. The lobby had been transformed into an exhibit of recent artifacts of the Russian invasion—street signs riddled with bullet holes, a child's pillow pierced by a bullet. In the light-filled stairway just off the main floor, pieces of shrapnel and Russian bombs had been hung from the ceiling, making a grim installation of rusted steel.
A guide approached. Her name was Svitlana. She wore skinny jeans and an orange faux-fur vest. We asked her if we could see the rest of the museum. She told us that much of the museum was empty, that the most precious of its eight hundred thousand artifacts were hidden, to avoid being looted by Russian forces. We asked if we could see the museum anyway. She called the museum's press secretary, and, after a few minutes of intense conversation, she got permission to give us a tour.
"But the cashier isn't here yet," Svitlana said. She asked us to wait, so we sat down on a bench in the lobby, next to a couple of Ukrainian women who looked to be in their seventies. They were bundled up in heavy down coats and rubber boots.
Soon Svitlana approached again.
"I'm sorry," she said. "There is an air raid. We must go downstairs."
These days in Kyiv, news of air raids is more commonly communicated by smartphones than by sirens. We followed her to the basement.
Downstairs, a group of older docents were huddled together in a carpeted room used for children's education. We sat with Svitlana in the adjoining hallway, brightly lit and covered in gray tile. The hallway was unheated, so we kept our coats on. We asked how long the air raids usually lasted.
"Sometimes an hour, sometimes two," she said.
Her full name was Svitlana Slastennikova. She was in her thirties, with blond hair, a heart-shaped face, and an earnest disposition. Her fingernails were painted red and matched her phone case. Hunched forward on a bench, she opened an app that allowed her to track Russian missiles in the air.
She clicked her tongue. "Oh, it's bad," she said.
The technology is now so advanced that Ukrainian citizens can know, more or less in real time, where the Russian missiles are coming from and generally where they're going. In this case, Russia had just launched some seventy missiles, headed to sites all over Ukraine. The assumption was that they were directed at power substations, meant to cripple the country's electrical grid. Vladimir Putin's recent strategy has been to knock out the power in the depth of winter in hopes of breaking the spirits of everyday Ukrainians.
So far this strategy has not worked.
"My friends and I, we have jokes about it," she said. "At home I organize all my housework during the hours I have power." She and her husband, a doctor who runs a private medical clinic, recently bought an inverter, which stores power when the grid is functioning. "I'm ready to be without electricity, but not a part of the Russian world, you know?"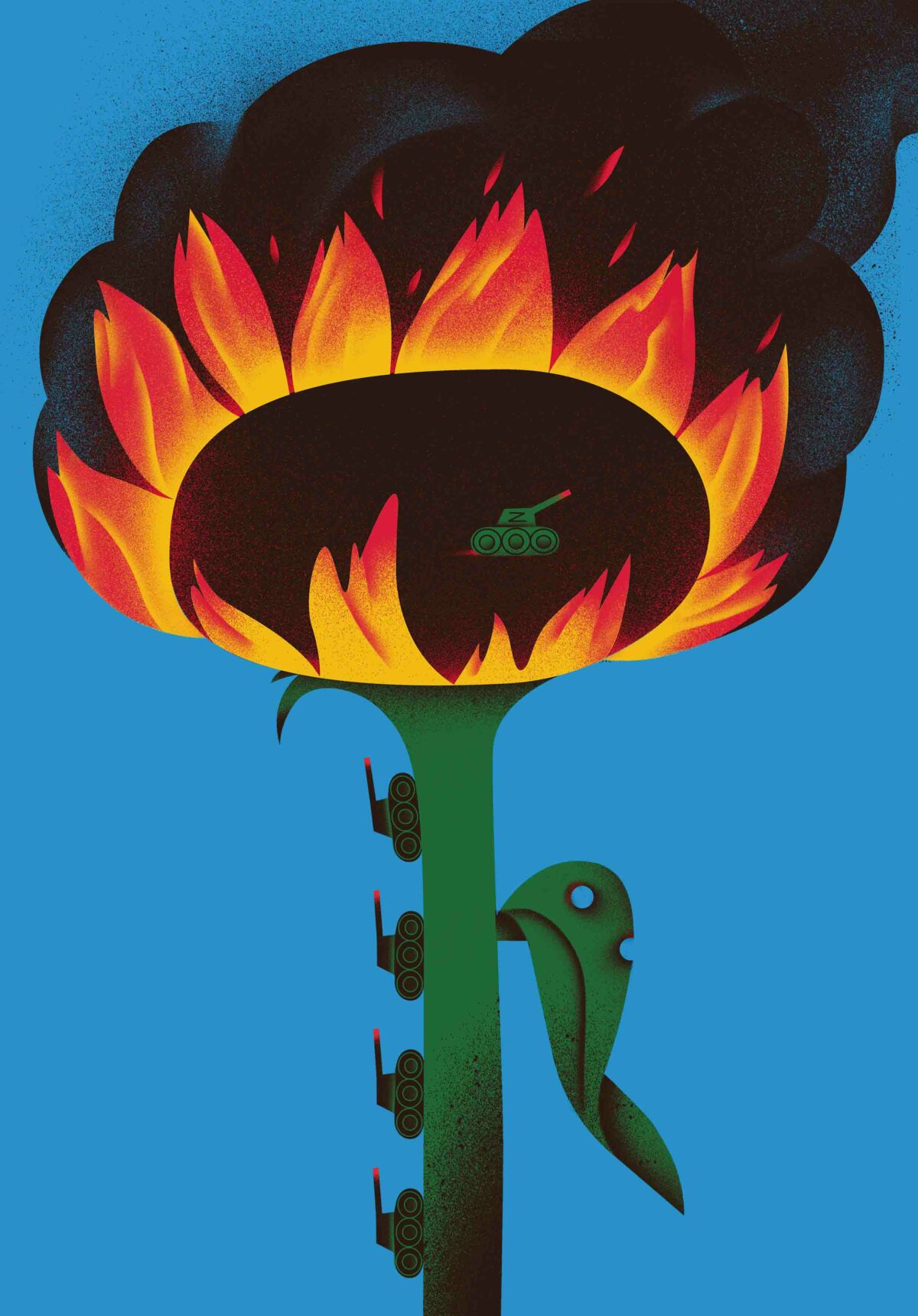 Svitlana was born in 1986, "the year of Chernobyl," she said. She's worked at the museum for thirteen years, but her work has grown more urgent since 2014. When the Russians invaded the Donbas and annexed Crimea, Ukrainians wanted to learn more about their history as a people, independent of Russia. Because she finds so many Ukrainians, and foreign visitors, confused about the distinct histories of Ukraine and Russia, Svitlana wrote, and is now translating into English, a lecture titled "Ukrainians vs. Russians. Why Are We Not 'Fraternal' Nations?" It details the distinct history of Ukraine, going back centuries. "We're not the same people," she says. "Ethnically, we're totally different from Russians."
For years, Svitlana had been giving tours inside the museum, but immediately after the February 2022 invasion, the staff closed the building. Before the war, the museum employed about three hundred, but around 20 percent of the staff left when the war started and have not returned. Now, on any given day, between fifty and seventy curators, guides, archivists, and other staff members are on site, she says, and they have to fulfill their educational mission without many of the
museum's holdings.
"At the moment," Svitlana says, "we have lectures, lectures, lectures."
Meanwhile, Putin has made every effort to erase Ukrainian identity. His troops have ransacked museums and churches, bombed schools and cultural centers, and have fed Russian-speaking Ukrainians in occupied regions a constant diet of propaganda asserting that Ukrainians are Russians, and always have been. Before the 2022 invasion, even Svitlana's own mother had believed some of the messaging coming from Moscow.
"When the Russians first invaded in February," Svitlana said, "my mother told me, 'In one month we will be part of Russia.' I said to her, 'You are insane.'"
This is part of the generational divide in Ukraine. Those who grew up in Soviet times are often more sanguine about Russian control, while those who grew up after Ukraine's independence, in 1991, often look to Europe, not Moscow, as their past and future. The fierce resistance put up by Ukrainian troops, and the atrocities committed by Russian soldiers, have shocked many older Ukrainians.
"My mother, when she saw how wild these Russians are," Svitlana said, "she changed her mind. These crimes being committed in the twenty-first century? Now she doesn't want to be part of Russia." Her mother, like millions of Ukrainians, is fluent in both Russian and Ukrainian. But many people now choose to speak Ukrainian, even if they grew up speaking Russian.
Svitlana's phone pinged again.
"Oh no. This is real," she said. Her app had more detail now. The missiles appeared to be heading toward targets all over the country: west toward Lviv, Ternopil, and Khmelnytskyi, south toward Kryvyi Rih, and north toward Kyiv.
Peter and I were getting texts now from friends in Ukraine, telling us to get somewhere safe. In recent weeks, the danger was most acute near any of the power substations. Residents could be hit either by the missile itself or, more likely, by a fragment of that missile after the Ukrainian military had shot it from the sky.
But the members of the museum staff, as we'd been talking to Svitlana in the basement, were moving up and down the stairs, seemingly unworried about the missiles in the air. A cleaning woman had been busy with the basement's two bathrooms; she hadn't paused once since the raid began.
We heard the scuffling of footsteps on the stairs. A group of people trundled down, two adults and a teenager in a sweatshirt bearing the face of Johnny Depp. They'd been outside and had come into the museum for shelter. They went into the carpeted classroom and sat next to a whiteboard featuring a handwritten time line of Ukraine's history.
Online, we could see images of families massing in the subways of Kyiv. Built during Soviet times in anticipation of nuclear war, the subway stations are among the deepest in the world—some as far as three hundred feet below street level. I asked if Svitlana needed to check in with her own husband and kids. No, she said. She had already gotten word on her phone that they were sheltering in place. Her kids' school had a basement they used during raids.
"They started practicing before the invasion began," she said. "I didn't approve of this. I thought it was scary to the kids, to have them doing these drills." Like so many Ukrainians, Svitlana didn't think the invasion would actually happen—even when a hundred thousand Russian troops were amassing at the border.
Her son is twelve and her daughter is five, and by now they're used to the drills. Her children play games while they shelter in place. At the beginning of the invasion, Svitlana had taken her kids west for a couple of months, but now that the fighting has moved to the eastern front, she is content to stay in Kyiv. With every Ukrainian victory, more residents of the city have returned from elsewhere in Europe and the western part of the country. "I can't imagine living in Poland. Living in some gymnasium," she said. Her husband, like all men between eighteen and sixty, is barred from leaving the country anyway.
Svitlana checked her phone again.
"Explosions reported in Vinnytsia," she said. This was southwest of Kyiv. She put her phone down. She scoffed at the Russian strategy. Using Telegram, she'd been able to watch Russian political talk shows—those surreal programs where pundits expound on the war in a TV studio resembling the set of Weakest Link.
"They were saying they have to continue to hit these electrical targets, because they want people to rise up and overthrow the government. To get rid of Zelensky. They want it to be like Maidan," she said, referring to the 2013–14 Ukrainian movement that pushed for closer relations with the EU and resulted in the fall of the country's government. "It is insane. They do not understand us."
The teenager in the Johnny Depp sweatshirt and her parents emerged, shrugging into their coats. They made their way up the stairs and left the building. The air raid was still on, but, these days, Ukrainians are willing to sit still for only so long. Peter and I thanked Svitlana and left at about two o'clock, an hour into the raid. The day was clear and cold, and eventually the sidewalks filled up with pedestrians. Stores and bars were open, and there was virtually no sign that Kyiv was under attack. Which it was.
Later we found out that over sixty of the more than seventy rockets had been shot down by Ukrainian forces. The ten or so missiles that found their targets shut off electricity in at least six regions: Zhytomyr, Sumy, Zaporizhzhia, Dnipro, Cherkasy, and Kharkiv. This was the sixth large-scale attack on infrastructure since October 10, and would not be the last. Four civilians were reportedly killed, bringing the total dead to well over sixty-five hundred, including more than four hundred children.
As evening came on, we entered the closest subway station and stepped onto the escalator. We moved at an alarming speed, through a concrete tunnel, descending into the bowels of the earth while triumphant signs greeted us left and right—children's drawings of Ukrainian soldiers. When we finally reached the train platform, we expected it to be empty, or full of families sheltering in place, but instead we saw a few dozen commuters waiting for trains, in office clothing, heading home from work.
Then, when the first train arrived, a thousand Ukrainians poured from it like water from a broken dam. They flowed around us so quickly we had to throw our backs against the station's wide concrete columns. The people of Kyiv were entirely uncowed.
We returned to the street level to find the city's lights on and bright. A café next to the train station was blasting "Santa Claus Is Coming to Town" from a tinny speaker. A nearby storefront featured, in foot-high letters, the slogan bravery is ukrainian brand. We checked the time: we had twenty minutes to get across town. Our new Ukrainian friends, Anna and Andrii, had invited us to dinner at a celebrated Crimean Tatar restaurant, opened by refugees after the 2014 annexation. When the air raid began, we had wondered if our dinner would be canceled. But no. When we arrived, the place was full.
We joined Anna and Andrii in the last empty seats.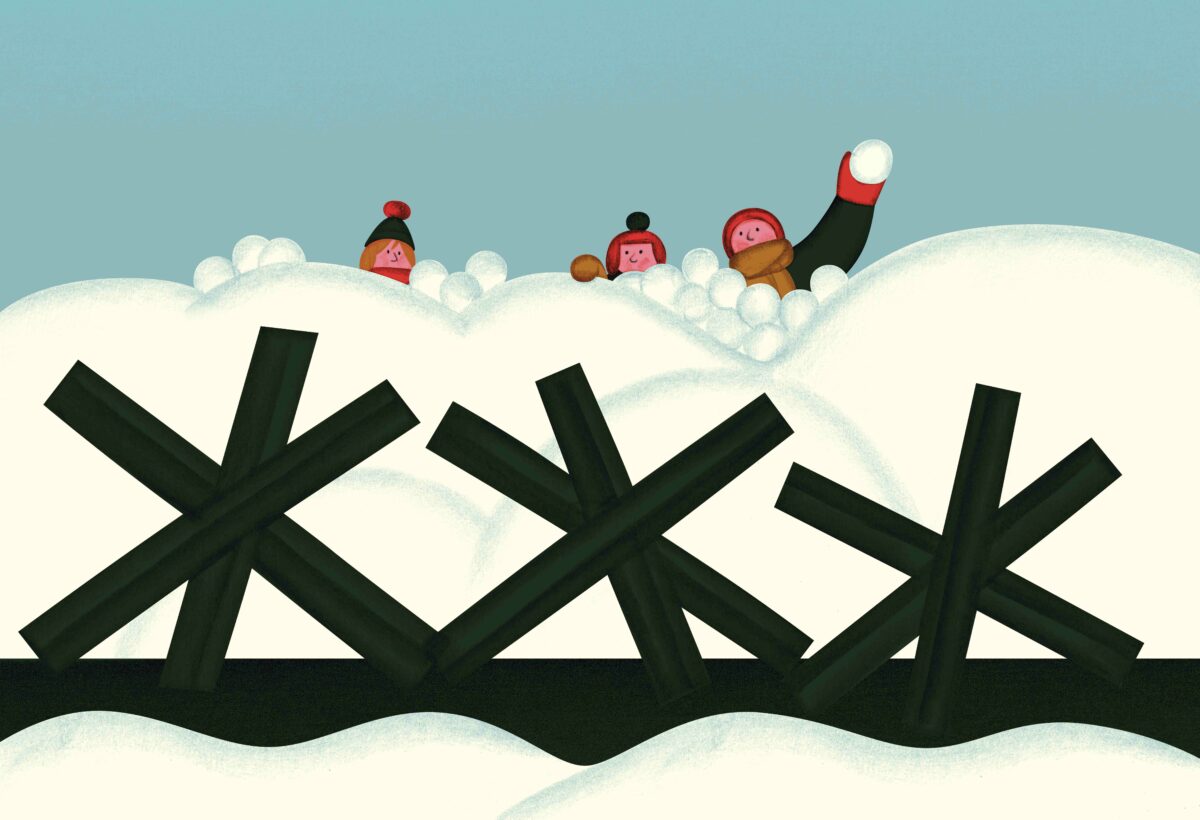 Peter and I had met Anna Shcherbiak a few days before. She had promised to show us this restaurant, Musafir, opened by Crimean refugees in 2015. She is twenty-
seven, a PhD student with dark hair and bright eyes. With her was her boyfriend, Andrii Fedotov, a curly-haired thirty-two-year-old with liquid eyes and Invisalign braces on his teeth. As the waitress, in traditional Tatar dress, handed us menus and poured water and wine, we talked first about the air raid, and how odd it was to be eating out a few hours later.
"It is surreal," Anna said. "We were saying this morning, we woke up and there's no electricity, and we said, 'It's fine.' You can't let it get to you. If it does, it will break you. The life we live right now—for us to continue doing what we're doing—is already an act of defiance."
Anna went to college outside Chicago and is now getting a doctorate in business administration at the University of Vienna. Andrii just finished a master's in social entrepreneurship in Bulgaria—with all the classes taught in French. Andrii speaks French and German, in addition to English, Ukrainian, and Russian. Anna speaks Ukrainian, Russian, Mandarin, English, and Spanish. She can talk in great detail about the tonal differences between Mandarin and Cantonese—she lived in Hong Kong for a time—and with great humor about learning Spanish because she fell in love with a Colombian. Her English is almost perfect, with an endearing Midwestern tint.
They have lived all over the world, and could live anywhere now. But they're staying in Kyiv until the war is over. Anna and Andrii exemplify a specific part of the Ukrainian population—well-educated and worldly young people who, like Svitlana, have never lived under Russian rule and will never accept it. At the same time, their family relationships with Russia are complicated. Extremely so.
Anna's family is ethnically Ukrainian, going back as many generations as Anna can track, but the men in her family often lived in Russia for work, or were stationed there as members of the military. So though their roots are in Ukraine, they have been moving between Ukraine and Russia for generations. Anna's grandmother, for example, was born in Russia, but moved to Ukraine after the 1991 independence. She still speaks Russian at home, even though her children and grandchildren speak Ukrainian. "She considers herself Russian by ethnicity," Anna said, "which, judging by our family history, is not true. But she would never move to Russia. She considers Ukraine her home.
"I know it's confusing," Anna said.
Her grandmother now lives alone in Ukraine, and consumes Russian propaganda online.
"She watches YouTube," Anna said. The algorithms lead her down rabbit holes of pro-Russian narratives. "She asks, 'Why is Ukraine resisting? Why cause all this trouble? Can't Zelensky negotiate something?'"
Her son, though—Anna's father—was born in Ukraine, and considers himself Ukrainian. As does Anna.
She and Andrii are uncompromising about the Russians who have done nothing to stop the invasion—who, through their inaction and silence, implicitly support it. She has a Russian friend who studies at MIT, who protested the war from the United States and feels that's all he can do.
"It's not enough," Anna said, shaking her head vigorously. "I'm risking my life to be here. I say, 'Not enough.' Don't say it's Putin, don't say it's the current system. Recognize that it's the history—that you have enjoyed the liberties of imperialism."
Much like Svitlana, Anna and Andrii are of a generation that was born into a revived Ukrainian identity. In 1997, Andrii was in the first class of elementary school students to get their primary instruction not in Russian but in Ukrainian.
His parents, raised in Odesa under Soviet rule, felt liberated when the Berlin Wall fell, and began traveling extensively. They lived for a time in India, where his father did business and where both parents became Buddhists. Andrii was raised in Odesa with Ukrainian spoken at home, Russian spoken on the streets and playgrounds, and both Ukrainian and English in school. Buddhism, meanwhile, didn't fit his worldview.
"Buddhism is about being outside the situation," he said, "and I like to be in the problem." With an eye toward building Ukraine's civil society, he got a master's in social entrepreneurship in Bulgaria—with all the instruction in French. His fellow students were from Canada, Benin, Senegal, Côte d'Ivoire, and Haiti. "We learned just as much from each other as from the coursework," he said.
Now Andrii works for GIZ, a German agency that has sought to help small towns throughout Ukraine evolve from the Soviet top-down model of government to more local control—thus creating a civil society resistant to colonization. When the invasion began in 2022, their work was paused. The local mayors and officeholders they supported over the years were quickly targeted by the Russians. Some were jailed, some killed. Most fled west.
Our entrées arrived. The food of Tatar Crimea has echoes of the Mediterranean and the Balkans—kebabs, olives, eggplant, yogurt, hummus. I ordered the Genghis Khan plate, a four-pound heap of lamb and beef and chicken—entirely too much food for one person. I asked if they could take any home, but Anna and Andrii are vegetarians. Anna is, anyway. Andrii is trying.
Maybe they have a dog? I asked.
Not at the moment, they said. But since the war began, they've fostered a series of dogs brought back from the front.
"There's a joke here," Anna said, "that you are not a journalist in Ukraine if you have not been asked to take a dog back from the front line." Soldiers find the dogs on the streets or in abandoned houses—sometimes
still in cages—and they try to pair them with journalists heading back to Kyiv.
The restaurant began to empty. It was close to 9:00 p.m., and Kyiv's wartime curfew is 11:00. The staff would have to clean up, close up, and get home while the trains were still running. As we finished dinner, we talked about what will happen after the war is over—if there can ever be civil relations between the two countries.
Anna shook her head.
"I just can't imagine it. Before, when I went abroad and heard Russian being spoken, I would think, OK, we have a language in common. I don't know where you're from—maybe Kazakhstan, maybe Ukraine—but it's already a connection point. Now it's not a connection point. Now when people say, 'Do you speak Russian?,' I say no."
The atrocities are too fresh.
There is a small town two hours from Kyiv called Yahidne. Before the invasion, about four hundred people lived there. It is located just off the main highway that connects Kyiv to towns in the north, and eventually to Belarus. This convenient location made it a Russian target.
On March 3, 2022, Russian soldiers surrounded the town from all sides. They kicked down doors and brought the residents to the local school, where they were held hostage. Three hundred and fifty men, women, and children were huddled into the school's basement and were forced to stay there, without heat or electricity, for the next twenty-eight days.
I should say that this story has been told. Journalists have been to this town. On the ride to Yahidne, someone mentioned this, that the story of Yahidne has been "picked over." To some extent this is true. AP and Reuters have written stories about what happened there. Meanwhile, the victims of certain war crimes are not satisfied with a handful of accounts. They are willing to show visitors what happened, in hopes that the story will be known widely and that this might ensure that the perpetrators are held accountable. So whether or not you have heard this story before, I'd like to tell it again.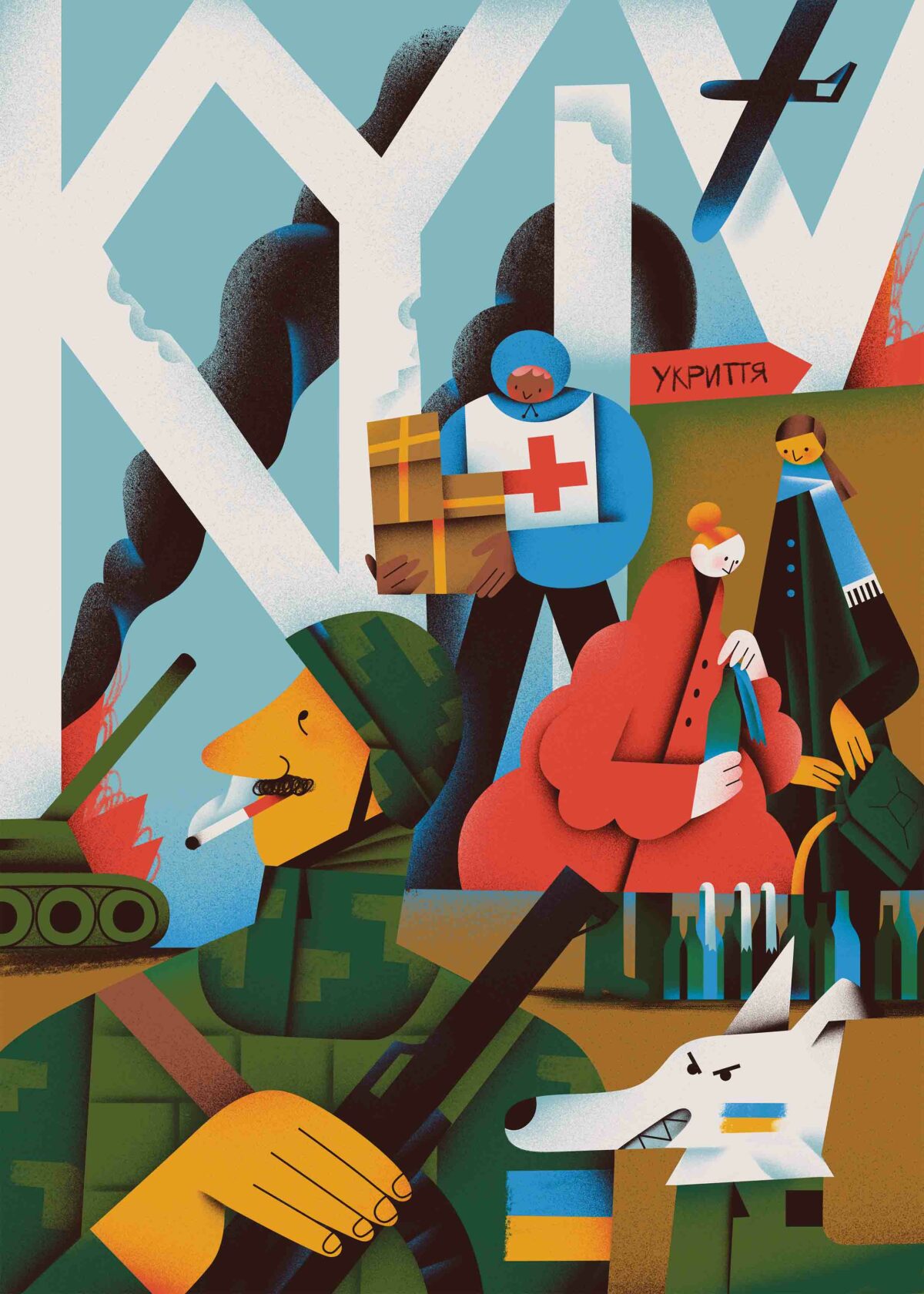 On a frozen morning, a man named Ivan Polguy met us outside the local elementary school. Before the war, he was the groundskeeper there. Ivan is a sturdy man of sixty-two, with a pink face, blue eyes, and a walrus mustache. He wore jeans, work boots, and a leather jacket with sheepskin lining. It was ten degrees outside and his breath appeared in gray gusts. His black wool hat was pulled tight to his forehead, but he wore no gloves.
The Russian invasion began on February 24, but Yahidne could not have expected to be part of the conflict. Its residents assumed that the Russian army would continue past their town, on their way to Kyiv. But on the morning of March 3, the town was rattled by artillery fire and tanks.
"The sky and earth was on fire," Ivan said. "Then the soldiers came from the woods." With his bare hand, he pointed to the woods north of the town—tall pines dusted this day in snow.
The groundskeeper's phone rang. It was a gentle, jangly tone. He turned away to answer it. A cat, black with white paws, raced past, cutting under a play structure with one rusted swing. He turned back and continued.
The people in the town tried to escape, he said, but the Russian soldiers blocked all exits. Those who tried to get on the highway to leave were shot dead. The soldiers then went from house to house, disabling cars and communication devices. "They took out batteries and slashed tires," Ivan said. "They confiscated phones and computers."
Most of the Ukrainians living in Yahidne were brought to the basement of the local elementary school. The Russians painted the words children inside on the school to thwart any attacks on their position from the Ukrainian military. The residents of the town were being used as human shields.
Over the next few days, the Russians set up artillery positions, communications stations, and commandeered most of the local houses. They slept there, and looted anything of value. Yahidne was being used as a Russian base from which to stage the attack on Chernihiv, a much larger city, and a stepping stone to Kyiv.
I asked how many Russians were in the town.
"I can't even imagine the number," he said.
He brought us to the back of the school. There was a large square trench in the yard. The Russians had dug it, and soldiers had been stationed there to prevent anyone from leaving the school. Now it was filled with garbage and covered in snow.
"There were snipers on the roof too," Ivan said, pointing to the top of the school building, a long three-story structure of white brick. Most of the windows were boarded up. He led us into the basement.
The stairway was dark and crowded with tires and old clothes spilling from bent cardboard boxes. We descended to a tight hallway, which connected the basement's four rooms. Three rooms, usually used for storage, were no more than concrete caves.
"The whole basement is one hundred and ninety-five meters," he said. "That meant one half meter per person." There were about fifty children among the hostages.
There was no electricity in the basement, then or now. Our flashlights illuminated the dank chambers. Coat hangers gripped the water pipes attached to the ceiling. During the occupation, cloth had been hung from the wire to create some separation between the rooms and hallway. Those who were able to stay in the smaller rooms were considered lucky; they had slightly more space and less risk of disease.
The last room was more finished, about the size of a classroom, with linoleum floors and plastered walls. The largest group of hostages were kept here—one hundred and thirty-­six adults and thirty-nine children. Ivan was with his wife and two children. He showed us four small metal chairs facing each other, two by two. No one could move. It was too crowded. Most of the adults could not lie down—there was not enough space. "We slept standing up," he said.
We shone our flashlights around the room, catching ghostly objects in gray light. Tiny chairs and tables were strewn about. There were a few children's beds painted purple and green. The ground was covered in coloring books, wrappers, shreds of clothing, and rubble.
Before the Russians sequestered them in the basement, the hostages grabbed what they could from home and from the school's cafeteria. They had to ration and share this food for the next month.
"Sometimes the Russians would give the kids some candy or waffles and then take a picture," he said—propaganda to imply the hostages were being treated well.
The younger soldiers stayed on the first floor of the school, and were often drunk. "They would come down and tell the kids they could play with their guns. They gave them grenades and told them they could hold them, as long as they didn't pull the pin."
The basement was airless and the hostages were not allowed to leave to relieve themselves. Ivan pointed to a small closet-sized space off the main room. "We put the bucket there," he said. Once every few days, a hostage would be allowed to bring the bucket of waste up the stairs and dump it in the forest.
But the Russians did not communicate well, and the hostages dumping the bucket were often shot at by other Russian soldiers, who took them for enemy soldiers. They retreated quickly back to the basement, where the smell of so many humans and human waste in proximity was wretched. Diseases were rampant.
"Everyone was sick," he said.
The older hostages began dying. "They could have lived many years more," he said. "Down here, they went crazy first."
When someone died, the residents covered the body as best they could, trying to keep the corpses away from the children. Occasionally the hostages were given permission to bring the bodies to the forest for burial. Men would carry each body up the stairs and put it in a wheelbarrow. They would stack two or three bodies and then wheel the bodies into the trees, where they would dig shallow graves in the frozen ground.
Again, Russian soldiers would shoot at them if they had not been alerted that a burial had been approved.
Ivan showed us a calendar handwritten on the plaster wall. Each day that someone died, their names were recorded. Twelve in all died in the basement. Next to the calendar, children had drawn flowers, hearts, a Martian.
"The soldiers kept saying they would move us soon," he said. "Always the next day, then the next day."
Ironically, it was the Russians' lack of success taking Kyiv that delayed the hostages' release. The longer it took for the Russians to advance south, the longer the town was used as a staging ground.
"The soldiers would show us propaganda that said they were winning," he said. "They said that Zelensky had capitulated, that they had taken Kyiv."
Finally, the hostages heard the earth rattle above. Then it was quiet again. They ventured from the basement and found that the Russians had left.
We followed Ivan up the stairs and into the frozen yard. His eyes were red and wet. We talked about accountability. He was optimistic that the perpetrators, at least some of them, will be named and found.
For the first time, he mentioned that the soldiers who came to Yahidne, who killed civilians and occupied their homes and kept three hundred and fifty people hostage, were Tuvinians.
How did he know? we asked.
"They spoke Tuvinian!" he said, and there was a burst of laughter all around. We needed that release.
Then, as we stood outside in the frozen afternoon, the horror became clear. The Tuvinians are an ethnic minority of about two hundred thousand people from an area bordering Mongolia. Their history and appearance are closely linked to Mongolia, but for a thousand years Tuva has been subsumed by a succession of larger powers—Turkey, then China, and finally Russia. The first major investment Russia made in Tuva, in the 1960s and 1970s, was in building a series of asbestos plants in the country.
In the 1990s, Tuva tried to secede from Russia, and since then has maintained a tense semiautonomous relationship with Moscow, one complicated by the fact that Sergei Shoigu, the Russian defense minister, is a Tuvinian. In fact, entering the military is seen as one of the best ways up and out of poverty for the people of Tuva, where the average annual income is about seven thousand dollars—among the lowest of all Russian oblasts. The Tuvinians are considered hardy fighters, and are often sent on riskier missions where Russians from Moscow or Saint Petersburg would not be sent.
So they were sent to Yahidne.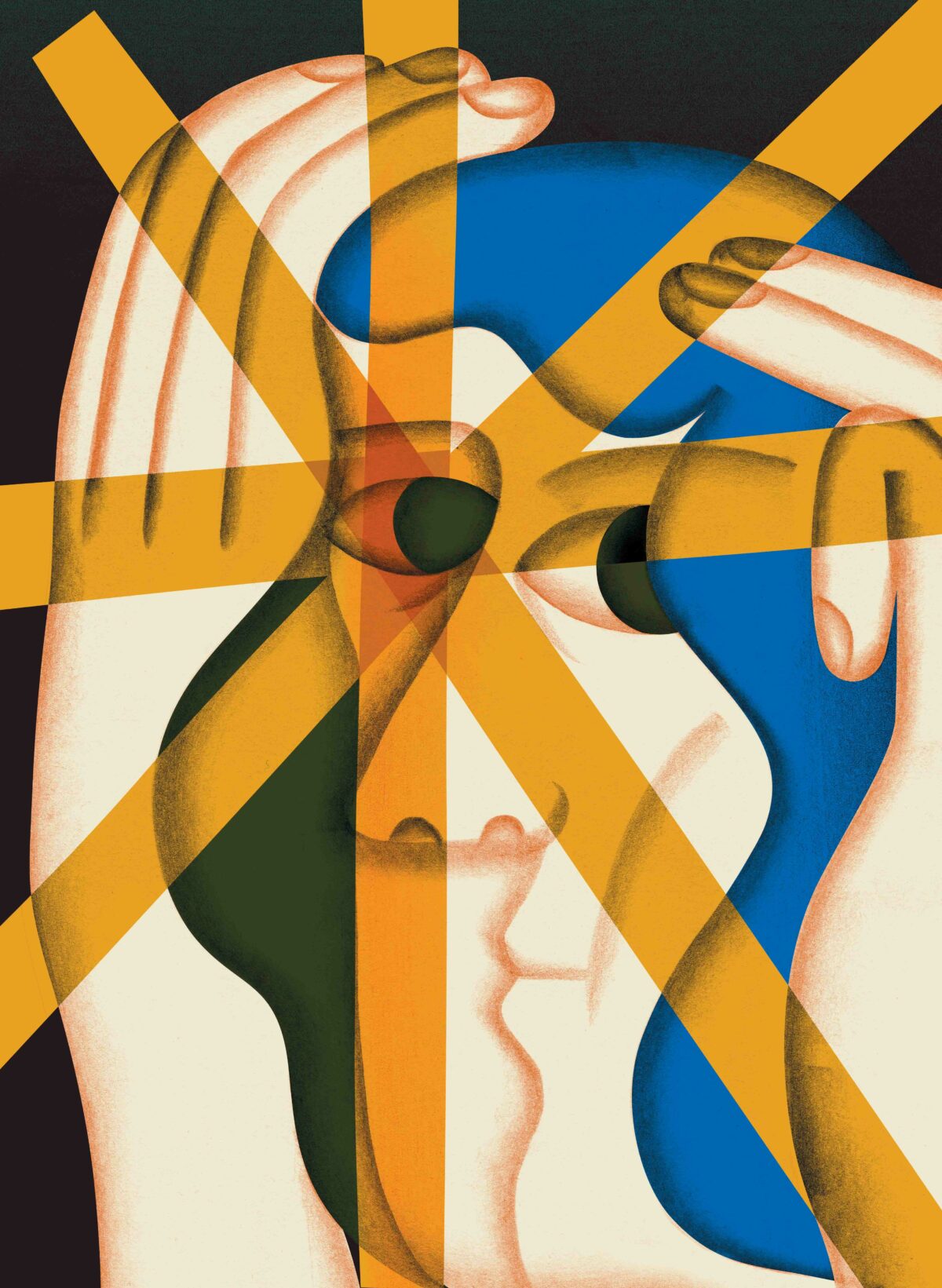 Most were young. They had no doubt been told the conquering of Ukraine would be a matter of days. So they sequestered Yahidne's population in a school basement, and they looted the town. When the invasion stalled in Chernihiv, the Tuvinian soldiers stationed at Yahidne were in a quandary. They needed the civilians to serve as human shields, and they were most logically kept in one place—in the school. But they were not equipped to feed and care for three hundred and fifty civilian hostages, especially for a far longer period than expected.
Every death in Yahidne is the fault of one man, and that is Vladimir Putin. He put the Tuvinian troops in Ukraine. He pitted the people of one current Russian colony, Tuva, against those of a former Russian colony, Ukraine. In the fog of war, innocent people were killed by ignorant young men, and died due to the neglect of young men. And eventually these young men will be prosecuted for their cruelties and oversights, in a war they did not plan. They carried out the invasion, likely thinking that their unit's success in Ukraine might mean, for them, medals, promotions, job security. They could return to Tuva as heroes.
But they accomplished nothing.
By late March, they and all the Russian invaders had been expelled from the regions around Kyiv, and it was up to the locals to clean up and count the dead.
Mykhailyna Skoryk-Shkarivska, the deputy mayor of Bucha, has been counting.
"To talk about war crimes," she said, "you at least need to know the correct names and dates and reasons of death. Then you can investigate."
Mykhailyna is an efficient, straightforward woman in her early forties. She has agreed to give us a tour of the sites of Russian atrocities in Bucha, a city about twenty miles northwest of Kyiv, with a pre-war population of fifty-three thousand. She has short straw-colored hair, and on this wickedly cold December day, she wore a black Calvin Klein parka, sky blue jeans, and white sneakers. Sometimes she rode with us in a van. Sometimes she followed in her frost-covered compact car.
In the attempted invasion of Kyiv, she said, thirteen hundred civilians were killed, with four hundred and sixty of the victims in Bucha. When Russian progress was stalled in the area, the small city bore a disproportionate burden of the misery.
"They left the dead on the streets," she said. "We had heard of this kind of thing in Chechnya, but it surprised us to see it here." It's important to understand how the Ukrainians, especially older Ukrainians, expected the invasion to unfold. They did not expect atrocities. They did not expect the murder of civilians. Mykhailyna explains this dispassionately. She explains everything directly, precisely, and with no trace of emotion.
"You know, the connections between Ukrainian and Russian peoples was still strong," she said. She mentions the countless Ukrainians who have family in Russia, who worked or lived in Russia. "But after the Bucha tragedy, everything changed. We are not brothers or sisters anymore."
Four hundred and nineteen of the civilian victims were shot, tortured, or beaten to death. Thirty-nine died of natural causes, but even that classification is fluid. One victim, a thirty-four-year-old mother of three, died of a heart attack while hiding underground during a bombardment. Another woman, this one elderly, died of cardiac arrest when she saw her sister shot by Russian soldiers.
Mykhailyna's training is in information technology, not forensic science. But the job of identifying the dead has fallen to her.
"We have very difficult time identifying the people who were killed and burned," she said. "They say 'unknown person.' We don't know male, female. We know from the witness that this family was killed, but we need technology to prove this. It's one thing to know it from the people, and another thing to come before the international court and God and prove that."
Mykhailyna is from Dnipro, in Eastern Ukraine, but married and moved to Bucha with her husband, Serhii Shkarivskyi. In 2014, he was called up to fight when Russia invaded the Donbas. He was killed on August 19, 2014, by a sniper. Now she is raising their seven-year-old son, Hlib, on her own.
She ran for local office a few times before being elected to the Bucha City Council in 2022. When the invasion began, she and most local elected officials fled to Kyiv and farther west. On March 3, she brought her son to Transcarpathia, then Germany.
Local leaders who stayed were often killed.
"The mayor of Hostomel was killed," she said, "and his two assistants."
The mayor of Bucha, Anatoliy Fedoruk, was luckier.
"They showed up at his house and he said he was not the mayor, just the person who is looking after the house," Mykhailyna said. "They let him go. But they have lists of people they were looking for, and his name was on the list. And lots of deputies and active people from the region were blacklisted by the Russians. They were going from house to house and checking for those people. They would take the clothes off the men and check if there was a tattoo of a gun."
A tattoo of a gun might indicate that man was part of the military, or had been—and thus a threat to the occupying forces.
"They could execute a person just because of the tattoo. They were very well trained to control occupied territories."
Mykhailyna knew she was on a blacklist, so she fled. She returned in April, after Bucha was liberated by Ukrainian troops. Every month since then, more people return and more businesses open. During the invasion, a green corridor was created, through which civilians could flee. The Bucha region's population had been about seventy-five thousand, with fifty-three thousand in Bucha City. All but thirty-seven hundred left during the fighting. Most of the people who had stayed are elderly, and most of the people who have returned are without children. Her son's school is still about 40 percent online, with students logging in from all over Europe, where they live in exile.
"It is easier to raise children in Europe," she said. "We need to repopulate the area, but it is hard here with the rocket attacks."
It's difficult, too, to attract and keep teachers.
"Some IT, foreign language, some history teachers have not come back," she said. "The biggest problem is the teachers of music. They find good jobs in Germany, in Poland, in France. They're paid more, they're putting on concerts in Europe, so they don't need to come back."
The flip side, though, is that while some local culture has evaporated, global cultural figures have arrived.
"Before, we have to pay very big money to have top stars come to Bucha," she said. "Now they are coming on their own, giving free concerts. We have double situation. Less local artists, and that's bad, but we also have attention from first-level artists from all over the world."
Bono had been there in May.
"He was playing the harmonica in our church," she said.
She brought us to a powder-blue building with white trim. Set off a busy street, the building resembled a country church, with white columns and expansive windows. The building's facade was intact, but the rest was cratered. On one of the remaining external walls, sunflowers had been painted, against a sky dotted with oval white clouds.
"This was a Soviet-style cultural house," Mykhailyna said. "It was very popular in the Soviet Union to have, like, cultural houses in industrial parts of the city. It was very nice, very good concert hall, very popular among the local people."
She tried the doors to the hall. There were a few dozen bullet holes in the glass, and the white plaster columns to the left and right were splattered with mortar fire. The doors didn't give.
"Locked," she said, perplexed. Another local official who was with us checked her phone. The hall had been closed the day before—it was no longer safe to walk around inside. Outside the building, a banner had been erected that said irpinhelp.com with a QR code.
"This was a battlefield," she said.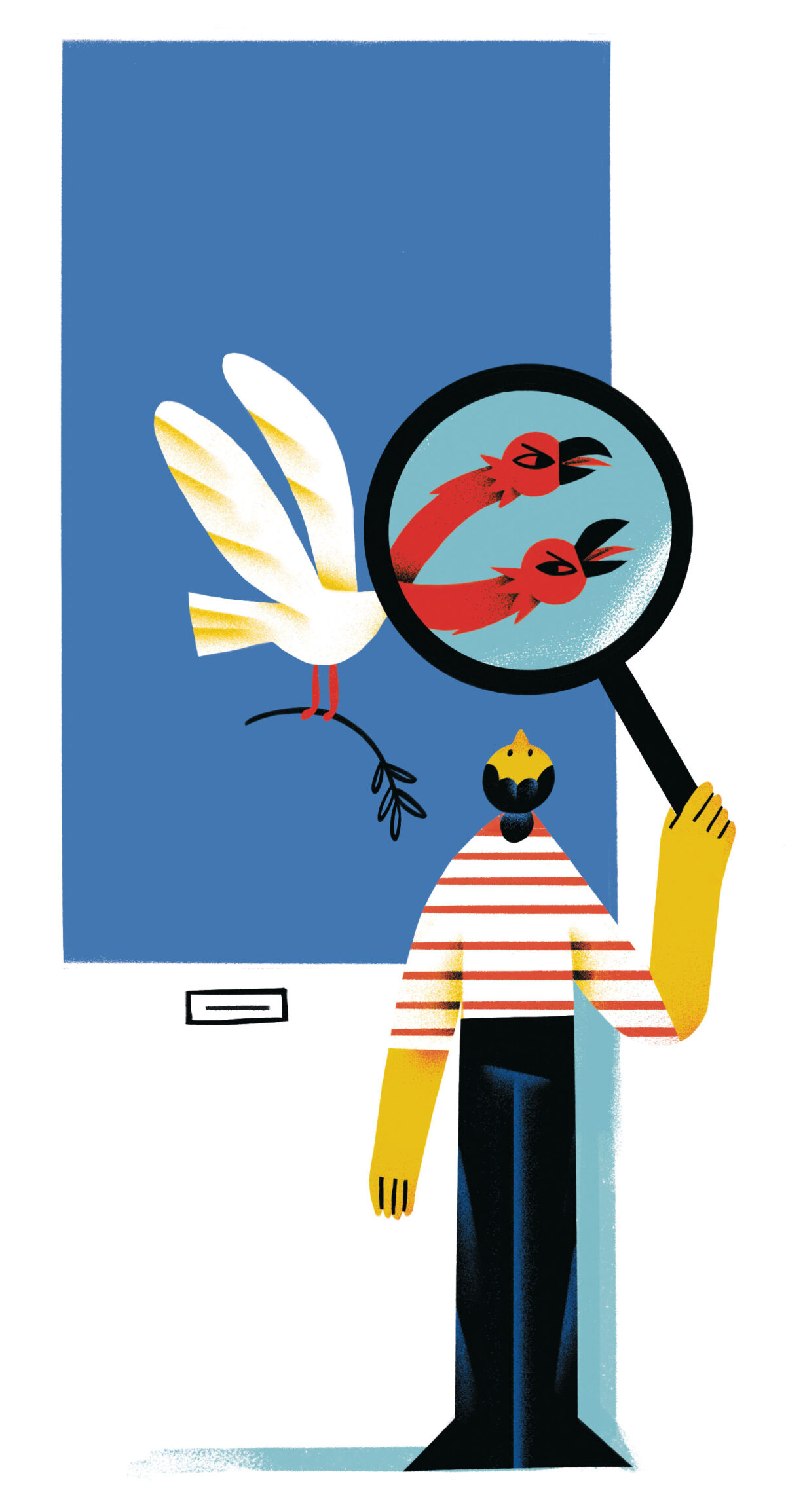 There had been fighting all along this street. The bus stop in front of the concert hall had been pelted with a hundred bullets. That was ten months ago. The restoration work was slow going, and was not the first priority for local governments trying to keep the lights on. The most practical and profit-making entities—stores, restaurants, even fitness studios—have been the first to return to operation. Mykhailyna mentioned a traditional borscht restaurant that reopened recently. "It was a miracle. I will take you there later."
These businesses will, eventually, provide a tax base that will allow cultural institutions to be rebuilt. In the meantime, local governments are hoping that foreign sponsors take up restoration projects like this concert hall. Thus the QR code.
Across the street, a massive Volvo construction vehicle was knocking down the remains of a shelled apartment building. The sound was deafening. Traffic moved swiftly by. It's crucial to note that at all times, everywhere away from the front, Ukrainians were moving about more or less as they normally would. Cars sped past this shelled concert hall and destroyed apartment building as they would have any other construction site.
We stood outside, in the parking lot, stamping our feet to try to stay warm.
"Two days ago, when it was hard," Mykhailyna said, "we put on generator, and I was trying to work, and my son was online, trying to find what to do if a nuclear bomb will come. He is seven years old. And you can't prevent them from these stories. They hear it from everywhere. And they are all ready to fight the Russians. He had handmade a weapon, and said to me, 'I will protect you.'"
The Ukrainians will not lose this war. Not in the sense that they will be subsumed by Russia, or that the Russians will get near Kyiv again. The only question is when it will end, and how it will end. If the Ukrainians were willing to give up the Donbas and Crimea, it would be over very soon. But there is no chance of Ukraine giving up either. The topic came up in about fifty conversations I had while in Ukraine, and I never heard any doubt from any person on the matter. There would be no compromise, no peace, until the 1991 borders were restored.
One day, our delegation visited the US embassy in Kyiv. Mark Stroh, the Acting Deputy Chief of Mission, met us in a large conference room surrounded by windows. With short black hair and glasses, wearing a suit and tie and unscuffed shoes, he was polite, efficient, and attentive; he nodded and took notes. He called himself a "post-conflict guy," having done stints in Afghanistan and Syria. He apologized to the Ukrainians who were with us that he had not yet learned to speak their language.
He and the rest of the embassy staff members had left the country on February 13—eleven days before the invasion. As has been well documented, American intelligence was certain that Russia would invade, while Zelensky all but dismissed the possibility—even while one hundred thousand troops amassed at the Belarusian border. Stroh returned to Ukraine after the Russians were driven back from Kyiv. He has not been surprised by the Ukrainian resistance, nor was he surprised by Russia underestimating that resistance.
"Autocracies learn slowly," he said.
Much of Russia's intelligence about Ukraine was from the Soviet era, he said, including many of its targets. A watch manufacturing plant had recently been destroyed because the Russians thought it was a missile factory. Whether or not they hit their targets, the goal was misery. The Russians were weaponizing winter, and hoping to exhaust both the Ukrainians and the international community.
"The Russians feel like they can move the finish line," Stroh said. "Maybe they peel off some EU members. Maybe these members get tired of the war, of refugees. It behooves neighboring countries to provide Ukraine with weapons," he said, to speed up the conclusion of the war.
For those Ukrainians who had returned, or who had never left, the United States was helping to create sturdier access to power, heat, water, ATMs. Stroh wanted these essentials to exist within what he called "fortresses of unbreakableness"—hardened against missile attacks. Much of this durability work was done through USAID, the American humanitarian-aid agency now run by Samantha Power. By December, the United States had provided $13 billion in direct support that, among other things, had been paying the salaries of Ukrainian government staff, including teachers and hospital workers.
Much of the reason Ukraine is functioning at such a high level in the middle of an existential struggle is this support. The Ukrainian currency is stable, salaries are being paid, and the economy is startlingly robust for a nation under relentless attack. But for how long? So many people in Ukraine asked this question, so I asked Stroh.
"I can't think about that," he said.
I asked about the Patriot missile system, and to my surprise he tipped his hand. By not ruling it out, he implied—to me, at least—that the system, which knocks missiles out of the air with other missiles, would soon be provided to the Ukrainian military. This was a significant step, and a crucial element in defending Ukraine from Russian air attacks. A few days later, this move was announced to the world, provoking loud condemnation from Russia. This was at a stage of the war when every new Western weapon added to the Ukrainian arsenal provoked loud condemnation from the Kremlin, and vague threats of escalation on their part—they continued to whisper about deploying tactical nuclear weapons and/or triggering World War III—but they did nothing along those lines. Instead, they continued to fight on the streets and in trenches, and to periodically send missiles to nonmilitary targets all over Ukraine.
Which did nothing to weaken the Ukrainian resolve.
Back in Kyiv, on our last night in Ukraine, Peter and I went to a candlelight concert. I'd seen the event advertised on a "What to Do in Kyiv" website, and bought tickets for about ten dollars. The crowd was far more glamorous than seemed possible. People arrived, drank wine and tea in the lobby, and milled into the cozy concert hall, where hundreds of battery-powered candles were arranged on the stage. They took pictures in front of the display, then found their seats. It had the feel of a holiday rite—golden and reverent and subdued.
The concert featured a violinist and a pianist, both women, who played ten or so classical standards, but of course nothing Russian. Earlier in the night, Peter had made the comparison to Britain and Ireland. As between Britain and Ireland, between Russia and Ukraine there are innumerable cultural and linguistic and personal interweavings—so many that the two nations could never be wholly separate or wholly different—but that did not mean they were not distinct. That did not mean that the colonial nations of Ukraine and Ireland could be anything but independent and self-determining. And as in Ireland's relationship to Britain, the crimes of the past would never be forgotten by Ukraine. They would be set aside in the name of commerce or family connections, but there would be, for centuries to come, a barely suppressed rage.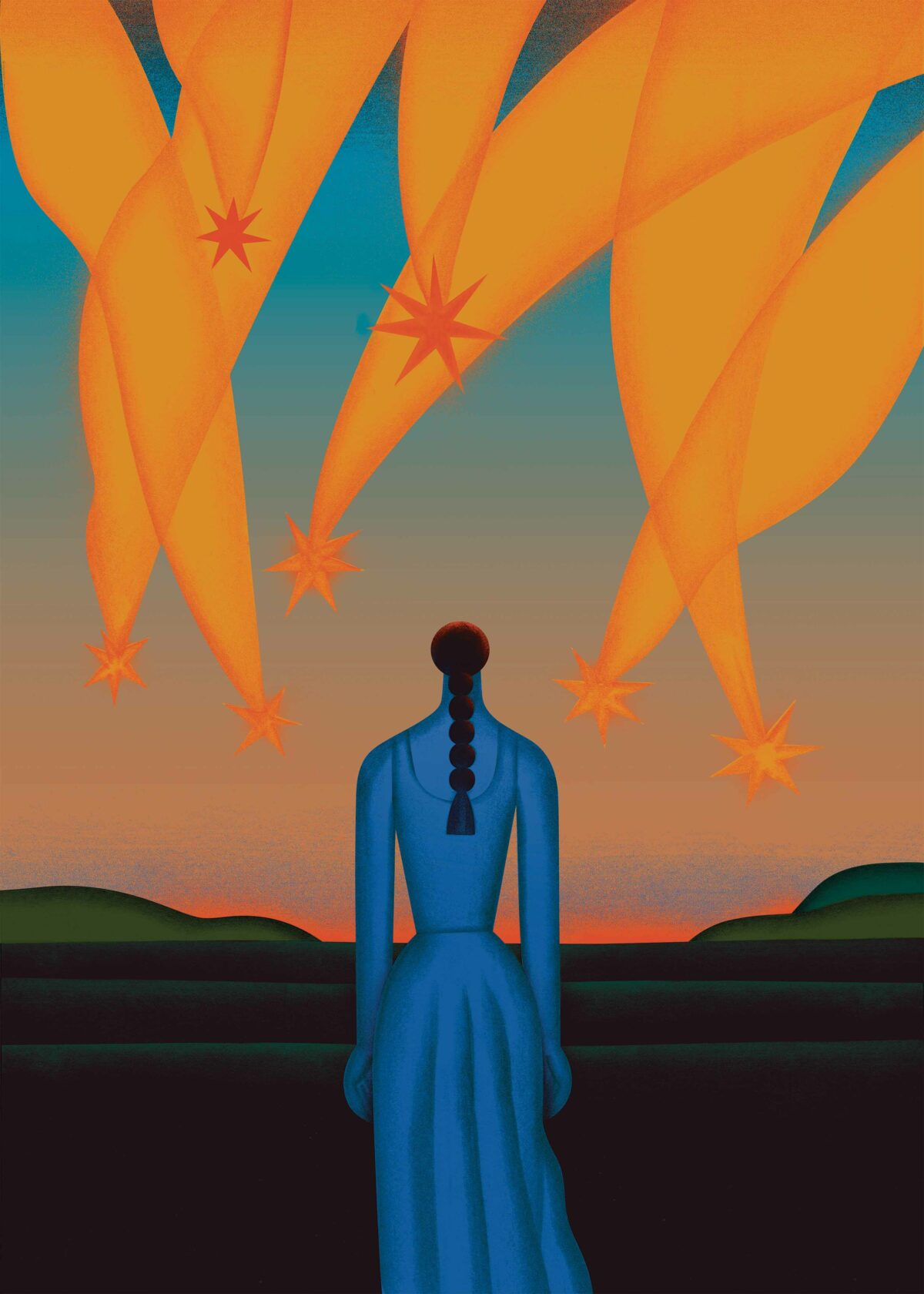 At the concert, a group of twenty-somethings in the back row made too much noise and were shushed. A pair of maybe-models in front of us, hair pulled tight, watched the concert through masterfully outlined eyes. A few children slumped in their chairs, but most of the audience sat upright, clapped heartily, and, afterward, walked back through the softly falling snow to their apartments and homes, which might or might not be heated that night. Their faces were unworried.
On the way back to the hotel, I stopped outside the Zoloti Vorota, a re-creation of Constantinople's Golden Gate, where a busker was playing a Ukrainian rock song in the dark. The snow fell like ashes as he played alone in the courtyard, with the occasional late-night commuter walking briskly by, hands in coat pockets. I put some rubles in the busker's empty guitar box, where melting snow shared space with a few bills and coins, and CDs for sale.
I took a position on the other side of the square, and soon a man of about thirty approached. He wore no hat, no gloves. His thin brown hair was matted across his forehead.
"You like this music?" he asked.
I said I did.
He wore a tan coat and jeans. He had a beer can in his hand, and smelled like he'd had a few already. He asked where I was from. When I told him, he grimaced.
"I studied business," he said. "My English… I try."
He said his name was Stanislav.
A different man approached Stanislav. Stanislav sent him away with a stiff arm and a string of hissed words.
"Hobo," Stanislav said to me. "You have this word, hobo?"
His fetid breath cut through the frozen air. I told him it was an old word, but yes, I knew this word. We stood for a moment in the drifting snow.
"I am from Mariupol," Stanislav said. "You know Mariupol?"
I told him I had read about Mariupol. I pictured row after row of apartment buildings burned black. I assumed the city was now empty.
"My grandparents are in Mariupol," he said. "They won't leave. I beg them on my knees to leave"—he put his ungloved hands in a praying position—"but they won't leave. They say this is their home, blah, blah, blah."
The busker finished his Ukrainian song and began "Last Christmas" by Wham! I told Stanislav I had to leave, that I was taking a train to Poland that night.
"So you leave?" he asked. He looked at the busker and his empty guitar case. "So you leave."
The train left Kyiv at eleven. When Peter and I got to the four-bed compartment we'd been assigned, we found two young men occupying the bottom bunks. They were Ukrainian soldiers in uniform, both of them teenagers. They smiled at us.
The smell was outrageous. These teenagers hadn't showered in some time, it seemed clear, and it was likely they had been wrestling with each other just before we got there. Peter and I threw our bags onto the upper bunks and settled in.
The train was old, Soviet-era, its every surface steel and painted mauve. Outside, the temperature was dropping to zero, but as we left Kyiv, the train car's heat kicked in and soon we were traveling in a kind of rolling womb—hot and rocking steadily, redolent with human stench.
The soldiers below sat side by side on one of the beds, giggling as they watched videos on their phones. They were at once obnoxious and extremely polite, and I was glad they were headed away from the fighting, not toward it. They snorted, and wrestled some more, and it seemed they would never be quiet. But as midnight approached, they settled in and took their separate beds, but they did not sleep. They were likely going home on leave, and were too happy to rest.
Peter was already asleep, and just as I was drifting off, I heard a loud rapping on the floor. Seconds later the soldier below me tapped my shoulder. His unblemished face was grinning. "Yours," he said. He'd retrieved a pair of coins that had fallen from my pocket and onto the floor. I thanked him, and he and I resumed our places. Ten minutes later it happened again. Again he gathered the fallen coins and stood and returned them to me. "Yours," he said again. This time I took all the contents of my pockets and stashed them in my backpack. I fell asleep without a blanket. It had gotten tropical inside, even as frost overtook the windows, even as the speed of the train, a Soviet relic, seemed untenable. Through the night some shake or rattle woke me briefly, and always the two soldiers were there, lying awake, side by side, until they weren't. At some frozen station in the dark, they'd gotten off, and two women, a mother and grown daughter, had gotten on. They whispered cheerfully as we woke in the pearly dawn, hurtling inexorably west.