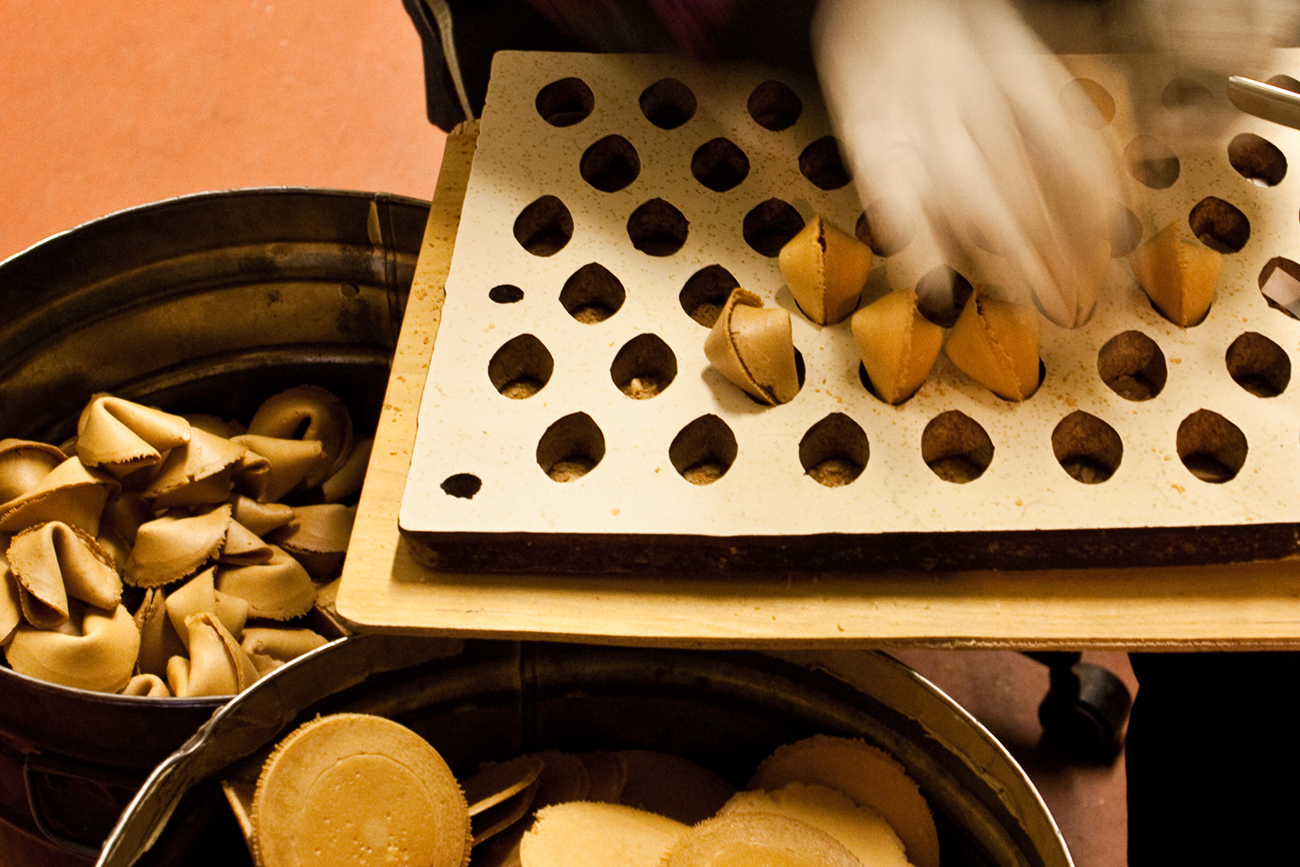 It's sometimes easy to forget that our technologically complex world wasn't created out of whole cloth. Or that it wasn't always here. Without an awareness of the past, "the sense of time falls in upon itself," writes Lewis Lapham, "collapsing like an accordion into the evangelical present."
"Vintage Tech," a new Believer column by B. Alexandra Szerlip, will examine some of the under-the-radar stories, personalities and techniques that inform our 21st century lives.
---
A number of years ago, I stuck my head into the back room of a small Chinese bakery where fortune cookies were being made. The machine, which occupied most of the dimly lit space, was a Rube Goldberg-slash-Terry Gilliam marvel patinated with age. Small metal discs descended like a wave of chorus girls' legs. A hanging bucket fed into a copper spout that dropped a pre-measured circle of batter onto the discs which were warmed from below by individual blue gas flames.
Following a sedate oval rotation, the "cooked" circles were plucked off, one by one, by an elderly Chinese woman sporting a bowl hair cut. After dropping in a pastel slip of paper, she folded each still-pliable wafer — first in half one way, then in reverse — and set it, like a precious egg, onto a board of ovoid slots.
Four minutes from start to finish.
All this occurred under the scrutiny of the manager who, bedecked in bedroom slippers and a cardigan, shuffled around the tight space chewing on a cigar. The only sound was the soft whirring of gears.
"In a great modern factory, old machines are at once sent to the scrap pile as soon as a new patent is issued," wrote Otis T. Mason in 1895 in his book Origins of Invention, "and whole chapters in the history of ingenuity have been torn up on the up-rearing of a new and more advanced culture."
Not so for the fortune cookie machine!
Like my grandmother's ever-reliable Singer, which predates Alfred Sloan's "built-in obsolescence" credo, they were built to last. All the working machines in the San Francisco Bay Area, where both the cookie and the machine originated, are between fifty and sixty-seven years old. Think about it. They were cranking out confections back when Eisenhower was elected president and Salk's polio vaccine was introduced; they were putting in long hours before the advent of national TV, Beatlemania, or the first manned space flight.
The cookies are not Chinese.
The Japanese had been making omikuji senbei ("written fortune crackers") over coal-heated iron grills since the 1800s. Around the turn of the century, Makoto Hagiwara, a Japanese landscape designer who helped expand San Francisco's Japanese Tea Garden in Golden Gate Park, came up with the idea of offering them as a tourist lure, their traditional miso-and-sesame flavoring substituted with less exotic vanilla. Flash forward three decades to Pearl Harbor, when the U.S. government uprooted some 120,000 Japanese-Americans, the majority living on the West Coast, forcing them into remote "internment camps."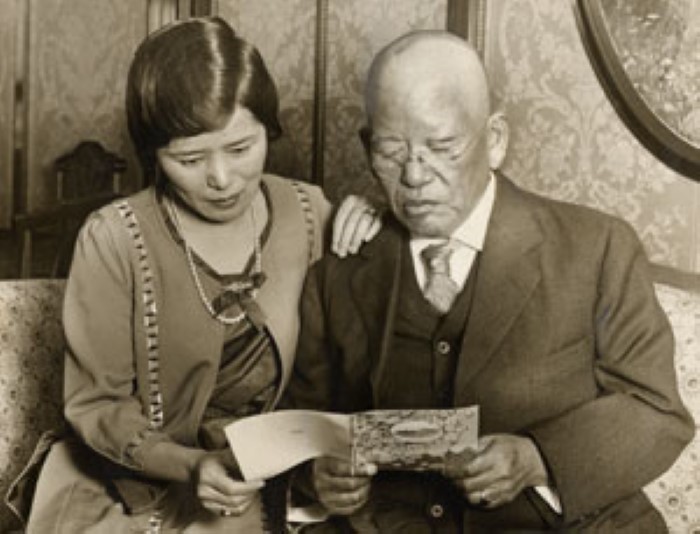 During this time, several enterprising Bay Area-based Chinese families began producing the cookies for local restaurants, where they proved extremely popular. When WWII ended, many American military personnel headed home from the Pacific Theatre via California. At about the same time, an Oakland-based mechanical engineer by the name of Shuck Yee invented the semi-automated machine I'd seen, turning what had been something of a (handmade) luxury into an inexpensive commodity. Within a decade, the cookies were ubiquitous in Chinese restaurants across the country. Adlai Stevenson used them as a promotional device during his presidential campaign.
Hoping to learn more, I recently returned to where I'd encountered the machine. Despite the fact that the bakery's website mentions "tours," David, the owner, was tightlipped. (It didn't help that my notes were on a clipboard. My assurances that I wasn't with the Health Department fell on deaf ears. Was he, I wondered, the cigar-chewing, slipper-shuffling manager of memory?) No, he had no idea how many cookies they made per day, and no, I could not make an appointment to see the marvelous machine in action. He allowed only that his fortunes were "outsourced" to a printer and that his family had owned the business since 1950. I left with a large bag full, which I promptly cracked open.
You will do better in real estate than in stocks.
Take some needed time to relax in the next few days.
Keep your feet on the ground, even though friends flatter you.
Really?
The last two aren't even fortunes! Whatever happened to:
You will attend a party where strange customs prevail — a prediction I once got four times in a row and dutifully taped to my fridge? (It turns out that the classic You will meet a tall, dark stranger was taken out of circulation because people complained it was sinister.)
The upside to these banal offerings is that each fortune is backed with lottery numbers printed in auspicious red ink and, impossible as it sounds, in March 2005, 110 people were runner-ups on a $13.8 million Powerball jackpot, their numbers all copied from fortune cookies made by Brooklyn-based Wonton Food Inc., the world's largest purveyor. (Company owner Donald Lau made international headlines in 2017 when he stepped down as a 'fortune' writer, claiming irreversible writer's block.) The odds of 110 people claiming the same winning lotto numbers are one-in-three million; the odds of getting struck by lightning are one-in-750,000.
A visit to another local bakery was similarly futile, though I got to observe another elderly, bowl-cut-haired Chinese woman seated on a stool hand-picking and folding the discs, flinging the occasional "reject" into a barrel. The only difference from the first machine I saw was that the individual gas flames had been replaced with a "baking tunnel" into which the metal discs sedately rotated. It was here, too, that I found the elusive "Famous French Adult X-Rated" version, each fortune preceded by "Fu Ling Yu Says." No lottery numbers this time, but a modicum of wit.
Salesmanship is the difference between rape and rapture.
Artificial insemination is copulation without representation.
90% of men who try Camels still prefer women.
Bad girl is one who gets mink fur same way minks do.
Fu Ling Yu. Get it?
As luck would have it, I happened to meet Jasen Lo, an affable young man who's studying at the recently created Minerva School — an inter-disciplinary undergraduate program wherein a select group of international students live for six months at a time in seven different world cities while studying via video-based seminars. Jasen speaks fluent Cantonese and Mandarin. "Chinese grannies love me," he said. Together, we hatched a plan, part journalism, part theater.
His backstory would be that his Mom, back in Hong Kong, was fascinated by the idea of "Chinese" fortune cookies, which don't exist in China. And/or Jasen was a traveling journalist for the South China Morning Post.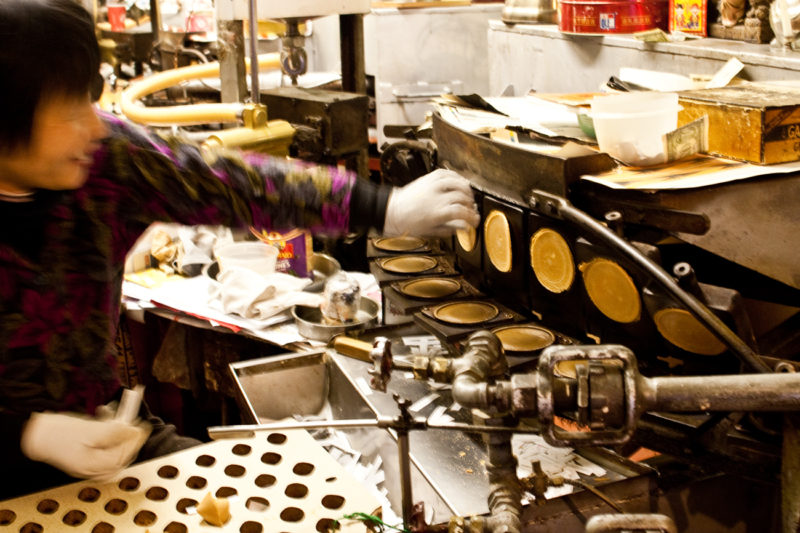 It turns out that the fortune cookie biz is a lot like any other multi-generational family enterprise. In each case, the grandchildren are being pressured into (but aren't interested in) taking over. Chinatown originally boasted ten bakeries; now there are two. David claims his bakery survived thanks to better batter — and a money scanner (the only "new" technology in his shop) for verifying $100 bills. The owners of the two holdouts don't know each other but consider each other rivals. David's rival allegedly stole the idea of making giant fortune cookies, sold singly in gift boxes, claiming it as his own.
That considerably more enterprising and colorful rival conducts business on a narrow alley, circa 1870, once known for gambling and prostitution. Inside, a large, sprawling mural overlooks an assortment of ceramic Chinese gods and golden roosters perched precariously atop a trio of machines. The family, having emigrated from Guangdong province in 1962, started the business because "there was no other way to make money." In the best Baskin Robbins tradition, they offer everything from "flavored" versions (sesame, green tea, chocolate, coconut, lemon, orange) to fortune cookies crisscrossed with icing and rainbow sprinkles. Plus the aforementioned X-rated cookies. For a fee, they'll even incorporate your own messages (30 characters per line).
Though you might find them as far afield as France, Britain, and Italy, the vast majority of cookies, some three billion a year, are consumed in the States. S.F.'s Chinatown machines produce several thousand a day. Brooklyn's Wonton Foods, with its shiny, mammoth, state-of-the-art machines, turns out four million a day; laid end-to-end, they would circle more than halfway around the globe.
Adam, the son of an Oakland purveyor, thirty years in business, did speak to me directly. He, too, is under family pressure and he, too, has no plans to stick around. Because his vintage machines move relatively slowly, he explained, they rarely break down, so there's no incentive to "up grade."
"And when they do break down?"
"We hire a machinist to replicate the damaged part."
Fortune cookies have been a mainstay for nearly seventy years now. "Do you think," I asked, "there will always be a market for them?"
"Who knows?" Adam replied, "Anything can happen."
"THAT," my new friend Jasen observed, "is very Chinese."
Readers can send questions, comments and ideas they'd like to see tackled to letters@believermag.com