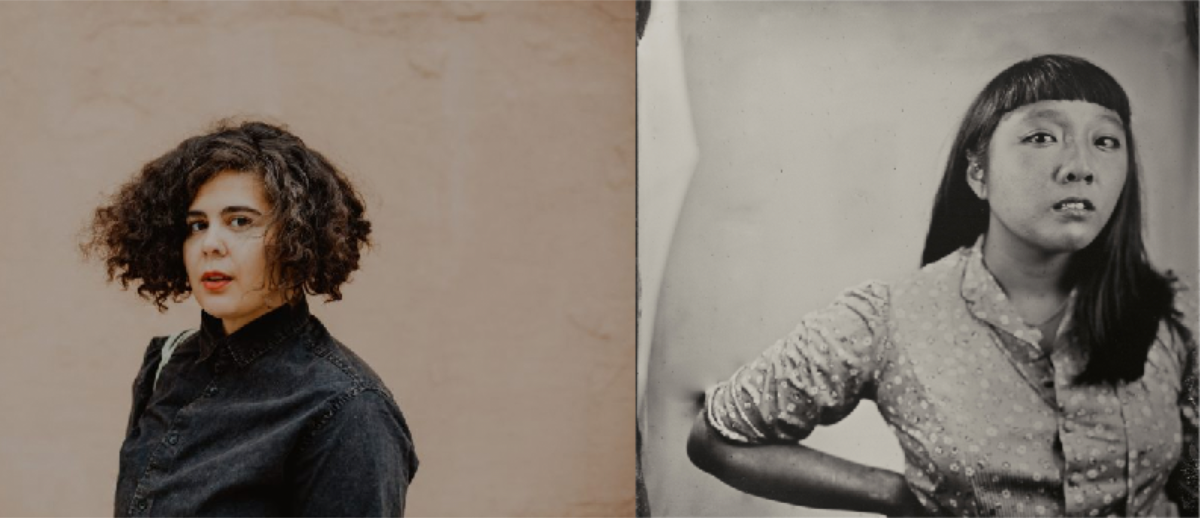 After the release of my last book, I heard from Lara over email and it thrilled me. I had known of Lara, and although we had never met, I knew of her pervasively, like I couldn't remember a time where I didn't know of that presence. I admired her work very much and thought of it as intimidating and critically sharp. What she emailed me was so generous and funny and brusque. And when I met her in Minneapolis a few months later she was wearing sweatpants and neon socks with cute Sven sandals. I was on tour—exhausted and high from being in a different place every day for two whole weeks and leery about having to perform socially, but my fears were wholly unnecessary because eating breakfast at a diner with Lara was easy. It was easy because everything about Lara is refreshingly matter-of-fact—she's not shy about pulling back the veil of professional euphemism or politeness. The only way I can describe Lara is that she is frighteningly lucid. Her ability to be comprehensively observant—to see the full landscape of something and yet able to fish out its particularities, its reticent and often contradictory truths, is a rare and complicated skill set.
THRESHOLES, Lara's most recent book, has a similar bent—aphoristic fragments built around a kind of whole, or a series of what we've always assumed are wholes—subject, narrative, life, and speech. Alongside her, we tunnel through a series of hollow points, pressure positions, aesthetic snapshots; taking us from one Bronx to another, from desire to orientation, from the view of a distant shore to the narrow passage of a throat, traveling each perpendicular or parallel distance with connective subtlety, but without the arrogance of circumlocution. A taxonomy of holes, but also of their edges, where they end and meet.
And here, now, talking with Lara—I follow the path, I say things out loud I absolutely wouldn't to any other person, I try to discuss her book but I find myself traversing angles, turning out and around a larger, more complex structure I can't see or speak but the entirety of which I intuitively understand. I feel the pull of the voids that her and I circle together—sometimes to do with writing, other times with dreams—succumbing to these forces, we meet each other where it's apt, diverge amicably when it's not. The discourse fills me and I'm grateful. There is darkness in absence, its cavity, but as Lara writes, "And, inside the curves, also love."
This conversation took place the week before George Floyd was murdered in Minneapolis by the police Monday, May 25th, 2020.
—Trisha Low
TRISHA LOW: Lara, I just saw your tweet, and I miss Brighton Beach so much, too! It was important to my time in New York—where I went when I wanted to disappear from others around me and the city, but still remain present to myself. It was like an oxymoron to me. Absence feels central to THRESHOLES. The way you figure it feels like an oxymoron too—nothing as simple as that absence has presence or whatever, but that the void, is not an emptiness we tiptoe around or speak about in hushed tones, but a series of interwoven material processes. Always dynamic and banal and never one thing, not a single symptom. Not something we try to rectify about life but a part of how we build it. A little bit like a wormhole, how it connects different dimensions, times and spaces by nature of its pull. I could be projecting. I've been watching too much Donnie Darko so, I wonder, does that sound apt to you?
LARA MIMOSA MONTES: Everything about Brighton Beach: the Bialys, the bathrooms in Tatiana—it's a wild place. Have you ever been to Cafe at Your Mother-in-Law? They serve Korean-Russian-Uzbek food. I hesitate to call it "fusion." If not, can we go sometime? I used to walk from Brighton Beach to Manhattan Beach several times a week when I lived in New York because I worked in the area, but also because I loved spending time at the edges of the city, and Manhattan Beach is pretty far out. I loved the solitude that awaited me there, at the end of the line. Sometimes when I am writing, I feel as though I am making a similar trek: to go as far out as I can, alone, forgetting that the waves may not carry me back. I was afraid for a long time about how far out I had to go in order to write THRESHOLES. It was less Donnie Darko, more Black Swan. The work was pulling me in many "opposing" directions. I feared the things I was gravitating toward, so I suffered. I had to entertain all these new processes in order to do the work, and it was hard.
TL: The solitude at the end of the line is a good way to describe it. And the journey on the subway, preparing to get there. There was always some dread as well as relief. Like writing, as you say. I think a lot about how and why people integrate their lives and experiences into their work—there are so many more forms of this than mainstream literary culture thinks there are, it's not just Maggie Nelson or Leslie Jamison. I'm always interested in the way form develops or diverges according to the quality of vulnerability that a writer experiences when disclosing information about themselves—as you say, new processes have to be entertained in order to do the work.
LMM: I was thinking about this in relation to the passages in Socialist Realism where you describe your experiences of being tied up, or singing Singaporean nationalist anthems with your partner in your car, crying. It's funny, but now that you live in the Bay Area, I associate the way you formally (or casually!) invite this level of intensity into your writing as very New Narrative, even as Socialist Realism traverses many different scenes, styles, and subcultures, whereas your previous book, THE COMPLEAT PURGE, occupies another aesthetic territory entirely. I hope you don't receive my desire to contextualize your style as a reduction of some kind, but if you do, we can talk about it (another writer and mutual friend of ours joked with me years ago that people in the Bay Area are very into "processing"…).
Here's the thing: in talking about you, I'm narrowly avoiding talking about me, and how I might relate to this idea of vulnerability and its role in my writing. In my real life, as in my writing, I compulsively defer to other objects, often by way of art or movies or dreams or discourse, to avoid expressing feelings of vulnerability that I fear, if plainly spoken, would end my imaginative life, my writing life, my private life. People think writing autobiographically is easy, but don't you ever worry about too much honesty or vulnerability totally killing the mood? (Now I'm recalling Durga Chew-Bose's Too Much and Not the Mood, an essay collection that I love.) Or maybe I should pick this thread up with my therapist tomorrow. Speaking of, can I tell you about a dream I had last night? I feel like I'm asking you to choose between Door Number One and Door Number Two…
TL: It's funny you mention being tied up because when Evan Kleekamp read Socialist Realism they tweeted "Trisha Low is a top" which I was honestly shocked about because everyone knows I'm a masochist, but they're right! Recounting one's life is also an opportunity to have total control over it, shape it, even lie about it, opposite to the flailing vulnerability that people assume comes with disclosure. I, too, have those fears of being overly-earnest—and obviously it's raced and gendered. Inherent to 'totally killing the mood' is also 'not being taken seriously.' But I think we do share a desire to not disentangle personal feeling from art, a sense that existing at that intersection is a more honest representation of our emotional landscape and the structures they're shaped by than plainer language like "I love you, I hate you, let's get a coke." Worth wondering who's allowed to use that universalizing language anyway? Life writing should be an exploration of the different shapes honesty can take and what forces our understanding of "real life" are shaped by—the thing about THRESHOLES is like so much writing I love, it feels true. 
In any case, I'm really enjoying relinquishing control in this conversation! I hate feeling like an interviewer. I almost never dream and joke that it's because I lack imagination, so I'm delighted to tumble into Door Number Two with you…
LMM: "Trisha Low is a top." That is the literary criticism I'm here for! I'm half-joking. I'm a little moody this morning because I just read a review of another writer's book and thought, "Why is it that only white people are given to write autofiction?" And the rest of us… Magical Realism? Sometimes I want to kill the literary machine. I hope my resentment does not outlive me. OK, so you wanted to see what's behind Door Number Two: The night before last, I had a dream where I was watching, not exactly attending, a burial for a pair of twins. They were buried in separate coffins, rather than buried in the same coffin, side by side.
In the dream, I was disturbed. I kept thinking, "Twins should not be buried separate; they should not be buried alone." I was troubled by the idea that those who are born together do not return to the Earth together. A fantasy of parallelism. Earlier that evening, before bed, I was texting with a friend in New Mexico who is a twin; before that, my boyfriend and I ordered takeout from a nearby Ecuadorian restaurant and sat in a parking lot overlooking a large outdoor sculpture that was made by friends that were once a couple. The sculpture is titled "We Move Still." I experience it as a work about mirroring, twin movement, parallel lines. Were I to relay all this to my therapist, the one who appears in THRESHOLES, he would point out all the pairs and doubles, the obsession with the experience of two. And I'd say, either because I'm witty or because it's true: "I'm a Gemini! Did you know we are always searching for our dead twin!" … which, come to think of it, is something my friend who I had been texting with previous to the dream had taught me several years ago… And I am about to turn thirty-three this month, this year, 2020. Trisha, help!
TL: It's actually remarkable how autofiction has become a purely white genre when you think about the kinds of work queer writers were doing in the 80s and 90s—Dennis Cooper, Renee Gladman, Pamela Lu. Is naming something autofiction a depoliticizing gesture in that it's tied to commercial assimilability? This is also about Sally Rooney maybe?
I'm fascinated by this dream! I also love it because over email we've talked about our parallel time in New York, how we were both miserable and alienated despite its constant sociality, had bad boyfriends, were ambitious in work, and then left without our narratives ever touching. With the kinds of perforations that happen in THRESHOLES, it's not like a concept closes and another scene opens, instead there's simultaneity, parallel trajectories. You write: "Inside my thought is always a second thought, an aft­erwards to where I originally was. In this way, a parenthetical helps me occupy / two places at once / (two times at once)" Sometimes I feel like I'm in 'two minds' about something but this isn't what you're talking about. Is inherent to the structure of your thought something more insidious, uncomfortable, hidden?
LMM: Simultaneity is one way of negotiating the "neither-nor space of the present," to use your words. I've also just read too much Proust. Now I'm damaged forever. No, I don't know that I really ever technically learned how to write. I'm still learning how to bend the spoon, and I remain preoccupied with the task of discovering something new about writing's relationship to Time. Those particular lines you're quoting have more to do with double-consciousness, and feelings of profound displacement. I wrote them when I first moved to Minneapolis. I felt like a stranger in a strange place, experiencing whiteness in this way that completely unmoored me and the dysphoria was intense. That was the summer I watched a lot of film noir, and the first book I bought was a used copy of James Baldwin's Nobody Knows My Name.
And yes, you and I are doubles, having once lived parallel lives in New York. And maybe our bad literary ex-boyfriends are also doubles. However, our narratives didn't converge until recently even as this convergence may have always been inevitable. I remember I knew about THE COMPLEAT PURGE years ago, but I was too afraid to find out what that book or you might have been all about. I wasn't ready. And if we're being honest, during those earlier or formative years when we were both in New York, Alt Lit and Conceptual Writing were these two bizarre, polarizing modes of contemporary literary production. Anyone who was writing in the margins of that period knows it was a weird time to come of age as a writer, especially if you were a woman, and especially if you were not white. Plus, the models for "success" were really flawed. I love how you reflect upon all this in Socialist Realism. It helps me appreciate how modes like the Gurlesque or Conceptualism offered all these fraught if not enticing entry points for those of us who felt, as you say, miserable and alienated, to which I would also add, young and reckless. But now, I am so grateful for the risks we were willing to take, all just to be noticed by one another!
TL: I'm not sure there's ever a not-weird time to come of age as a writer for anyone. It's always felt like there has to be, as you say, a fraught negotiation to find a place within the literary scene—which is different activity to writing, but remains an unfortunate part of it, especially in New York. There are so many contradictory expectations placed on young writers and especially ones of color—formally, socially or otherwise. The reasons for this and the forms they take – fashionable subculture, mainstream literary culture – always look different but they replicate themselves. For better or worse I feel really shaped by those pressures. I didn't always make the best choices, I did sometimes compromise. In that sense, when you asked in THRESHOLES "what part of speech is ourselves?" I really felt that. Alice Notley writes, "I / want to not recognize anyone. I want to / sing in a voice you don't own, that you've never / heard and judged. I don't want to know where it / comes from, even though it comes from me. I / don't want here to be anything to say about it." Some days I just don't know. I just don't know if I can ever write or talk as myself rather than as some flawed blobby semi-subjectivity that's reacting or cleaving to its hostile environment.
I have never really lived anywhere like Minneapolis and when I went on tour in November, I visited some places in the Midwest where I felt whiteness in a way I had never before. It reminded me that in reacting and adapting to the strength of that feeling of being alienated, there's no way not to dissociate, and there are so many ways of doing it. It's these disparate methods that make us unable to find solidarity sometimes, mistaking what we're looking for from each other for commonality instead. People want so much authenticity or whatever and sometimes I just want to say, the only thing I can present you with is this sense of estrangement; I'm sorry that it's different from yours.
LMM: I like those lines from Alice Notley a lot. I don't want to know where "it", the voice, comes from either. I usually feel very alienated from the things that I write. There are many lines throughout THRESHOLES that appear unfamiliar to me in the sense that I hesitate to say "I" wrote them, so my sense of estrangement remains. I'm relieved that the current world situation absolves me from having to read from the book in public. The few times I have tried, it has never felt right. People want so much authenticity, yes, but also, people want so much, period. Sometimes I want to say, "I heard the call, and I wrote down the words—why isn't that enough?"