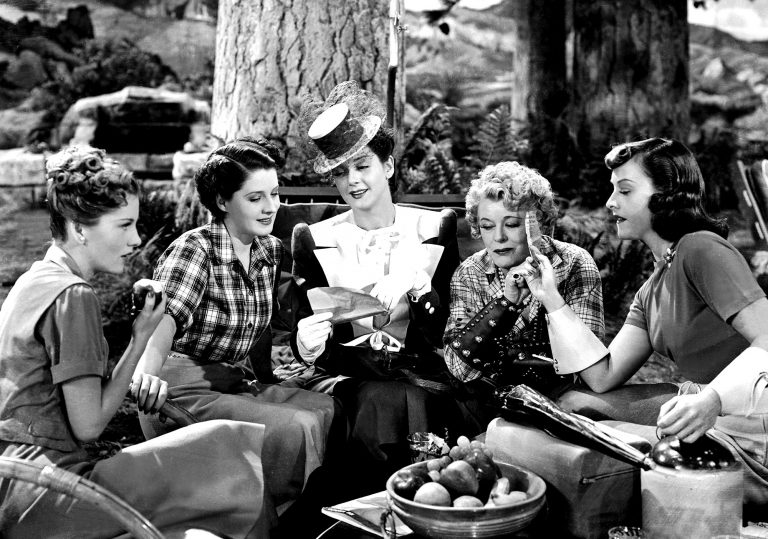 Film: The Women, screenplay by Anita Loos and Jane Murfin, directed by George Cukor, 1939
Play: Femmes: A Tragedy by Gina Young, 2013
Adapted From: The Women by Clare Boothe Luce, 1936
"No one misses a clever woman," remarks Nancy in The Women's first scene. She's the ensemble's confirmed bachelorette, an adventuring writer who hovers above the Park Avenue fray, delivering sharp observations. She may be a version of the playwright herself, the impossibly clever Clare Boothe Luce. Screenwriter Anita Loos, who adapted the theater hit to a classic film in 1939, voiced a similar sentiment, reputedly quipping, "that women are brighter than men […] should be kept very quiet or it ruins the whole racket." The movie's advertisements hewed to the Trojan horse tactic, proclaiming "THE WOMEN: It's all about men!" Belying this tagline, adhering to Luce's casting instruction for the play's scores of actors, the film's two-plus hours contain not a single man's voice or image. The Women first captured the spectacle of upper-crust desperate housewives, while spanning the entire feminine ecosystem that came along with their lifestyle: shopgirls, salon workers, trainers, cooks, maids, nannies, secretaries, models and mistresses, every one of them with a plum speaking part that retains most of its sparkle and bite.
The self-made Clare Boothe had been a child actress, a suffragist, a young bride and mother, and was already an affluent divorcee when she began to publish in 1931. She married media magnate Henry Luce in 1935, and unleashed The Women to lasting acclaim the next year. Throughout the '30s she wrote and edited for Vogue, LIFE, and Vanity Fair, going on to cover the early stages of World War II abroad. In 1942 she won a Congressional seat representing Connecticut as a Republican. She campaigned for Eisenhower and he named her Ambassador to Italy, a geopolitically vital post at the time. Nixon appointed her to his intelligence advisory board, and Reagan made her the first Congresswoman to receive the Presidential Medal of Freedom. Before her death she created a scholarship fund for women in math and science; she'd never made it to college herself. In her honor, successors launched a think tank for conservative women.
In both the Luce and Loos renditions of The Women, Mary is a New York socialite, a storybook wife and mother. Her friend Sylvia, a dubious ally, is having her nails done (color: Jungle Red) when she learns from the motormouth manicurist that Mary's husband has a mistress, Crystal, who works at the perfume counter. Soon Mary, sitting down for the same manicure, hears the news herself. Her mother counsels her to keep her cool. But when Mary runs into Crystal while trying on lingerie, Sylvia hints that Crystal's been spending time with Mary's offspring, and the scorned woman speaks up. Next she has it out with her husband at home; the eavesdropping housekeeper and au pair recreate the showdown for us with play-by-play and color commentary. Mary's friends discuss her plight at the gym with too little discretion: one tips off a social columnist. Our heroine undertakes the pilgrimage to a Reno divorce ranch and commiserates with other lodgers, including the older, much-married "Countess," who's busy pursuing a fuckboy ranch-hand. Back in New York, we learn of Mary's ex-husband's regret in a scene between their daughter and Crystal, while the latter languishes in her posh bathtub in full evil stepmother-mode.  Eventually Mary holds an uptown gathering, setting up a final scene.  Subplots of other affairs lend a Shakespearean quality to the comedy's closing rumpus. It all unfolds in stereotypically feminine spaces: kitchen, dance studio, beauty parlor, fitting room.
It's distressing to watch Sylvia revel in Mary's misfortune (unless you're a viewer of reality TV, in which case you probably love it). Sylvia badmouths, back-stabs and pointedly interferes with destructive advice at every opportunity; she's the group's Id. No authority on happy unions herself, she eventually reaps her karmic rewards. On the other hand, Mary's mom scolds her "pride" (her grief over the betrayal), lecturing her that men will be men, and Mary should overlook the deceit to keep her family together. Even the servants speak resignedly about having to cater to men because after all, it's their world. It's the inheritance by which girls and then women learn not to ask for too much, to wield our influence lightly and covertly. We grow up learning that trouble befalls the women who assert themselves or seek their own pleasure, whose feelings are too manifest.
Today it feels tough to comprehend the loyalties of the fascinating Luce, who wrote so acerbically about women's predicament, and whose own marriage was famously non-traditional (young British officer Roald Dahl, one of her post-wedding lovers, complained that he couldn't keep up with her appetites).  She converted to Catholicism in the wake of her college daughter's death in 1944, and communism became her bête noire with the dawning of the Cold War—factors that seem to have pushed her rightward over time.  But the paradox is there on the page in The Women's first scene: "Enter Mary.  A lovely woman in her middle 30's.  She is what most of us want our happily married daughters to be like." Of course, Mary's happiness doesn't last long ("a woman's paradise is a fool's paradise," her friend warns). Given the life that Luce made for herself, it seems unlikely that she sincerely hoped for her daughter to live the dependent, proscribed life of a housewife, populated by absent husbands and conniving frenemies.  Mary has admirable qualities, but not the same ones as Luce. They represent two distinct models of womanhood, albeit both wealthy and white.  
Anita Loos adapted Luce's play, by then a Broadway sensation, for MGM in 1939. Loos already had almost 30 produced screenplays under her belt, including Clark Gable smash San Francisco, and the original novel, stage and screen versions of Gentlemen Prefer Blondes. Director George Cukor worked with nearly every major Hollywood actress of the '30s, '40s and '50s; among his biggest successes were Gaslight with Ingrid Bergman, The Philadelphia Story with Katharine Hepburn, A Star Is Born with Judy Garland, and My Fair Lady with Audrey Hepburn. The Women's central triumvirate are played by Norma Shearer as Mary, Rosalind Russell as Sylvia, and Joan Crawford as Crystal. While it's easy to recognize Russell as the iconic lead of His Girl Friday and Mame, and Crawford from being Joan Crawford, Shearer's work has grown more obscure, despite her prevalence in the '20s and '30s. She spent the early '30s playing other women in varying states of divorce and reunion, but the 1934 crackdown enforcing the Hays Production Code changed her roles from seductresses to prestige period parts. That her character in The Women fears being replaced by Crawford's has a particular resonance: Crawford's first film role was as Shearer's body double in 1925's Lady of the Night, and Shearer's first "talkie," The Last of Mrs. Cheyney (1929), was remade by Dorothy Arzner in 1937 with Crawford in the lead. The actresses were almost the same age, but as with their characters in The Women, Shearer seemed to lack Crawford's hellbent determination; she retired not long after the film.
Luce's play features the world's snappiest dialogue, packed with killing one-liners and peppered with physical comedy; even her stage directions are wickedly humorous. Not all of the source material made it to the screen, in part thanks to censors' objections, which required Loos to axe many lines (no discussion of sex or childbirth, among other things). But she invented other bits to great effect: for instance, an early scene where Mary's friends troll Crystal at her workplace. A phone call we overhear raises the stakes by demonstrating just how Machiavellian Crystal is. Loos also penned Crystal's most diabolical rejoinder, and all of these additions carried over to subsequent remakes.
Something else got lost on the way to the screen, whether cut by Loos, Cukor, producers or censors: Luce's original play contains a surprising amount of class critique. These were the Depression years, and the crisis would have been hard to ignore. A notary and a nurse, neither of whom appear in the film, strike starkly unfunny rhetorical blows to the idea that the pampered socialites understand hardship. Yet all the way up the socioeconomic ladder, the women's competition for male attention had a material aspect. Men were, and still are, in primary control of resources, whether money, status or access to opportunities. Luce's play is blunt about it in a way that the adaptation fails to match.
The film has other attractions. Crawford occupies her extravagant tub with characteristic queenliness. Russell smacks into walls, falls into laundry carts, fails at calisthenics and gets into hair-pulling fights with aplomb. Shearer emotes with real heart, in a layered performance that illuminates Mary's internal conflicts. And the opening scene is one for the ages, in which we tour through a day spa, spying on the Brazil-style beauty treatments that Luce compared to public execution, while the lens pans every female archetype, from college girl to gangster's moll.
A 1956 adaptation titled The Opposite Sex bastardized the text by denying Luce's one command: men appeared in the film, with speaking roles and all. The strategy did nothing for the movie's appeal; this version took a multimillion dollar loss, and went over poorly with critics. Then in 1993, a new rendition from Murphy Brown creator Diane English entered development limbo. Warner Bros. finally agreed to distribute The Women in 2008, after witnessing the popularity of Sex and the City. While a box office success, it wasn't one with the critical corps. Maybe because English's project spent fifteen years gestating, the result feels tied to the 1990s in its aesthetic, sensibility and cinematic style: Meg Ryan as Mary in Keds, aspirational "girl power," even a makeover/training montage. English's remake kept to the beats of the Luce and Loos versions, other than eschewing subplots, and thus some antic energy. But English turned the tale into one of genuine friendships, reserving our disdain for Crystal (Eva Mendes), while Sylvia (Annette Bening) is the merrily single editor of a fashion magazine. There's nothing incisive about the film, but the mature characters supply the sort of physical comedy Luce loved: Mary's mother (Candace Bergen) gets her own facelift-recovery scene, befitting Luce's tortures. The housekeeper (Cloris Leachman) delivers with just her expressions at the height of Mary's meltdown. And Bette Midler reigns supreme as the joint-puffing, track-suited talent rep "Countess" on a yoga retreat, foreshadowing her Broadway role as Hollywood agent Sue Mengers.
Gina Young's award-winning 2013 play Femmes: A Tragedy adapts The Women to recent times' lesbian scene on Los Angeles' east side. The milieu of Femmes may seem far afield of 1930s Upper Manhattan—kink, polyamory, heterosexism and white fragility all come up in the first scene's banter—but Young's update is much closer in spirit to the Luce and Loos versions than English's film was. As characters acknowledge, the butch/femme dichotomy isn't universal among queer women, but as they also make clear, gender hierarchy is going strong. In an interview at the time of the play's premier, Young put it succinctly: "In a lot of queer spaces, masculine or androgynous-presenting women are valued more than femmes…our sexuality is sometimes deemed less valid or more unstable."
In Femmes most of the women are younger, still the right age for maximum drama. Marigold is a queer burlesque promoter, and her "hot property" butch girlfriend of six months has begun seeing a vapid hipster. When Mari finds out from social network app Jungle Red, a friend advises her to stay cool: after all, did they ever set boundaries? But when Mari learns that the interloper is trying to join the lineup for FemmeFest, Mari's passion project, she shows up to the bar where the "femmesis" works and confronts her (in 2013, there were still lesbian bars). Next Mari faces off with her wayward girlfriend—a pair of waitresses recount the exchange—before spending a weekend in Oakland. Back at home, the femmes all perform in the climactic show, after which they engage in a fracas backstage. Intrigues have grown even more incestuous than in earlier versions, true to queer life: in this case, all of the femmes are fighting over the same two masc-types. The last in the melee is a babydyke who for most of the show has served as a daughter figure.
The characters decry each other's lack of solidarity (a typical barb: "What, too many women's studies classes to call me a slut?"), meanwhile throwing shade on their close friends. That a peer takes the place of the heroine's mom reflects a common occurrence in queer communities—but she still makes gendered excuses for Mari's partner, urging the indulgence of a fragile ego much as Mary's mom did almost 80 years before. Like Luce did, Young finds the humor in a mess of painful contradictions.
I may be the hyper-specific target audience of Femmes (I think I actually take the Homorobics class the characters join), but the work has been popular enough to suggest that it resonates more widely, as least among other queer women. It's not only an adaptation of Loos' The Women, but also an installment in a lineage descending from Luce's play. The original set a precedent for dramas like Arthur Miller's A View from the Bridge (1955), Mart Crowley's The Boys in the Band (1968), August Wilson's Ma Rainey's Black Bottom (1983), and Lynn Nottage's Sweat (2015)—all looking at how society perverts our relationships with each other by relegating us to inferior positions, whether we're female, immigrant, queer, Black or working class. That these works are ultimately tragedies, as Young's play declares itself, lays bare the piercing core of Luce's vanguard comedy, like a shard of glass inside a cupcake. We can't defeat the ruling class, but we can defeat each other.