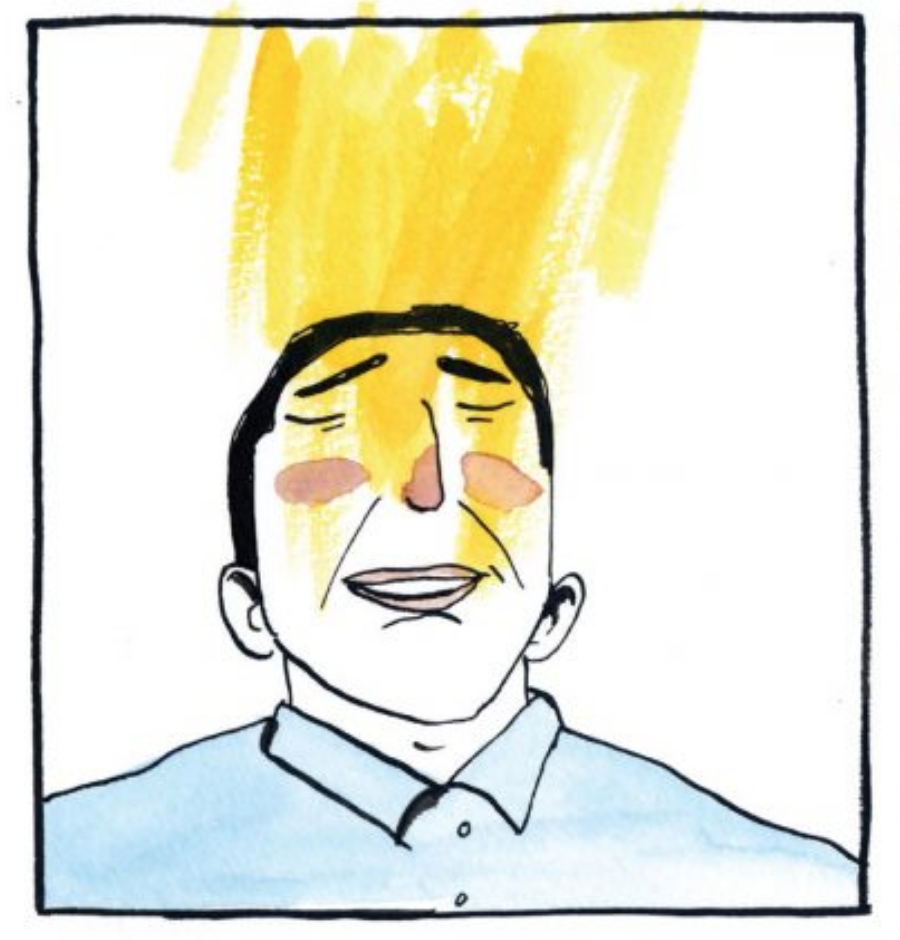 Danica Novgorodoff's dreamy, soupy, and all together stunning drawing style creates whole universes with a few brush strokes. A creator of self-penned comics as well as collaborations, here Novgorodoff teamed up with Etgar Keret for "September All Year Long," in a story where a credit-card swipe procures nice weather for the wealthy.
—Kristen Radtke
THE BELIEVER: How did this comic start?
DANICA NOVGORODOFF: People vs. nature is a favorite topic of mine (especially when nature wins), so when the Etgar Keret story "September All Year Long" came across my desk, I was immediately delighted by its simultaneous gravity and lightness, its wry humor. It's got a hint of sci-fi but is also very rooted in reality—we are destroying the natural world out of greed and our unwillingness to sacrifice profits and comforts, and "September All Year Long" conveys that message in an entertaining way.
BLVR: What's your process like?
DN: I worked through many drafts of the text adaptation, paring the story down to fit into a six-page comic. Then came several rounds of thumbnail sketches, followed by pencil drawings (I generally use a lot of photo reference), and inked pages, which I did on a lightbox. Finally, I digitally layered hand-painted watercolor washes into the final piece.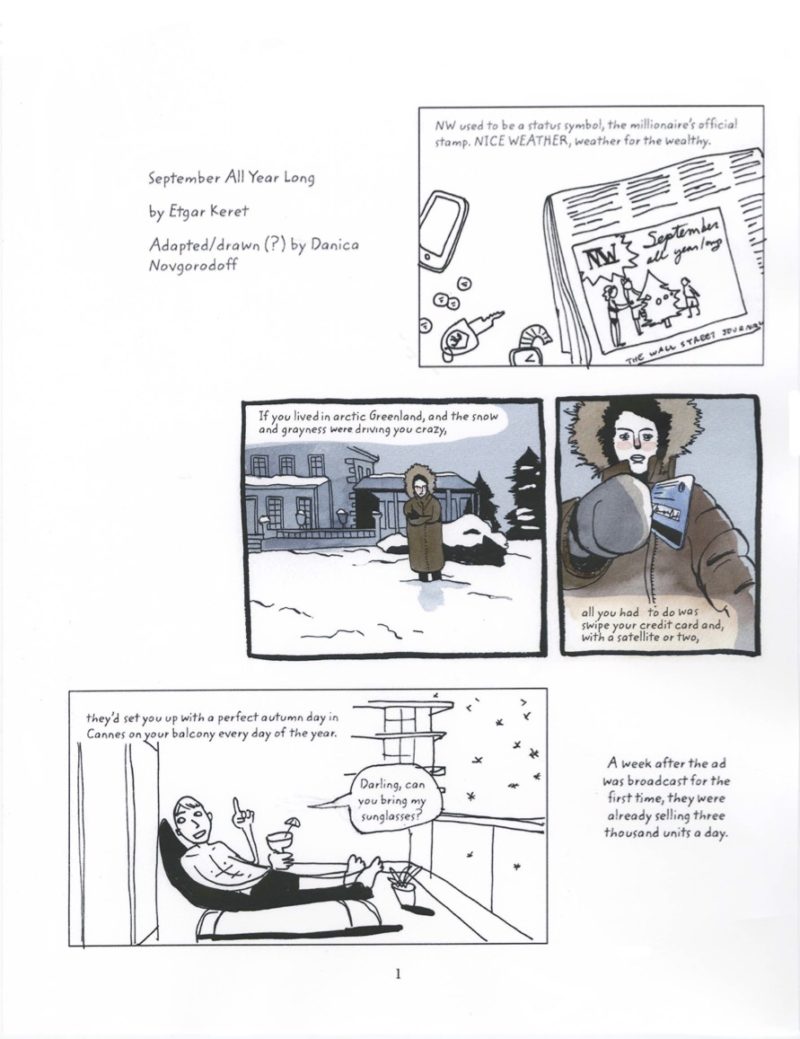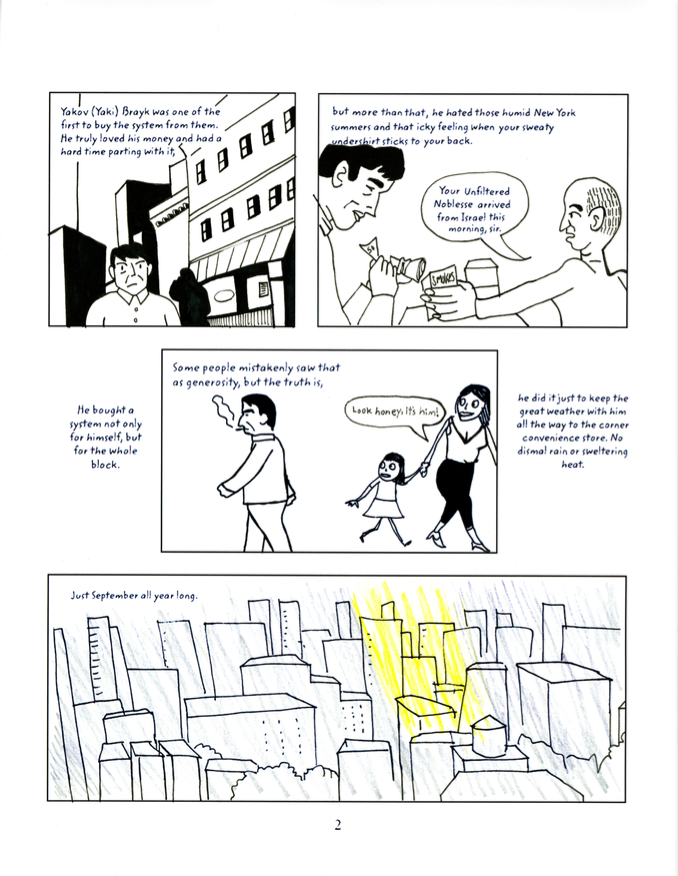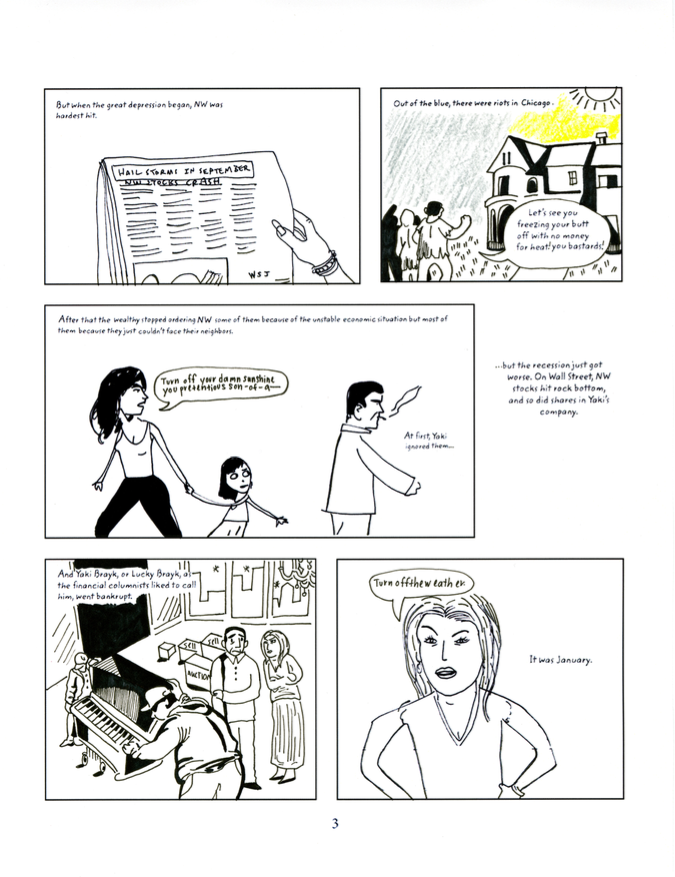 BLVR: Was any aspect of making this work particularly challenging?
DN: The most challenging aspect was editing the text down enough to fit into a short comic. I had to cut a lot of details from the original text and instead allow the images to depict the world of the story.
BLVR: What drives you to create new work?
DN: Often it's a personal experience or something surprising I see that sparks the idea for a new work, and makes me want to tell a story that connects emotionally with others. I make art to understand things that I'm curious about in the world. Art-making is a kind of research. But maybe most of all, I make new work because I love the process itself. I enjoy writing and drawing more than just about anything else.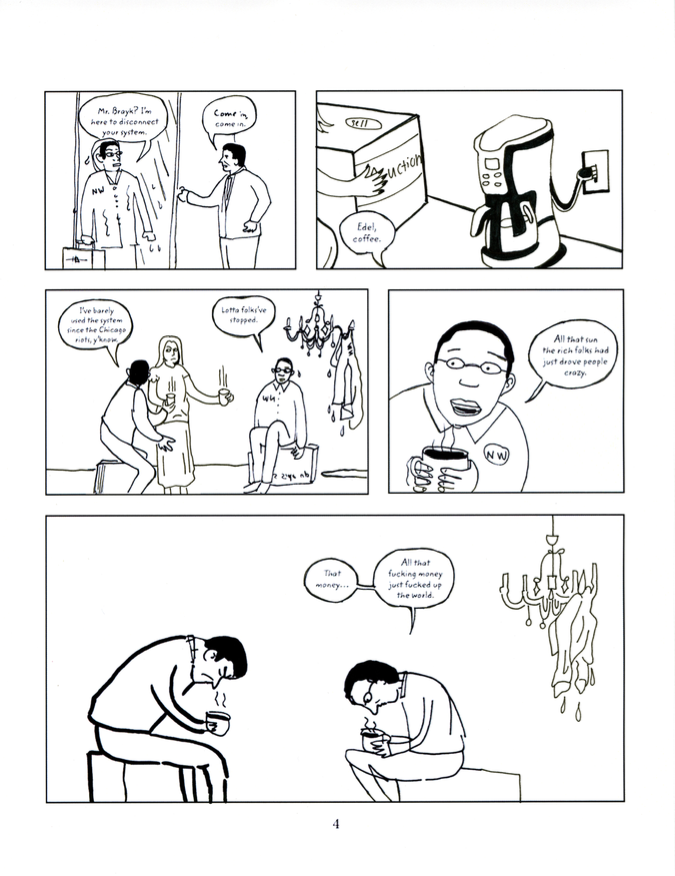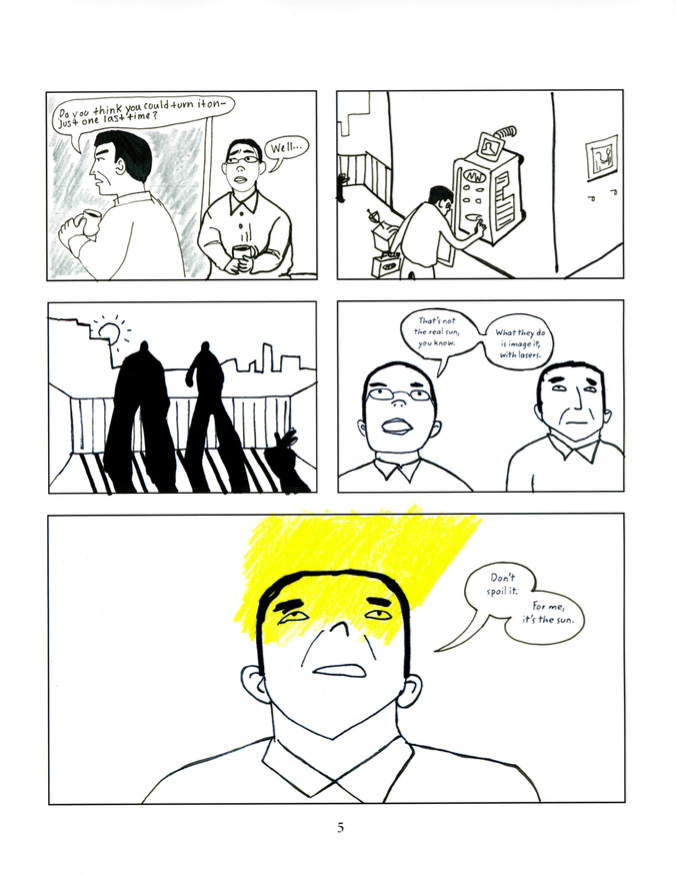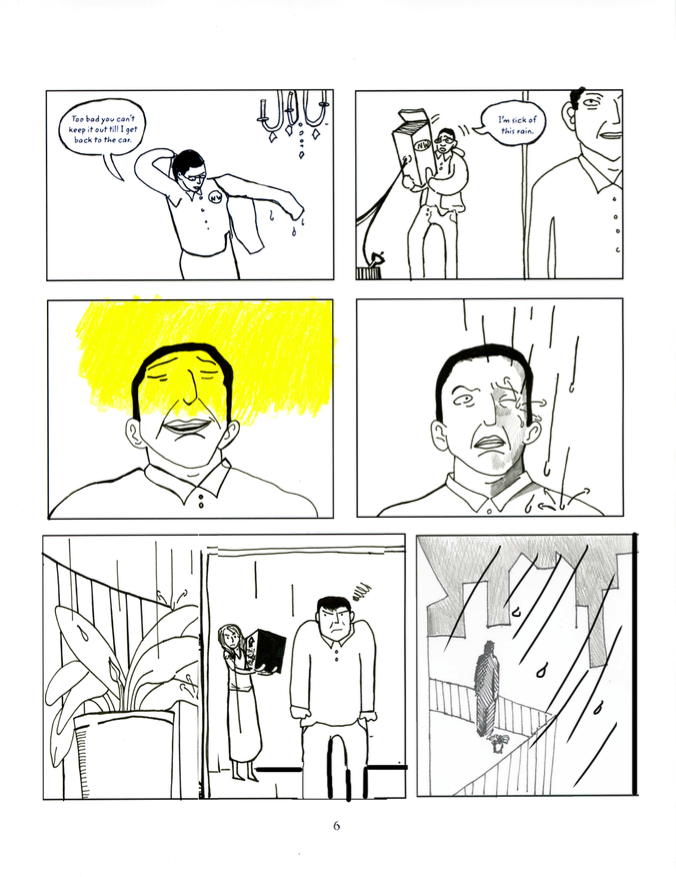 BLVR: Without naming any comics artists, what influences you most?
DN: I read a great deal of fiction and nonfiction. I like books that combine text and images in various ways, like Claudia Rankine's Citizen, Anne Carson's Nox, Sally Mann's Hold Still, W.G. Sebald's Austerlitz, as well as children's books. In the past few years I've been trying to read mostly women authors, due to a gap in my early education. I also try to visit art museums and galleries as often as possible—one of my favorite recent shows was Louise Bourgeois at the MoMA. Travel and being in nature also inspire me to create work. When you travel, everything is new and your senses are alive in a way that they may not be in the routine of everyday life.
BLVR: What are you working on next?
DN: I have several projects in the works right now. I'm writing a young adult novel about a girl from New York City who gets lost in the Amazon rainforest. I have a few children's books underway—one is a biography of the 19th century explorer and scientist Alexander von Humboldt. I'm also working on a project about volcanoes, though I don't yet know what form it will take—lyric essay, graphic memoir, or maybe an art show in a gallery!