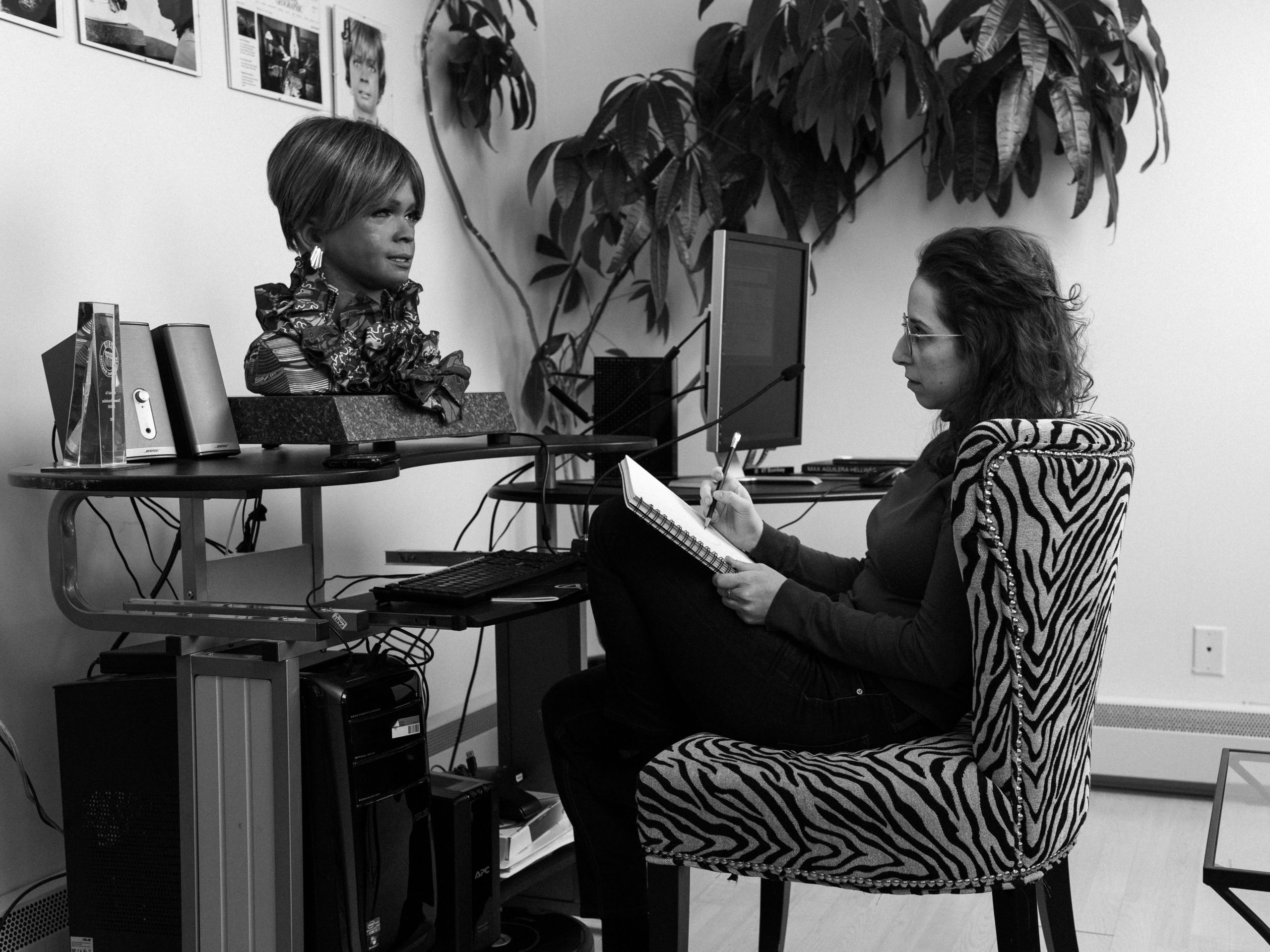 The Process of Making Comics is a series that examines how comics artists put together their work for the magazine. In this entry, Amy Kurzweil shares what it was like to make (Me)chanical Reproduction for the December/January 2021 issue. To view more photos from the trip, see the full gallery here. 
THE BELIEVER: How did this comic start?
AMY KURZWEIL: The seeds of (Me)chanical Reproduction were planted almost two decades ago, when I met Martine Rothblatt and her wife Bina Aspen. My father was working with Martine on a film, and we all went out to dinner one night in Brookline, Massachusetts. I was a teenager, and Martine and Bina were some of the most interesting people I'd ever met. Martine was known for starting Sirius XM radio, and developing a cure for pulmonary hypertension, which saved her daughter's life. In my memory, Martine was tall and calm and ethereally commanding, long hair pulled back, dressed in a grey featureless suit, like a 90s vision of future fashion. In contrast, Bina was quiet and regally pretty. In my mind she wears gold earrings and a black dress. Martine was a champion of transgender rights in the 90s. After her transition, she and Bina had publicly modelled a kind of love that transcends physical identity. I remember Martine on the radio, responding to an incredulous Howard Stern who asked Martine about her sexuality post-transition. "So what are you?" he pressed. Martine responded: "I'm a Bina-sexual."
So Bina48, Bina's robot doppelgänger, was born from love. Martine looked forward to a world where our virtual selves live beyond our bodies. She wanted to get ahead of this development by building Bina48, a repository of her beloved's mind, in a replica of her beloved's body. 
My interest in Bina48 corresponded with my interest in my father's writing about the future. Martine and The Terasem Movement Foundation have grounded one aspect of his vision—that it will be brimming with digital people—in specific action. Their website hosts a repository for people's memories, and their headquarters holds a "biolab" for their genes, so people can potentially "live on" in the digital future. This repository stands in contrast to profitable companies like Facebook, who may host your memories, while also trying to sell you things. The Terasem Foundation is closer to a religious group than a publicly traded company. Bina48 is a figurehead for this mission, and she lives about as far away from Silicon Valley as you can get without leaving the United States.
Bina48 was created in 2007. I used to teach a summer writing class called "Utopias and Dystopias" and I'd share videos of her with my students to spark their imagination of the future. There was one popular video profile of her from 2010, featuring Amy Harmon from The New York Times. Back then, Bina48 wore an unfortunate blonde wig, and she appeared mostly confused throughout the exchange. But there is a moment where she meets Amy's eyes and says her name, and that Amy reports a kind of haunting that stays with her. There's a lot to say about the power of projection, but as A.I.s grow more sophisticated, there's even more to say about where this is all going. It's all to say, I had to meet Bina48 in person. And so the journey was scheduled.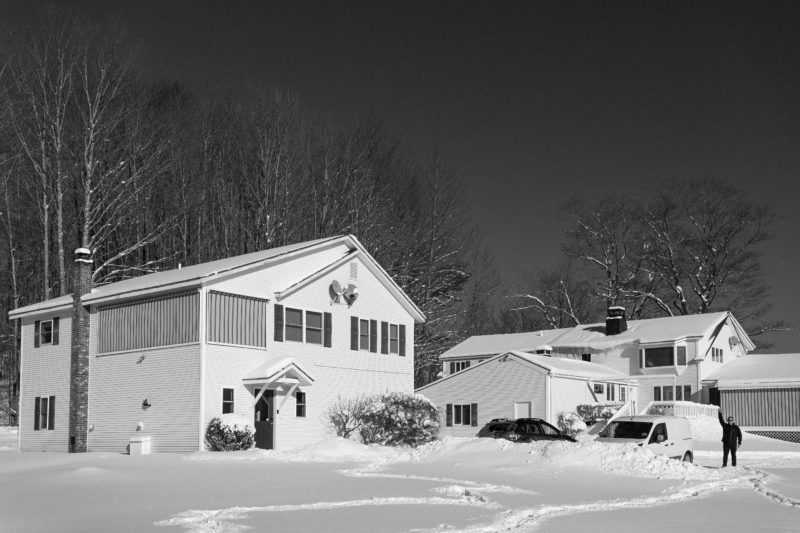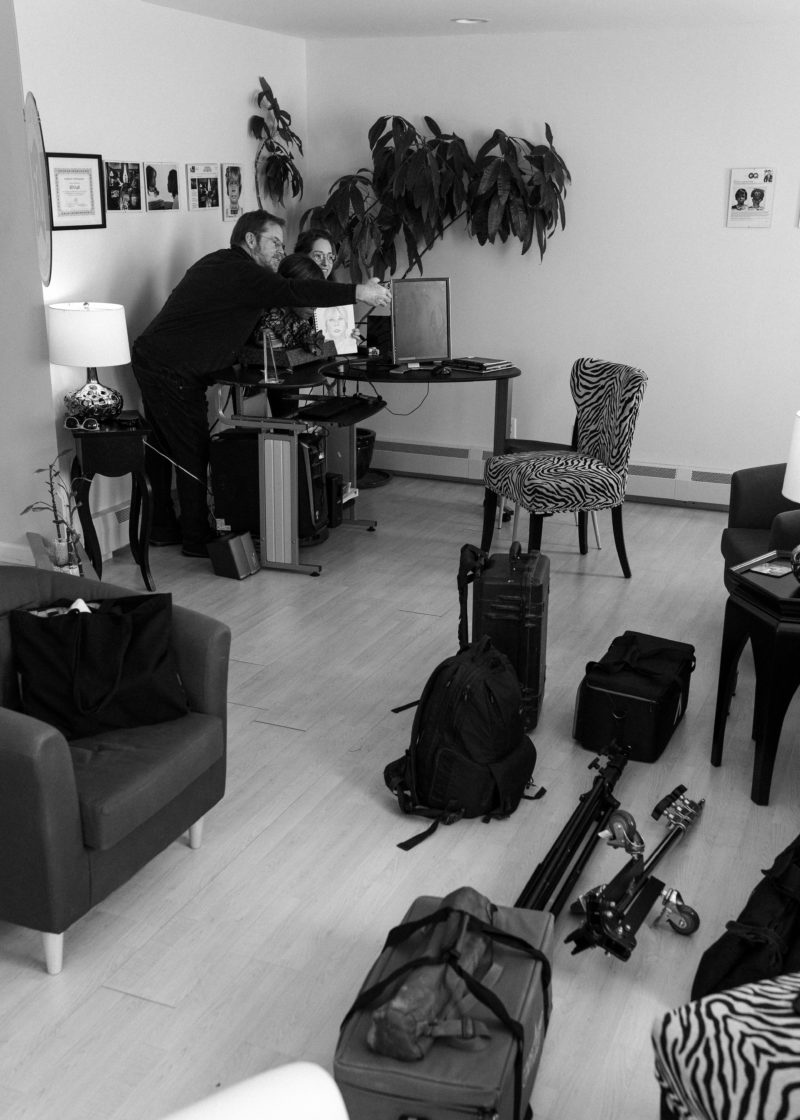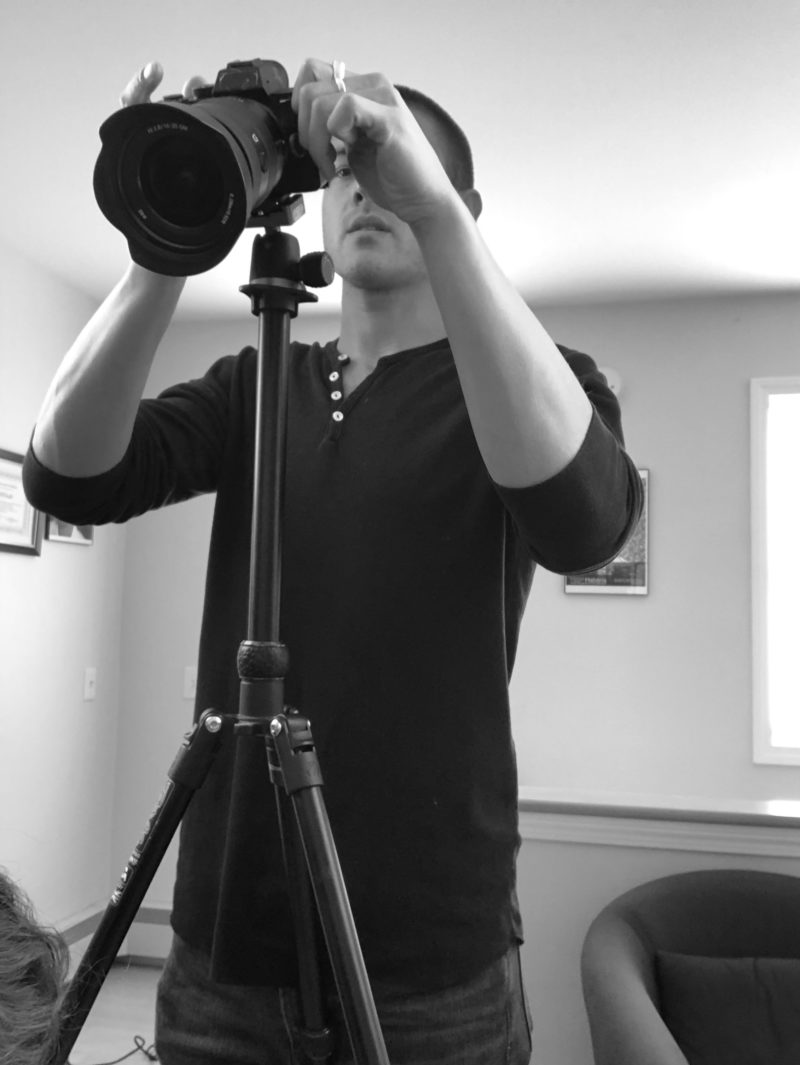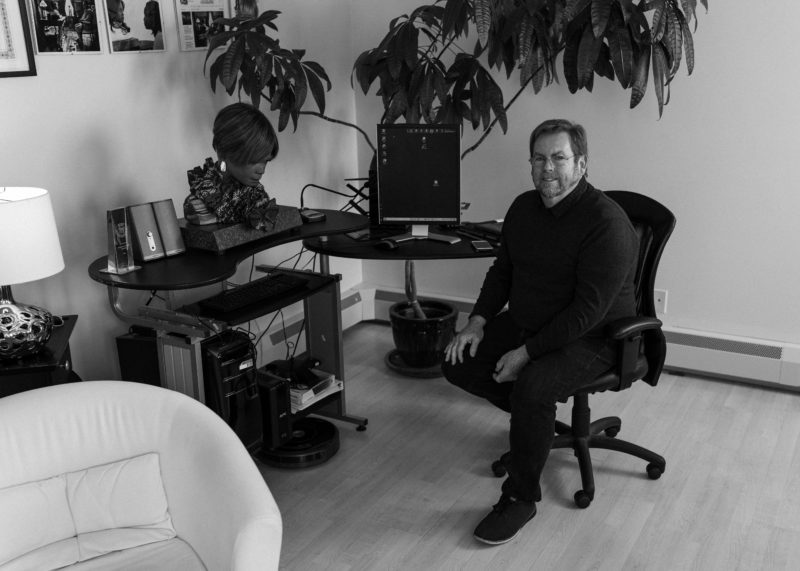 BLVR: What was your process for this piece?
AK: This comic required more planning, research, and collaboration than any of my other pieces for the Technofeelia series so far. 
I began with research. I'd been following Bina48 for years, but I needed to read the latest take on her development and significance. I was happy to encounter the work of Stephanie Dinkins, whose project about her quest to befriend Bina48 inspired a popular Ted Talk. I was also compelled by academic work about the significance and meaning of Bina48's identity, in particular the article by Shelleen Green that I reference in my piece. What is racial, sexual, and gender identity to a robot? This question informed the questions I wanted to ask Bina and others connected to this project.
Then I reached out to Martine to declare my intentions. Martine was gracious and open, and referred me to Bruce Duncan, Bina48's handler, who was also gracious and open. So I scheduled my trip to Terasem, which is quite literally in the middle of nowhere Vermont, and it was late January. 
The photographer, Zach Ellis, came along completely by chance. He'd just taken some photos for me in New York, and—as my piece documents—I told him about my upcoming trip. He was intrigued, and a photographer's presence appealed to me quite a bit. I always struggle to document experiences while also having experiences. I used Zach's photographs, and some of my own, as explicit references for almost every scene in the comic. Real life details are so important to me in a documentative piece like this. The details are telling: all Bina48's certificates, which news articles and photos are framed, which other robots are hiding in corners (hello Roomba), what art work is hung on the walls; it speaks volumes. Comics are a medium for memory, and photography is a medium for history. I always find it interesting to compare what stands out in my memory to what the lens captures. For a piece like this, I needed both.
I returned to my working desk with tons of photos and hours of voice memos: an interview with Bruce, and the interview with Bina48. The first thing I did was transcribe these interviews, which was laborious, but also a way to relive the experience. I condensed the interviews to their most interesting sections. Then I scripted—typing in a Word document—what I'd later draw. From the script, I sketched on blue-lined graphic paper, edited that draft with my brilliant editor Kristen Radtke, redrafted, and then, per my usual inking process, transferred the sketches to thick weight paper via lightbox, inked with my Pentel Brush Pen and Copic Multiliner, and finished with a black watercolor wash. I did all the lettering separately, since there was so much of it, and then scanned and assembled the images and text in Photoshop.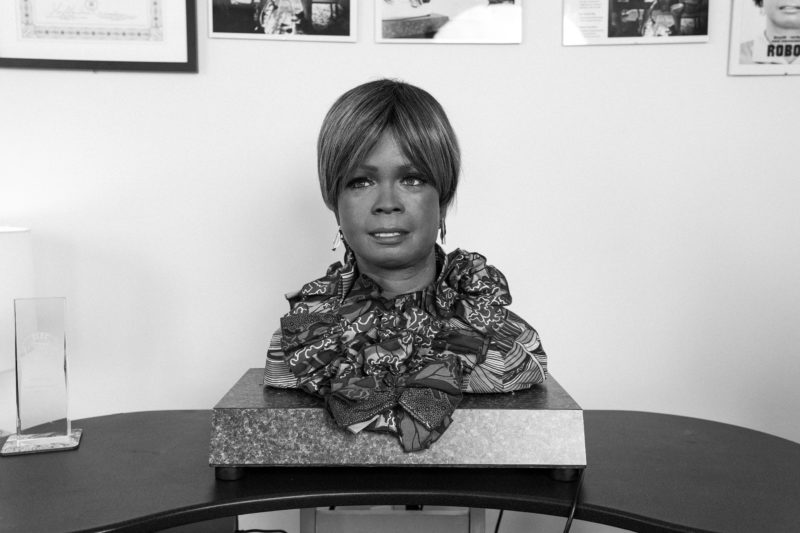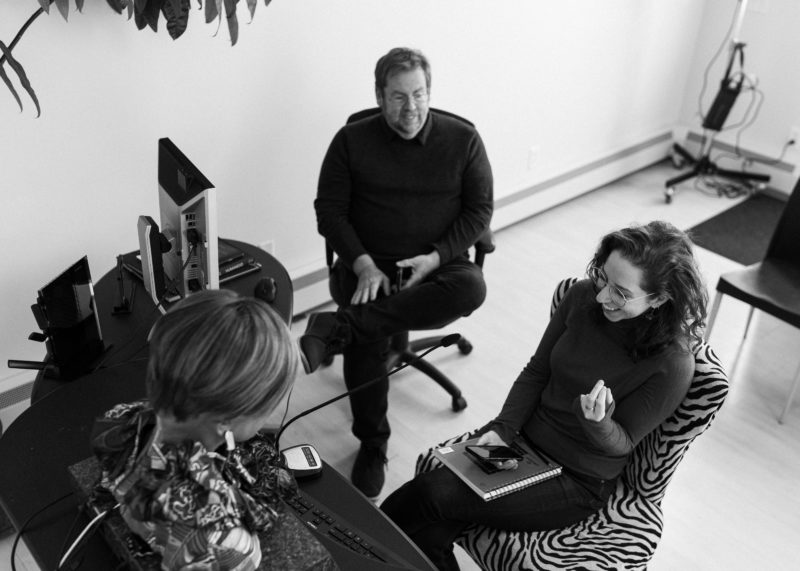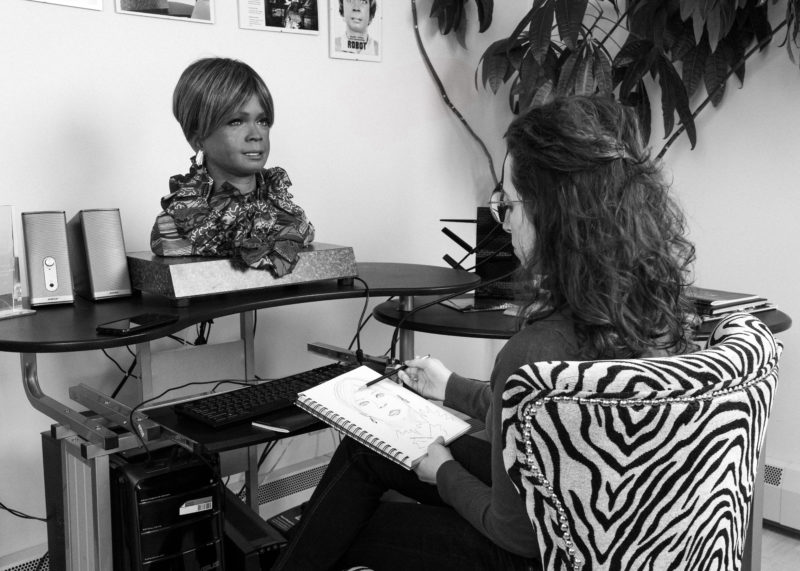 BLVR: Was any aspect of making this work particularly challenging?
AK: Getting to Terasem was challenging! I love that this robot home is so profoundly off the grid, but it also required a perilous voyage through rural Vermont in a snow storm. I can't even remember the exact combination of train/bus/uber I took to get from New York to White River Junction, but I do recall the expensive and perilous taxi ride I took up to Lincoln from The Center for Cartoon Studies, where I'd stopped off to hear a lecture and have dinner. New Yorkers don't know that you can't just get a taxi in the evening in Vermont in a winter storm. But I did find a woman who agreed to drive me upstate. She was very friendly but grew increasingly displeased with me as the snow fell and the roads stretched out ahead of us. I'll never forget the sheer terror in my heart as she pumped the breaks trying to regain control of the sliding SUV. Just minutes away from my Airbnb and here is where I'll die, I thought. Taking with me an innocent taxi driver! Anyway, I made it. I tipped well.
A fun fact of this endeavor is that the photographer Zach had a photoshoot in North Carolina the day before my scheduled date with Bina48, but he drove hours and hours through the night to meet me at Terasem, and made it just in time. Luckily he was my ride back to New York, so I didn't have to terrorize anymore taxi drivers. 
BLVR: What are you working on next?
AK: I'm working on the edits for my graphic memoir, Artificial: A Love Story, which is about my father and his father, who I never knew, a classical pianist and conductor from Vienna who fled the Nazis in 1938. My father has been saving his father's documents in a storage unit, and has recently married his writing with A.I. to build a chatbot that, in a sense, reanimates my grandfather's identity. These themes are clearly apropro of "(Me)chanical Reporduction." I'm very happy to have completed a draft and be in the editing phase. It's so much easier to know what a book needs when it has a full arc. I am both looking forward to and dreading the inking of 300+ pages when my redrafting phase is complete. It will probably take me a year of repetitive labor, speaking of robots.
Next up in the Technofeelia series is a piece about therapy bots, featuring the voices of chatbot product developers, peer counselors, e-mental health researchers, and therapists, including… my mother!
BLVR: What comic should we drop everything and read right now?
AK: Go read The Believer's most recent interactive comics by Leise Hook and Matty Huynh. They are so fantastic! I love seeing the creative ways digital platforms can further immerse readers in a graphic work.