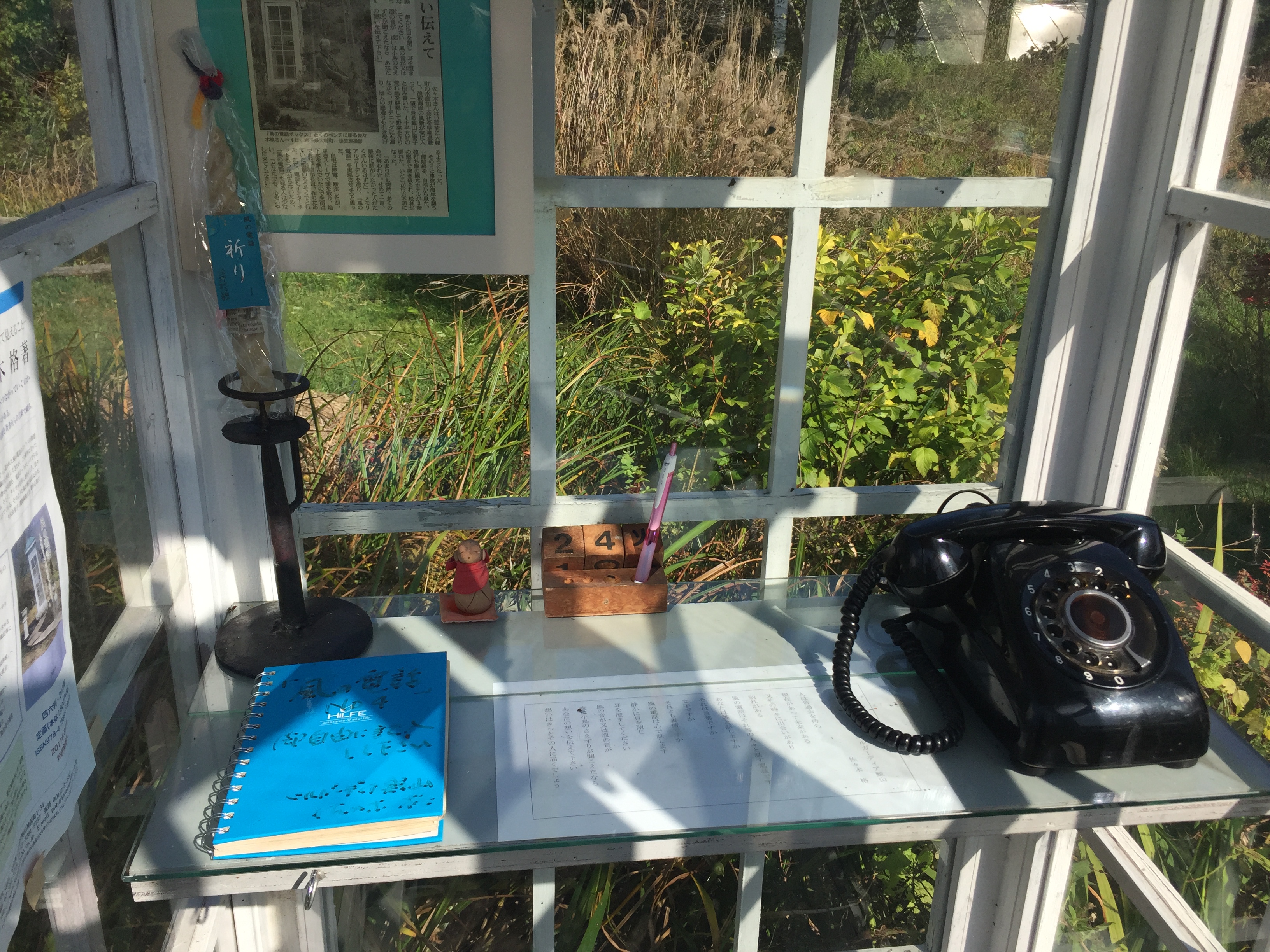 The phone is an old rotary with small holes for your fingers. To make a call, guide your number past zero and once you release, it will carry itself back to where it began. I'd forgotten how easy it was to mess these up. Jerk your finger out too soon, and you'll never get connected.
The phone sits on a metal shelf inside a glass phone booth in the middle of a lush garden. The shape of your hand holding the receiver is like the shape of your hand holding a bundle of flowers for someone you loved. When I ask Mr. Sasaki why he chose a rotary phone for his phone booth, he says that the extra time it takes to dial is good. Gives you a chance to figure out what to say to the dead.
Most locals come after dark, or very early in the morning. They keep their grief private. If Mr. Sasaki sees someone out in his yard, on the phone, he pretends not to notice.
Death doesn't end life, Mr. Sasaki tells me. One person dies, and all the others around them go on living.
Life continues.
Life continues, and so Mr. Sasaki has built something to help other people, and himself, continue. It is called The Phone of the Wind.
I am in Otsuchi, Japan, a small rural fishing village on Japan's east coast. It is October, 2017. In 2011, a 9.0 magnitude undersea megathrust earthquake occurred just southeast of the island. It was the most powerful earthquake ever recorded in Japan, the fourth most powerful in the world since we began giving numbers to our catastrophes in 1900. The earthquake triggered a massive tsunami along the eastern, Pacific, coast with waves recorded of up to 133 feet.
Otsuchi's population was 16,000. After the tsunami, ten percent of the population was dead.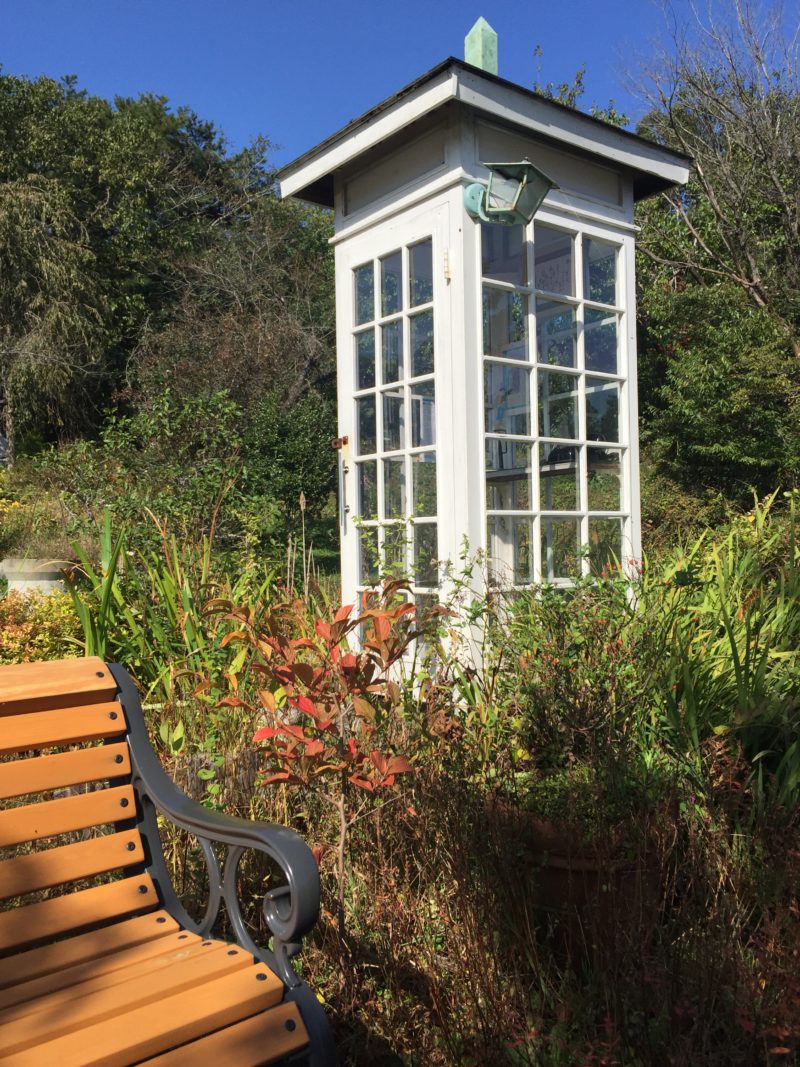 It's called the Phone of the Wind, because the phone is not plugged into anything. Whatever you say will be carried on the wind. Beside the phone there is a small, lined book for visitors to write in. On the cover, it says it's the fourth such book—three others have already been filled. I thumb through the pages. I'm not sure if that's an invasion of privacy or not, but nearly all the writing is in Japanese, which I can't read. Scattered throughout the book, photographs have been inserted.
I stop at the first one I come across. A polaroid photograph with the date 11/21/16 written beside it. It's a close-up of a girl posed behind a birthday cake. The cake is encircled by tall, skinny candles, many-colored, all lit, and in their center, sliced strawberries, raspberries and blueberries. A fruit tart, maybe. Behind that, in a wide necked tan t-shirt, is a pink-cheeked girl with just a hint of a smile on her face. She has bangs straight across her forehead. She's looking at the camera. Behind the camera, someone, it seems, is telling her to smile. Look here, they might have just said. Maybe she's just been sung happy birthday. Maybe she is about to blow out the candles. Written in pink marker on the bottom white strip of the polaroid:
HAPPY 15th BIRTHDAY, ANZU!
The most arresting part of the photograph, though, is that somehow, impossibly, there seems to be a reflection of the circle of candles higher up. I don't understand the physics of how that might be possible. But that is how the photograph appears. A halo of light encircling her face.
Though it has been six and a half years since the earthquake and tsunami that devastated this region, the evidence of it is everywhere. Empty dirt lots. The massive concrete sea walls being constructed all along the water, small town mayors bracing for more potential catastrophe.
I knew, having read everything I could about the Phone of the Wind, before booking a ticket to Japan just so I could visit this place, hurtling through space on bullet trains and small passenger trains and vans to eventually arrive at this small, remote town in the far north, that the phone didn't actually connect to the dead. I didn't expect that there would be the voice of a lost loved one magically on the line when you picked it up. But still. Still. I am here to witness this town. Talk to the survivors. Pick up the phone myself.
Pain is relative. And yet, my personal reason for making this journey feels so insignificant as I pass mass devastation. Mr. Sasaki reinforces this—that the difference between a loved one dying from a tsunami and illness is the difference in one's ability to say goodbye, to prepare. He tells me that people in the town have a sort of grief hierarchy. A person who has lost his neighbor and nephew must not, for example, show more sorrow than a person who has lost her husband.
Just over a year ago, my mom died. For the six years before that, she'd been paralyzed on one side and lost the ability to communicate after a series of massive strokes impaired both her cognitive and physical function drastically. Though I function mostly like a normal adult, I feel, much of the time, like I am stuck in some whirlpool of loss. Here's the simple truth: I still can't imagine my life without my mom.
A robot in a kimono greets me at the front door of my hotel. Konichiwa, she says, her huge plastic painted eyes unblinking. She bows to me, and I can hear her small rumble of machinery doing work. I have just arrived at the Sanriku Flower Hotel, a big, romantic building filled with enormous fake flower arrangements that sits right on Otsuchi bay. The town is in northern Japan's Iwate prefecture, as un-touristy a place in Japan as you can find. At dinner, slices of fish or abalone or mushroom are individually arranged on a dozen or more tiny plates, garnish making each a little masterwork. For a town that has been so recently devastated, the hotel is surprisingly ornate, gaudy almost. A woman who works in the restaurant has been assigned to me, the foreigner, and as she brings me things to eat, she subtly mimes what animal they come from. It's a nightly game of charades. We laugh a lot. At my last dinner, she presents me with a paper crane.
My room looks out to a field of tall pines beside the ocean. The trees have few needles, are naked for two thirds of their trunks with a few clusters of branches up top. They lean toward the Pacific.
It is strange to see the Pacific here. I grew up along the Pacific in northern California, and it is impossible to fit the size of what is between me now and my childhood in my brain. The latitudes, though, are similar, my hometown at 38.0127 N and this town at 39.3582 N, and it makes me feel almost like I'm living another version of my life here, one occurring through a mirror, one degree off.
I quickly learn that everything here is described and measured in relation to the tsunami. I hear this from locals. There's a Before and After. Everyone knows what you mean.
This is true for every major loss. The Before. The After.
Huge roiling waves break against the sea wall that runs along the bottom level of the hotel. Typhoon waves. Every fifteen or so seconds, there's the large boom of a wave crashing against the concrete. We're in a big storm. I'm nervous.
I start awake all night. There are no stars. I wake because my windows are rattling, the waves shaking the sea wall so intensely they are shivering the windows in their frames.
I can't actually imagine what it would have felt like to be here during the tsunami. I try to imagine. I dream about it again and again. I'll keep dreaming about it for months. But in truth, though I feel great sympathy, I cannot empathize. The kind of terror and loss is on too great a scale.
I wake again at 6am, the sun already up, because suddenly, there's music in my room.
I sit up, listen.
I think at first that it is in my room, but after a moment I realize it seems further off, more echoey. I open the window and realize it's coming from somewhere outside. A jaunty little tune, instrumental, that seems to be permeating the air and needle-sparse trees and ocean. After one minute, it stops.
To understand the significance of this phone, it is necessary to understand the town. And why a phone that could connect to the dead became a site of pilgrimage for over 10,000 visitors so far.
Mio is slight, well-dressed, her body in constant motion like she can produce enough energy to heal this town herself. She runs a local nonprofit focused on helping the youth with recovery, and speaks English, as she'd worked for years as a nurse in the US before coming to Otsuchi as an aid worker following the tsunami. I've been connected with her through a regional international organization I contacted a few weeks before I'd arrived. She's offered to act as an interpreter and to take me on a tour of the town. It's important, she tells me, that I see evidence of the Before and After.
Mio drives us through flattened dirt lots, now cleared of debris, but packed full of construction workers. I don't see many people as we drive around except for the continual stream of builders. "Even though this is a very small city, I always get lost because they keep building new roads," she says. "And there are new buildings, new landmarks. I never know where anything will take me." We pass big metal cranes and a brood of workers in hard hats crossing the roads with purpose, and little clusters of porta potties. Mio parks on empty dirt beside a big, ruined building. I follow her to the cracked parking lot in front. She doesn't say anything. We are standing at the opening of a small, three-sided wooden structure that holds a table with flowers, candles, statues of the Buddha, bottles of water, incense, and a clear plastic box wrapped in a pink bow, inside of which are hundreds of colorful paper cranes. Hanging from the sides of the shrine are more cranes, long strands of them stacked on one another's backs like they are riding each other way up into the sky. A handful of big plastic buckets inside hold bouquets of flowers, a few bundles in each. They are fresh.
Mio lights incense and a candle, steps back. I copy her. We bow our heads, press our palms together and are quiet a few minutes.
"This lot was filled with people," Mio says after a few minutes, pointing to the ground directly beneath our feet. I try to imagine it, the shadows of pretend people appearing all around. "This was the government building, and all the government workers, the mayor and everyone, came out here to their emergency meeting spot just after the earthquake."
As the entirety of the government for the town, it was their job to make sure their people had fared ok during the big quake. They stood in the parking lot, making plans to go check the roads, ensuring the people of their town were safe. It was a relief, to have survived such a big earthquake. That's when the first emergency text message arrived.
The government building lot where Mio and I are standing is perhaps 200 meters from the shore, a calm bay with mineral-rich water. The hills that stretch along the two peninsulas lining the bay are dark green, turning red and gold in patches. The trees jut up right from the light tan rock cliffs at the edge of the bay. It's unusual to have mountains leading right to the ocean. When it rains, bacteria and nutrients from the soil slide down into the water, making this bay especially rich, which many sea creatures, shellfish especially, feed on. The oysters, scallops, salmon and abalone in the bay are some of the best in the world, and what has kept this small fishing village as an important hub. In the Edo period, when Samurai held power, fish were shipped from Otsuchi to the wealthy families down south.
Between the government building and the shore, a block of densely-packed buildings blocked the view of the water, making the content of the emergency text seem even more irrelevant. A tsunami was expected, the text read, with waves reaching 3-5 meters. The town's sea wall rose 6.5 meters. There was no cause for alarm.
Some younger office workers, despite being worried, Mio explains, were not able to voice concern or suggest they evacuate because of social hierarchy in Japan. You don't speak against your elder. If the elder doesn't think evacuating is necessary, you don't evacuate.
A crane is digging into packed dirt just beside where we've parked. It is pounding into the ground. The parking lot where we stand is so ordinary. A stretch of dull asphalt. The bland gray of industrialized countries and their bureaucracies.
"All 140 government workers were standing right here. They saw waves crashing over a building just a block away. By then, it was too late." Mio says this softly, quietly, without any of the cliché or drama that that line so often brings. It's just the truth.
Some ran inside, up the three stories on the wide stairs.
"Look there," Mio says, pointing to something on the top level of the building, through a hole in the wall we can see inside. "See that? It's the only way to the roof. One single ladder. People were pushing each other off to make it up to the roof fast enough." Turns out it didn't matter, though, if you made it to the roof. The waves went that high. You could only survive if you'd found something to hold onto up there.
It seems impossible that the asphalt is unstained. I squint at it. Scan. It is hard to imagine a place that has seen so much pain not be marked in some way by the world. But I guess that's the earth doing its work, continually regrowing itself. And that's one of the most difficult parts of the amount of water that poured in—the erasure. Families who lost everyone became suddenly unknown, as there was nobody with whom to match DNA.
But it wasn't just the water wiping the town away.
There were about 25,000 homes in the town, each with an average of two gas tanks for cooking and heating the house.
"After the waters receded, the tanks began to explode. 50,000 tanks. One after the other. Explosions everywhere." For those who survived the tsunami, now they had to survive small explosions and fires all over town. It was impossible for anyone to sleep. And for those who hadn't survived, many of their bodies burned until they could no longer be identified. Fires burned for three days and three nights.
When it was over, over forty percent of the residences had been underwater or washed away. Ninety-eight percent of the businesses.
Of Otsuchi's dead, a third of them are still officially "missing," their bodies having never been identified or found.
In front of the government building is a small, lush plot of dirt filled with beautiful flowers. An old woman comes here every day to tend the flowers and talk to her daughter, who was one of the government workers. The daughter was in her forties, and the mother survived, though both her house and her daughter's house were washed away.
"She comes here because there isn't any other place that is connected to her daughter anymore. She doesn't have any of her things from her house. There's just this building. These flowers."
The mayor was killed. The vice-mayor survived, but the next seven people in power died. That was another complication. Once the water was gone, and the fires died down, there was nobody to take charge and figure out what to do next.
The mother tends to the flowers every day. Weeding. Watering. Keeping what's living, alive.
The town is deeply divided about what to do with ruins like this governmental building. Half the town wants to keep it as a memorial to those who were lost. The flower-tending mother is one of them. It's a way to remember and connect. The other half wants to tear it down and build something new, to help heal by moving forward and not torture those still living with the evidence of so much pain.
Another high-pitched, instrumental song begins playing, as if creating itself out of air. I can only faintly make it out behind nearby construction sounds.
"There isn't a good solution," Mio says.
"Which one do you think is better?" I ask her.
"Well, I wouldn't want to take the flowers away from that mother. But there's this other man I know who lost his wife and son and parents. And he can't live in this town at all anymore because of the ruins. So, I really don't know. Neither way will make everyone ok."
We stare at the ruined building as if it will reveal itself.
"So if people come here to visit this shrine to think about their loved ones, what's the point of the Phone of the Wind? Doesn't this fulfill the desire?" I ask.
"That's the exact question you need to ask Mr. Sasaki," she says.
Two hundred miles south, along the same coast, as a result of the earthquake, the Fukushima Daiichi nuclear power plant lost the backup generators that kept the reactors cooled. Over the next four days, the plant would have three nuclear meltdowns, release radioactive materials and sustain hydrogen-air explosions. It was the worst nuclear disaster since Chernobyl. It's unknown how many people and animals and plants will die as a result of the human error that didn't put safety precautions in place at the plant. Many of the losses from the earthquake and tsunami are so personal, but there was devastation on a scale it is still impossible to understand.
In the middle of the Pacific, a massive concrete dock 66 feet long, weighing 188 tons, is carried east to west atop the churning waters. Japanese writing appears on the side, and on board, there are many species that, accidentally or on purpose, came aboard in Japan. They are surviving. Maybe they are adapting. Maybe they just have enough of what they need because the space is so large. There may have been more when they began, but by the time the dock washes up on an Oregon beach one year after the earthquake and tsunami, there are 118 species of foreign marine life that scientists quickly kill before the Oregon coast's ecosystem is damaged.
Also washed ashore: five fishing boats. Pieces of a temple. It's not just the big debris causing alarm, though. Pieces of Styrofoam and plastic constantly wash ashore, chunks of peoples lives that were, once upon a time, much bigger.
The way to Mr. Sasaki's house and the phone booth is up a steep, narrow, curvy road and it seems impossible that Mio's car, or any car, could ever make it. When word about the wind phone started spreading, a tour bus full of gawkers started winding its way up this hill, but the bus got stuck in one of the hairpin turns. The tourist mob walked the rest of the way, a giant dust cloud of strangers standing in Mr. Sasaki's yard, bloating into his neighbors' driveway.
"What is your intention?" Mr. Sasaki, translated through Mio, wants to know when we arrive. "Why are you here? What is your purpose?"
I give some surprised, rambling answer about closure and grief and cultural reportage. We're sitting in a stone cottage that looks straight from a fairytale with a big hearth in the center and wooden beams running the length of the ceiling. It's also part of the Sasaki's garden. Half of the cottage is filled with children's books so kids could come here after the tsunami to find a place of normalcy and refuge.
"People come here, write stories about me, and get it all wrong," Mr. Sasaki says. It has happened before, keeps happening. Journalists come in with the story already written in their head and find pieces of what Mr. Sasaki says, or snatches of information about the wind phone to plug in and support their point. Like this idea that he's a hero. It's a real problem.
"They pick and choose his words, write about his eloquent phrasing and selflessness, and then his neighbors see him in town and say hey, you sure feel good about yourself," Mio says. "That's really bad in Japanese culture. Saying that you are the hero. That ego. That's not how we do things. And this place? It is meant to be open to the public, but it isn't meant to be a tourist attraction."
What is meant to be a tourist attraction is a small gourd-shaped island with a lighthouse in the middle of Otsuchi's bay. A famous Japanese TV puppet show from the 1960's is said to have been inspired by that island. It also holds a shrine to Benzaiten, a goddess of the ocean who ensures a good catch and safety in the water. Many of the younger generation don't believe in worshipping the deities anymore, or in the traditions necessary to honor the deceased in the way the older generations do, Mio tells me. For older residents, Benzaiten was revered. After the tsunami, which demolished so much of the city and crashed through the island again and again, as the wreckage was surveyed, survivors were astonished to see that the statue of Benzaiten was unharmed, unmoved, still standing exactly as she had been despite receiving constant pummeling in the center of the Bay. Since then, almost everyone is a believer.
In 2010, Mr. Sasaki learned his cousin, a calligrapher and martial arts instructor, had stage 4 cancer. He was given 3 months to live. They were very close, drinking buddies, as Mr. Sasaki puts it. He had already gotten the phone box as a pretty accessory for the garden. But after his cousin got this diagnosis, he thought that the phone would be a great way for him to talk to his cousin after he was dead.
Death is much longer than life. Mr. Sasaki is explaining this to me at a small wooden table, gesturing subtly as he speaks. He folds his hands over one another on the table so that the one missing half a finger is covered.
"Life is only, at most, 100 years. But death is something that goes on much longer, both for the person who has died and also for the survivors, who must find a way to feel connected to the dead. Death does not end the life. All the people who are left afterward are still figuring out what to do about it. They need a way to feel connected."
In December 2010 he finished the phone booth. In March 2011, the tsunami. There were suddenly so, so many people for whom death didn't end a life.
In the beginning, most of the phone's visitors had lost someone in the tsunami. But over time, it has broadened. There are entries from all over the world. After tsunami-related visitors, the second most common reason for visiting is having lost a loved one to suicide.
It's the sudden deaths. Someone is there, and then not. A loved one doesn't have time to prepare herself for the loss. She has more she needs to say.
Mr. Sasaki and his wife used to be the only people who lived up on this hillside. Most of the residents in Otsuchi lived down in the basin between all the mountains, close to the ocean, near where they worked to haul fish and scallops and kelp. The ocean gave them food, and items to sell for their livelihood, and beauty, serenity, pleasure. And then it took it all away.
Of the 650 fishing boats in the bay, only 30 remained intact.
After the tsunami, when most of the houses in the town were destroyed, others chose to rebuild up on the hill, far away from the reach of any waves. Mr. Sasaki and his wife got some neighbors. The government opened grief stations, public places where people could mourn together. They were in convenient places. Along the highway. In a shopping mall. But Mr. Sasaki recognized that not everyone would want to mourn publicly. His garden is private, but not secluded. Surrounding the phone booth are tall grasses, cattails, whispy orange bushes that have lost most of their leaves and a Japanese maple tree whose red leaves and branches have been made perfectly circular. There's a small stream with a few wooden bridges over it, and, before this new train line that was just built so much further up the mountain, a view of the ocean. From the phone booth, you can choose any direction to face as you speak and you will see something bright and beautiful to carry your words on the wind.
One of the entries written in the visitor's book in English is from a couple on their honeymoon. Both of their previous spouses had died, it said. And so here they were.
The phone is for sudden losses, and also, now, other kinds of losses. Though the vast majority of the entries are in Japanese, a number of foreigners have also made the long journey to this hillside. The losses are vastly different, and yet the need for some of us to connect with the dead unites us in that journey.
I wanted to ask Mr. Sasaki a question I couldn't stop thinking about.
Do you think that people really hear the dead on the phone? I asked. He told me a story.
One old guy in town recently came to the wind phone. His wife had died in the tsunami. The guy seemed nervous at first, and wouldn't pick up the phone for a while. Once he finally did, he started talking into the phone and wouldn't stop. He talked and talked, and was nodding in the phone booth like he could hear the response. He'd be quiet and nod, and laugh, or scoff. It wasn't just him talking. It wasn't one-sided. He was having a conversation.
Afterward, he came up to Mr. Sasaki's house and said he'd been on the phone with his wife, who wouldn't stop nagging him about things he needed to do around the house. He wept. And then his heart emptied out the grief it was carrying.
When your heart is filled with grief, Mr. Sasaki explains, or some kind of burden, you aren't in tune with your senses. You're closed off, like curtains have been pulled around you. After you empty your heart a little bit, you might hear some birds singing again. You might notice a fox or the sound of the stream in the garden.
The way to turn a phone call that seems decidedly one-sided into something obviously two-sided is through the use of personal imagination, according to Mr. Sasaki. When you talk on this phone, you imagine what the other person would say to you, is saying, in response. Imagination is key.
Imagination is also what will help you move on.
You have to imagine your life without the person who is dead. Use your imagination, see that future. See yourself eating breakfast without him. Taking the train without her. Then, you will be able to live it.
Just after sunset, at 6pm, a third jaunty tune is suddenly filling the air.
What is the music all about? I ask Mio. She explains.
The emergency warning speakers didn't work when the tsunami was approaching. There was a malfunction and they didn't go sound an alarm. Didn't warn people. That's why so many died. They were just walking around town, sitting at home. They didn't realize what was approaching. And so now, they test the speakers. Three times a day. With music.
They work at six am.
They work at noon.
They work at six pm.
So the people will know.
And at noon, the speakers play the theme song from that famous 1960s show, reminding everyone within earshot of an island filled with puppets that floated around the ocean, or maybe of a statue on the island of Otsuchi bay that couldn't be knocked down.
The phone booth is in the middle of a beautiful, wild garden up on a hillside. Surrounding the garden are a few other houses and beyond that, woods that stretch up along mountains that glow with golden leaves, reds and oranges, and fox trotting nearby, small birds flitting from branch to branch and wild hares in the underbrush. A colony of ladybugs crawls along the inside of the phone booth, gathering in the corners, spreading out into orange freckles along the glass. Their shells are the same red-orange as the leaves of one of the dwarf maple trees outside.
It took me almost two hours to step inside. I circled it a few times, touched plants in the garden. Sat on the bench nearby. Most people can't go inside right at first, Mr. Sasaki said. The journey is easier, because there's such a clear goal—reaching the phone booth—and the external obstacles along the way—getting on the wrong train, massive typhoons, not speaking the language—feel like noble hurdles in service of something greater. But then, there you are. I hadn't thought to prepare for the thing itself.
Japan's national public broadcasting organization, NHK, made a documentary about the Phone of the Wind. It captures a number of different visitors on the phone. "If you're out there, please listen to me," the first voice begins. For much of the 40 minute film, we follow a mother and her three children as they come to the phone for the first time. They'd lost their father, her husband, in the tsunami. They didn't speak about him much at home, the daughter not at all. There are shots of the family together at home, the mother preparing dinner while the kids do their homework, play outside.
When they arrive at the phone booth, they too sit outside on the bench. It is a cold day. The daughter goes into the booth with her youngest brother. She picks up the phone. Her voice is suddenly heaving. It's hard to tell if she is laughing hard or sobbing. "What should I say?" she asks her brother. "What you want him to know," her brother responds. She apologizes for calling him stinky. Tells him she joined the tennis team. Asks that he watch her match.
"There were still so many things I wanted to do with you," the mother says into the phone, the last to speak. "Time won't heal me."
Nobody else came while I was in the phone booth. In fact, the last entry in the notebook was from at least four days before. I pressed my palms together, imitating the prayer Mio had instructed me to do earlier at the shrine in the parking lot. I don't know how to pray. I don't know that I said anything into the sky, except some silent wish to say the right thing. A prayer for a voice. I stand like that, and my chest grows heavy, and I open my eyes and look up because an angry, buzzing sound had started. There are clusters of those spotted bugs in the corners, a dozen or more, crawling up and down the windows. Their wings fold in under their carapaces.
Why can't we just speak to the dead at home, in a place that is comfortable, in your bedroom at night, in the bathroom? Why can't I just tell my mom what I want to tell her while I'm taking a walk in the woods, when I spot wild iris, while the light through leaves resembles the kind of light people use to describe heaven?
It's not like anything else. It isn't therapy, Mr. Sasaki says. It isn't the same as the thing you say to your friend over your second glass of wine about wishing you could talk to your dead mother about something. It isn't praying. It isn't talking to a loved one who also knew the dead.
You pick up the phone and your brain has readied your mouth to speak, Mr. Sasaki explains. It's wired. We do it all the time. You don't think what it is you want to say, you just say it. Out loud. Into the phone, which is connected to nothing. From there, there is thing for your words to do but follow the directives of the thing itself—be carried on the wind.
My palms are still pressed together when I finish looking at each beetle inside, at the fly rubbing its front legs, at the giant spider in its web on the outside of the phone booth. I know the next step. It is time to pick up the phone. But I can't quite yet. I keep thinking I hear voices outside, behind me, people who are waiting their turn to get into the wind phone. I turn around. The people of this town who have lost so much, so many of their sisters and fathers and children and neighbors, their homes, their businesses, their dental records, the physical evidence that their bodies existed at all. When I turn around, they are not standing behind me. There is nobody here but me.
I pick up the phone. Try to use my imagination. What do I need to say? What do I need to hear? I bring one finger toward the first small hole I'll need to touch to dial my childhood home phone number.
Later, I'll watch the patches of trees change from golds to oranges to crimson from the window of the train taking me from the rural north back to Tokyo. I'll sit alone. I will remember the trees in Mr. Sasaki's garden, big yellow and green plumes of grass, the small creek. I will try to imagine being back home and deciding what to plant in my garden without talking to my mom first.
Before I left, I wrote my own message in the visitor's book. I didn't have a photo to leave inside.
Thank you for making this place. I came with a heavy heart and could barely pick up the phone, but I leave feeling peaceful.
And it was true. Surprisingly, gratefully, beautifully true.