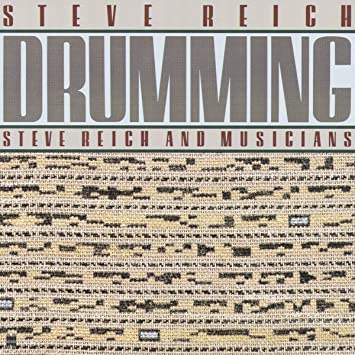 Today, mercifully, Marine is on morning duty. Most days, for the past however many weeks since we left our rabbit cage in Paris at 3 a.m. to make it to Basque country before lockdown, I've concentrated the full day's energy into the first handful of hours to solo with Joachim. He's only just reaching an age where he can be in his head for five minutes without wanting interaction, and I'm still too much my mother's son to not always want to give him more of myself. The upshot is that even though music is playing constantly in our house, most of the time I'm too engaged in the immediate or too braindead from exhaustion—too heavily in the present or too vaporously absent—for it to carry me into other times.
I think that when we look back at this period we'll remember it as one of too much and too little. Quarantine makes minutes feel like hours and days like minutes. It's a real headfuck. It's also the exact temporality of parenthood with a young child. And though I haven't been taking refuge from this Twilight Zone present by getting lost in the past, as is this column's premise, the telescoping present with Joachim inevitably spirits me down other rabbit holes.
Just the other day, while we were building with magnetic blocks, I put on "Signs" by Bloc Party, and his eyes started to water. "What's wrong?" I asked. He replied by burying his head in my lap and crying. I asked if the music was making him sad, and he said yes, so I stopped it. Almost immediately, he raised his head and implored, "Again." We had a short back-and-forth, but he was adamant that he wanted to continue listening to the song, so I played it again, and just as soon as the music came on he plunged his head back into my lap and started to cry again.
I play plenty of moody songs that don't have the same effect (Len Graham singing "Green Grows the Laurel," Aimee Mann's excellent cover of "The Scientist," "Hide and Seek" by Imogen Heap, Dawn Landes's "Kissing Song"), but this also wasn't the first time a song made him weepy. Other than getting hurt or frustrated or overtired, music is pretty much the only thing that brings him to tears. I don't know what makes certain songs pull on his heartstrings, or more importantly why he wants to listen to music that turns him to a teary puddle. I guess the answer to the second question has something to do with why anyone listens to music that resonates with the sadnesses they carry. How could the isolation of quarantine not bring its share of melancholy? I want to feel thankful that Joachim is able to access and learn to navigate these emotions by way of music, but it's hard to make peace with this for fear of missing something deeper and more urgent.
Marine reminds me that he's been exploring a number of different emotions lately, and she's right. She's always been better at giving him room to set the mood. The barrage of upbeat music that makes up the playlist on heaviest rotation doesn't help me on that count. Still, he knows what he likes and won't let me steamroll him with my selection. Ravi Shankar? No thank you. Radiohead? Pass. Neutral Milk Hotel, Martha and the Vandellas, Los Lobos, Mulatu Astatke with or without the Heliocentrics—all verboten. I was convinced he'd dig "New Soul," "Where in the World is Carmen Sandiego?" and "Loba"—but no. What are this kid's aesthetic criteria, anyway? I know he likes "Buffalo Soldier" because of the "soldier," "One Two Three Four" because of the counting, "Uptown Funk" and "Jump in the Line" because damn they groove, but I have no idea why he's already over "Got My Mind Set on You" or "Shiny Happy People."
Then something weird happens when it comes to "contemporary classical and adjacent" music. He's keen on "Spaceship" and a few other songs from Einstein on the Beach, as well as Steve Reich's Drumming and Inuit throat-singing games like this kattajaq, but refuses to listen to Meredith Monk's "Travellers 1, 2, 3" (which I'm playing on loop while trying to find the right framework for the last paragraph) or Laurie Anderson's "O Superman." He'll bop along to Marc Blistzstein's The Airborne Symphony (especially "The Air Force Ballad of Hurry-Up") but not Cleo Laine and Annie Ross's version of William Walton and Dame Edith Sitwell's Façade, which I realized was for the best when I caught how backward the Dame was about blackness. I see the gender divide among the songs he'll listen to and those he won't, and can't help but wonder whether it's a fluke or if there's something hardwired about these preferences. Is it something I should worry about?: the perennial question of parents everywhere, and one that brings to mind the Paranoid King poster in Infinite Jest: YES, I'M PARANOID—BUT AM I PARANOID ENOUGH? Which is basically what we're all asking ourselves right now. Should I wipe down the grocery packaging with disinfectant wipes when I get home? Did I sing the second round of "Happy Birthday" too fast when I was washing my hands?
Sometimes, at least with Drumming, I wonder if I've been putting on music to try to exorcise these questions. "Pt. 1" begins with a slow build of simple rhythms that feed a sense of anticipation, distilling a nervous energy that wants resolution. Little by little, the accretion of lopsided patterns smooths out into rolling waves of differently accentuated polyrhythms that maintain a certain tension but normalize the plural weirdness, even convert it into groove. The bongo beats unbraid into another spare limp, and take off again until they transform into the marimbas of "Pt. 2," my favorite movement of the piece. "Pt. 2" is like a sustained high on some kind of pixie dust, with melodic phrases that could fit just as well in a medieval composition by Guillaume de Machaut as in a Mark Mothersbaugh score. Halfway through the album and my mood is utterly uplifted—it's all going to be alright, life is beautiful and complex and just keeps going… Then comes the dark night of the soul: "Pt. 3" should be all sunshine with its happy glockenspiels, but its metallic excitement more often than not conjures visions of a cheery dystopia—the Greek philosophers' utopic beehive, 1984 if it had been written by Warhol, Instagram influencer accounts. I usually skip ahead to the last movement, which begins similarly to "Pt. 1," but less anxiously, with a steady, almost workmanlike pulse. As the full ensemble gradually comes together, the enriched palette actually tempers the extremes of the preceding movements, and I find myself soothed by this metaphoric return to normal—despite the fucking glockenspiel—up to and after the piece's abrupt end. Like some sort of musical pareidolia, the ups and downs and in-betweens of Drumming feel like they're mapping out the past, present, and future of our current circumstances. In the afterglow I begin to think about Joachim, because it's never long before my mind turns to him.
As a parent, it's a necessary luxury to fixate on the unknown over which you ostensibly have some control—your child's Once Upon a Time, in which you are scenographer and supporting actor, a moon orbiting this world in a nutshell, influencing the tides of its psyche. Of course there's still room to go into a spin over the world outside the nutshell, but it can be a momentary balm to let the personal serve as a proxy for and a counterweight to the universal. So I make it snow pixie dust, like any moon should, and keep a weather eye on the winds.
— Jacob Bromberg
Seignosse, day 49