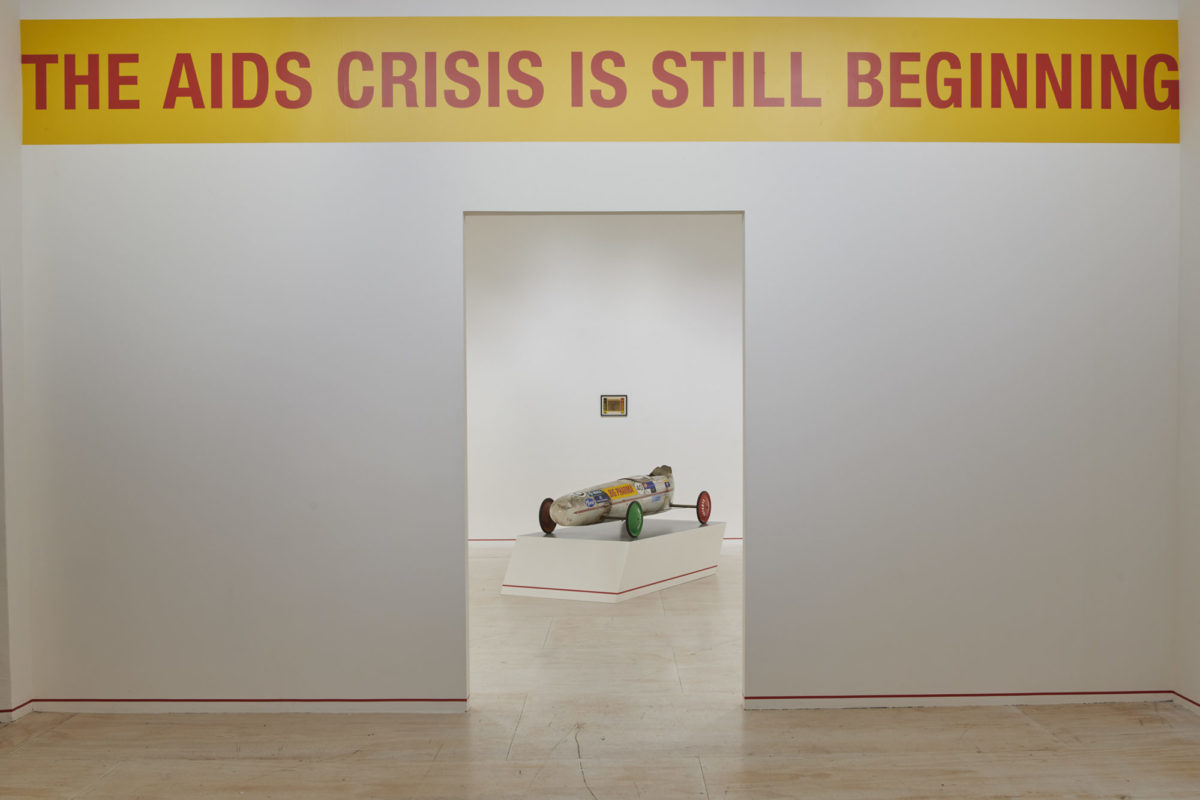 I went to Gregg Bordowitz's show I Wanna Be Well looking for answers. I can't recommend this as a way to approach an exhibition, and I can't say I was totally conscious of it when I arrived. I am not conscious of everything now. My brain holds on to information only briefly. I ascribe this to my own chronic illness, pandemic burnout, my family and friends' ongoing and acute illnesses, planning for another school year while just beginning to understand the traumas of teaching through the last, fatigue as I readjust to social life, and more, and more.
I'm sure you have your own list of why you aren't exactly well, but maybe want to be. I went to this exhibition searching for clarity. I am suspicious of all easy answers and yet, I'll admit, my mind still seeks them out.
Bordowitz's show lets us imagine it holds answers for the current moment—the text on the MoMA PS1 website announces that the exhibition was delayed due to the coronavirus pandemic, and states that while it is now "presented in a moment marked by suffering but also hope, the exhibition offers instruction from another precarious time of affliction."
Another precarious time – this previous precarity is why I went in looking for Gregg to be my guru. We share various ancestries: as inter-genre writers and artists raised up by queer-anarchist activist artists (Gregg in 1980s New York, me in 2000-2010s Oakland), and as white Eastern European Jews. Gregg's work comforts me to some extent because it employs the gallows humor often characteristic of many Jewish American comedians, especially those raised in the working class.
I'll give you one example: In one of the final galleries of the PS1 exhibition we see a recent video by the artist in which he sits on a stool with a New York skyline visible through floor to ceiling windows behind him. He talks, seemingly improvising along themes from his own life around heritage, race, queerness and language. At one point, he tells us about the husky polyester suit he went out to buy for his Bar Mitzvah. After emphasizing how large it was, he says, "that's because I was heavy. It might not seem like it now, but that's because I have AIDS."
He doesn't smile. A beat passes. We move on.
Bordowitz's angular face is incredibly expressive, and holds these striking moments affectingly, particularly those which invite us to assess his body. Perhaps I notice this more because I've often been told I have a large mouth and chin, and strangers regularly comment on the size of my smile. These features have become more pronounced as I age, and stress and chronic illness have carved me out a bit.
Am I over-identifying with Bordowitz here because I want him to be my proto-uncle? A parallel facial structure is not necessarily related to our shared ethnic identity. Perhaps it's related even more, actually, to our shared desire to include others in the story we are telling, even when the story relates to our individual experience.
In the forward to her 2020 collection Funny Weather: Art in an Emergency, the art writer Olivia Laing frames the writing collected in the book through a kind of existential shared desire. Thinking with the theorist Eve Kosofsky Sedgewick—who provokes us to consider a kind of reading that is "reparative," meaning connective, as opposed to "paranoid," meaning critical—and with critic, artist and writer John Berger, Laing describes the artists that interest her most as "hospitable."
"What I mean by hospitality is a capacity to enlarge and open, a corrective to the overwhelming political imperative, in ascendance once again this decade, to wall off, separate and reject," Laing explains. I picture a mouth enlarging and opening here, the jaw unhinging, terrifying but also essential for the possibility of speech.
Later in her book, in "Bad Surprises," Laing writes along related lines: "The disaster had already happened, the bad surprise was finally here. The question was what would happen now, how to live on alongside loss and rage, how to not be destroyed by what are manifestly destructive forces."
Together, these two thoughts of Laing's help me to consider what I'd call a hospitable approach to disaster. It's not naïve acceptance, exactly, nor is doomsday depressive. It's that big mouth. The mouth that opens and mentions AIDS, mentions awkward childhood bodies, offers a vulnerability made necessary by living with or alongside a body that requires great care.
I identify with Bordowitz because we both attempt hospitality with our faces. I open my eyes wide, crunch up my brow, or smile with all of my teeth so that others might feel that I know what they mean, feel what they feel, empathize. These kinds of expressions can easily turn into an awkward gesture, a reach–we smile too big, we try to include the whole room, we refuse expertise, we make a mess. 
I am thinking about the role of the reach in much of Bordowitz's work. In earlier video work, including much of what is included in the PS1 exhibition, Bordowitz has a much rounder face, and the severity of his expressions is lessened, though the stridency of his beliefs is not.
In some aspects of a shared lifestyle, from 1986, Bordowitz collages 1980s media coverage of AIDS with the voices of others discussing its impact on themselves and their communities, as well as shots of himself clarifying misinformation around the disease, particularly regarding its characterization as a gay illness. One voice in the video questions why the AIDS crisis has faded from public attention, then suggests it must be connected to the 1982 Supreme Court ruling upholding anti-sodomy laws. The video cites widely and wildly, and images and facts often go by too quickly for one to fully identify them. I am grateful for the end of the video in which a quotation about AIDS being related to "some aspects of a shared lifestyle" lingers on the screen as the rest of the video's material and sound fades.
Bordowitz's work is nothing if not a shared lifestyle. Videos like this one are constantly bringing in, joining material. This merging is deliberate and central to the work.
Elsewhere in the exhibition, poems by Bordowitz pasted up on the gallery walls are primarily made up of nouns listed in curated groups, giving the impression of a collection of objects, an objectification of life with respect to AIDS and gay stereotypes. There's also a sense that one's life is made up of flashes of ideas, objects, and situations.
"NOTATIONS SNATCH AXES BINARY POLES," one reads.
EARTH ROTATION REPETITION CHEATING / SCORE WORD CONNOTATIONS LEGEND TOPOS / IMAGINATION EXTENSION JUDGEMENT / ROMANTICISM RETURN DIAGNOSIS,"
This cacophony surrounds us in the gallery, filling up space, refusing narrative arc or ego-driven storytelling.
Bordowitz's work supports us to consider illness, chaos, and disaster as ongoing conditions, as opposed to acute, solvable situations to fix. While acknowledging the desire to "be well," Bordowitz also develops a world of continuing unwellness and invites us to adapt to that world. He articulates conditions of crisis while also, as he's written, acknowledging that these conditions "exceed articulation."
In these gestures he works in an increasingly public tradition of chronically ill and disabled artists whose work resists the cleanness of wellness, or the linear recovery story. I am thinking here of Johanna Hedva, whose Sick Woman Theory extends the social model of disability to insist that many of us were never meant to be well–never meant to survive under the conditions of overworking capitalism.
"Care, in this configuration, is only required sometimes," Hedva writes, "When sickness is temporary, care is not normal."
My sick life has been made more possible by artists and thinkers like Hedva, people who take the conditions of needing care as ground for making and creating as opposed to grounds for stopping, ending, blocking. I am thinking here of Mia Mingus, who gave a name to "access intimacy," the profound connection that is possible when individuals communicate openly with one another what their bodies need.
I am particularly excited by how these practices bisect the worlds of art, activism, and organizing. Like Bordowitz's, this sort of work diffuses some of the hierarchies dividing these worlds. A sick body, a body in need of care, a body that may bleed or seize at a moment's notice–these are not traditionally found inside the white walls of galleries.
But this is changing some. With the project Hologram, begun long before the pandemic but especially relevant now, the artist Cassie Thornton helps to organize small groups of people to provide mutual aid on medical, emotional, and social health. As elaborated in Thornton's book The Hologram: Feminist, Peer-to-Peer Health for a Post-Pandemic Future, the process is simple and at times almost childlike. I grew up around disabled family members and attended many social and school gatherings centering disabled people, and the tone in Thornton's book reminds of those circumstances: not quite condescending, but also not assuming that anyone already knows how to meet their most basic needs. Perhaps, the Hologram insists, we all need help.
At this moment, it's impossible for me not to seek some connections between the work of these kinds of artists and the pandemic itself.
"I've learned a lot from living in a crip body, and I don't need to leave those understandings aside," says Patty Berne, Executive and Artistic Director of Sins Invalid, a disability justice-based performance project that centers disabled artists of color and queer and gender non-conforming artists with disabilities. "It's actually a huge asset," Berne continues in an interview with Alice Wong, "It's part of who I am, so it's a huge asset to me and to the communities I'm involved in."
This is basic to an assets-oriented approach, as we'd call it in community organizing. What are the assets we hold, the material we have, and how can they serve us? Here I am, with you, now, collecting just a little of what I've gleaned, of what I have.
Bordowitz's work, too, encourages me to collect. His work shows me too that it is both an aesthetic and ethical choice to wrap any telling of one's own story in that of others. It can definitely be confusing. Am I talking about Bordowitz's work here, or about disability justice? Have we lost track? Is a track useful at all?
Or, to bring us back to PS1: Are we watching a video of an ACT UP protest or a farcical comedy or an open letter to the government, or all three? When we enter the gallery covered on two walls by Bordowitz's personal library, are we meant to study the details of it to better understand his work?
My take is no, even though I did spend a long time reading the spines of the books, taking notes, trying to parse the organizational system. My take is that we are not meant to read the presentation of Bordowitz's library as a suggestion that we can only fully understand his work if we also are deeply familiar with that of Levinas, Delany, Tsvaeteva (to skim across one shelf). This is an easy critic's move, to assume that the more we read or see the more expertise we can gain in the field of this artist.
But I think Bordowitz's work suggests something quite different: that we are invited into the field without expertise, and that each piece of information pours toward the next. Access to this show–to feel that the show is accessible–is made possible by a willingness to consider one thing next to another, and to be patient with the not-knowing and the contrasts. Muddling things together, I'd wager, is the kind of thinking we need. It's the kind of thinking a body does.
Bordowitz's library is in the show because the ingathering is his work. The wall text explains that the library is only from one specific moment in time, 1983-2013, a selection of texts that he was taking in during those years. We can learn from others, Bordowitz's work tells me, and we must, but this does not guarantee any kind of competition.
"THE AIDS CRISIS IS STILL BEGINNING," reads a banner across the top of the wall of the exhibition. The same statement welcomes you to PS1 as you enter the courtyard at the front of the museum. I read this statement as a reminder not to put AIDS in the past or to forget its traumas. But I also read it towards a general ongoingness that is personally familiar to me as a person who dwells in the land of the sick much of the time. The phrase invites the viewer to look carefully and to connect, but not to expect clarity. I can feel my brain refining in this direction alongside Bordowitz's work, getting better at running the grooves and demands of less linear thinking, a kind of gentle, oddly life-affirming anti-futurity.
There is a line from the disabled trans artist and writer Eli Claire that I've kept for many years above my desk: "I want to sharpen my pride on what strengthens me, my witness on what haunts me." The line is from Claire's book Exile and Pride: Disability, Queerness and Liberation, and I keep it above my desk mainly because of that verb "sharpen." I like that verb as a way to consider what it means to refine my own writing, to improve as a thinker, to get closer and closer with what I aim to do–all without assuming a linear resolution or ending, and without assuming that what "haunts me" will leave. No. It's along for the ride.
The artist Tiona Nekkia McClodden is another figure I turn to for instruction on how to bring our haunts along for the ride. Several pieces of hers that I love use restraints, whips, and other tools of BDSM. "THE FULL SEVERITY OF COMPASSION," perhaps her most discussed piece, presents a cattle squeeze chute, used commercially to exert physical pressure to calm anxious cows.
In a May 2021 interview, McClodden articulates her own relationship to this tool. McClodden identifies as autistic and describes how restraints like those present in her work can be calming to the kind of nervous system she has.
Again I notice this theme of tools, assets, practicality. What if we assent to the nervous system we have? What if we present the tools that make it possible for this nervous system to survive? What if these tools themselves are the work?
I think here also of Leah Lakshmi Piepzna-Samarasinha's book, Care Work: Dreaming Disability Justice, and particularly the essay "Prince, Chronic Pain and Living to Get Old," in which they list a variety of invisible labors necessary for living. Or Romily Alice Walden's Primer on Working With Disabled Group Members for Feminist / Activist Groups and Organisations, which, similar to Hologram, offers practical suggestions for how to build access-oriented group meetings.
And the list of related work goes on. Bordowitz's work is on a spectrum with more and more projects like these that combine the practical with the creative, the accessible with the speculative. I came to Bordowitz's exhibition hoping for advice about COVID times, about how to live now, as the Delta variant looms and more of my vaccinated friends get symptomatic versions of the virus. But still many of us try to rejoice a bit longer.
After spending time with this work and its associations, I still feel confused. But I feel more satisfied with this confusion. The advice I find here is not direct, but is careful and caring about form, collectivization, assembly.
With Pestsäule (after Erwin Thorn), a 2021 sculpture presented toward the end of the exhibition, Bordowitz considers most directly what I was seeking when I arrived. The piece addresses how living through covid activates Bordowitz's own anxieties and memories of "the worst moments of the HIV epidemic in the late '80's and '90s," as he describes in a video made to accompany this exhibition. He combines this experience with his reflections on anti-police brutality protests after the murder of George Floyd, attempting to develop the sculpture in a form that is "not naturalistic but at the same time referred to previous monuments." Bordowitz's sculpture also references a plague monument in Vienna that dates to the 1600s, and is made of fragile, impermanent materials that "not necessarily a proper sculptor would make or use."
As I stood in front of this sculpture, I thought of the Instagram account @DisabledCovidVaccOralHistory, which I looked at regularly before I received my vaccine, because it was the only place where I could find individual reporting on how different people with disabilities and specific chronic illness were experiencing the vaccine. Most posts on the account were an image of a face or torso or an arm or two, demonstrating what had happened on this person's body after their vaccine. Bordowitz's sculpture reminds me of this account: a set of bodies and references to different conditions of pain and suffering, an attempt to record, but no pretension to summarize completely.
I did find some comfort in Bordowitz's work and in what swirls around it. It's a comfort that works against the echo, the one-to-one comparison. It works against the belief that any single voice could resolve, but insists we do not stop gathering, in whatever form possible, even in the land of the sick, in the body that is aware of how far it is already stretched open, and how very easily it could be stretched too far.