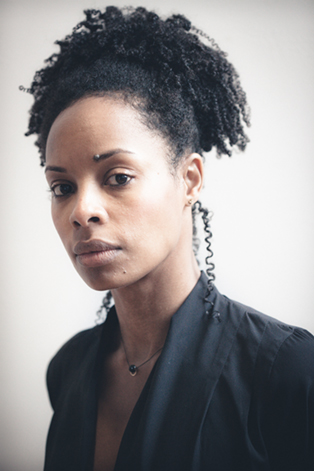 In the poem, "Legendary," from her 2017 publication Ordinary Beasts, Nicole Sealey uses the sonnet form to hold the persona voice of Venus Xtravaganza, a narrator of the 1990 documentary Paris is Burning. Each ten syllable line ends with the word, "white," creating a tight space in which all of the energy of Xtravaganza's voice wheels acrobatics; the poem is a marriage of Sealey's interest in traditional forms envasing contemporary concerns. Throughout Ordinary Beasts each poetic form vibrates on the page, the tension almost metaphysical as Sealey makes the subject matter and form abide by one another. And while Sealey's poetry collection tends to the staple social crops of humanity such as love, rejection, grief, and myth, her aesthetic plays and emotes jouissance. I return to the poem "Imagine Sisyphus Happy" almost every day. Ordinary Beasts was a 2018 finalist for the PEN Open Book Award.
As well as a poet, Sealey dedicates her time to being the executive director of Cave Canem, a literary organization dedicated to supporting and fostering poetry of the African Diaspora in the world. Sealey's poetics also transfer to her role as a leader—she is specific, she is measured, while also being able to take magnificently executed risks. Cave Canem has produced three Pulitzer Prize winning poets, Tracy K. Smith, Gregory Pardlo, and Tyehimba Jess; Natasha Trethewey, also a recipient for the Pulitzer Prize in poetry was the second winner of the Cave Canem Poetry Prize First Book Award; both Trethewey and Smith have served as the United States Poet Laureate.
I first encountered Nicole Sealey's writing in a copy of the American Poetry Review in the advertising office at Poets & Writers Inc. The poem of Sealey's in that issue is, "Virginia Is for Lovers." I read the poem several times that day, thinking of the loss of my own close family friends, and the response to the AIDS epidemic I saw growing up in Key West, Florida. Sealey's poetry sticks between the ribs and settles in. While having spoken to Sealey before, through my job at the time, I finally met her during a workshop at Cave Canem taught by Jason Koo. There was never a moment that I did not find Sealey engaged, encouraging, and insightful. And although familiar with Sealey and her writing for some time now—when she agreed to this interview, I felt like I had won a prize.
—Jessica Lanay
THE BELIEVER: In your latest collection, Ordinary Beast, you take on the amorphous subjects of love, desire, and, religion; they are common enough themes, but you approach them with a brevity and newness that is hard to accomplish—did you have a strategy for approaching these large ideas?
NICOLE SEALEY: I'm not the first to explore these large ideas (and I won't be the last). With that in mind, there's no pressure to be novel, to say something that hasn't already been said. Truth is: there's nothing new. Poets have been treating these subjects since the dawn of time and will continue to do so until the very end. Knowing this makes these large ideas scalable. This, I imagine, is more philosophy than strategy though.
BLVR: Were any of your poems writing back to other authors that have also written about the same subjects? Did you have any writers in mind?
NS: The four lines that follow the image of the orchid in "Heretofore Unuttered," I'm convinced, were inspired by my obsession with poets Matthew Olzmann and Li-Young Lee, specifically their poems "The Days" and "One Heart," respectively. And, of course, there are poems inspired by poems by other poets like "an apology for trashing magazines in which you appear," the cento is comprised entirely of borrowed lines by 100 different poets, and a couple poems are dedicated to poets.
BLVR: In your opinion, what is the best way for a poet to renew old subjects that seem to have had the fat chewed out of them?
NS: Leave the subject for a bit and write about something else. (This is the same advice I give and have taken when poems stall.) Or, find another way in through the subjects' opposite. If the subject of the poem is fear, enter through courage. If the subject is self-doubt, enter through confidence. Exploring the antithesis of one's subject can lead to some really surprising breakthroughs and turns.
BLVR: How do you overcome fear as a poet? Like when you have those I am going to sit down and write jitters?
NS: I'm not convinced that a writer can overcome fear. At best we power through it and do the difficult work of making poems. Being a writer is scary— we never know when we sit down to write whether the right words will come. We do it anyway, in spite of fear.
BLVR: "Imagine sisyphus happy" is my personal favorite in the collection, it reads as a resistance to pushing past pain—what was in your imagination when you began this poem? What was, so to speak, the life of that poem?
NS: I'd been thinking about "Imagine Sisyphus Happy" and had written the first and last lines of the poem back in fall 2010. I've always been interested in the many ways in which animals—humans included—grieve. Grief isn't always a singular emotional state following a traumatic event but, rather, a necessary feeling that can rear its head at any time. Some have a death denying function: to live happily, they pretend they and their loved ones will not die, that all's always well. For me, the opposite is true: to live happily, I've embraced mortality and, as such, grief.
BLVR: Why Sisyphus?
NS: I thought it apt. The poem borrows its title from the final line of Albert Camus's essay "The Myth of Sisyphus." It reads: "One must imagine Sisyphus happy." And, the penultimate sentence says it all: "The struggle itself toward the heights is enough to fill a man's heart." The contents of which is both pleasure and pain.
BLVR: You write a series of persona poems/sonnets for three transwomen and performers from the documentary, "Paris is Burning," how did you decide on the sonnet form to hold those voices?
NS: The sonnet form, with its history and perceived sophistication, provides the grace and dignity ball culture is seldom afforded. The sequence, as a whole, questions formality from inside the form itself and invites readers to explore issues of identity and tradition, while paying homage to legendary queens.
BLVR: The poem, "a violence," accompanied with other poems like the "legendary" series, and "virginia is for lovers," stretches a thread through the book about femininity and sexuality or even a challenge to those taxonomies—was that intentional?
NS: I don't think so. Because desire, sexuality and gender are among my many obsessions, they naturally found their way into Ordinary Beast. There was never a point at which I said to myself that I should write toward such and such a theme. The process was/is all very organic.
BLVR: How did you come to the act or form of rewinding "candelabra with heads"?
NS: I'd been trying for some months to break into the poem. "Who could see this and not see lynchings?" was always the last line, but it initially followed the second stanza. Before the reversal, there was no tension between the second stanza and the thesis question itself. The reversal infused the poem with an urgency that was nowhere to be found in earlier drafts. How did I come to that? By the grace of the gods, I suppose. I read the poem backwards for whatever reason and everything just clicked.
BLVR: Do you think that writing poetry is a commitment to be in active failure?
NS: Definitely. I have a folder of "failed" poems. I think, perhaps, all poets have a folder of perceived failings. Of course, they're not really failures, as each line we write leads to another and another and…
BLVR: Why did "candelabra with heads" need a defense?
NS: "In defense of 'candelabra with heads'" was written in response to an editorial decision I'd made at the suggestion of poets whom I greatly respect. In my chapbook, The Animal After Whom Other Animals Are Named, the edited version of "candelabra with heads" appears, sans the last line: 'Who can see this and not see lynchings?' The original version however, which includes the question, speaks most honestly to my intent and the poem's natural unfolding. That said, with Ordinary Beast, my debut full-length collection, I decided to return the line, the question to its place in the poem.
I hadn't planed to write a defense nor did I think a defense was necessary. Honestly, "in defense" happened like any other poem, via inspiration. It wasn't a conscious decision but, rather, an impulse I gave in to. I don't recall what exactly prompted me to write "in defense", but whatever it was, I'm forever grateful—what began as a defense of an editorial decision turned into a testimony.
BLVR: Love is so blatant and unapologetic in this book, can you talk more about the place it holds and why it had to be blatant and unapologetic?
NS: Love is a large part of my life. And, I mean, I write about everything else. Why not love? Of course love. Love should be neither inconspicuous nor apologetic. Love shouldn't hide nor should it apologize for itself.
BLVR: Would you say that it is also vulnerability?
NS: Of course. Love doesn't exist without vulnerability.
BLVR: Form seems to bind this book together—can you speak more to form and how it operates in, Ordinary Beasts?
NS: Form was my way into Ordinary Beast. For me, form is a way into and out of most poems. Form lends itself to music, imagery and associations that probably wouldn't occur otherwise. The challenge of getting from point A to B in a fixed number of beats or the challenge of rhyming one word with another and the poem still making poetic sense, for me, creates a heightened sense of imaginative urgency that informs interaction with my free verse poems. That's how, I imagine, a poem like "the first person who will live to be one hundred and fifty years old has already been born" is able to leap from a conversation about getting older to the Mona Lisa. The associative quality of my work comes from working in form.
BLVR: The Brad Pitt poem! I haven't heard or read anybody ask about the Brad Pitt poem.
NS: That poem was actually inspired by Denise Duhamel's sestina to Sean Penn, entitled "Delta Flight 659," in which all the end words of each line are variations on "Penn." I thought the idea was brilliant and decided to try my hand at it. I chose Brad Pitt because I had the biggest crush on him when I was a teenager and, like "Penn" in Duhamel's poem, "Pitt" lends itself to playful variations. Plus, our collective obsession with celebrity culture is interesting to me.
BLVR: What would you say is the first form that stumped or challenged you, and why?
NS: The pantoum stumped me. Still stumps me. I haven't yet written a successful pantoum—I must have a handful of pantoums, each with a dozen drafts. As you know, the second and fourth lines of each stanza in a pantoum are the first and third lines of the next, and the last line is the first line repeated. The lines of a pantoum must be solid enough, beautiful enough to maintain their beauty over the course of reiteration. I'm still trying my hand at the pantoum, which is part of the pleasure.
BLVR: Do you recall your first publication ever? Can you talk about that experience and poem?
NS: Unfortunately, I do recall my first published poem. And, in all honesty, I wish I would have sat with the poem a bit more before letting it go out into the world—I suppose, hindsight is 20/20. Initially, I felt a sense of pride, which I now realize said more about my ego than the actual state of the poem. To say the least, the poem was not my best work, and so will remain nameless. Please forgive my answerless answer.
BLVR: A process question, how do you know when a poem is salvageable? You mentioned keeping a file of failures—are any of those dead seeds?
NS: I may not be the best person to ask, as I think most things are salvageable. In many cases, the poem on the brink of being discarded is just in need of a little tender loving care, which could mean a bit of time to come into its own, reimagining images or any number of things. I forget who said that failures are just opportunities in disguise—that person had to have been a poet at work (probably on a pantoum).
Yes, I do keep a file of my failings or, rather, my opportunities. At this point I have more opportunities than actual poems. I don't consider them dead seeds though… current conditions are merely slowing their growth.
BLVR: Does the idea of an audience ever come into play when you write? On a first draft or in editing?
NS: Always. Well, on second thought, maybe not an "audience" per se—more like a community. My community is anyone/everyone who reads—the more the merrier. Though I don't have a specific community in mind, I do envision a specific community member during my writing and editing process. I imagine someone who looks like me—a black woman. I'm comfortable in her company and I'm able to be myself, whatever myself is at that moment.
BLVR: Who are some other writers that you always return to? What about their work calls to you? Do you have examples that stick on your brain?
NS: Yes, Lucille Clifton and Brigit Pegeen Kelly, to name just a couple!
When I want to be inspired, I read Clifton. When I have craft questions, I read Clifton. Clifton is a master of precision and brevity. Take her five-line poem "why some people be mad at me sometimes," for example. It reads: "they ask me to remember/but they want me to remember/their memories/and i keep remembering/mine." Though succinct, there's so much to unpack and so many poetic devices being deployed—anaphora being just one.
Legend has it, Kelly's poem "Song" took eight years to write. Given the poem's stunning beauty, I believe the legend to be true. The poem begins: "Listen: there was a goat's head hanging by ropes in a tree." My god, what an opening line. The direct address immediately engages the reader and lends itself to intimacy. The language and imagery, from the first to the last line, is lush and striking. Kelly uses syntax to digress and to surprise in ways that don't feel put on or done for affect. Every single line has a purpose. In my opinion, "why some people be mad at me sometimes" and "Song" are as close to perfect poems as poems can get.
BLVR: In the last couple of years you became the Executive Director of Cave Canem after working for the organization for a long time—you have come in contact with a plethora of unique, poetry giants, young and elder—would you say you could point out any aesthetic consistencies between them all?
NS: Aesthetically, no—there isn't one consistent aesthetic. Honestly, the fellows' artistic tastes are as diverse as the fellows themselves. Two of my favorite debut collections of 2017 for example, Tyree Daye's River Hymns and Ife-Chudeni Oputa's Rummage, are aesthetically unalike. River Hymns is driven by legacy—literary and otherwise—with frequent formal nods to Lucille Clifton and Etheridge Knight. Rummage, on the other hand, deploys lines of hypothetical and theoretical questioning akin to the poetries of June Jordan and Dawn Lundy Martin.
The one through line in River Hymns and Rummage is their dedication to the art. This is not unique to Daye and Oputa as Cave Canem fellows. Dedication, I would say, is the common denominator of the fellows (and faculty!) I've had the pleasure to read and/or hear.
BLVR: Cave Canem was founded in 1996 by Toi Derricotte and Cornelius Eady—how have the needs changed (or not) over time for the poets that come to Cave Canem? Has what those poets are searching for changed over the years? During your time working with and for the organization?
NS: From 1996 to present, black poets have been in search of community wherein their blackness needs no introduction, no explanation, no justification. From my experience, what we, black poets are searching for hasn't changed. That there is an actual community to be found, a Cave Canem, is what is fairly new.
Over the past twenty-plus years, Cave Canem has changed the face of poetry in this country, bringing the voices of black poets front and center. As poet and Cave Canem founding faculty member Elizabeth Alexander explained, "…when you look at all the poets whose work has blossomed under the arbor of Cave Canem, you see an actual transformation of American literature. It's been the most extraordinary happening in American literature in all the time I've been working."
BLVR: What is the first poem that you remember making you want to write?
NS: I don't remember the first poem that made me want to write. Every time I read a poem that devastates me, which is often, that devastation makes me want to pick up a pencil or run to my computer. Ellen Bass' "Indigo" and Ansel Elkins' "Reverse: A Lynching," for instance, are definitely poems that make my heart hurt (in a good way) and my mind race (in the best way).
BLVR: What would you say are your writerly obsessions?
NS: My obsessions are many. In the interest of time, though, I'll say my obsessions are love, loss as well as the large and small violences that have shaped me/us. I'm very much interested in engaging in a lifelong conversation with myself. As this dialogue continues, I suspect my relationship with my obsessions will evolve. What won't evolve, however, is my desire to better understand myself (and by extension you) through the process of writing.
BLVR: Are there any projects readers should be on the lookout for?
NS: Sure is! I am always on the lookout for the annual New-Generation African Poets chapbook box set, which includes ten chapbooks by emerging African poets and never disappoints. Featured poets include Cave Canem fellows or friends Safia Elhillo, Tsitsi Jaji, Nick Makoha, Ladan Osman, Warsan Shire, Hope Wabuke, among others.