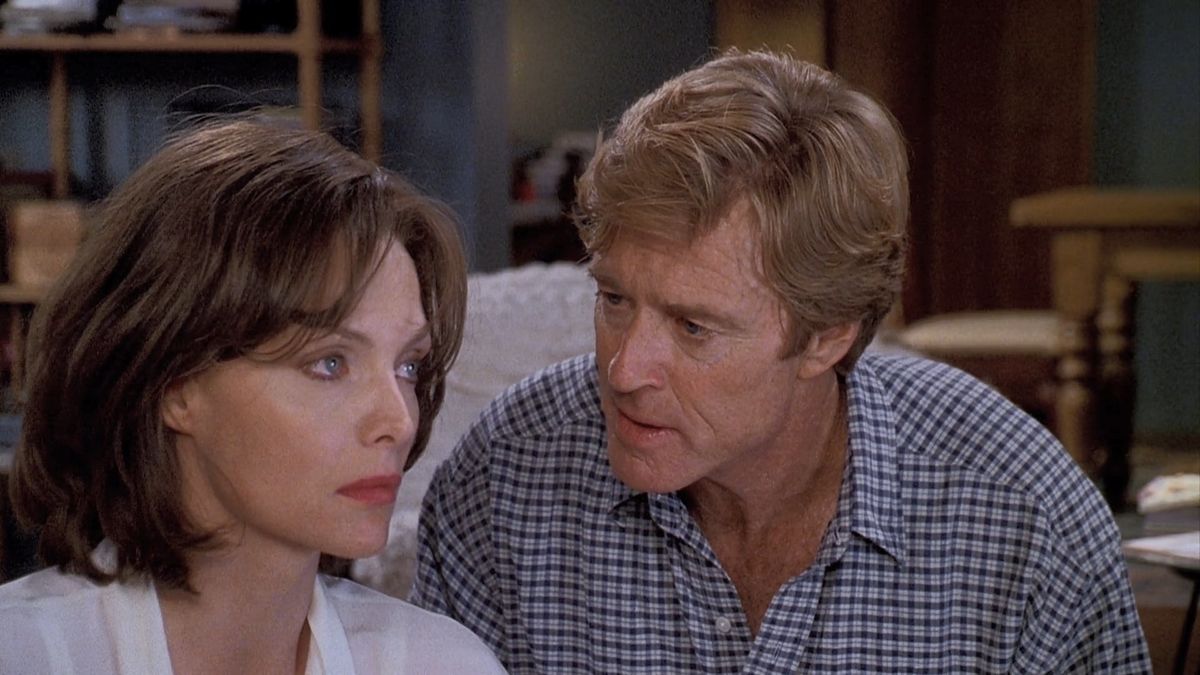 Film: Up Close and Personal, directed by Jon Avnet, adapted by Joan Didion and John Gregory Dunne (1996)
Adapted from: Golden Girl: The Jessica Savitch Story, by Alanna Nash, first edition 1988
Also discussed: Monster: Living off the Big Screen, by John Gregory Dunne, 1997
Why is it that literary adaptations make for the most infamous film fiascos?  Perhaps it's the manifest potential of an already beloved or best-selling story, which comes with specific content expectations from the audience, and specific box office expectations from studios.  The same can be true of biopics, more than other films "based on true events." In the case of a historical happening, be it a war, a crime or a family saga, few viewers would presume to have an authoritative take on the experiences of all involved, leaving the door open to many possible retellings. Not so in the case of a famous figure: even if not many in the public have meaningful knowledge of the subject's real life, the nature of celebrity can let millions of people feel personally, even intimately acquainted with someone they've never met. Pair these pitfalls with the vicissitudes of any big budget project, and adapting the popular biography of a much-discussed network news anchor looks less like a slam-dunk success, and more like a tightrope walk.  Such was the predicament of Joan Didion and husband John Dunne, whom Disney hired in 1988 to script the life of the late Jessica Savitch from Golden Girl by Alanna Nash—a life which the volume's author characterized as "a horror story."
Reading the dogged and depressing hit book (my copy seems to have originated from a Kmart, so wide was reader interest), the adaptation becomes a mystery—namely, why did Disney, of all Hollywood entities, ever want to make the film? Savitch's troubled life and tragic death had been common enough knowledge that even without a close look, it should have seemed a dead-end deal. If the book holds any surprises, it's just that the rumors were true to their fullest extent, that her vices were deeper and more destructive than her audience could have known. People may have called her an ice princess, but eating disorders, substance addictions, traumatic pregnancies, domestic violence, compulsive and parasuicidal behavior aren't the stuff of Frozen: The Prequel. Luckily for the studio, the Didions, as some called the married writers, had no compunction about abandoning the subject's story wholesale to meet executive demands. By the time Up Close and Personal made its press tour, the writers were coaching stars Michelle Pfeiffer and Robert Redford on how to change the subject whenever Savitch's name came up.
Savitch grew up middle class in the Philadelphia suburbs and went to private school. A hustler and a perfectionist, she took to reporting in high school and college, though she was loose with the facts of her own life, even to most of her friends. She got her break in Houston in 1974, and got involved with a volatile young news producer (not hers). It was on her next stop, a five-year contract as an anchor back in Philly, that she became addicted to pills, coke, money, and visits from her maniacal Texas boyfriend, who made sure she was miserable there because she hadn't secured a job for him too. Women's groups honored her for special series she hosted on rape and childbirth, and ABC and CBS courted her as a correspondent. But hellbent on becoming a network anchor by 30, she joined NBC at a time of its own turmoil, and insisted on covering Capitol Hill though woefully underprepared for the beat. Longing for security, she made good on her third engagement, to a smitten sugar daddy who'd followed her from Philly, but soon left him when his business collapsed. After seeking help for chronic pelvic pain, she wed her new gynecologist, a fellow multi-addict who hung himself with her dog's leash in their home. The network tapped her to host brand-new Frontline, but plagued by grief and self-induced starvation, she was losing her grip on reality. She slurred her words just briefly on air; it was enough to end her career. She died in a car accident a few weeks later, with a friend driving but no drugs or self-harm involved.
Didion and Dunne wouldn't be obvious choices for a Disney sanitization job, but they were a fit for Nash's book. Besides their remake of A Star Is Born (1976), its third iteration at that point, they'd adapted James Mills' Panic in Needle Park (1971), as well as their own novels, her Play It as It Lays (1972), and his True Confessions (1981). Despite Barbra Streisand's exuberant musical numbers in their rock-star rendition of Star, these fiction-based films trafficked in every kind of misery that Savitch lived in her actual, short life. Not that her gritty story was primary in attracting the writers; few literary authors take up screenwriting for other than economic reasons, and these were no exception. With one heart surgery close behind him and another on the way, Dunne wrote in his memoir Monster, he needed the Writers' Guild's generous health plan, and after the latest writers' strike other prospects looked dim.
The couple quickly found that Disney wouldn't permit their protagonist to die; for much of the film's eight years in development, her producer love interest wasn't allowed to either, even in a sober car wreck. Holding onto key parts of the real figures' story, Didion and Dunne initially wrote the male lead, Warren, as a shady, bad-tempered character, full of envy and rancor toward Savitch's avatar Tally. They didn't attempt to include her same-sex relationships, lacunae for which even Nash's book require reading between the lines. But the studio came back with two unlikely touchstones for what their heroine's arc should resemble: Star, the writers' commercial hit, and Pretty Woman, Disney's new blockbuster. The latter is a Cinderella tale; in the former a performer's career takes off as her mentor and lover declines—each less an arc than an ascent. Going further, the studio named Goodfellas and Thelma and Louise as examples of insufficiently successful films, which it chalked up to their protagonists' extra-legal choices. Personal problems for either character were out: no narcotics, no abuse, no affairs, no abortions, no existential terror. They could only have issues of the most virtuous kind: her loyalty to a struggling sister in a Nevada trailer park, his commitment to muckraking advocacy journalism, which would make him an iconoclast in the world of glossy broadcasts.
Monster sits with Lillian Ross' Picture, about John Huston's making of The Red Badge of Courage, and Julie Salamon's The Devil's Candy, on Brian de Palma's version of Bonfire of the Vanities, as its own kind of Hollywood story: of how the business transforms good material into a bad film. Reading about how these sausages got made, one might wonder that the results ever turn out well. In this case, all of the usual suspects were involved at various points: Scott Rudin before quitting the project, Jeffrey Katzenberg before quitting the studio, a handful of prospective writers at the times when the Didions quit the job, and a string of prospective directors before ultimately, TV producer Jon Avnet, coming off the adaptation of Fannie Flagg's Fried Green Tomatoes (also stripped of queer content). Dunne credits Redford and Pfeiffer with getting parties back to the table once the studio landed them; apparently a boss-trainee romance with a 30-year age gap wasn't on Disney's list of plot objections.
In the film, Tally comes to Miami—not Houston—a plucky ingenue, self-respecting and principled. Warren is her mentor and a former network newsman, gentle and generous, who inculcates her with his brand of reporting. Though in a business known for cutthroat competition, even their repartee is warm and soft. They first kiss in a tropical love montage an hour into the film; you might remember the theme ballad "Because You Loved Me" from chanteuse of the wholesome, Celine Dion (and you might long for a coconut to fall on your head and make it stop). Tally makes her move to Philly and of course, Warren's happy for her, though he himself has been through too much to return to the national stage. She gets there by accidentally covering a prison riot, apparently Avnet's pet set piece. As she moves onto the network, her now-husband Warren freelances on a story in Panama, where he's killed in a Jonestown landing-strip moment: a martyr for the broadcasting cause. She makes her national debut with maximum sympathy from all corners of her industry, bravely rising above the challenges, just like a true Disney princess.
Much like adaptations and biopics, screenplays by accomplished literary figures come with expectant viewers, at least among their readers. Crucially though, a critical flop isn't always a commercial one, and such was the case for Up Close. Critics emphatically panned the film, most of all for the writing, but it sold tickets: an industry happy ending, and a lucrative one for the writers. I've always understood Savitch to have been single-handedly responsible for the preponderance of Jessicas in my age group; from a distance she seemed like a role model to parents, and the Disney film spun the story all of them wished to see. She attempted as much herself in her aspirational memoir Anchorwoman shortly before her death, around the time that NBC gave her spot to Connie Chung. An actual biopic would've played as part cautionary tale and part indictment of newswomen's plight in her time—and unsurprisingly, a Lifetime movie tried it with Almost Golden (though without the real-life body horror with which Nash's book got queasily graphic). Golden Girl received a 1996 re-release, a movie tie-in edition on which the cover's top portion reads "The Real-Life Tragedy That Inspired the Hit Movie Up Close and Personal Starring ROBERT REDFORD and MICHELLE PFEIFFER!" Fans of the film were in for a bouquet of nasty surprises.
In her 1973 essay In Hollywood, Didion had a bone to pick with film critics then, and their notion that screenwriters and directors had gained creative control—and thus were accountable for their own films. Contrary to the impressions of writers like Pauline Kael, Didion insisted as an insider, studio wheeling and dealing remained responsible for each film's outcome: for instance, she thought it misguided to view Bullitt as pro-cop propaganda rather than as a neutral bunch of transactions. Didion saw movies as a throwaway product, unworthy of the critical attention we give to other forms of art. Of course, film wasn't her calling; she was there for the payout, and why shouldn't she be? If literature is a wishing well into which we as writers keep throwing coins, rarely even getting back a "clink," the movies are a slot machine, where writers can now and then hit good cash. Yet even in the studios' heyday, well-known refugees from the publishing world managed scripts that ranged from decent to classic: Dorothy Parker's work on the original Star (1937), Steinbeck's Viva Zapata! (1952), Faulkner's adaptation of Chandler's Big Sleep (1946), Chandler's take on Cain's Double Indemnity (1944).
Similarly, in his book Dunne complained that come 1988, only obvious films like Top Gun could get made. It's patently untrue: studio adaptations that entered development simultaneously with Up Close included Glengarry Glen Ross, The Remains of the Day and Short Cuts (and yes, Goodfellas, which remains in heavy rotation today along with Thelma and Louise). In the world of original screenplays from literary authors, Wayne Wang released Paul Auster's tender comedic gem Smoke just as Up Close wrapped. Meanwhile, when Golden Girl rolled around, Didion and Dunne had been pitching action movies, despite their confessed inability to come up with the requisite "whammies" (shootouts, bombings and so on). And despite Avnet's inauspicious start with the writers, the director came to rely on them so intensely that the two remained minutely involved with the script during shooting, and even in the editing room. The writers had greater-than-usual influence over the finished film.
Even mainstream screenwriters have choices. No bunch of transactions is neutral. Bullitt plays as a pro-cop film. If no one blamed Michael Christofer for mangling Bonfire of the Vanities, in my view they certainly should've; the script was its fatal flaw. And if Up Close is a throwaway product, it's because the writers treated it like one. Didion and Dunne allied themselves with the most mercilessly mercenary studio, a workplace employees called "Mouschwitz" and "Duckau," yet the world's happy-ending purveyor. When Savitch died, she was working on a book for young people called After Ever After, about how real life diverges from fairy tales. She'd fallen into the gap between projected image and tortured truth, and recognized the danger that lay there. Maybe Up Close was a gift to the Jessicas, or maybe it was exactly the myth Savitch finally hoped to dispel.