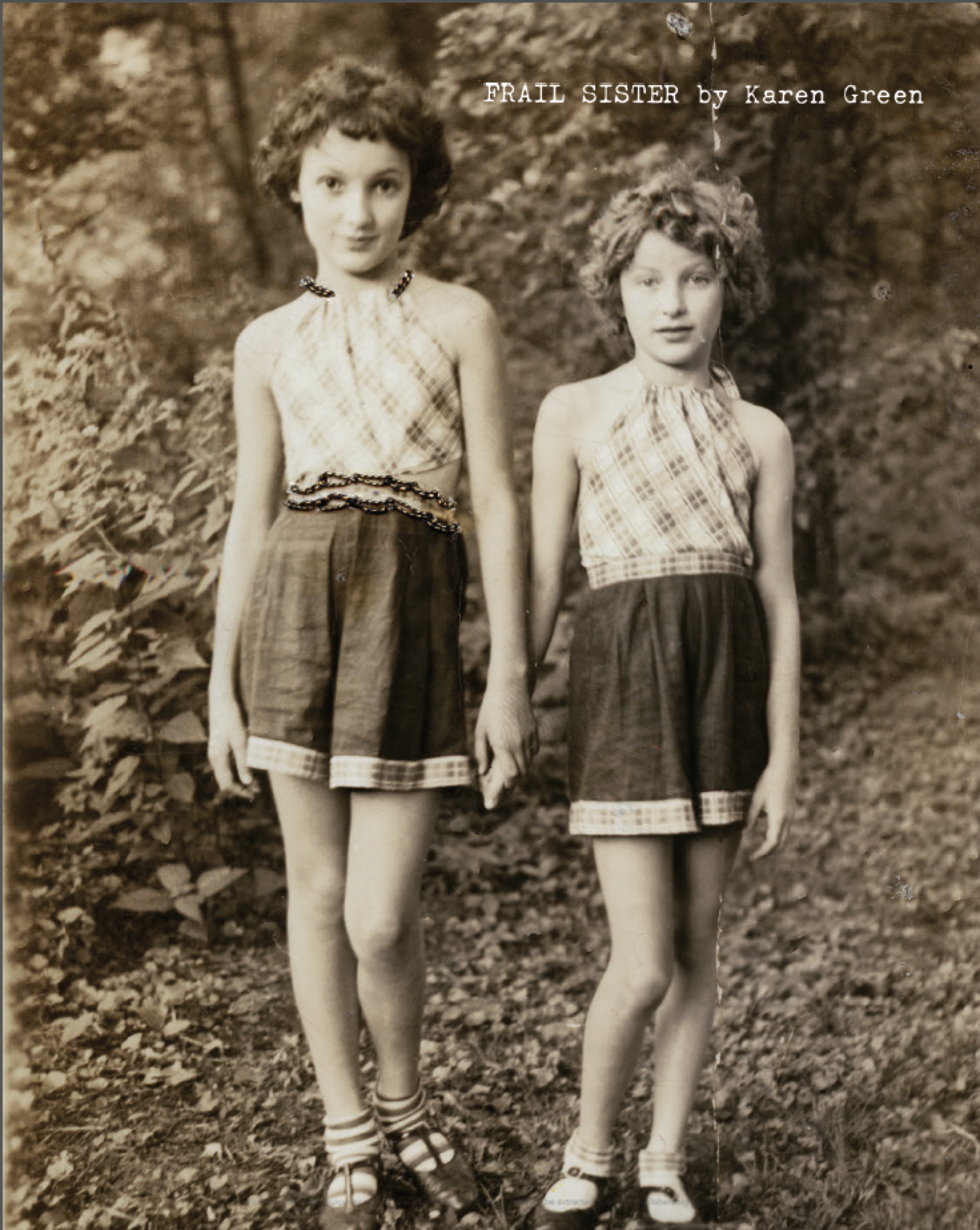 Format: 164 pp., hardback, full color; Size: 7.5″x10″; Price: $39.95; Publisher: Siglio Press; Drawings of birds: One; First names mentioned: Erastus, Clyde, Hank, Kip, Melvin, Sarge, Tubby, Quincy; Representative sentence: "He says, Alas, everything that comforts us can be lost to us, I should know that from the war."
Central Question: When does a work of collage become literature?
Epistolary novels are always voyeuristic. After all, you're reading someone else's mail. What about the fictional archive, then? Composed of primary documents, images, and the scattered ephemera of life, you still get the thrill of transgression and discovery, but the curatorial aspect is foregrounded. Somebody assembled all this, and the question is why, and for what purpose.
In her book Frail Sister Karen Green gives a two-pronged answer. One is straightforwardly political: it's a searing portrait of one woman's destruction by men and their institutions in 20th century America. It's also an ambitious collage attempting to place the reader within an imagined consciousness—typically the provenance of prose literature. Green achieves this: her book is transcendently and uniquely beautiful.
Frail Sister, similar in form to its predecessor Bough Down, is mostly comprised of a one-way correspondence by Constance ("Connie") Gale to her sister. The letters are presented chronologically and span the decades bookending World War II.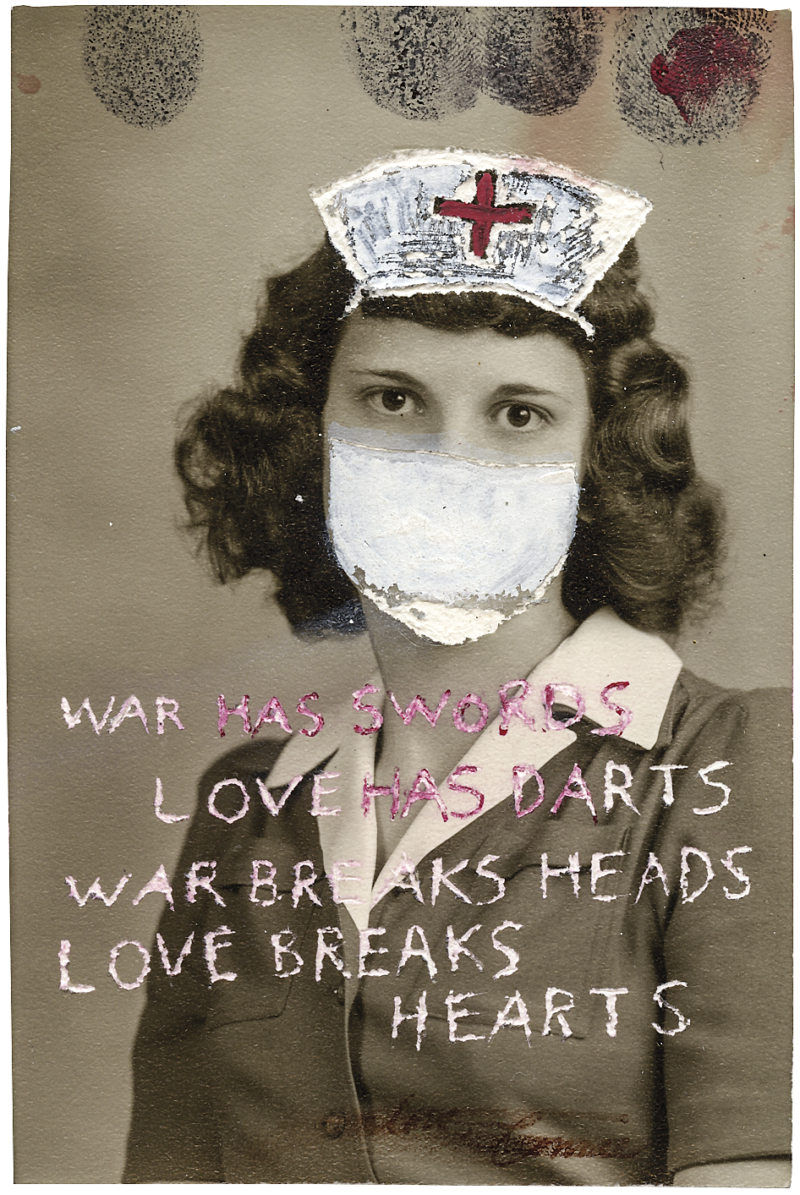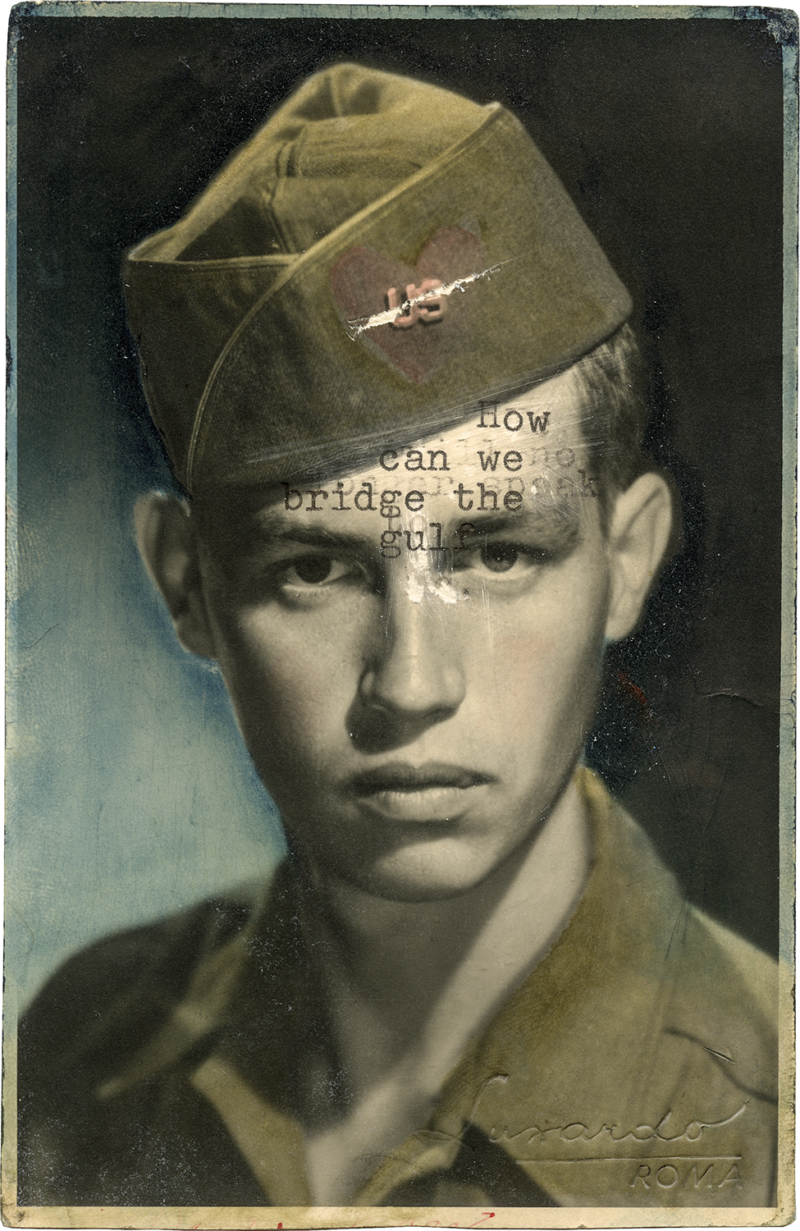 Frail Sister begins with Constance's childhood in Depression-era rural Pennsylvania. She's the ugly duckling—in one letter she writes, "Sister, You float & I fall"—who possesses a naturalist's eye and an adventurer's pluck. The two girls find scattershot early employment and encouragement performing song and dance numbers. ("We sing our hearts out for stew.") At home they contend with their mother's religiosity, their father's predations, and increasingly macabre acts by their brother "Mouse." As soon as Constance is of age—after a brief dalliance with a sweet local boy—she escapes the town and parlays her violin talents into a USO gig in Italy. (The name of her mostly female touring band is the Bluesbusters.)
It's in Italy that Constance is first seen and felt desired. We recognize the liberating effect going to war has on her: several pages show valentines from G.I.s she's dated or briefly met. The soldiers' sentences burst with the romanticism of doomed youth, of desperation and yearning. At first the letters seem redundant, and then comical in their redundancy. Then we realize their letters have all gone unanswered, and not due to Constance's disinterest. The war is simply doing what it does to young men.
After V-day Constance settles in New York City, finding unstable work singing in grimy establishments and dodging the city's myriad dangers. The book's themes begin to cohere. While the post-war boom was a net gain for America, it mostly benefitted men; peacetime brought little comfort for women like Constance.
After a brief relationship with a dashing man-about-town, Constance suffers two instances of bad luck. It's enough for a swift decline into ruin. Frail Sister looks squarely at men's casual violence upon those without agency, and at the terrors of unwanted pregnancies before Roe v. Wade. Constance is briefly institutionalized. There are hints of electroshock therapy and negligence. Whatever sunlight existed in her life is now gone: Constance now sends her sister portraits of Jane Doe victims who have been brutally slain and tossed aside. The coroner's remarks are typed across their faces.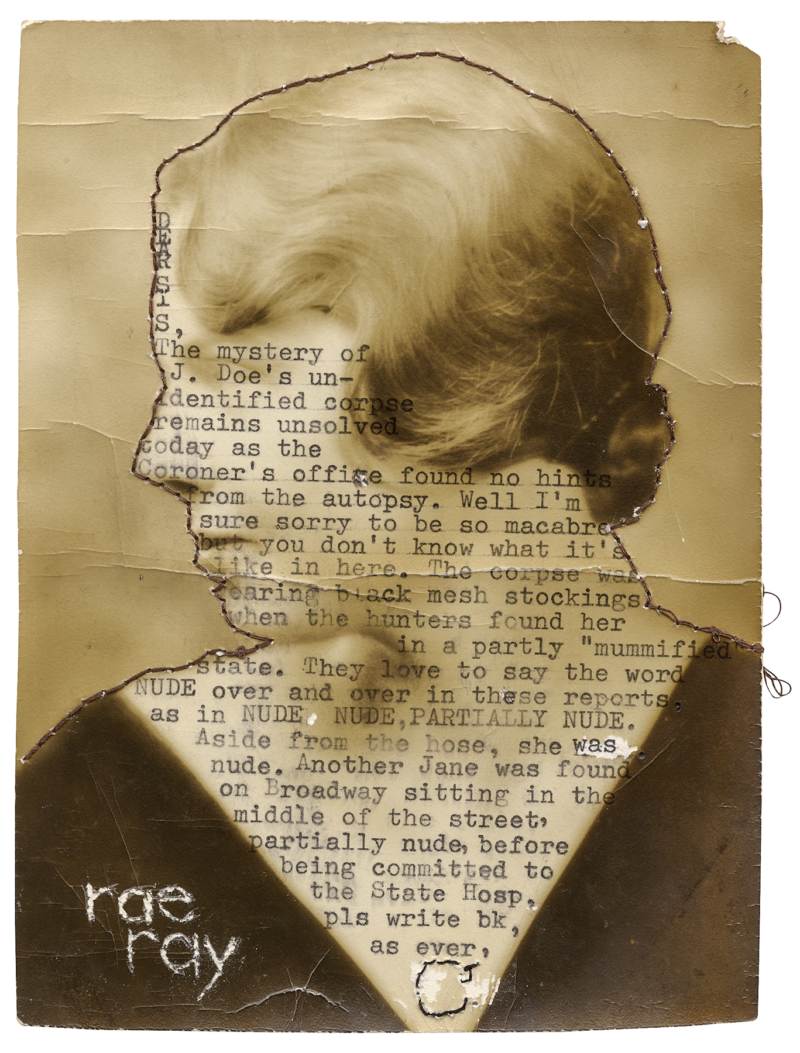 The portraits recall the gut-wrenching section "The Part about the Crimes" from Roberto Bolaño's 2666, which catalogs with straight-faced horror the numerous unsolved cases of young women raped and murdered near the US-Mexican border. Like Bolaño, Green is asking us to look, and to do so with urgency.
The missives throughout the book are often no more than a paragraph, typewritten on period-appropriate scraps of sheet music, stationery, used envelopes, restaurant menus, etc. Constance includes photographs and sometimes practices erasure, whiting out bureaucratic documents or men's faces. Other times she embellishes the images with thread, glitter, and Ray Johnson-esque drawings. Images of violins and bridges reoccur as mile markers for Constance's descent. Late in the book she ceases to write over sheet music: it's a practical consideration—we assume she's run out—but also a symbol of her life's gradual silencing.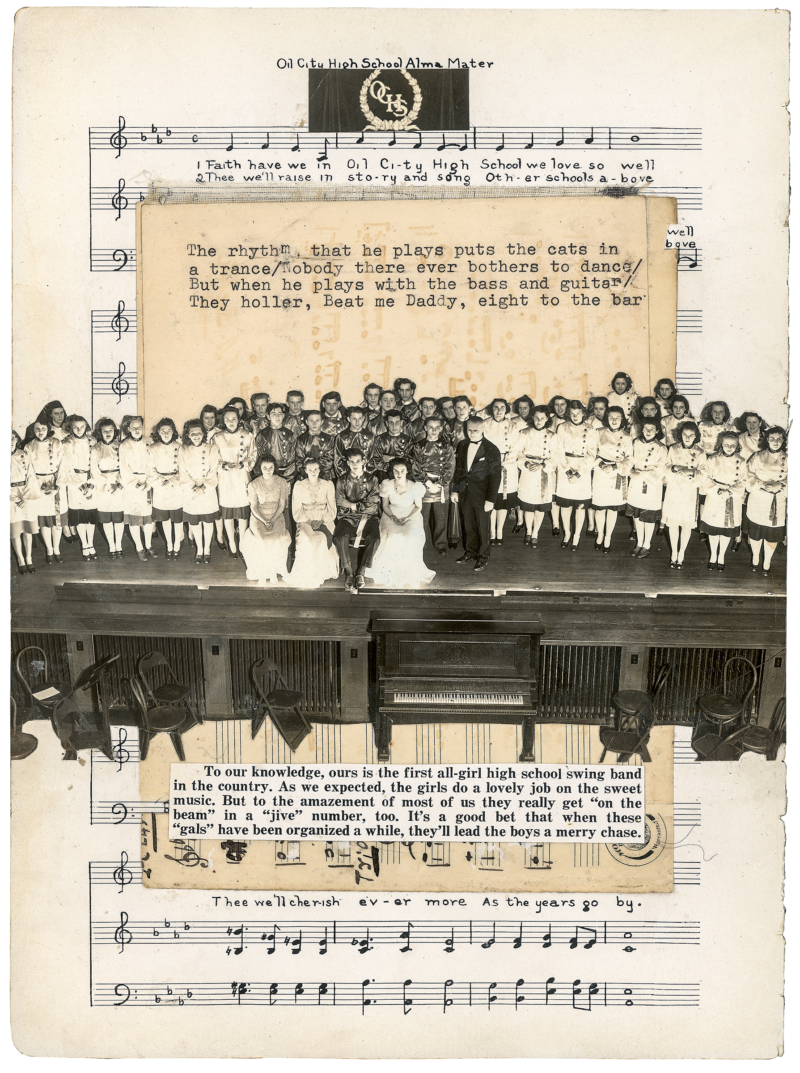 The narrative is also aided by comic-book elements, particularly with pacing. To cite one example: as WWII nears its end, the pages quiet into small, black-and-white photographs surrounded by white space. Victory is then conveyed in an exuberant two-page spread of full-bleed images, with the left page devoted to a color-saturated postcard of the Williamsburg Bridge; on the right, a scrapbooked pile of Tommy Dorsey ads and classifieds for dancers, musicians, and singers.
These images—as authentic as the Marlboro-filled ashtrays on the set of "Mad Men"—deepen our engagement. We don't "read" it as a novel, nor as an art book. We simply read it, without friction, as itself.
If anything it reminded me of a homologous work from the art world, which also comes at its subject tangentially: Paul Chan's "1st Light" (2005), a video installation in which the silhouettes of electronic devices gently float upward. Every now and then a human figure quickly falls—suddenly you recall the falling bodies on 9/11, and you can't stop crying.
There's something of that tangential approach to catharsis in Frail Sister. If we step back from the narrative, the scope of Green's achievement comes into view. She's managed to integrate a nuanced literary voice, a rigorous visual aesthetic, and an entire life story into a masterwork. Imagine a book which produces the feeling of mourning within your body, the actual emotion in your chest and stomach, which you carry around with you, every day, just a little bit. That is Frail Sister. It isn't a story. It's a memorial.