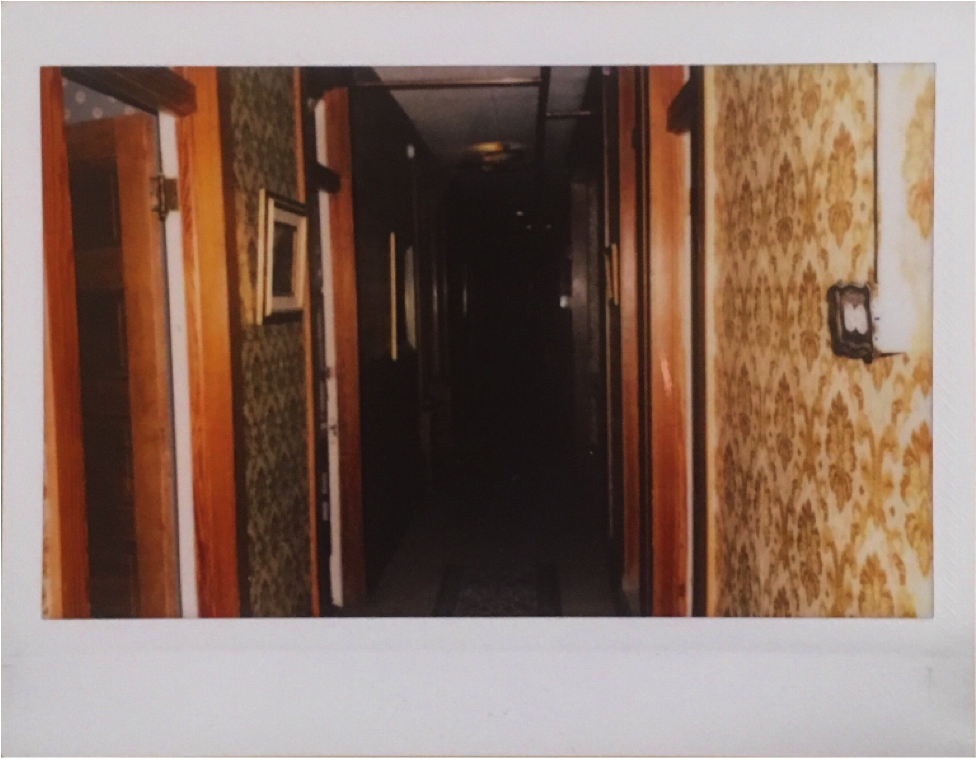 Me and my band the Assumptions recently toured in support of our second LP, Exposure & Response. This is the second entry in a journal I kept for the duration of the tour. You can read part one here, part two.
November 24th-December 2nd
Architecturally, Laramie, Wyoming's historic downtown district likely hasn't changed since the McKinley administration. A wide main road separates two congested rows of weathered, western-style storefronts. It's 7PM, and the only open businesses within comfortable walking distance from us—the temperature is below freezing—are a Thai restaurant and a head shop. Wyoming takes conspicuous pride in its preservation of wild west culture—it is, unofficially, "The Cowboy State"—but tonight, Laramie looks an awful lot like a ghost town.
"Fuck Laramie," my Oakland friend said, a couple of weeks earlier when he learned that our route included a stop in Wyoming's third most populous town. He told us a harrowing story about how he and a bandmate were pulled over in the wake of the 2016 presidential election and arrested for possession of marijuana immediately past the Colorado border. "It felt like some real New World Order shit," he said, barely joking.
What nobody told us about Laramie is that it is home to one of the coolest venues in the country: The 8 Bytes Game Café.*
8 Bytes is like a speakeasy for Laramie's peripheral nerd population. At first glance, it just seems like your average, defiantly unhip bar—the bartender laughs at me when I order a Diet Coke, and later, when I request a glass of water before we play, he gives me a pint of straight tonic water. But at the back of the bar is a door that leads to a small, dimly lit room full of arcade cabinets, ranging from the common to the semi-obscure. A separate, narrow arm that runs parallel to the bar area boasts a library of comic books and graphic novels. This is where the bands perform.
I am 8 Bytes' target demographic to a tee; I love listening to Hüsker Dü while playing Turtles In Time. 8 Bytes also makes me sentimental because it feels like a cross between two Portland landmarks: Ground Kontrol, America's "barcade" par excellence, and Backspace, a shuttered internet café that accidentally became a nerve center for the city's punk scene. Ultimately, 8 Bytes' serves a more vital function than either of those venues: it's a sanctuary for young people in a town starved for modernity.
Photograph courtesy Morgan Troper
The drive from Laramie to Bozeman, Montana—our next stop—is about 11 hours. In an attempt to cut a couple of hours off the drive, which is the longest drive of the entire tour, we're staying the night in Casper, approximately 2 hours north of Laramie.
Thirty minutes into the drive to Casper, we get caught in a snowstorm. We briefly consider staying the course, but the weather intensifies to the point where the road becomes invisible. We happen to be right outside of Medicine Bow, Wyoming: Population 270 and home to the Virginian Hotel, one of the scariest buildings I've ever seen.
A photo of the Virginian Hotel from 1911 while it was still under construction reveals that it has looked the same for over a century. And from the outside, it is spotless; the building's eggshell exterior bears no visible wear. Either the upkeep of the Virginian is impeccable or we are being lured into a haunted hotel.
Our concern that there won't be any available rooms are quelled as soon as we step inside and realize that nobody else is here, save the employee at the front desk and a trucker who hypocritically accuses us of "throwing in the towel." (He is also checking in.) We have the option of staying in a motel adjacent to the Virginian proper, which costs slightly more money, or of staying in the building itself, which is considerably creepier.
We split up and take two tiny rooms on the second floor, admiring the artwork and frightening black and white photographs as we make our way upstairs. The wall behind the staircase is adorned with a massive painting of three aristocratic women sitting in a restaurant. Approaching them is a french maid carrying a tray of wine. The maid's eyes are filled with the sadness of the world; the wine is almost certainly poison.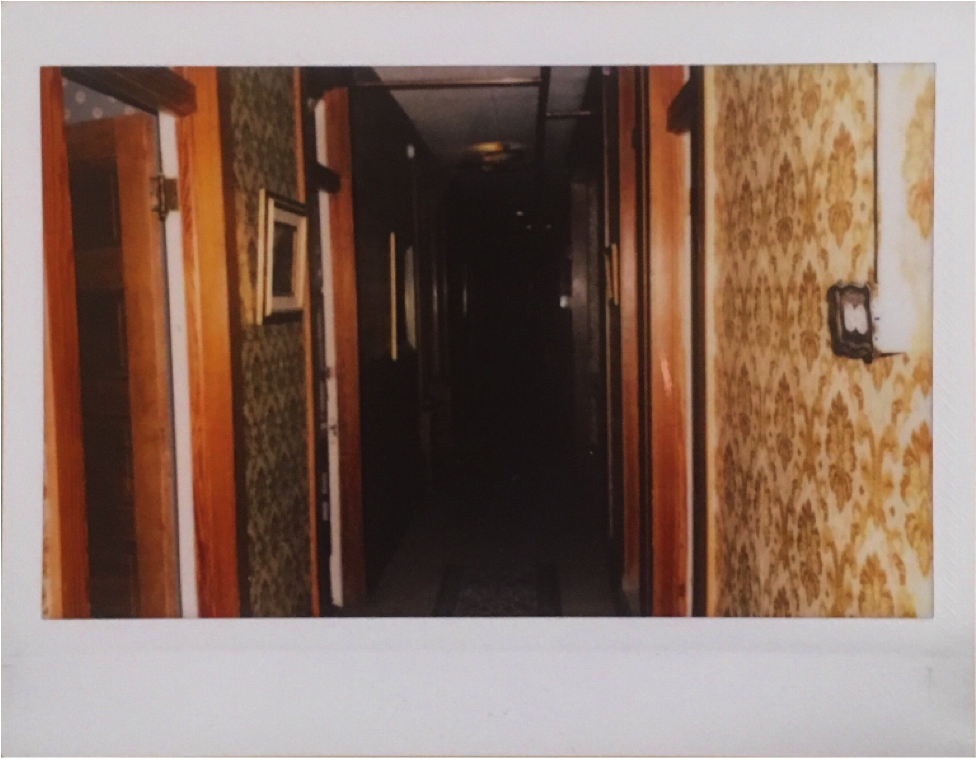 Photograph courtesy Morgan Troper
My giddy fear evaporates and now I am just uncomfortable. There is a sinkhole in the middle of the mattress—likely because it cannot support the combined weight of three adults. I have no cell reception and the wifi here is spotty, which means I cannot surf Wookiepedia while I wait for sleep to find me. My low-grade nonbacterial prostatitis, one of the many maladies I share with John F. Kennedy, is flaring up and I am having to pee every fifteen minutes, which is especially annoying since the bathroom is down the hall. (And the hallway is freezing.) It's not the apparitions that are keeping me up.
My energy level ebbs and flows on tour, which is probably obvious—that happens on any lengthy trip. The more I tour, the better I become at predicting these cycles. Musically, I don't start "cooking" until about five days in, which might explain why shorter tours never satisfy me in the same way. After about two weeks, I start to become irritable and antisocial and the performances suffer. (Thankfully, that coincided with a string of ill-attended shows this time.) After that, I get a second wind, and this is usually my favorite part of tour.
I am now past the second wind phase, and I have never been on a tour long enough to know whether or not it's possible for me to gain a second second wind. I am exhausted and ready to go home.
Photograph courtesy Morgan Troper
Our last show of tour before our homecoming shows in Portland and Seattle is in Yakima. We're sort of playing in the kitchen, while the audience is situated in the living room. Most of the shows on this tour have been punk shows: we've played in houses and art galleries, and in unconventional venues like 8 Bytes and a taco shop in Bozeman and a weird community space in Provo with a stage that looked like the music video for "Tonight, Tonight" by the Smashing Pumpkins. But this is a bona fide punk show. I hear someone bragging about how much weed they smoked before coming here. I hear someone else literally complaining about homework. There are a lot of back patches. The first band open their set with a hardcore fake out, and some members of the audience start getting pushy. Nolan, one of the guitarists in my band, invites his parents to the show, and when they walk in the door some brat calls them "cops." This show reminds me of high school, but it doesn't make me nostalgic. If anything, it makes me feel too old for punk.
I became a punk by osmosis, which is probably why I've never identified as one. I went to punk shows as a kid because they were the only shows kids were allowed at. The music didn't always resonate with me, but the attendant ideology did.
If I were writing this a few years ago, I would blindly be espousing the virtues of punk like an evangelist feigning religious conviction. "At punk and DIY shows, it's purely about the music," I might have said, "especially when there's no drinking." But this party line is malarkey. I have spent entire shows standing outside of the venue. It's not like I've ever really enjoyed the socializing that occurs at shows, either. So why do I go? Am I motivated by some subconscious desire to "be seen"? Surely I am a part of the problem.
A cruel hierarchy exists in punk, despite its pretense of community. I'm convinced that all the artists on my label want to kill each other. This is punk at its self-contradicting worst: we are not fostering community if we are competing with other artists. We are not egalitarian if our end goal is inequality.
But if punk was all bullshit all the time, DIY tours would be impossible. (Or at the very least, prohibitively expensive.) Usually, there is an unspoken agreement that if someone books a show for you in their hometown you will help them in kind. Occasionally, someone will just book a show for you because they find it intrinsically rewarding. Maybe they just, I don't know, like music. And then there are all the people who let you sleep on their couches and eat their food for nothing in return. An EDM fan in Flagstaff who somehow ended up at our show offered to put up everyone in both my band and Seacats on the condition that we let him show us around the town at night; we ended up declining his very kind offer.
Of course, this is also a testament to human kindness. Artists are solipsists—it's a byproduct of our pathology. But touring is a healthy reminder that we're nothing without everybody else.
Photograph courtesy Morgan Troper
---
*As of this piece's publication, 8 Bytes Café has permanently closed.
Purchase a copy of the current issue of The Believer here, and subscribe today to receive the next six issues for $48.