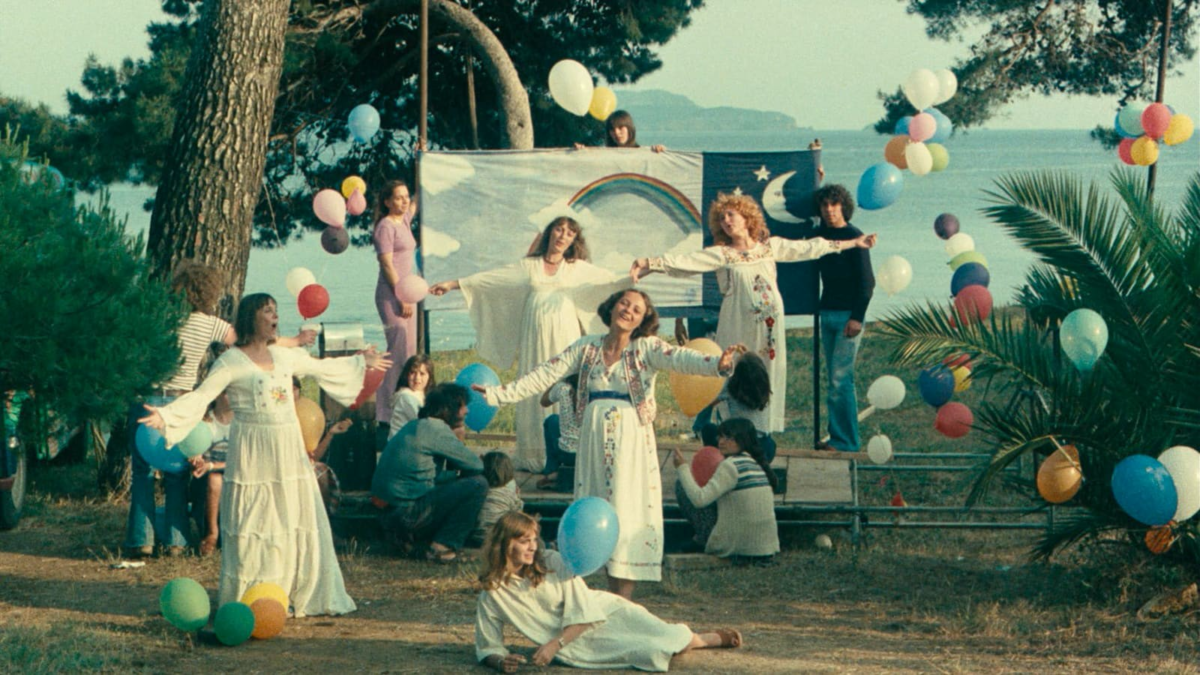 When Film at Lincoln Center put on a retrospective of Agnès Varda's films in January 2020, I dedicated myself to hauling multiple friends to the Upper West side to see as many of her films as I could pay for. I'd first seen Varda's most famous film, Cleo from 5 to 7, years before, when I didn't like anything about my life and felt like I was underwater. Cleo's rebirth from haughty pop star to authentic woman had felt like a breath of fresh air, which I clung to for months until I was able to come up for air myself. As a benediction to Agnès Varda, I'd promised myself that I'd see her work anytime it screened at theaters in New York.
At the retrospective, I was most taken with Varda's 1977 film One Sings, The Other Doesn't. In the weeks and months that followed, when the entire city shut down and I retreated to near total isolation, I kept returning to it. So many ideas and feelings and wisdoms depicted on screen between its main characters, Suzanne and Pomme, underline the struggles of isolation which quickly played out for me in a subdued Brooklyn, separated from friends while trying to get along in a bizarre year. Like Cleo before, it was this film which unfurled itself and felt like a balm.
The filmfollows two women, Pauline, who later renames herself Pomme, and Suzanne, over the course of their twenty-year-long friendship. Their relationship with each other constantly evolves and reinvents itself to fit their quickly changing lives. After going a decade without seeing each other at one point, Suzanne says, "How can I tell you about ten years in a few words?" The two quickly discover reconnecting with each other is effortless and graceful, like falling back into a rhythm. The way Varda portrays the beauty of reconnection in friendships with women felt celebrated and central in a way I hadn't seen depicted before in film. After finding each other again, the two women start exchanging postcards. Their correspondence allows them to stay close for the next several years throughout huge changes and milestones in their lives: careers, children, relationships. Later, Pomme says, "Sure, we've been out of touch, but we don't have to start all over from scratch."
Suzanne and Pomme's early friendship is strengthened by Suzanne's hardships. As a young woman in Paris, she falls in love with a married photographer, Jérôme, quickly having two children by him. Pomme reconnects with Suzanne after seeing her portrait in Jérôme's struggling photography studio, finding Suzanne devastated over her third pregnancy and destitute. Pomme lies to her parents to scrap together money for an abortion and watches Suzanne's small children for her while she travels for the procedure, since Suzanne's hardships are made even more difficult by the inaccessibility of safe and affordable abortion. Pomme's early kindness to Suzanne at one of her most desperate moments bonds the two girls together. Pomme gains the confidence to begin to live the life of a singer that she wants for herself, knowing she can build a chosen family after having been able to support and strengthen Suzanne. From there, the girls are separated by tragedy but unable to forget each other.
One Sings, The Other Doesn't is often billed as Varda's Women's Liberation musical, since Pomme's songs become extended musical numbers illustrating the movement to legalize abortion in France. Pauline's taking of the name Pomme, apple in French, feels like a reclamation of women's perceived mistakes and weaknesses. Suzanne and Pomme reconnect in 1972 after ten years apart when they run into each other at a protest outside the real life trial of a sixteen-year-old girl, Marie‐Claire, who was later acquitted of the crime of having an abortion. Her trial set in motion the eventual adaptation of the Veil Law in France in 1975, which legalized abortion until ten weeks of pregnancy. The last woman in France executed for performing abortions, Marie-Louise Giraud, was guillotined in 1943. Both of Suzanne and Pauline are affected by abortions, as well as pregnancy and motherhood. Varda's filmmaking feels distinct in the way she portrays their choices around decisions to have children and not to, which are depicted in the film as equally insightful and defining moments.
Their friendship is one of the most important relationships in each of their lives. At one point, Pomme explains, "With her, it's like love but without headaches." Elena Ferrante's My Brilliant Friend depicts a similar relationship between women, but Pomme and Suzanne's friendship feels like if Lila's and Lenù's rivalry was replaced with the sisterly reliability found in Greta Gerwig's 2019 adaptation of Little Women. The ways Pomme and Suzanne are able to fall into each other and find stable ground while the rest of the their lives feels chaotic and confusing is perhaps most remiecents of scene from Céline Sciamma's 2014 film Girlhood where a group of four girls rent a hotel room and end up lip-syncing Rihanna's "Diamonds." The film's central figure enters the hotel room as Marieme, a sixteen year old Afro-French girl from the banlieue of Paris. With an abusive older brother and bad grades, Marieme holds herself hunched over with loads of uncertainty, barely able to keep eye contact with her crush. In the hotel room, Lady, the group's defacto leader, gives Marieme a gold necklace that says, "Vic," short for Victory while she soaks in a bubble bath. Marieme leaves the hotel with this as her new moniker, having renamed herself like Pomme.
One Sings, The Other Doesn't finds a kinship with Claudia Weill's 1978 film Girlfriends, in which Susan Weinblatt could match Pomme's spirit. As Susan struggles as a creative in New York City while her best friend, Anne, becomes a wife and mother, both of them are juggling their own disappointments while envious of the other's perceived life. Even the moments of jealousy between Susan and Anne, so subdued when compared to Lila and Lenù's antagonism, are missing entirely from Suzanne and Pomme's dynamic, which is always a loving refuge for the friends. More than anything else, One Sings, The Other Doesn't reminded me of Jo Ann Beard's In Zanesville, her novel of young girls in the 1970s whose center of their rapidly changing worlds is each other. The way another woman's companionship feels constant and reliable without concessions or insecurities. All of these depictions of female friendship approach periods of separation between friends differently, but One Sings,The Other Doesn't feels the most clear and familiar in its portrayal of the ease felt when reconnecting with a friend.
In the months after I saw One Sings, The Other Doesn't, when I ended up isolated and away from so many of my friends, Pomme telling Suzanne, "Whenever anything special happened, it was always you I wanted to see" felt stuck in my brain. I went back to this bit of spoken dialogue again and again. In the film, Suzanne feels similar, she tells Pomme, "Me too, I even spoke to you in my mind." When they part again, the women take up an epistolary dialogue through frequent postcards and letters, updating each other in short sentences about the biggest changes in their lives. The narrator of the film tells us, "[Suzanne] and Pomme had a bridge in the air, a dialogue in their imaginations, punctuated by postcards." My conversations, likewise, moved from in person to the air since, mostly over iMessage and FaceTime, over the phone, through Instagram direct messages. I sent my fair share of postcards though, to friends across the country as well as within the same city. We adapted from watching films together at the movie theater to watching films together over Zoom.
Suzanne and Pomme's friendship is reassuring to watch in large part because each of them spends more time listening to the other than trying to make sense of her own life. The film comments on their differences, noting their letters to each other make up, "A postal traffic rather inexplicable for two women of such different tastes, characters, and social backgrounds." Suzanne grows up on a farm in the South of France, while Pauline has bourgeois, Parisian parents. When Suzanne is a single mother working to care for her children and be independent while yearning for a partner, Pauline is a singer with a bohemian life. She plans to tour with her band, The Orchids, through France, before taking a break from her music to travel to Iran with her lover, Darius. Pomme sings at protests and articulates what being a woman means to her through songs, while Suzanne opens a family planning clinic.
Their choices about both pregnancy and abortion, their lovers, and their relationships with their parents and their children are all treated with equal importance, while their approaches range drastically. They both enjoy being mothers, but for each of them joyous motherhood is synonymous with finding independence, which they discover through choosing different paths. Living their lives on their terms instead of expectations is where they find their closest similarities, and the film tells us, "They were alike too. They'd fought to gain the happiness of being a woman." Their friendship is not based on being similar or learning from each other or offering something to each other but instead a mutual respect and love, a willingness to be open whenever the other is ready.
During Pomme and Suzanne's ten year separation, they both find themselves at home with other women. When Pomme travels to Amsterdam to get an abortion among a group of women seeking out the same, she says the most impactful part was feeling, "the tenderness for the woman there with me." Suzanne leaves Paris, returning to her parents' farm and knowing she has to find a way to take care of her children herself without relying on anyone. With the help of a social worker, she finds a job in a factory where she feels a kinship with the women working there: "I was accepted into the family of women." These scenes in the film were heartwarming to watch, and a reminder of the universal community easily discovered and its offer of support through hard times.
It's been over a year since I saw a film in a theater, but they're opening back up in New York now. The idea of feeling embraced by a community of women—in person instead of through the air—feels close enough to grasp. I know I have to choose wisely about the first film I see in 2021, knowing what an impact One Sings, The Other Doesn't ended up having after I picked it, along with a handful of films, out of over twenty films at the retrospective. Who will I ask to go with me? Many of my pandemic estangements are coming to an end, and I'm able to see friends again in person without a sense of anxiety lingering at the table with us. Pomme and Suzanne feel just as present now, or perhaps more so than they did a year ago. Their power to reconnect with each other feels vibrant. Seeing my friends, it's like time hasn't passed, but of course, it has.
I return to thinking of moments in film when the ease of reconnection is alluded to even during the sharpest separations, and when it's extended as an open invitation with no clear end in sight. I think about Rebecca and Enid's closeness at the end of high school, when we meet them in Ghost World. The nearness of adulthood tastes like freedom then quickly sours into an overwhelming sprawl. Rebecca finds contentment in her own ways, while Enid becomes more withdrawn, disappointed with what's ahead of her. They grow apart, but they love each other. At the end of the film, Rebecca asks Enid to call her at the bus stop as they separate. In the last five minutes of screentime, Enid will return to the bus stop after sunset and board an empty bus to nowhere, leading to a myriad of interpretations of where she goes. When I watch the film, wherever she goes, I feel like she'll eventually give Rebecca a call. I can't imagine a future for either of them where they don't speak again in some way.
In 2019's Hustlers, the film finds its structure through Destiny and Ramona's tumultuous friendship, played respectively by Constance Wu and Jennifer Lopez. After a period of closeness, Destiny and Ramona lose touch. Destiny has a child, Lily, and her relationship plumates. She returns to the strip club where she worked with Ramona, finding it devoid of customers after the recession. When they meet again, Ramona tells Destiny, "Why didn't you call me? You and Lily can always stay with me and Juju [Ramona's daughter]. You know that." They fall back into rhythm within minutes, and the plot excellerates once again, following their lead. By the end of the film, they're estranged after a spree of stripping, stealing, and shopping. Destiny is encouraged to give Ramona a call, and the film offers us a montage of the two women together, set against classical music after a film of hip hop and dance music. Does Destiny call Ramona? Does Enid call Rebecca? I want them to. These films end, and I'm left with a longing for these women to reconnect so overwhelming my heart could burst.
These depictions of friendship don't feel effortless like they do in One Sings, The Other Doesn't, but what's worth noting is that the ability to reconnect is there—open to these women when they're ready to move out of isolation and back into a friendship. It was providential that I watched Varda's film with my friends at just the right time. Like a guardian angel, Agnès Varda offered a precursor to the evolution of our friendships with each other. Pomme and Suzanne unfurled their wisdom to me and all my friends right before we were separated. I'm looking forward to eventually being able to do so many things again, but seeing a film with my friends at the movie theater is top of my list. I've learned to trust that my friendships will come back together in ways as familiar and graceful as Pomme and Suzanne's many returns to each other.