Kaya Genç on "Headless by K.D."
Not long ago I received an email from Goldin+Senneby, the Stockholm based artistic duo known for their explorations of withdrawal and invisibility in the field of international finance. The message appeared in the form of a banner on the screen of my iPad where I was reading Headless by K.D., a novel with a large cast of characters that, as it happens, includes Goldin+Senneby. It felt a bit like receiving a letter from Baron de Charlus while reading "In Search of Lost Time". There was no way I could keep on reading the fictional text, when one of the characters had just sent me an email now waiting in my inbox.
In the email, Goldin+Senneby had clarified details about the Istanbul launch event of Headless by K.D. where I was invited to participate in alongside curator Maria Lind, cultural economist İsmail Ertürk, and Turkish curator-cum-art-writer Övül Durmuşoğlu. The project's machinations had been meticulously planned by Goldin+Senneby for more than ten years. Their email made clear that they would not be attending the event. It seemed as if they wanted to pull the strings from afar, probably from their lodgings at Stockholm.
I learned that the reason I was picked for the book launch was a piece I wrote for the Los Angeles Review of Books a few months ago on the shape of modern detective fiction. In that essay I had discussed Roland Barthes's concept of the death of the author and pointed to how it applied to contemporary crime novels that seemingly have nothing to do with the lofty concepts of French philosophers. You don't have to be a post-structuralist theorist to see that Sophie Hannah's The Monogram Murders, David Lagercrantz's The Girl in the Spider's Web, and John Banville's The Black-Eyed Blonde have a common feature: they all feature famous detective characters produced by dead authors. Those characters lead Lazarus-like lives, having raised from the dead by their authors who all enjoy a good health.
The ideas I'd discussed fit well with the Goldin+Senneby project where the novel's author ("K.D." according to the title) continually eludes the reader. The cover of Headless by K.D. features a blurb by Joseph O'Neill who calls it "mysterious and brilliant." The O'Neill blurb provides the text a literary license with which booksellers can safely shelve Headless by K.D. in the literary fiction sections of their shelves.
What's brilliant about the novel is that it uses the theoretical problem of authorship as its source of mystery; otherwise it is an ordinary detective novel composed in a stale prose style. Goldin+Senneby are not only characters in Headless by K.D. but also, according to the book's introduction by Triple Canopy editor Alexander Provan, its patrons. They made the existence of the book possible by investing in it, and commissioned its writing as part of an artistic project. The ghostwriter they hired, John Barlow (a "real" author, Yorkshire-born, Cambridge-educated, Amazon-author-page-owning), has concealed himself behind the initials K.D., as instructed by his patrons. And therein lies the book's mystery.
During the first days of September, I carried Headless by K.D. with me in Istanbul where I was covering the city's Biennial for an American magazine. I spent my days making intercontinental ferry rides, trying to solve the mystery that is at the heart of Headless by K.D., which is not the accustomed "Who Dunnit?" but "Who Wrote It?"

John Barlow, the novelist and Headless ghostwriter.
In the book's fast-paced second chapter, the artistic duo walks into an office complex in Stockholm where they meet Jamie Wright, an employee of Sovereign Trust, a real company whose core business, according to its website, "is setting up and managing companies, trusts, pensions, insurance and other structures to meet the specific personal or business needs of our clients." The first Sovereign office, according to the website, opened in Gibraltar in 1987. "We currently manage over 12,000 structures for a wide variety of clients—companies, entrepreneurs, private investors or high net worth individuals (HNWIs) and their families—and have assets under administration in excess of US$5 billion."
Goldin+Senneby assign their ghostwriter with the task of looking for Headless Ltd., a company administered by the Sovereign Trust. Headless Ltd. is an invisible company, and not visible to mortals like us; it's a company only seen by those who know how modern finance works. They send the tape of the meeting with Wright in Stockholm to the ghostwriter. Listening, he learns about the existence of a certain K.D., the company's client service manager based in Gibraltar and Barlow's book's purported author.
In search of Headless, Barlow heads to the Bahamas, blogs about his experience and discovers that Headless, the company he was commissioned to investigate, is actually the English name of the French magazine Acéphale published between 1936 and 1939 by a secret society of the same name, whose members included the philosopher Georges Bataille. Bataille was, in a way, the head of Headless which advocated a society without hierarchies, one that was in unison with nature, unlike communist and fascist regimes of Europe that saw a mechanization of their cultures.
Headless by K.D.'s cast of characters include numerous figures who claim to have written the novel. We read a press release by the duo: "In connection with the ongoing exhibition 'Future Primitive,' Swedish artist duo Goldin+Senneby has invited the Gibraltar-Based fictional author K.D. to do a reading from her forthcoming novel Headless… After a professional career within the offshore consulting business, K.D. recently turned to writing. Her debut novel Headless will be published sometime in the near future…" This leads to a response by a company representative: "My attention has been drawn to a recent press release in which you suggest that K.D. no longer works for Sovereign Trust, and has instead become an author. These claims, which are untrue, are something that Sovereign Trust, her employer, takes great exception to." We watch another character in the novel write a book: "The Headless Void: A Novel by Catherine Banks". Meanwhile, the central author figure in Headless by K.D., John Barlow, struggles to comprehend what on earth is going on here. Is the ghostwriting a novel or is he a character in a ghostwritten novel? Barlow is one author among many in this novel in search of an author.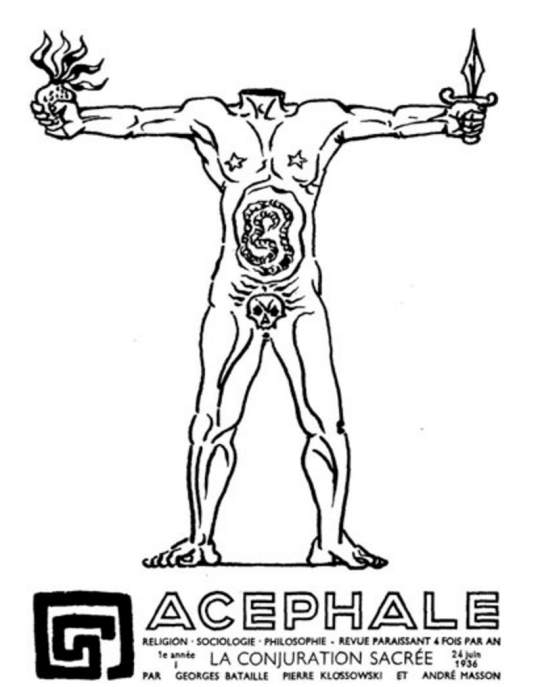 ***
The day after I received the Goldin+Senneby e-mail I took a ferry to Büyükada, one of Istanbul's Princess Islands, to see and write about the Biennial works installed there. On the ferry I continued reading the novel and was surprised to see that my friend Övül Durmuşoğlu, the Berlin-based Turkish curator, was also making an appearance in the book. I read, in the novel, about her interview with John Barlow about Headless, the novel he had been writing for the past few years.
The mind blowing thing here was that I was reading about Övül's interview with the purported author of the novel I held in my hands, in the novel itself. On YouTube there is a taped version of the same interview, so it was not fictional, even as loose as the term "fictional" has become.
More confusingly, Övül was among the speakers to attend the launch of Headless by K.D. Five minutes after arriving on the island, I saw her at one of the Biennial venues. There we were, real individuals looking at works of contemporary art, talking about a novel that reads like a work of contemporary art.
"You are one of the characters in this novel I am reading," I told her.
"I know!" she said.
"What will you talk about in the launch event?" I asked.
"I am not sure yet," came the answer.
"You should talk about the scene where you interview the book's purported author," I suggested. For the audience, it would be like entering a house of mirrors.
"That's a brilliant idea," she said.
Since she was a character in the novel I was about to finish reading, I asked Övül about the real author of Headless by K.D. She answered my question. I took in the answer. But I was far from satisfied. How can you trust someone, who, although she is a long time friend, is also a character in a novel whose chief aim seems to be unsettling your ideas about authorship?
During the launch event in Istanbul Övül talked about this episode where I ask her on an island to read the scene where she is featured as a character, which really did put the audience members in a house of mirrors. When it was my turn to speak I made a promise to write a non-fiction piece about the whole thing.