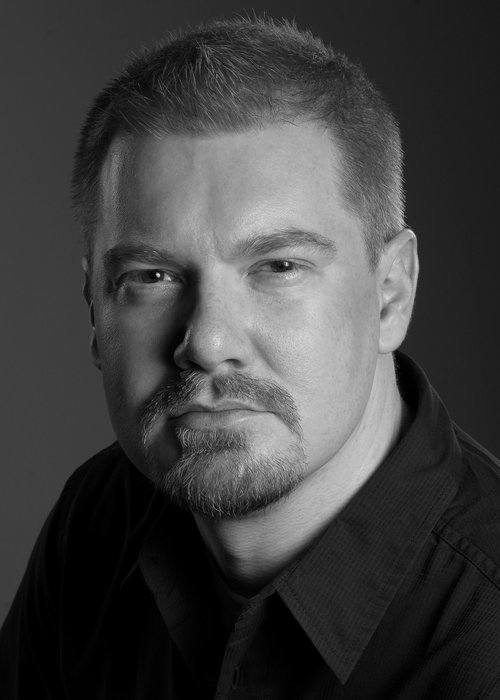 An Interview with Aaron Gwyn
Aaron Gwyn's first book, a collection of stories titled Dog on the Cross, was a finalist for the New York Public Library Young Lions Fiction Award. His work has appeared in Esquire, McSweeney's, and Glimmer Train. He teaches at the University of North Carolina at Charlotte.
We talked about his latest, Wynne's War, a contemporary Western, set among an elite American Special Forces unit preparing to stage a secret mission on horseback in eastern Afghanistan.
—Kyle Minor
I. "THE UGLY FACT IS BOOKS ARE MADE OUT OF BOOKS"
KYLE MINOR: Wynne's War opens with an epigraph from Cormac McCarthy. What kind of relationship have you had with his novels?
AARON GWYN: I've noticed that it's become fashionable for young(er) novelists who've clearly been influenced by McCarthy to deny that influence.  I understand: nothing hurts as much as being figured out.  McCarthy himself, in the first interview he gave after the success of All the Pretty Horses, said: "the ugly fact is books are made out of books."  I agree (though I don't wouldn't call that fact ugly.  I'd call it the "Western Literary Tradition."
I started writing because of Faulkner, but I've developed into whatever kind of writer I am because of McCarthy's western novels: Blood Meridian and The Border Trilogy.  I make no secret of the fact that Blood Meridian is my favorite book, and that it is, in my opinion, the best American novel after Absalom, Absalom and Moby Dick.  Followed very closely by Philipp Meyer's absolute masterpiece, The Son.  So, I suppose my Top Five Novels would be:
1. Absalom, Absalom
2. Moby Dick
3. Blood Meridian
4. The Son
5. All the Pretty Horses
KM: What other novelists became important to you as you were deciding what kind of writer you wanted to become?
AG: I like Beckett's novels. The Molloy "trilogy" and How It Is.  I like Ulysses quite a bit. I like that Nabokov guy (Lolita and Pale Fire, especially). I've read and reread Denis Johnson's Tree of Smoke which is fantastic and contains the best dialogue of any novel I've ever read.  I love Gilead.  Hemingway's A Farewell to Arms is worth the hype (though it's not as good as his short stories).  You can read Don DeLillo with a minimum risk of blindness: he writes amazing sentences, and every now and then he'll make you feel a little something.  Ben Fountain's debut novel is a knockout.  Ron Hansen is an American master (read Desperadoes and The Assassination of Jesse James by the Coward Robert Ford STAT).  I love John Williams's Stoner.  I don't know why more people aren't reading James Carlos Blake (start with Wildwood Boys).  I'm a fiend for Roth's 1990-2001 novels, one hit after another.  Everyone who reads this should go get a copy of Richard Bausch's novel Peace: it's a stunning "little" 200-page war novel set in WWII Italy.  It's a complete gem.
II. "ANY MISTAKES ARE ENTIRELY MY OWN"
KM: This novel seems to have required so much specialized knowledge–of horses, of the cultures particular to the U.S. Army Rangers and Special Forces, of their habits of mind and their jargon, of the Afghan borderland, of military technologies, especially guns and all manner of ordnance. How did you come by all that knowledge from your home base in Charlotte, North Carolina?
AG: I have friends and family members in the Special Operations community: Army Rangers, a Navy SEAL, one current CIA contractor, one former CIA contractor, former Army Special Forces operators, a former member of 1st Special Forces Operational Detachment-Delta (a.k.a. "Delta Force).  I was raised by my granddad who was 82nd Airborne.  His brother is a retired lieutenant-colonel in the Air Force.  My good friend Sergeant Chip Herrin was a mortar operator in the 509th Airborne.  My buddy Scott Sparks is a combat veteran and Marine.
After I'd done my book research, I began to talk to these good folks who were generous and let me badger them with questions—everything from gear details to personal war stories to what the weather's like in Iraq and Afghanistan. I grew up hunting and shooting, but I went through carbine training with the primary weapon system carried by our troops (the M4 rifle), did CQC-training ("close quarters combat"), tried to get into the skin of it as much as possible, kind of the way a film actor does when s/he researches a role. Finally, two combat veterans went through the finished manuscript and pointed out things that didn't wash for them. Any mistakes are entirely my own.
KM: There aren't a lot of longueurs or expository set pieces or reflective passages in Wynne's War. Narrative-wise, it's all forward motion. What about that approach appeals to you?
AG: I like to keep readers in the present as much as possible. One of the things I admire about All the Pretty Horses: not a single flashback and almost zero exposition.  If you can convey everything that needs to be conveyed through speech and action (a.k.a. drama), then you're operating at a pretty high level. I wasn't able to pull that off entirely with Wynne's War, but I gave it a friggin' whirl.
III. "I'M STRONGER, BUT I'M ALSO STRANGER"
KM: This novel seems very interested in the subject of pain. One other thematic preoccupation—a big one—is the question of whether and how a man is broken, and what might be the relationship between brokenness and circumstantial adversity, abandonment, subsequent damage. These things—pain and brokenness—aren't the same, but they are certainly in relationship, in the novel as well as in life. I thought that Russell—the character who is, to my way of reading, the novel's center—was beginning to find a response to all of it not in an answer or an abstract reckoning, but rather in a relationship with a woman.
AG: I grew up on a cattle ranch in (very) rural Oklahoma, hunting and fishing and riding dirt bikes/three-wheelers/go-carts with other farm boys.  I had my left-hand index finger completely severed when I was nine.  When I was eleven, I started doing Tae Kwon Do and competed in tournaments.  Eventually, I moved on to boxing.  Kickboxing.  Brazilian Jiu-jitsu. Kali and JKD. Finally, Krav Maga. I broke my back in my mid-twenties, and had to have spinal surgery (lumbar laminectomy with fusion, L5, S1).  That went on for two and a half years. Pain can recalibrate your life.  It can change your personality.  It did mine. The doctors fixed me, and I was able to return to martial arts/the gym during my thirties, but I was never the same: not physically, not mentally. In some ways I'm stronger, but I'm also stranger. To my thinking, Cormac McCarthy is the great chronicler of physical pain. I'm thinking of All the Pretty Horses, especially.  Such a realistic depiction of what pain actually feels like, of how a body reacts to it, of how the brain reacts to it. I'm very interested in that.  The body comes first.  The brain is a powerful organ, but the nerves that send those little signals to it are more powerful. At least they are to/over/in me.
KM: One thing that moved me about the novel was Russell's special relationship with his grandfather—a thing we don't see so often in contemporary literature. Their interactions lit up the page. I wanted to ask you about it.
AG: My grandfather, Jerry Lee Martin, is the person I most admire on this earth.  He served in the 82nd Airborne during Korea. He pipelined on six continents.  He raised me, and loved me, and was always compassionate, kind, and amazing. Yes: always. I never once saw him out of control.  I never once saw him drink, or smoke, or take a drug (except aspirin or Tylenol). He got up at five a.m., drank coffee and read his Bible a little, went to work, came home afterwards, showered and ate dinner, played his guitar, hung out with me and my grandmother (the Lord rest her soul), watched a little TV and then went to bed. Sundays, he went to church.  Saturdays, he'd drive up to visit his family. He worked the cattle we had.  Summertime, he and I would fish together.  And that's pretty much his whole life. Lao Tzu didn't live that simply and well. My granddad would say he's just an old cowboy, but he's the most Zen person I've ever met.  Naturally so. He turns eighty this August. He and his wife (a few years back, he married his recently-widowed high school sweetheart who he left in 1950 to join the Army) go dancing three times a week. He plays guitar with a band that performs for senior citizen dances. He takes care of his elderly neighbors ("the old folks," he calls them). He's funny, and kind, soft-spoken and full of life. I love him more than anyone on this planet.
KM: It's so wild, even in the 21st century, to see the interiorized trouble endemic to the use of the internet creep into even a novel of war and horses in the Afghan wilderness. Toward the end of the book, Russell receives an email "delivery error," and when a guard asks if he wanted to log out, Russell tells the man he never should have logged in.
AG: Modern warfare is asymmetrical.  Meaning: the current battlespace encroaches on civilian life. Soldiers in Afghanistan talk to their wives back home on laptops, etc., then drop calls when they get mortared/shot at.  Drone operators in the American Southwest pull the triggers that send Hellfire missiles into Taliban camps, then leave work, and go through the drive-through at Taco Bell. The barrier between combat and civilian life has been blurred/erased. This will become even more the case as we continue fighting the Wars for the 21st Century.k