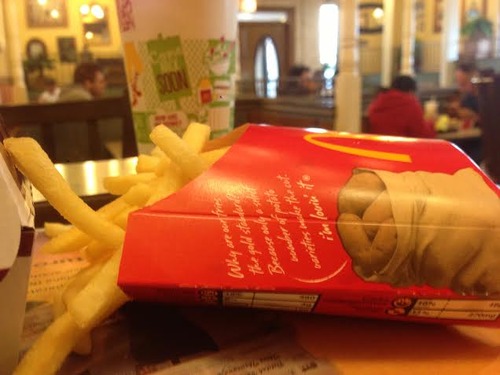 In 1983, David Bermant, the owner of the Cermak Shopping Plaza in Berwyn, IL, challenged the McDonald's Corporation to do something different with a new restaurant it was planning to build on his property. Reluctantly, McDonald's agreed, and chose James Wines' design, one that looked mostly like every other McDonald's restaurant, but would appear to float a few feet above the ground.
One of the comforts of McDonald's is that they are all the same; eating in one is something I look forward to on road trips. I usually order the #2 meal, medium—two cheeseburgers, French fries, Diet Coke. Sometimes I order the #5, sometimes the #7.
I visit Cermak Plaza to take photographs. It's raining and I drive aimlessly around the parking lot, irrationally afraid that if I stop and start taking pictures, I'll get arrested. I notice the poor design of the parking lot, how it's difficult to make a loop without violating the yellow lines of the parking spaces or exiting onto congested Cermak or Harlem. The entrance to the Office Depot is especially tricky, with an awkward convergence of traffic and Stop signs in the wrong places. I'm confused because I can't find any of the art—I'd read the shopping plaza contains thirty examples of kinetic art, including the famous Spindle, and the Floating McDonald's, but I can't find any of them. I wonder if I'm in the wrong place, but verify, with my phone, that I'm where I should be. I take a few photos, anyway. I pull my car up to an enormous snow pile, black with soot, an upside down shopping cart on top, like a crown. I take a few more pictures of this and try to think of it as somebody's homage to the sculptures that used to be displayed here. When I leave, I still think I'm missing something, as if I haven't looked enough. On the way home, I run out of gas. 
Some of the art formerly on display in the plaza: Bee Tree, by George Rhoads. Byzantine Solution by Mattie Berhang. Kettle Head Choir by Steve Gerberich. Moon Bells by Barry Miller. Pinto Pelt (just what it sounds like) by Dustin Shuler. Spindle, also by Dustin Shuler. Windamajig by George Rhoads. Some of the current stores open at the plaza: K&G Fashion Superstore, Marshall's, LensCrafters, Rainbow, Meijer Marketplace, Walgreens, Office Depot. A hybrid shopping mall, an assemblage of parking, commercial space, artwork, signs, and lights meant, perhaps, to showcase a particular vision, but also, I think, to elevate the shopping experience. But how? Perhaps, instead of elevating shoppers, it distracted them. 
In the K&G Fashion Superstore, a discount clothing chain, I try to imagine how anybody could muster enthusiasm for shopping there, how, perhaps, the art outside could incite excitement, if not outright ecstasy, for the experience of trying on cheap suits surrounded by so much art.
On my last visit to the Floating McDonald's, I notice the sign says "99 Billion Served." In photographs from the early eighties, the sign says "50 Billion" served. According to the website Over How Many Billion Served McDonald's has served, as of April 30, 2010 (the most recent figure I could find) far more than the current 99 billion figure, putting the number at 245 billion.
A McDonald's Quarter Pounder bun measures 4.5" across. I imagine a bridge between Earth and some far off planet built upon the memory of so many hamburgers eaten over so many years, but with only just over 17 million miles of buns, we wouldn't even come close to making it to Venus, which, at its closest distance to Earth, is twenty-five million miles away. However, we could make thirty-six roundtrips to the moon.
Worldwide, there are 34,000 McDonald's restaurants, but only two of which, according to my research, are architecturally significant. The first is Wines' McDonald's, while the other, located in Buena Vista, FL, was designed by Robert Venturi and Denise Scott Brown, architects and co-authors of Learning from Las Vegas, in which the authors lament the veneration of Modernist architecture and relative disregard for commercial architecture. While Venturi and Brown's McDonald's is interesting and epitomizes the fast food chain, reducing it to its corporate identity, its garishness is overwhelming in contrast to the subtlety and grace of Wines' design. Their McDonald's looks like an advertisement, while Wines' building is art.
In Learning from Las Vegas, Venturi and Brown describe their interest in the signs that accompany buildings, arguing that the sign is the building (especially on the Las Vegas Strip). Think of the architecture of any contemporary box store—what you notice is the sign, the logo, emblazoned on the front of the building. A Wal-Mart is as much its logo as the box that contains the store. For their McDonald's, Venturi and Brown focused on the company's corporate identity. The building, an Eames-inspired glass rectangle, was eclipsed by giant arches, an anthropomorphic soda cup, and a dancing Ronald McDonald on an enormous facsimile Happy Meal box. Like the Floating McDonald's, Venturi and Brown's original design has been significantly altered, but in the case of the Buena Vista location, McDonald's contracted Venturi and Brown for the renovation, perhaps knowing that, unlike Wines, Venturi and Brown would put together something more in line with the company's vision.
The Floating McDonalds joined as many as thirty examples of kinetic sculpture, collected or commissioned by Bermant, that were, at one time, on display in the shopping center. Perhaps most famously, Dustin Shuler's Spindle, a forty-foot spike impaling eight automobiles, was erected in the parking lot.  According to the David Bermant Foundation's website, "David's two great interests were building shopping centers… and collecting art."  
Though I do not remember how I found out about the Floating McDonald's, I have been mildly obsessed with it since moving to Forest Park, IL a little over a year ago. When I visited Cermak Plaza to go to the Office Depot, before I knew the history of the shopping center, I didn't notice anything out of the ordinary because there's nothing to see: All of the sculptures are gone. Wines' McDonald's is still there, only it no longer floats—the indented base of the walls has been bricked in to remove the 'floating' effect. The interior of the McDonald's still echoes Wines' design; one can still see where the foundation of the building indented inward in the strange ledge around the interior perimeter of the building, decorated with plants and various tchotchkes. What is strangest to me, in returning the McDonald's to its McDonald's-ness, is that the interior of this location is full of antique-looking signs, décor, and furniture like you might find in a TGI Fridays. The Berwyn McDonald's is still strange, even though it no longer floats. From the outside, one could easily mistake it for any other. An article in the Chicago Tribune announcing the opening of the Floating McDonald's suggests that the building of a McDonald's is handled by 'corporate' while decisions about the interior (at least in the case of the Cermak Plaza location) are left to the franchisee.
David Bermant contracted Wines to design a sculpture for another shopping center he owned in Hamden, CT. For Ghost Parking Lot, Wines buried twenty cars at various depths in the parking lot and then covered them with concrete. Years later, as the concrete began to crumble, somebody (without consulting Wines) covered the whole thing in asphalt.
In a 1991 interview in BOMB magazine, Wines said, "Our whole idea has always been to make a public space out of something that's already inherently there. The notion was that these cars exist as part of every asphalt parking lot. So we combined them in a way that's very archaeological. They keep repairing it. I wish they'd just let the cars disintegrate because that process would have its own beauty. The first wave of concrete and asphalt was sprayed over them in one homogenized sweep. When you start repairing them, it looks like patch work."
Wines eventually got his wish, as photographs of Ghost Parking Lot over the years show the gradual deterioration of the parking lot into rust and rubble until the parking lot was resurfaced without the cars in 2003.
When I describe the Floating McDonald's to the young man who has taken my order, he tells me he doesn't know anything about it, but that it sounds "really cool." Nobody else there can answer my question, either, and an email to James Wines went unanswered, though in a short interview with him I copied from a now-defunct blog called Dayton is Not Ohio, he says he has no idea why they filled it in. A 1984 Newsweek article about the building says the corporation was 'reluctant' to adopt Wines' design—maybe that's it; after so many years of floating, they'd had enough. Though McDonald's agreed to build Wines' Floating McDonalds, they rejected his design for a floating Big Mac.
In the dining room, I enjoy a Quarter Pounder with cheese, French fries, and Diet Coke, and I photograph the interior of the restaurant with my phone, trying not to make it look like I'm taking pictures of the people—mostly couples—eating their dinner, though I am; I can't help but take their pictures. It's hard for me to think of what I'm eating as dinner, but it's dinnertime, and the others around me are enjoying what must, despite other evidence, be considered a meal. I wonder why anybody eats inside a McDonald's—my wife sometimes hassles me because I always want to eat inside the McDonald's on road trips because I don't like to eat in the car, but sitting there, alone, my wife 800 miles away, I'm comforted by the other people in the restaurant and my Quarter Pounder—it's one of the new ones, with bacon, and I think, this is a really good sandwich. For a moment, this meal, the familiar taste, and the prospect of free refills, is a comfort. For a moment, though the Floating McDonald's no longer floats, I remember that I'm eating inside sculpture—damaged sculpture, erased sculpture, but still. Wines said of his own work that as architecture, his buildings sometimes seemed like jokes, but as sculpture, they were something else. I try to conjure something profound while I finish the last of my fries.
I wonder why there aren't more lonely individuals eating there, but there are lonely people all over the world eating in some variation of this room and this restaurant being comforted by reliable sandwiches. I don't want mine to end.
Wines explains: "This is a particularly ironic moment for the 'Floating McDonald's' to have been destroyed, since the FRAC collection (part of Centre Pompidou in Paris) just bought all of the drawings of this project for the institution's permanent collection." The conceptual drawings of the building are worth more as art than the actual art was worth as a restaurant. And the drawings seem more valuable as records now that the features of the building that made it unique have been erased, but the value of the building—a working restaurant inside a sculpture—was in its utility, more than its beauty, its location, its status on a strip of never-ceasing, ever-increasing homogeneity.
In the battle between Bermant and the people of Berwyn, IL, many of whom saw the art, especially Spindle, as eyesores, it's sometimes noted that many of the sculptures were by 'nationally known' artists. The counter-argument posed by Bermant to his detractors was that the sculptures were art—not eyesores, but treasures. Bermant saw art as something that should be shown in public, not in a museum, though for a time, his shopping plaza was much more interesting as a museum than as a strip mall. A building by James Wines, Spindle, and the other sculptures on display feel more significant than an Office Depot, a Walgreens, or a McDonald's, but it's the combination of Office Depot and Spindle, of McDonald's and James Wines, that transformed the strip mall into something that is both a museum and a shopping center, or neither of these things. I haven't found any evidence that Bermant (or anybody else) made an argument for the entire Shopping Plaza—the sculptures, the shoppers, the stores, the parking lot, the cars, the shopping carts—as a massive collage, a collage of commerce and art, of mass-produced cheeseburgers served in sculpture, of cheap clothes sold in site of 'nationally known' kinetic sculptures, of people moving among art both high and low and discount clothing. Nobody has argued that the place, an experimental hybrid, was itself art.
The atmosphere in Shoe Carnival is hardly carnivalesque. There are shoes here, but nothing out of the ordinary, nothing surprising or strange. I would like to wander the aisles and bins, deep with discounted pairs of sneakers tied together by their laces, eating a funnel cake. I would like to try on some Adidas and strap into the Tilt-a-Whirl and hold down the contents of my sensitive stomach and watch the super values spin away from me. 
In K&G Fashion Superstore, the smell of new clothes, a smell that has remained constant as long as I can remember, reminds me of shopping at JC Penney's (Penney's had a location at Cermak Plaza when it opened in 1954) as a child. Lost among the racks, I would hide in the center of a clothing carousel, comforted by the wisps of fabric brushing against my bare arms, my face; I would listen to customers click plastic hanger against plastic hanger, looking for their size, whispering to themselves, and wait for Mother.  
James Wines' projects from the seventies and eighties often involved commercial spaces. Wines' "Sculpture in the Environment" (SITE) firm was contracted to build nine BEST retail facilities. Best Products, now defunct, was a chain of catalog showrooms based in Richmond, Virginia. SITE designed the buildings with different facades—one looked as if the front of the store was peeling away, another looked as if it was crumbling, and another looked as if the front of the store was tilted upward. All but one—The Forest Showroom, in Richmond, Virginia—have been destroyed or altered. In The Forest Showroom, the front of the store looked as though it had been forced away from the rest of the building, revealing a grove of trees among walls that appeared to be crumbling. The building looked like a ruin in the process of being reclaimed by nature. Now, in an actual ruin, the forest growing in between the sections of the building, once a design feature, seems to be reclaiming it. Another BEST site has become a Best Buy, and though the structure is ostensibly the same, the unique features have been removed. Like the Floating McDonald's, the pieces of the building that made the store unique have been destroyed, restored, in a way, to a box store—in the words of Robert Venturi, a decorated shed; the building has become a logo, the art erased, or chipped away, from the commercial.
In his 1987 book, De-architecture, Wines points out an unintended consequence of Modernist architecture. In an effort to remove the decorative elements of Beaux-Arts and Art Nouveau, architects like Mies van der Rohe and Le Corbusier stripped architecture to its essential elements. When Mies said "less is more" he called for economical structures free of excess. Real estate developers liked the idea of an architectural aesthetic that called for buildings free of decorative elements. To developers, fewer decorative elements meant more square footage for occupants—less, to them, meant more, in a new, easily copied and mass-produced Modernist aesthetic.
 In Cermak Plaza, one can see capitalism operating on art in a different way. In 2007, the Plaza was renovated and Spindle was removed to make way for a Walgreens. Though I haven't been able to pinpoint exactly when the Floating McDonalds was renovated, my guess is it coincided with the renovation of the plaza. All of the sculptures are gone. All but one of the old "Cermak Plaza Shopping Center" signs, excellent examples of mid-century Googie futurism, have been replaced with flat, printed facsimiles. Though the renovation seems to have been meant to refresh the mall, it looks tired to me, cheap, like any other place for miles in any direction.
I try to imagine the significance of an architecturally important McDonald's while eating yet another Quarter Pounder, tasting exactly the same as every other Quarter Pounder, at the Cermak McDonald's and wonder if maybe my interest in the building and surrounding shopping center is more about eating cheeseburgers as part of my research. I keep eating, and thinking, with my felt notebook (my "Book of Wonders") there on the table in front of me. The plaza was a large-scale collage—a collection of sculpture, a site of commerce, a parking lot, but also the assemblage of David Bermant, passionate about sculpture and shopping plazas, in an effort to create something unique, something visionary.
The appeal of chains—both shopping and fast food—is that they're a comfort from the unexpected, so maybe there's no real mystery as to why McDonald's would want its building back, why Bermant's heirs would want to return their mall to its mall-ness. The Plaza is a ghost, or a collection of ghosts—a collection of photographs on the Internet, some articles in the Chicago Tribune, the Floating McDonald's, one of two architecturally significant McDonald's restaurants, stripped of its significance, Wines' lines erased and bricked in, a strip mall rescued from art.
I've become a fan of James Wines and SITE and I'm a little hurt that my fan mail and inquiry to Wines, a professor of architecture at Penn State, has gone unanswered. To comfort myself, I try to imagine he's so deluged with emails about the McDonald's in Berwyn that he's grown weary of answering them. I'm just one in a long line of fans saddened by the loss of what was the Chicago area's greatest architectural treasure.
I'm a graduate of Penn State, though on the few occasions I've met Penn State faculty, I don't quickly share the fact because I was not the most engaged undergraduate, and though it's unlikely they would remember me even if I had been their student, I'm embarrassed enough that I don't share my alumnus status with them. After talking with current professors, I'm led to believe that most of the students there spend their years the same way I did, oscillating between inebriation and hangover. I remember the McDonald's in State College, Pennsylvania well and I wonder if Wines, when he is alone, eats cheeseburgers there sometimes among the drunks, was-drunks, and soon-to-be drunks, lamenting the destruction of so many of his buildings or waiting to be with the person he is meant to be with.
I take a trip to Cermak Plaza to make a list of the stores there; I only live two miles away. I drive to different vantage points in the parking lot and take photographs with my phone, feeling a little bit like a detective on a stakeout, and also a stalker: in addition to photographing storefronts, I'm also photographing people coming out of those stores. I decide to go into Fruitful Yield, a health food store next to the Shoe Carnival; the health food store is a little out of place here among discount clothing stores and the Office Depot. I walk up and down the aisles; I'm the only customer in the store and start to feel a little odd because I don't intend to buy anything. When one of the employees asks me if I need help I stumble and ask if they have deodorant. I need some. She shows me where and I select an organic brand, Jason. It's "Tea Tree" scented. I like the taste of tea tree toothpicks and like to drink tea, so I assume I'll like the smell of it on my body. It's six dollars. I'm wearing it now. I also buy organic peanut butter (also six dollars) because it feels like I should buy more than deodorant. I make small talk with the woman at the register. I tell her how great the store is, how I'll come back when I need to buy more organic stuff. It's the only store that's not a chain in the whole plaza, I think.
I wonder if she can smell the Quarter Pounder I've just eaten on my breath, if she knows I just drank a Diet Coke. I had a medium, but I refilled it at least once. I compliment her on the store's selection of Chia seeds and she replies, without smiling, "we have a lot of Chia seeds, and other seeds." She tells me they're moving to a shopping plaza in a suburb farther west. I wonder if there's an Office Depot there, too. Even though I know I'll never do it, I tell her I'll be sure to make a special trip.
Matthew Kirkpatrick is the author of Light Without Heat (FC2) and The Exiles (Ricochet Editions). He can be found on the web at www.mattkirkpatrick.com.‬