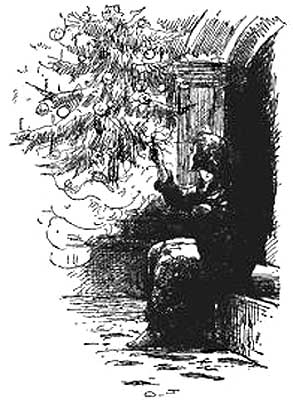 A.J. Bayes' 1889 illustration for Hans Christian Andersen's "Little Match Girl".
My father recently dug out a box of old home videos—recordings I remember being made but which I had never seen. They spanned from 1988 to about 1995. They are all of our family's video records, these five or six tapes, and in them it is always Christmas.
Christmas envelops us (at least, those of us in the U.S.) like a blanket. The songs are in your supermarket, the lights in your neighborhood, the specials on your TV, the tree in your office lobby. There is no escaping its reach if you spend any portion of your time interacting with the outside world, regardless of the religion you were (or were not) raised in, of what faith you do (or do not) practice now. If there ever was a war on Christmas, let it be noted that Christmas won.
In the videos, my brothers and I look like we're attached to some kind of electrical current, our eyes wide and fists clenched, legs bouncing up and down. We are not allowed to see the tree, or our presents, until the filming ritual is finished. We sit on the steps of our DC home with our mother (our father operates the camera) and speak, year after year, almost in song: "Merry Christmas 1990," "1991," "1992"—a childhood measured in holiday.
According to my local Rite-Aid, Christmas starts sometime in late September and ends in early January. It is neither an event nor a day but in fact a season, as legitimate in this Christianity-steeped country as autumn or winter, even as it overlaps both. And how do you grapple with a month? Two months? Or, by Rite-Aid's figures, around four? No holiday is as pervasive or long lasting: one does not so much celebrate Christmas as live through it. The train will come regardless of what you or I will do.
The sheer number of Christmas symbols staggers the mind. From religious (an infant, a manger, a star) to pagan (a Yule log, a Christmas tree), horticultural (holly, mistletoe, poinsettia) to animal (turtle doves, reindeer), meteorological (snow) to geographical (the North Pole, Bethlehem), decorative (wreaths, lights, bells, stockings) to culinary (fruitcake, candy canes, gingerbread, goose), active (sleigh rides, ice skating, caroling) to passive (chestnuts roasting, children sleeping), not to mention all the music, poetry, plays, movies, ballets, TV specials dedicated to the subject, much less Santa Claus and his retinue of iconography—this motely, gargantuan, and still growing body of symbols speaks to the broad range of influences this winter celebration has drawn from. There is a Christmas for every taste—from medieval polyphony to Die Hard—and it is hard to take the measure of it.
Though the holiday is irrevocably, irreducibly a religious one (even the shortened Xmas seems to ominously nod towards the cross), its secular manifestations first began to emerge with the cult of Santa Claus in the early 19th century and Dickens's near irreligious A Christmas Carol a few decades later. "Jingle Bells," what's considered the first secular Christmas song—though it was originally intended to be sung at Thanksgiving—was published in 1857. Today one could, if one wished, go full throttle Christmas without one mention of the Christ child: all Rudolphs and elves, sleigh bells and silver bells, Nutcrackers and Wonderful Lives, Frosties and Grinches.
The holiday's emphasis on family and generosity also has young roots: born from Scrooge's redemption and Clement Clarke Moore's "Visit from Saint Nicholas" and even Queen Victoria's adoption of the Germanic Christmas tree. Large, rowdy groups of singers going door to door demanding food and drink (not unlike SantaCon) had dominated earlier celebrations in England, so it's little wonder that both England and Boston had separately banned the holiday during parts of the 1600s. Many New Englanders only began to celebrate the holiday after its fashionable Victorian makeover; the U.S. government didn't make it federal holiday until 1870. Though Christ's birthday was celebrated as early as the 4th century CE, and perhaps even before then, the practices and cultural objects we know as the Christmas tradition were, by and large, introduced within the past 200 years.
At once very old and very new, Christmas resists generalizations. What it always is, however, is a feast, one held during the Northern Hemisphere's darkest hour. And perhaps because of the annual onslaught of night, the fundamental reality of darkness we all grapple with this time of year, Christmas, throughout its permutations, has carried with it a disturbing but persistent current of tragedy.
Death hovers above so many Christmas songs and stories. Though Wenceslas's page is saved by his liege's miraculously warm footprints in the 1853 carol, by the forth stanza of the song he is near death: "I can go no longer." In "We Three Kings" (1863), the third magi describes his gift of myrrh—an embalming oil—to baby Jesus, who has a "life of gathering gloom," born as he is for death: "sorrowing, sighing, bleeding, dying / sealed in the stone-cold tomb." The 16th century "Coventry Carol" carries with it none of the joy or hope that characterizes so many acclamatory Christmas songs. In it, a mother sings a lullaby to her dead child, murdered by Herod during the Massacre of the Innocents: the song is all despair.
Even contemporary songs touch on this preoccupation with death. In what is perhaps my least favorite Christmas song of all time, "The Christmas Shoes," by the contemporary Christian vocal group NewSong, a boy who doesn't have enough money to buy his dying mother a pair of new shoes pleas for assistance from the song's narrator. The chorus is his request: "I want her to look beautiful / if mama meets Jesus tonight." These last two lines make my brothers and I howl or groan, sometimes all at once, whenever it comes on the radio and we are all in the car. This time of year, as we drive each other to different family obligations, we only listen to terrible Christmas radio: an auditory diet full of WHAM!'s "Last Christmas," the strange but endearing David Bowie and Bing Crosby duet of "Little Drummer Boy / Peace on Earth," and, if we are lucky, Maureen Sullivan's local classic "Christmas Eve in Washington," which is full of gross tremolo and Reagan-era imperialist sentiment. "Christmas Shoes" sticks out, even among the pap of commercials and that WHAM! song again, for the cheapness of its sentiment, the lack of gravity it brings to the occasion of a dying mother. What's not unusual about it, however, is the presence of death itself.
The same current carries over to literature, movies, television. Dickens's A Christmas Carol, which remade Victorian Christmas in its own image (and popularized the expression "Merry Christmas"), obsesses over death and the passage of time, and makes clear that Christmas is a time to meditate on those subjects. The ghosts who visit Scrooge are, after all, of Christmas time, rather than just plain old Past, Present, and Future. They arrive in the predawn hours of the 25th and travel only to other December 25ths. At risk are the early passing of Tiny Tim, who need not die so young, and the unmourned death of Scrooge himself, who need not go so unloved. Scrooge must face his own grave in the book's climax, led there by a ghastly, hooded figure, not so unlike the Grim Reaper. While death hovers at the edge of any story told about Jesus ("born that man no more may die," as the lyrics to "Hark the Herald Angels Sing" go), Dickens explicitly connects it to secular Christmas observance. To truly understand the meaning of the holiday, the tale seems to say, one must consider death.
Similarly, despite the girl's beautiful visions, Hans Christian Andersen's "The Little Match Girl" closes with her lifeless body "leaning against the wall—frozen to death," "stiff and stark." The piercing joy of It's A Wonderful Life's conclusion can occlude the bitter gloom of much of the movie's beginning and middle: it is a story about suicide. CBS made "The Christmas Shoes" into a made-for-TV movie in 2002 starring Rob Lowe. The seemingly safe-haven of the mid-century stop-motion TV specials offers Nestor, the Long-Eared Christmas Donkey, in which the protagonist's mother freezes to death protecting her son. Even in a movie like The Santa Clause, for all its levity, includes Santa's murder.
The attention to mortality connects more broadly to Christmas as an occasion to mark the passage of time. In part this is due to its proximity to the New Year, but it's significant that so often Christmas itself—the last days of December—provides the backdrop for these considerations of time. So much Christmas music concerns itself with melancholic nostalgia. In "Have Yourself a Merry Little Christmas," the "olden days" are "the happy golden days" and future happiness is possible only "if the fates allow." Though the song insists on merriness, the frequent repetition of "trouble" makes whatever joys the season can provide appear tenuous at best, and long past at worst. (In fact, Judy Garland refused to sing the first version of the lyrics for Meet Me in St. Louis because they were too sad; the version we know today is its less-depressing revision.) "I'll Be Home for Christmas" promises a reunion only in the narrator's dreams; the ideal holiday scene presented in "White Christmas" similarly exists only in the narrator's dreams, "just like the ones I used to know."
This half-hidden cynicism, this black ribbon, that runs through Christmas celebrations from the earliest surviving carols to schmaltzy holiday songs today grounds the aggressive merriment of the season with a potent understanding of how hard it is to live in the world. Christmas, like no other holiday, makes space for despair. O. Henry's sentimental "Gift of the Magi" still deals with grueling poverty. There is so little pleasure in A Christmas Story, a cavalcade of small miseries. Home Alone's premise is a forgotten child. Even songs with totally benign lyrics, like "Carol of the Bells," sound as if they come out of some kind of dark, apocalyptic Christmas. (Don't even get me started on Krampus.) For all the joy the holiday insists on, it acknowledges bleakness. For every rousing "Hallelujah Chorus," there's a slow, sad answer.
As I watched these videos of literal Christmases past, this litany of years, I was struck by the persistence of my own powerful affection towards this time of year. The recordings make painfully clear how large presents loomed in our young imaginations: the manner in which we tore wrapping paper from our packages can only be described as savage. But there is something else too, something else that's also visible.
One year—it must have been 1994 because it is the year we got a Sega Genesis CDX, much to our delighted bewilderment—shows me reading a letter aloud to the camera, a letter from Santa. It is bizarre, both because children don't really need this from Santa (his allure partially lies in his inaccessibility) but also because it is full of strange specifications—the hours in which we were allowed to play with the console on weekends versus weekdays and dependent on whether or not our homework was done. I am not sure if my parents thought we would be more likely to obey these rules if set down by Santa, but it's strange now to see this figure of legend here become involved in the mundane management of our household. (Surely the Santa of The Polar Express or Narnia's Father Christmas would never allow himself to be bogged down by such matters.) But that is an adult's reading of this instructional Christmas letter—the eight-year-old's reading glows with belief. In it, anything is possible.
Of my siblings, I remain the most attached to Christmas, acquiring seasonal sweaters and full-size fir trees and tickets to holiday concerts with the ferocity of one desperately hungry. Christmas is some kind of answer to a question I didn't really know I was asking: it insists that delight and despair coexist in the world, rubbing up against the other, intermingling. Christmas music makes me cry all the time (to be fair, Beyoncé does the same thing) but it is a good kind of crying, one that feels affirmative but not blindly so.
Messy and old and chintzy, too-Christian and not-Christian-enough, saccharine and mindless and capitalist, cheesy and beautiful and lit within and dark and dark and dark—Christmas is a holiday of extremes. We have eaten too much, or not at all. We are so happy that it hurts, or we just hurt. We are ribald, or we are solemn. We are alive, we will die.
It makes sense in this context that this moment of conscious ambivalence and hybridity—across the spectrums of time, Christian cultures, secular and religious expression, and human experience—becomes a place where many of us, in one way or another, press record. What more full moment could we capture? What occasion better urges us to take the measure of our lives? This is a kind of magic, though often a morbid one. It is all we have till spring.
Molly McArdle's fiction, essays, and criticism have appeared in The Los Angeles Review of Books, The Rumpus, Bitch Magazine, PANK, and Library Journal, where she was a book review editor for two years. She's currently working on her MFA in fiction at UMass Amherst and running The Rumblr (The Rumpus on Tumblr).