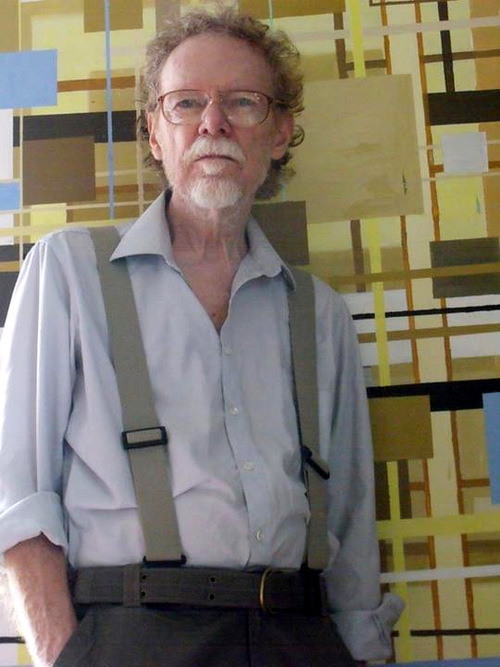 A few years ago stumbling through cyberspace, I came upon Ed Askew's work. When you hear music that's new to you, there's a moment that feels like you're the only one who knows the music exists, no matter how old it is. That's what happened when I first heard Ed's song "Paper Horses", and I knew I had to reach out to him one way or another. We eventually became Facebook friends and would share music here and there. I was later lucky enough to release a cassette tape for him called "Looking For Love".
Ed Askew has released nine albums since his first in 1968 and has self-released many more online. For the World, his newest album is a culmination of his music, and proves that an artist's best work can come later in life. Ed Askew is proof that with time, people will come around. It makes me extremely happy to see people recognizing him for the great inspiration he truly is. We talked over email about his new record, his upbringing, and what's next. 
—Christian Filardo
THE BELIEVER: Many people know of you primarily for your work as a musician, but I also really enjoy your paintings. Could you talk about your time studying painting at Yale and your work as a painter?
ED ASKEW: When I graduated from high school I had no idea how I would make a living. My family—this was 1959—was concerned with what kind of job I would get, not where I would go to school. I did, however, have some talent in the arts. And I was encouraged to apply to art schools.  I was accepted everywhere I applied. But since there was no money for art school I decided to go to a small school in New Canaan, CT where I could get a scholarship. I figured I could earn a living as a commercial artist.
But in my second year, my love of making paintings got me. And I switched to fine art. After another two years I got accepted at Yale. That was the first time I ever lived away from home, and the first time I had a large circle of painter friends that I would see in and outside of school every day. It was a very good time for me.
 My work as a painter has always been tied to Modernism. I read everything I could find related to art, from Cézanne through the 1950s.  The issue of innovation never interested me personally, since I believe it may lead to a place where people don't paint anymore. 
What interests me is all the stuff that goes into abstract and abstract-figurative art. Not the styles, but the stuff that, in various combinations, make the styles: mixing and matching painting methods and ideas.
BLVR: Some qualities of abstract painting are also reflected in your music, especially lyrically. Can you tell me about what, you feel, links your music and visual art? 
EA: Well, some lyrcs are depictions of events like scenes in a movie: "Roadio Rose rides away, with the sun setting low in the sky. / The horizon is gold." That's an almost realistic image. And from "Westward Bound": "He never spoke a word to me, / but left a message on the sea, / A paper boat that I could read. / 'I love you'." That doesn't make any literal sense at all, but conveys an emotion through familiar images in a kind of impossible, but clear, little scene. I think this has as much to do with poetry as it does art. I used to read a lot of poetry. Especially when I started making songs: Lorca and Ginsberg and Rimbaud.  I liked stuff that juxtaposed images to evoke meaning.
I noticed early on that if I said," I feel sad because I miss you," it has a sort of flat quality that doesn't imply much. But if I make a picture of someone alone on a beach, looking at the sea, thinking of someone, the picture conveys the same thing in a much  more poignant way.
As for art, music and art are two very different activities for me. However, the use of imagery links them, and invention is important for both.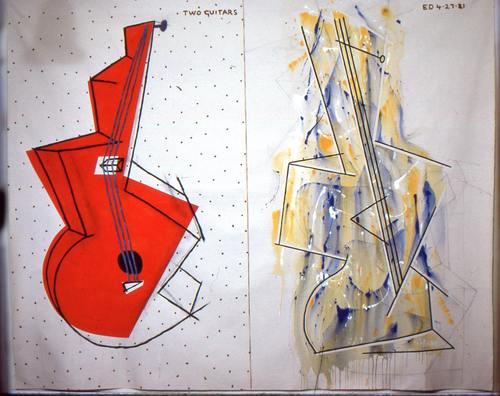 Two Guitars, courtesy Ed Askew. 1981.
BLVR: On your new record, "For The World", a lot of people got together to make it a really special album. Could you talk about how you choose your collaborators and who is working with you now? 
EA: I didn't actually initiate that project myself. About two years ago Jerry DeCicca, of the Black Swans, announced that he wanted to produce a new Ed Askew record. Of course I was interested! He came to New York and we recorded. It was me, my band, Tyler Evans (also in the Black Swans) and Jay Pluck. Then Mary Lattimore came up from Philly and overdubbed harp on what we had recorded. Jerry took that material back to his home in Ohio and finished the recording there.
I am currently working with the Ed Askew Band: me, Tyler, and Jay. We rehearse or just get together once a week. We're always learning "new" stuff, and the sets change a lot, which makes it fun. We have been playing around Brooklyn, mostly. Other friends occasionally sit in on shows.
BLVR: I discovered your music in my early twenties. I feel like it must be interesting to have your music garnering interest from fans my age. How is independent music different now from how it was when you first started working on releases? Can you tell us about your family? What were your parents like?
EA: At that time the possibilities were: going somewhere with your instrument and playing for people; playing on the street; finding a reel-to-reel tape recorder to record; getting signed by a label that has distribution; and going into a studio—or paying for it yourself and finding someone to put it out.
In some ways, it's still the same, but there was no Internet, no mp3s, no sending song files to friends. Nowadays someone in Texas can sing on your album, even though it's being made in New York. Also, you couldn't send out emails to venues to try to get gigs—you had to show up and get them to listen to you. There weren't millions of small labels. Setting up a tour (which I never did back then) would have been pretty difficult. A lot of the music isn't that different, though. Folk, rock, the stuff that came out of punk, Jonathan Richmond et al.
Also, it was the intervening years of non-slick music like Patti Smith or Lou Reed that made it possible for people to listen to my stuff and like it, rather than finding it strange. Now, we have a lot more options and a full table of stuff to explore; we're a little less rigid. It's normal for people to play more than one kind of music. It's ok to combine sounds, making new bastards from unwed parents, as it were.   
My father worked as a foreman on the Merritt Parkway. He'd get up in the night whenever it snowed to direct a crew clearing the highway. He played songs on the uke sometimes, and had ambitions to be a band singer in his youth. He never allowed me to play the piano (which I started playing at about fifteen) when he wanted to watch TV – which was pretty much all the time. He never asked me to play for him.
My mom took care of us kids, and when I was in high school, she got a job as a "sales lady" in a department store, which was how she paid for the piano she got me.
Till the day they died they considered art and music to be hobby, and hoped I would get a real job. They were basically caring and okay parents, though, who did their best.
BLVR: You were a teacher for a while, how did you like that? Do you find it more fulfilling than making art? Also, after going from playing one or two shows in a decade, you have been playing more and even have some UK shows booked. Can you tell us about these shows over in the UK?
EA: I have enjoyed teaching most of the times that I have done it. I also like being by myself and making things and performing, so much that if I hadn't needed an income I probably wouldn't have done much teaching. Having said that, I think working with others, having to come up with art projects, and learning how to present your ideas in a clear way, to adults and/or kids is always interesting and rewarding.  
The UK shows were arranged by Tin Angel Records to support the new album, "For the World."  I'm excited because I have never been to Europe, and the last time I was in the UK I was 25 or 26, plus touring is always fun. I don't like sleeping in a different place every night, but I do like meeting new people.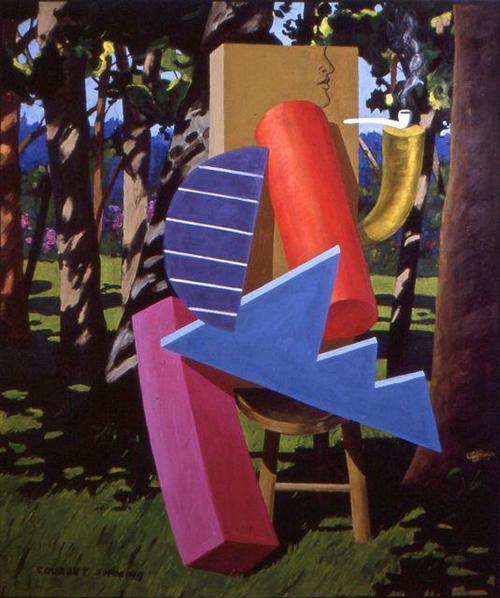 Courbet Smoking, courtesy Ed Askew. 1978-1980.
BLVR: You've lived in New York for a while now. Would you consider yourself a New Yorker? Can you tell me about your time in the city, what you like about it, and what your daily routine is like?
EA: Yes, I'm a New Yorker. I like the big streets and the big buildings. It's a great place to walk. During my first ten years in the city, I still spent a lot of time in New Haven, doing house painting and hanging out with friends. Otherwise, I worked in an art store in the city, and did some house painting and art teaching. I was on welfare for a while, after I hurt my back. Welfare is not an experience I would recommend, although it was through welfare that I started working with the kids in Morningside Park in Harlem.
I continued to paint and write songs, though I did only one performance during that whole decade, and was in only one or two art shows. 
After Ask the Unicorn was rereleased, and Little Eyes was released, in 2000 or so, everything changed. I started being asked to play music. I met Jay, and later Tyler, and found myself playing a lot of gigs (mostly in Brooklyn) with Ed Askew Band.
My day, these days, consists of getting up around noon. Maybe I'll go out for breakfast, which is a fifteen-minute walk. Or I'll just stay here in my room. Most days I only go out to the post office or to get some food. Otherwise I work on my art or music. I check out the news, and generally spend a lot of time on Tumblr or Facebook or whatever.
Sometimes I'll watch a video or read a book. I visit with other people occasionally, but not often. I also go to the Met Museum or the Cloisters (I can walk there) once in a while. I meet with the band once a week if possible, which I enjoy immensely. My favorite time is late at night. I seem to wake up and want to work after 10pm, in my bubble of night.
It's hard to say what exactly I like about New York. It's so vast. It seems to go on and on, but that's an illusion. Still, it's fun to be here, especially since I don't drive. 
A few years ago I worked on a project where I explored the elevated trains. I would get on the subway and go to, say Queens, and just get out whenever it looked interesting. I walked up and down the platform and looked down on the neighborhood below and snapped photos. Then I got back on the train and went somewhere else and did it again. These pictures became drawings. I did this for a few weeks. Where else can you do that?
See a recent Take Away show by the Ed Askew Band.
See more info about Ed Askew's current European tour.