This month's Believer Art Issue's lead feature is called Best of All Possible Worlds, a story about class, race, gentrification, and public art named after New York City artist Saul Melman's installation series of the same name. Melman was kind enough to prepare this slide show about his work to accompany Mark Lane's fantastic piece, which you can read in full here. Melman will also present some of his work at the Art Issue release party at 6 pm on Monday, November 17, at Warby Parker's flagship store (at 121 Greene St.) in New York. The accompanying text is from Saul Melman.
This is a story about a project I never made that turned into a project I could never have imagined.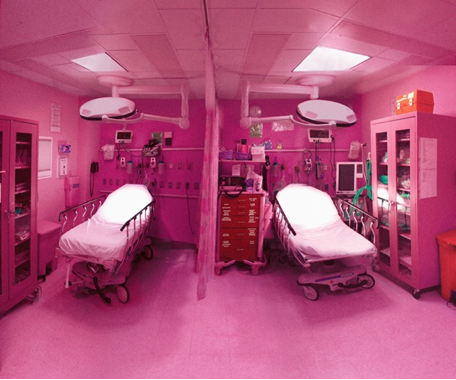 Best Of All Possible Worlds. 2009. Photo-Collage.
Here is a photo collage I made of the trauma room in the hospital where I work as an Emergency Medicine physician.
The image was part of my proposal to the hospital to create an installation in the trauma room that would include painting the room Baker Miller Pink, a color scientifically developed in the 1970s and thought to have a physiologically calming effect.
The installation was never realized.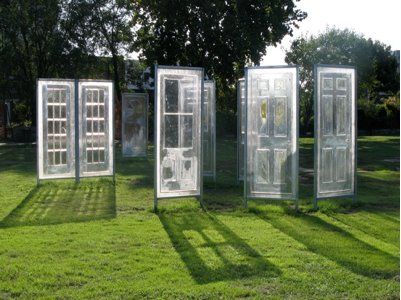 Best Of All Possible Worlds. 2011. Socrates Sculpture Park, Queens, NY
Instead, the photo-collage became the starting point for a site specific, outdoor installation. I translated the quality of light in the photograph, and the ephemerality it evoked, into a sculpture in which light was a central material.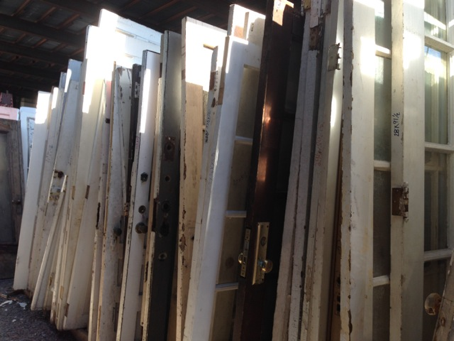 Housing works depot. Gowanus, Brooklyn
In making the work I selected eight salvaged doors, objects that suggest a liminal space.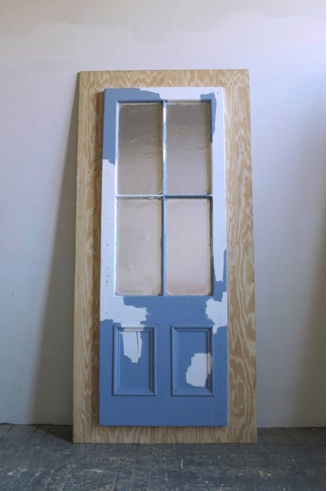 My art studio
I scarred, painted and mounted the old doors to prepare them for casting.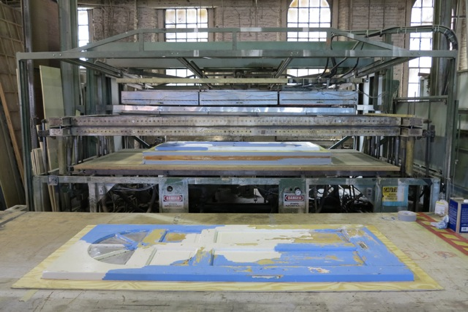 Vacuum forming machine 
//player.vimeo.com/video/48048397?title=0&byline=0&portrait=0
The Making of Best of All Possible Worlds Videography by Richard H. Swanson
Vacuum form casting is a process by which a sheet of plastic is melted and forcefully pulled onto a mold with a high power vacuum.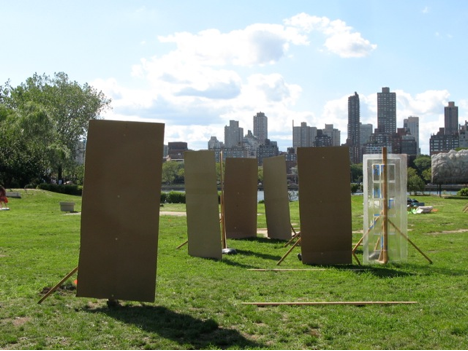 Socrates Sculpture Park
A scrappy mock-up was important for siting the work. The doors were positioned in the architectural layout of my floor-through apartment in Brooklyn.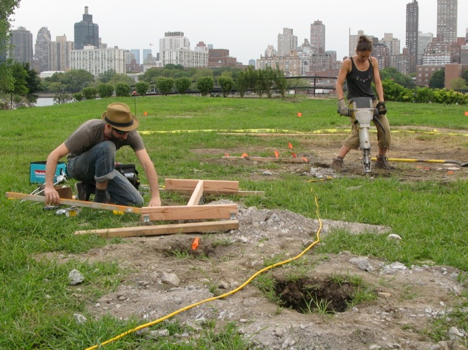 Assistants Adam Thabo and Ani Weinstein. Socrates Sculpture Park
We encountered unforeseen challenges while installing the sculpture's infrastructure, including a thick layer of cement hidden beneath the grass and the arrival of Hurricane Irene, which caused the nearby East River to overflow and flood the site for several days.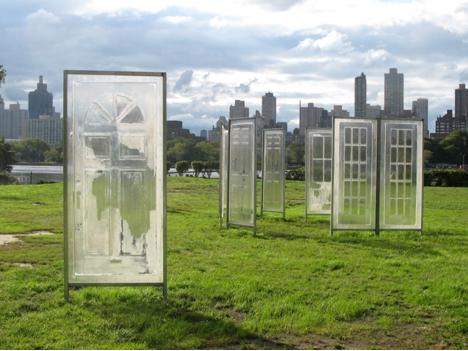 Best of All Possible Worlds. 2011. Socrates Sculpture Park
The mood of the installation was affected by the changing weather and the angle of the sun at different times of day…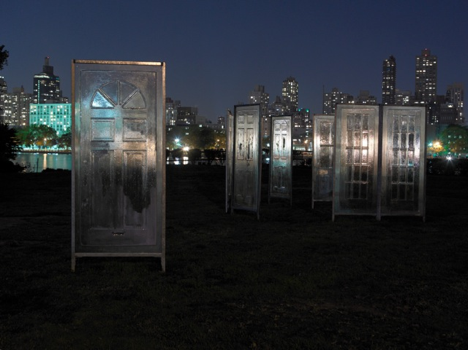 Best of All Possible Worlds. 2011. Socrates Sculpture Park
 …and it stood in conversation with the Manhattan skyline.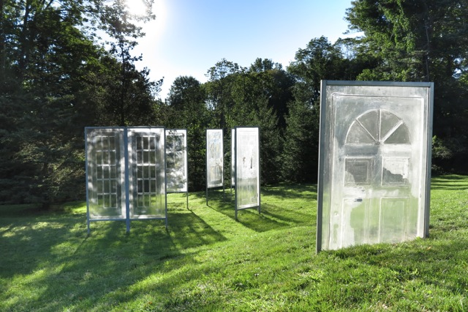 Best of All Possible Worlds. 2012. The Aldrich Contemporary Art Museum, CT
When I relocated the sculpture to The Aldrich Contemporary Art Museum, a small hill inspired me to re-imagine its architecture. One door was buried in the hillside, as if the installation had been revealed through a process of erosion.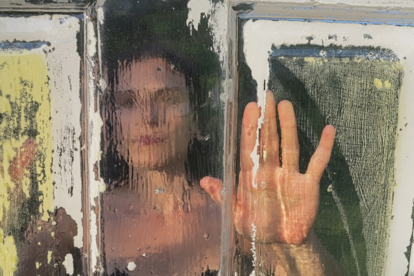 Best Of All Possible Worlds. 2012. The Aldrich Contemporary Art Museum
My intention is to make the viewer aware of their own physicality in relationship to the sculpture.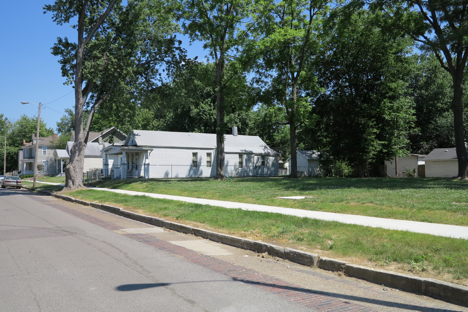 Site 11. 23 Jefferson Avenue, Evansville, IN
I entered an outdoor sculpture competition in Evansville, Indiana, proposing to install a singular cast door in a vacant lot on a residential street where I imagined a house might once have stood. I spent part of my childhood in Indiana, but had never been to Evansville.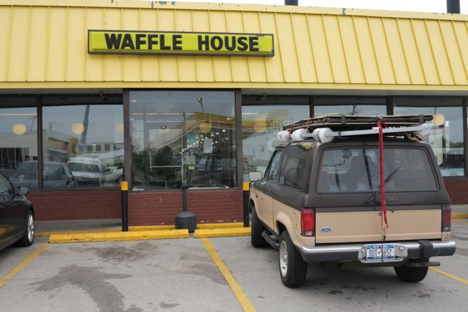 Breakfast in West Virginia
I strapped the sculpture to the roof of my truck and drove from from New York to Indiana.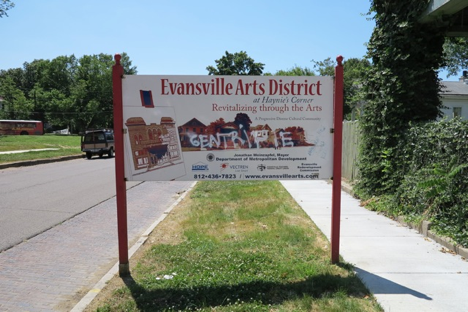 Haynie's Corner Arts District, Evansville
Graffiti on a sign directly across the street from my installation site indicated that the city's efforts to "revitalize through the arts" in the low-income neighborhood of Haynie's Corner were contentious, and my sculpture might not be welcome.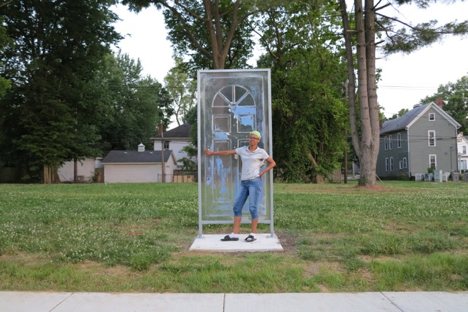 Best Of All Possible Worlds. 2012. Evansville
Rena Meriweather: "I live next door with my friend, Art."
Me: "Art?"
When I visited Rena and Art later that day, I made the unlikely discovery that the door to their shotgun-style house was identical to the sculpture, with its pattern of rectangles, squares and half-sun of triangular segments.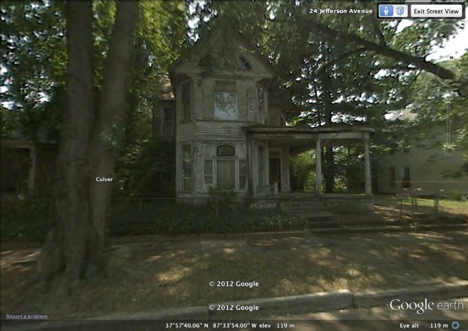 Google Earth image of the razed house at 23 Jefferson Avenue, Evansville
Rena told me about the Victorian house that once stood on the site of my sculpture.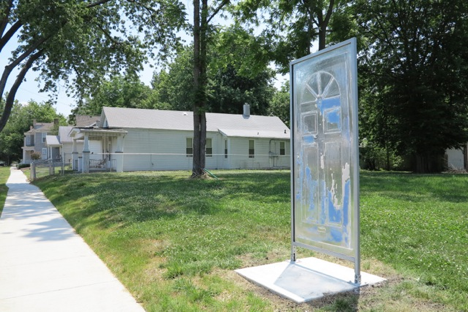 Best of All Possible Worlds. 2012. Evansville
Part of the city's controversial revitalization plan included demolishing old houses to improve property values in the neighborhood.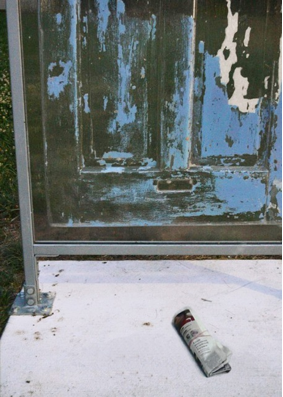 Best of All Possible Worlds. 2012. Evansville
The sculpture engaged the community.
Someone delivered a newspaper to the door. Someone left a note.
"Cathy,
I keep knocking, but you're never home.
Please call,
Corey."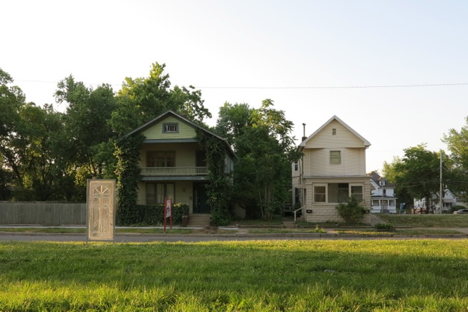 Best Of All Possible Worlds. 2012. Evansville
The work was awarded the sculpture competition's top prize, and was purchased by the city as a permanent installation.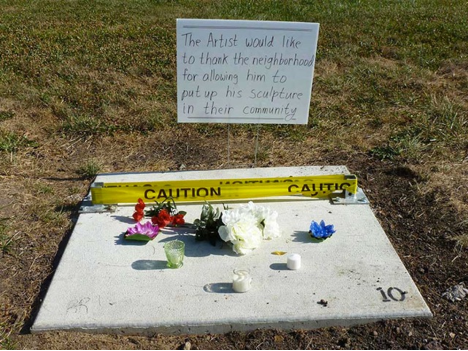 Community reliquary
Two weeks later, it was demolished, just like the house that had stood there before it. It was smashed to pieces by a vandal. In comments to the local newspaper, some people disparaged "putting art into the ghetto." Others spoke out against the city's misguided revitalization plan.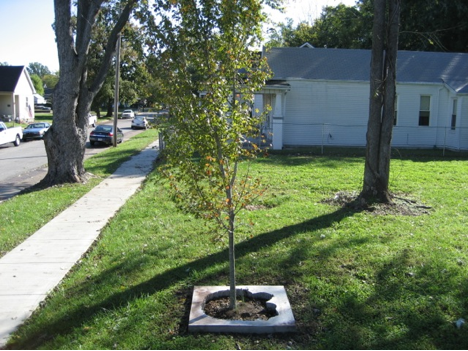 1 Maple. 2013. Evansville, Photo by Alex Lattner
The following year, I re-entered the Evansville sculpture competition to address the complex issue of "revitalization". Reclaiming the site where the sculpture had been, I planted a maple tree. The tree grows out of a cement base with a hollow space shaped like the trunk of a large tree. I had learned that when the Victorian house was destroyed, an old maple had been cut down.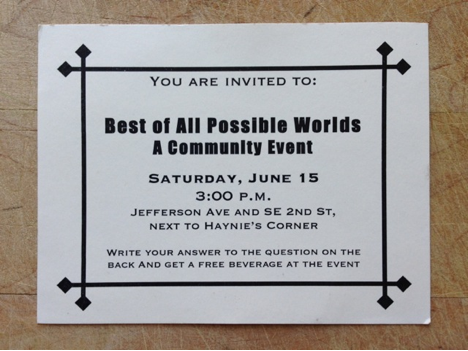 Event Flyer – Front
With neighborhood resident Alex Lattner, and more than 20 local volunteers, I produced a community event at the site of the installation. We distributed flyers inviting residents to offer their ideas and opinions.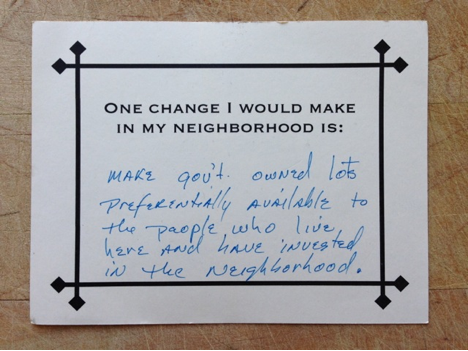 Event Flyer – Back
We received 187 responses, which were published in the local newspaper.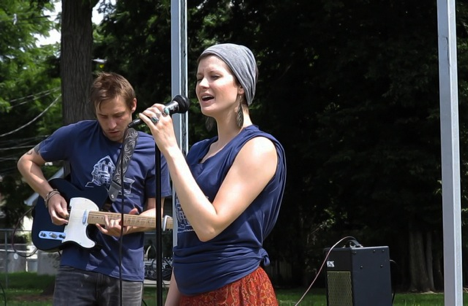 Community Event.  Abby Redman and Andy Paternoster
"If I had my way, I'd tear that building down." 
—Blind Willie Johnson
Community Event. Alex Lattner and I
"Welcome, everyone. This is the best of all possible worlds…Today's work, constructed with the material of your participation, is beyond the reach of those who want to tear it down."
Event speaker Lu Porter, Director of the Evansville African American Museum. Photo by Phillip Hooper.
Several hundred neighborhood residents attended the event, where speakers addressed the crowd about the community's challenges.
23 Jefferson Avenue. October 2013. Photo by Alex Lattner.
The night after the event, a Haynie's Corner artist was brutally beaten by the police and taken to the Emergency Room. As he lay in the trauma room, the community began to organize their own event at the site of "1 Maple" in order to start a dialogue about violence in their community.
Saul Melman lives and works in Brooklyn, New York. He has shown sculpture, installation and performance at MoMAPS1, Whitney Museum of American Art, Socrates Sculpture Park and The Aldrich Contemporary Art Museum, among others. He has a long-term installation at MoMAPS1. Currently, he is a resident artist at Dieu Donné in NYC where he is making sculptures from ice and abaca, informed by paleozoic fossils.