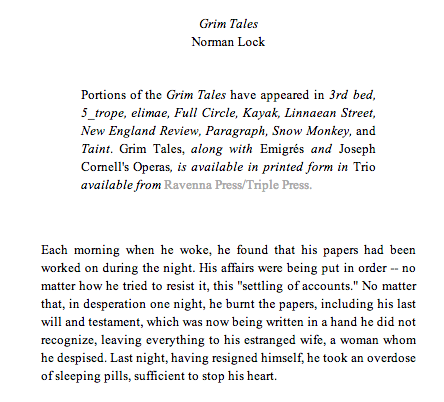 A REVIEW OF
GRIM TALES
BY NORMAN LOCK
CENTRAL QUESTION:
How can prose poems compete with YouTube?
Format: electronic; Size: 13,000 words on a single HTML webpage; Price: free; Publisher: Elimae; Editor: Dereon Bauman; Print run: infinite; Book design: Deron Bauman; Typeface: Times New Roman; Author on text's creation method: "I begin often with a first sentence and grope my way forward, annexing from the silence and darkness a fictional life"; Author's semi-secret pseudonym: George Belden; Representative sentence: "If they had owned a new electric mixer instead of an old-fashioned egg-beater, they could have switched it off before it flew across the kitchen and attacked the baby."
With book sales supposedly on the whimper and countless people "borrowing" their media sources online, more and more often there comes the question: what's next? New media are constantly being reworked to evolve the way information is delivered to its audiences, and in the wake of this hyperdistribution, we've seen a massive spawning of electronic literary journals: DIAGRAM, Juked, Failbetter, Bear Parade, and so on. With these free-anytime nodes of words and images being more immediate than their print-based brothers, the popularity of shorter, streamlined fiction has grown.
Among these dot-com journals, elimae remains one of the longest standing and most revered. Founded in 1996, it has published work from authors such as Brian Evenson, Diane Williams, and Gary Lutz, and continues to showcase slews of new and well-known voices. It also offers a series of free web-based electronic books, including two works by Norman Lock, an incredibly prolific author, performance artist, and writer whose output includes titles from FC2, Calamari Press, and elimae's own print leg, Ravenna Press.
Norman Lock's Grim Tales, in particular, is a wicked little beast, consisting of thirteen thousand words in 157 short, divided sections delivered in fine-tuned bursts. Somewhat like a prose-poem edition of Scary Stories to Tell in the Dark for adults, Grim Tales is a mythological catalog of the peculiar, a string of strange, often murderous urban myths. The book's slim paragraphs and tendency to divide itself into tiny snippets make it perfect for online consumption. It comes on fast and dirty, wasting no time in lunging at your throat: "When he was struck down by his wife's lover, the scythe moaned in the wheat. In the kitchen, cutting open a loaf, she dropped her knife as the blood spilled out the bread's fresh wounds."
With a tip of the hat to Russell Edson and the "miniature gothics" of Enrique Anderson Imbert, Grim Tales is populated end to end with the magical and the bizarre: shape-shifting, witchery, underwater cities, indoor rain, beds that contain oceans, murderous objects, all manner of disappearance. Men lose their faces to mirrors, women are smothered by their hair, clouds settle over cities and suck them up. "Each night before going into his house, he was compelled to drive around the block nine times; not one time more or less than nine—every night the same. One night, however, he willed himself to 'break the iron bond of habit' and stopped the car after the eighth circling. The house was gone; his wife and children were never seen by him again." In another story, a woman becomes transfixed by a tree in her yard until it reaches through the window and crushes her.
In the midst of all this looming, Lock has an incredible ability to render compelling imagery and demeanor in minute, supercompressed bursts. Single lines resound in the mind: "He was turned into a revolver so that, one day, he might feel his cold mouth against hers—the woman he had destroyed—when, in despair, she shot herself." In the same way that it's hard to stop staring at the Internet's seemingly endless array of weird memes and video databases, Lock's words are both engrossing and slightly haunted. One could spend forever worming through these magicked words, their worlds.
—Blake Butler (from October 2008)
You can still read the full text for Grim Tales on elimae.