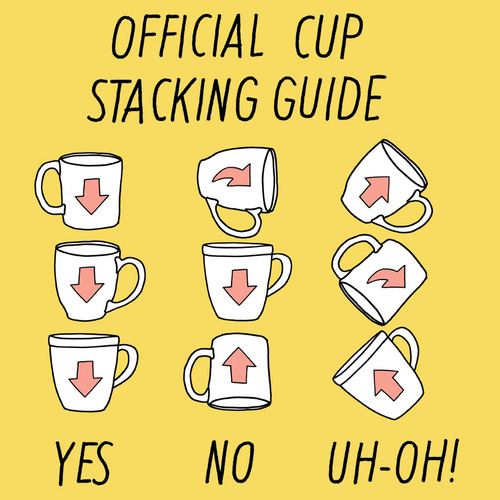 Derek Erdman is a really good artist and a very nice person.  He used to live in Chicago where he made a lot of paintings and did a lot of things (have you ever heard of Rap Master Maurice?). He has since moved and made a lot more paintings and done a lot more terrific things. He made a series of drawings of Presidents' Residences for the Believer a couple months ago.  – Jason Polan
THE BELIEVER: Where do you live?
DEREK ERDMAN: I live in Seattle, in a neighborhood called the Central District. I think it's usually the one that people consider dangerous, but it's pretty nice. There's a Safeway 400 feet away. I really love living so close to a grocery store, you get to treat it like a corner store.
BLVR: Do you have any pets?
DE: Yes, a cat and a guinea pig! Between you and I, I prefer the guinea pig. She's really sweet and loving and cute and doesn't make me sneeze. The cat is smart and funny, but he's a little bit of a slouch. He's really good at walking into legs when you're trying to get from room to room. I don't know if he's intentionally trying to trip people, or if it's extreme friendliness. Either way, I feel kind of bad when I give him little kicks. He eats some gnarly wet food—it's so gross. I imagine that it's ground-up horse meat that somebody finds on the side of the road. What could it be, really?
BLVR: What is your favorite record?
DE: That changes pretty often, but probably Sandinista! by the Clash. Or Ravel's Bolero, the BSO version with Munch conducting. I don't even know a whole lot about classical music, but there's something about that version of Bolero that's just mesmerizing. Mostly I like these records because they're good for working. I can get a lot of work done while listening to those two LPs.
BLVR: Do you have ten records you would recommend?
DE: Oh man, that's so hard! There are so many great records. Lately, I've been listening to a lot of Kleenex, mainly the songs "DC-10" and "Nice." That song might be my favorite song ever. Oh, the record Prefection by Cass Mccombs is really incredible. There's a 12-inch of "When it All Comes Down" by Miaow that includes a really good remix of that song. Other than that, you know, typical stuff. The Slates 10-inch by the Fall. Meat is Murder by the Smiths. Age of Quarrel by Cro-Mags. Chairs Missing by Wire. Faith by the Cure.
BLVR: When do you usually work?
DE: All of the time, it's a thing that makes me really happy. I recently took a day job as the receptionist at Sub Pop Records, so I do that all day, but I'm also able to make art while there. Then I usually get home and work on art from 6 pm until 11 pm or so. Most of the weekends. I love the feeling of working hard and then the resting directly after that. It's deserved, so it feels much better. I used to work mostly at night, but then I'd stay up for days on end and it would make me kind of crazy. It's nice having the forced schedule of a day job, especially if it's low impact, like reception. That's a job you can really leave at the office.
BLVR: How many pieces of art do you think you have made?
DE: Total? I'd guess about 7,000 or so.
BLVR: What is your favorite thing to cook?
DE: A can of Goya black beans, with garlic and chili powder. Then I heat up a tortilla on a glass-topped stove and make a burrito. You can get 3 or 4 out of one can of beans. That's all I need, I could eat that forever. I usually add Tapatio hot sauce, it's the best. Some people argue the one with the wooden top is better, but I don't agree.
BLVR: Who are some of your favorite artists?
DE: Lately, probably Stacey Rozich. Usually, Andrew Wyeth, and nameless Dutch Masters. I think that as I'm getting older, I appreciate technique and talent over wild ideas. Otherwise, I don't really pay too much attention to art. Oh, I also love Barney Bubbles. Wayne White, Ray Johnson, and Darryl Ary. My favorites are probably Ryan Duggan, Jason Polan, Beth Hoeckel and Joan Hiller; but in a way that those are people I know and love and encourage. But also Vermeer, Jan de Bray. Some of de Bray's stuff cracks me up, those people with those faces. What a time, what a time.
BLVR: What are some of your favorite colors to use?
DE: Pink! Pink is my favorite to use and I don't even really like it in everyday use. It goes so well with brown and blue. Light blue is really excellent. Those three, brown, pink, and light blue. Yellow would be up there, but I can hardly ever find a great opaque yellow. I reckon if I went to art school, I could remedy that.
BLVR: When was the last time you painted a floor?
DE: I painted my office floor when I moved into the current house I live in, so that was September 2011. I painted it rusty orange.
BLVR: What kind of cereal do you think is the best?
DE: Cheerios is the #1 cereal, ever.
BLVR: Do you go out to the movies?
DE: Yeah, kind of a lot. I saw World War Z last weekend, it was kind of a drag. The week before, I saw Mad Max Beyond Thunderdome at the Central Cinema, which is by my house and plays older movies. It's excellent there.
BLVR: How do you actually make one of your paintings?
DE: I find an image that I like and then print it out. Then I make a tracing of it with a light table and then scan the tracing into Photoshop. Then I change anything that's crummy and then print it onto a transparency. Then I project the black line image onto a board and paint where the colors would be. After that dries, I paint on the black lines. Paintings should never take longer than 50 minutes.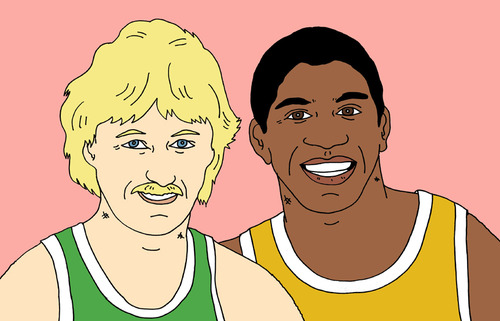 BLVR: Do you like to go swimming?
DE: In the ocean, yes. In lakes, not really. In pools, especially.
BLVR: What is the largest painting you have ever made?
DE: Maybe ten feet by ten feet? I went through a phase when I first started painting seriously where I painted Ernie Bushmiller's Nancy really large. I'm sure a lot of people go through that phase though, huh?
BLVR: Do you have a separate studio where you make stuff?
DE: Yes, it's a converted garage with an office on top. It's rather handy!
BLVR: Are you making any books right now?
DE: I've been thinking about making a book of poetry called I Don't Care About My Dick. It'll probably have drawings and be about everyday things. OH! I just made a coloring book for Sub Pop's 25th birthday. There's going to be 500 of them. That's so exciting to me!
BLVR: Do you listen to music when you paint?
DE: No, hardly ever. I usually just want shitty TV shows that are on streaming services. Like, a bunch of episodes of Law & Order.
BLVR: What do you collect?
DE: I avoid collecting anything anymore. Probably just money. I don't want any more stuff. I want a lot less stuff.
BLVR: What is your favorite kind of sandwich?
DE: Brie cheese on a baguette with fresh arugula. Geez, that sounds so dorky, but it really is THE BEST.
BLVR: What do you order when you go out to a Thai Restaurant?
DE: Pad Thai or Lard Nar. Thai food usually gives me a stomach ache though.
BLVR: Where did you go to high school?
DE: Strongsville and Lakewood High School in the Cleveland area of Ohio. That place is the pits!
BLVR: How are things in Seattle?
DE: Pretty great, actually. There are great things happening here. It's wonderfully disconnected from the rest of the world, in a way that people don't even care about what else is happening elsewhere. Which makes for great things, I think. Wonderfully ignorant great things. Plus, there's a pho restaurant on every block. In the summer there are excellent places to go, there's a run-down ocean resort town called Ocean Shores that is excellently tacky. My wife and I get in the car and drive aimlessly and usually come upon something fascinating. Ramtha in Yelm, mountains, hot springs, an actual rain forest. Plus, the ocean here is so weird. People drive on the beach. The water is too cold for swimming. It's usually desolate and things from the Japanese tsunami are appearing on the shores. I'm obsessed with finding a glass float, hopefully someday my dream will come true.
Jason Polan is the illustrations editor of the Believer.