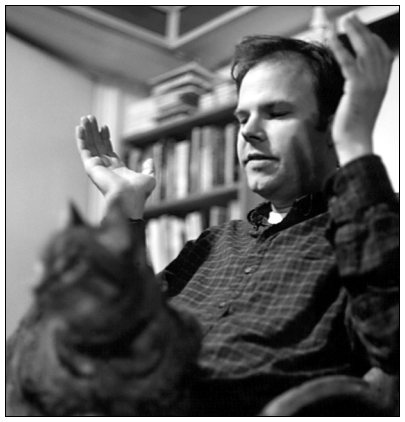 On April 9, Nick Hallett sat down with New York City based composer, guitarist, pianist, and vocalist, David Grubbs to discuss David's new album, The Plain Where the Palace Stood. The two were familiar with one another's work from having collaborated on numerous performances in New York of "Essential Repertoire"—including works by Luc Ferrari, Terry Riley, and Pauline Oliveros—as part of Hallett's and Zach Layton's new-music series Darmstadt "Classics of the Avant-Garde."
In anticipation of his new album, David, who is also a founding member of Squirrel Bait, Bastro, and Gastr del Sol, appeared in a handful of monumental performances in Europe in the past few weeks, including a performance in Rhys Chatham's "Guitar Trio" alongside Nina Canal and Chatham himself, sharing a bill with legendary No Wavers UT and Lydia Lunch in a program entitled "From No Wave to Post-Rock: New York – Chicago" at the Ecole Nationale Supériore d'Architecture, which you can watch online.
This meeting took place in the relative corporate splendor of an unspecified midtown Manhattan cafeteria. David had sushi and Nick had a salad.
NICK HALLETT: Where have you played most recently?
DAVID GRUBBS: I just came back from three weeks in France. I did a collaborative performance called The Wired Salutation with the visual artist Angela Bulloch in the theater at the Pompidou Center, and it was a blast. In the past I've done soundtracks for several of her pixel-box pieces, which are generally extremely low-resolution pulsating grids of color that are derived from familiar cinematic texts, like Zabriskie Point or the Star Gate sequence in 2001: A Space Odyssey. We'd talked about making that process visible—the transition from perfectly recognizable cinematic image to its taking the form of 48 large pixels. Fairly far along in the process, she became interested in working with 3-D avatars, which she made of the four musical performers. In one section there's a double quartet, as all eight figures are visible to the audience.
NH: Where do you see these collaborations with visual artists in relation to your new album?
DG: The danger of these collaborations across disciplines is in having too strict of a division of labor—in my case, of getting stuck doing the music. When I make an album, I write music, I write lyrics, I come up with the visual design, etc. I get to do all of that stuff.
NH: Where do you draw the line between writing a composition and recording a track for a record? Or are those divisions useless to you?
DG: The instrumental pieces are compositions, certainly, although that's not the language that I instinctively use. They're not scored, and arrangements are often arrived at collaboratively. I always choose to play with people whose input I desire.
NH: Do the songs exist in a similar framework? Are they art songs?
DG: The question of art songs always came up with Gastr del Sol. I think Jim O'Rourke had it right in being clear that there's a tradition of art song—Ives being the touchstone for the two of us—and what we do doesn't belong to it. It wasn't important to advance those kinds of distinctions, but clearly he thought it was fanciful for anyone to speak of what we were doing as being in that tradition.
NH: There's a song on The Plain Where the Palace Stood called "Ornamental Hermit." And for me, it's a different kind of song than what I'm used to on your records. It approaches a verse/chorus format where more of your songs are based in recitative or a more internalized kind of poetry.
DG: I don't write poetry for the page because my inclination in that area is satisfied by songwriting. "Ornamental Hermit" was a comparatively effortless song to write, which is rare for me. Typically a song like "I Started to Live When My Barber Died," which has very little repetition, and all of these different line lengths, is put together over the span of weeks or months.
NH: Conventional songs can be the result of a crazy amount of inspiration, and the best songs normally come together in the shortest amount of time, for me at least.
DG: I don't feel that way about my own work. I think about Stephin Merritt at one point saying that it doesn't take him more than fifteen minutes to write a song. What a different way of working …
NH: I've spent ten years working on some songs but my favorites are the ones that appear to me in a moment.
DG: For me, it's good to have those dissimilar modes of songwriting sit side-by-side on a record, because they yield such different results. The ornamental hermit is a figure that I came across in Denton Welch's novel Maiden Voyage. In eighteenth-century England, there was a practice of hiring a picturesque hermit who would inhabit the beautiful ruin on your estate. To me it rhymes with certain kinds of pop-music entertainers and eccentrics—both touted and tolerated. If the records that I make have one thing in common, it's that there is little recapitulation, and the idea is that it should end in a place very different from where it began, and that you've heard musicians undergo a change or be irreversibly transformed.
NH: Is there a precedent for this in other records of yours?
DG: It's more like the Gastr del Sol records, where there are longer expanses of instrumental texture.
NH: Should we expect more of this in the future?
DG: It feels consistent with live performances that I've been doing lately, where the balance—the imbalance—with a tilt towards instrumentals. The album feels like the kind of set that I'm happiest playing now.
NH: You want to fully inhabit the work. One reason why we're drawn to collaborations is to play around in areas we're not fully comfortable or skilled in.
DG: And it's the best possible education.
David Grubbs's new album The Plain Where the Palace Stood is out now on Drag City Records.
Nick Hallett is a NYC-based composer, vocalist and impresario who works across genre and media to create innovative, multidisciplinary music-based performances.