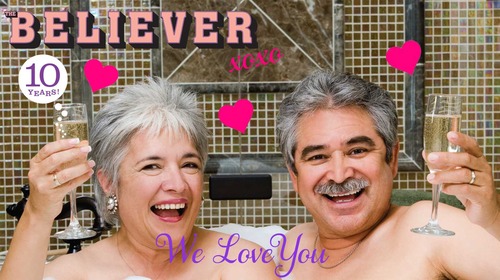 Hello Readers.
Especially readers of the Believer.
Especially readers of the Believer who have not subscribed to the Believer.
Or who used to subscribe but do not now subscribe.
Or who currently subscribe but feel like giving gift subscriptions to some friends. Or lovers. Or lovers-to-be. Or people you would love in this filthy way but are distantly related to, so you have to keep it mellow. 
This note is addressed to all of you.
On this Valentine's Day. This precious, precious day. Where we celebrate love. And print. And love of printed monthly magazines. Did you know that St. Valentine loved the Believer? 
Doesn't that make sense? That he would have? 
It makes sense. You know the logic tracks pretty well.
On this most sacred of days, honor St. Valentine and give the Believer to someone. They don't have be all religious or nothing. Doesn't matter. We won't check. 
What matters is that you give us some money so we can give a friend or loved person in your life a subscription to the Believer. And if you do this, the Believer stays healthy and no one dies.
Please subscribe. 
Do this for love. Because this is virtually the only way your lovers or friends will know you love them. Every other way is bullshit and won't work. 
As you know, print magazines are struggling. The Believer, as a lavishly printed publication with few ads, relies on subscribers to be able to pay our press operators, our small staff, our contributors, and our 24-hour on-call flower-delivery lady. Our subscribers (besides taking advantage of the most economical and convenient of all Believer-receiving methods) are truly vital to the health—even the existence—of the magazine.   
Listen, you send money to NPR, right? Oh, really? We thought—
Well, don't worry about that right now. Right now, we need you to send $45 to the Believer, in exchange for which we will send you, or someone close to you, for an entire calendar year, a magazine with the finest writing and the most unexpected interviews, the lewdest comics and the weirdest illustrations, all printed in soy-based inks on recycled acid-free heavy-stock paper. (You can call NPR right after you do that. We asked them and they were cool about it.)
If you prefer human contact, you can subscribe by calling us at 415-642-5609, where a dedicated team will help you exchange your personal information for a year's worth of bliss. Ask for our managing editor, Andi, for cheerful validation of your excellent life choice as you subscribe. Ask for our sales and marketing director, Sam, if you need fact-based, hard-nosed convincing. Or if a friend or lover needs the same, outsource your convincing to us by telling Sam two facts about your friend or lover. In turn, Sam will contact your friend or lover with personalized reasons why the Believer will improve his or her life. If you want to hear whale-song, you have to call someone else.
To ten more years. (It's the tenth anniversary of the Believer. That should be worth something.)
Thank you.
All of us here.