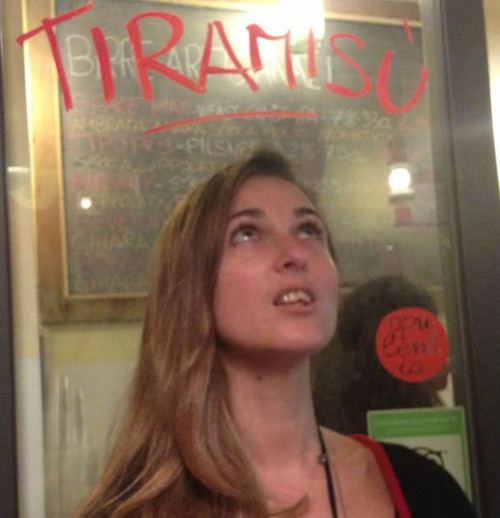 I first met Chiara Barzini at an East Village bar called Scratcher in New York last year. We were both reading at the NOON launch party at the Center for Fiction. Our mutual friend Giancarlo DiTrapano, editor of Tyrant Books and New York Tyrant magazine, introduced us, and I right away found Chiara brilliant and engaging. We shared a fondness for Diane Williams and NOON. She has worked as a correspondent for Rolling Stone Italy, Italian Vanity Fair, GQ, Flair, and Marie Claire. As an actress, she was in the film SLC Punk, and as a screenwriter she has written such Italian films as Into Paradiso, which was selected at the sixty-seventh edition of the Venice Film Festival in 2010. Her book of short stories, SISTER STOP BREATHING, was published by Calamari Press. You can buy SISTER STOP BREATHING here. Her website is chiarabarzini.com.
– Brandon Hobson
BRANDON HOBSON: Chiara, I see a similarity in your fiction and Diane Williams's. Has she been a big influence on you?
CHIARA BARZINI: My great friend the writer Kate Schatz was working for Diane Williams's journal NOON about ten years ago. We were both living on the East Coast and one day she came back to my apartment with a copy of Romancer Erector saying it would change my life. She was right. It did, in the same way that Ben Marcus's The Age of Wire and String and Lydia Davis's Break It Down did. These books were the first to give me access to a kind of direct creative source. They represented a new possibility. I loved how free and abstract they were, all the while being acutely exact and grounded.  Violence, drama, perversions, death, love, and morality were shot like arrows to my heart.  And the fact that this happened outside the frame of a conventional narrative structure was exhilarating.
BH: Jonathan Ames described your work in SISTER STOP BREATHING as "stories like smashed mirrored jewels." I agree. I like how your fiction pushes boundaries in terms of a short, often fragmented structure. Can you speak to your attraction to the short form vs. the longer more traditional short story?
CB: My attraction to the immediacy of the short (short) form comes from a kind of dichotomy in my work. I make most of my income with screenwriting, and this involves an often un-personal process. Co-writers, directors, producers, everyone has a say in what you put on a page, and stories are constantly changing according to budget, actors, and commercial needs. Films are a collaborative process and are also inherently narrative and structured, so you are always working within very tight parameters. I like writing short fiction because it unleashes a more intimate voice and a passion for language. I also believe short narratives can have the same amount of danger and drama as any action film.
BH: You were born in Italy and came to the US as a teenager. Your grandfather, the writer Luigi Barzini Jr., was also born in Italy and spent a big part of his youth in the United States where he published the bestseller The Italians, one of the most important (and humorous) books about your compatriots' national character. Your grandfather wrote in English and Italian. In a sense, you are following a kind of family legacy. How does working in two different languages effect your writing?
CB: I am very grateful to have had the example of my grandfather. He kind of led the way. He moved to NY when he was very young and realized that being a "cultural interpreter" for Americans was something not many people were capable of doing. I've always tried to merge American and Italian culture and language in life and work. In NY I worked as a correspondent for many Italian magazines, like Rolling Stone Italy and Italian Vanity Fair, and since I've moved back to Rome I've reversed my approach, trying, like my grandfather did, to explain certain (absurd, anachronistic, at times vulgar and hilarious) parts of Italy to America. I wrote about the history of Italy's dubbing mania in films in a recent essay in Harper's. Italians are obsessed with watching American movies dubbed by Italian actors as opposed to watching them in their original language, and it was very fun to research and translate certain cultural idiosyncrasies to an American audience. In terms of language, I can definitely say there are two distinct persons coming out when I write in English and Italian. The English language is direct, unapologetic, and wonderfully amoral. Italian has a beautiful sound, but you cannot help but feel that you are always dealing with ghosts from the past and the looming dark presence of the Vatican.
BH: What are you currently working on?
CB: Various film projects, including a screen adaptation of Amanda Davis's novel Wonder When You'll Miss Me with Italian director Francesco Fei. The personal story of Amanda Davis is incredibly touching, as she died in a plane crash at the beginning of the book tour for this novel (McSweeney's has since created a fiction award in her name). It's been very intense working on this film because we really are trying to do justice to the novel, maintain its heart, and celebrate Amanda as a writer in a way she was not able to be during her lifetime. We feel like we've gotten to know her, in a way. The film will be adapted to Europe with a European co-production and should be quite fun as it is an on-the-road story. I am also starting my first novel for Rizzoli this year and trying to hush the voices in my head so I can finally settle on what language to choose for the first draft.
BH: You have a new baby—congrats! How does it feel to be a new mother?
CB: Being a mother is, I think, the perfect experience for any writer. You learn how to not waste time. The writing hours become incredibly precious and concentrated because the rest of your day is completely packed with diapers, edible liquid foods that look like pooh, tiny bathtubs, and unconditional love. I've become much more disciplined and focused. Also more humble. I had this whole hippie idea of how easy raising a baby would be. How he would just eat and sleep and listen to Mozart, and I could just go on with my life the way it was. I was very wrong. It has taught me to be present (not an easy task for a writer) and to live inside my body rather than in some out-there fantasy world.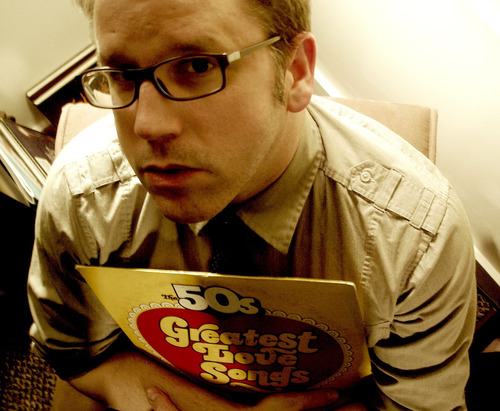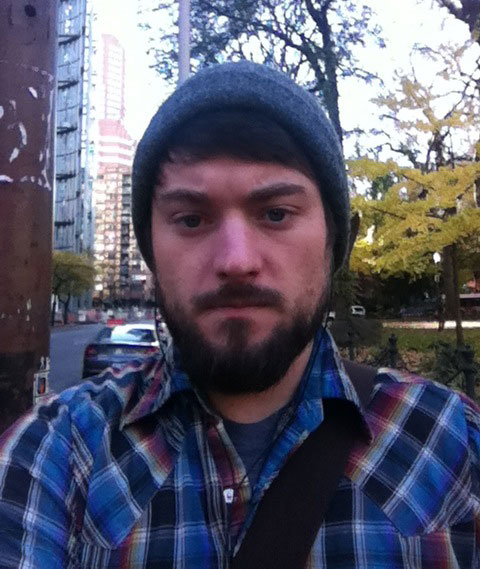 Kevin Sampsell is a darling. He is the small-press book-buyer and events coordinator at Powell's, as well as a fiction writer (he just sold his next book, This Is Between Us, to Tin House Books, forthcoming winter 2013) and publisher. He is an excellent example of how to sustain longevity in a writing and publishing career, and I thought our readers would like to look to him for some sage advice, which I think is generally (always, when coming from Kevin) something to the effect of: work hard and be yourself. Bryan Coffelt is his assistant, as well as a writer and DIY publisher. I believe in them.
– Nicolle Elizabeth
NICOLLE ELIZABETH: Hi Kevin and Bryan. Sorry that I missed our first interview and that you had to watch football. Thank you for re-working with me via email. Do you feel that the Dickensian narrative model was a signifier that transcendental thought had made its way to mainstream popular theory at a pace which could not be avoided in art?
KEVIN SAMPSELL: I think the real question here is, Do preseason football games really indicate how a team will play during the regular season? And the answer is, of course, there is nothing even remotely indicative of reality or foreshadowing when it comes to pre-September football. It's like watching the first draft of a bad TV pilot acted out by Hollywood extras. You said something about art in your question and I'd like to say that the best art on a football field usually happens during kickoff returns.
BRYAN COFFELT: Speaking of Dickensian, Kevin's Cardinals are looking a lot like orphaned children so far.
KS: But our kick returner is really awesome.
NE: You guys run Future Tense Books. What is that and how's it going?
KS: Oh, gosh. We publish books and little things that are kind of like books but they have staples in them. It's going well. We've had a kick-butt year that was aided by a successful Kickstarter campaign last year. We're getting distributed by Small Press Distribution now and the most important thing is that we have fun.
BC: It's going great. I'm amazed at how quickly I've been able to rise in the ranks of this huge operation. There's just so much red tape and bureaucracy. I've worked with Kevin for what, three years now? In 2009 I was a student at Portland State University's MA in Publishing program and tracked Kevin down for an internship. I was familiar with Future Tense and the small-press scene largely through blogs (and his sort of infamous blog altercation with Tao Lin). Basically I stalked him at Powell's and asked to help out with Future Tense. Since then, we've developed a really good friendship and I've stuck around.
I think our partnership is so strong because we're both involved in different kinds of writing and we're not afraid to discuss our aesthetic and editorial differences. We challenge each other and expose each other to new work and writers all the time.
I think the thing I'm most excited about right now at Future Tense is our recent partnership with Pinball Publishing (creator of Scout Books). In the coming months we're publishing a number of short chapbooks from some awesome writers and artists, including poet Sommer Browning, visual artist Melody Owen, and essayist Aaron Gilbreath.
NE: Bryan also has a side project with Howlin' Wolf or something?
BC: Thanks for asking. In addition to working with Kevin on Future Tense projects, I recently started a publishing venture called Mammoth Editions. We published our first book in the spring, a poetry collection called Hallelujah, Giant Space Wolf by Daniel Bailey. We are publishing a chapbook in the winter by Donald Dunbar, whose full-length book Eyelid Lick is forthcoming from Fence. It's so weird to say "we" because I just mean "I." It sounds so much more official and legitimate to say "we." Maybe I should start thinking of myself as "we."
NE: Kevin, how is working in indie different than working with a mainstream publisher?
KS: It's so different in a lot of ways. At a big place, you have a ton of people and you can pass the buck more. With Future Tense, or someplace else around our size, you only have one or two or three people. You can't pass the buck so much. You gotta keep working and you gotta hope the author does some work too, because if they don't—you're screwed.
But quality-wise, I think a lot of awesome stuff is coming out with smaller presses. Small presses don't have to have huge board meetings to talk about how to market their books or what to publish—they can take more chances. They can help new authors grow in a healthier, often more artistic way.
NE: Do you boys love me as much as I love you?
KS: There should be a dating website just for single (or swinging) writers. Maybe it could be called OK Camus. I think there'd be a lot of crazy love to be found there.
BC: What's not to love?
Brandon Hobson's writing has appeared or is forthcoming in the Believer, NOON, Puerto del Sol, Post Road, New YorkTyrant, Web Conjunctions, Forty Stories: New Writing from Harper Perennial, and elsewhere.
Nicolle Elizabeth is a first-generation college graduate from the middle of nowhere and is a contributor at the Brooklyn Rail, Bomb, and a whole bunch of fine places. She is the poetry editor at Word Riot, also a bike mechanic. Follow her: twitter.com/thismighttank.